Home mining has long been obsolete. And now, when equipment is simply impossible to buy, cloud mining has become an even more popular way to invest in cryptocurrencies. But how much to invest in cloud mining to make a good daily profit? The answer is in this article!
What is cloud mining and how does it work?
Cloud Mining is an extremely convenient and most profitable way to get digital coins. You are freed from buying equipment, from the complex assembly of farms, setting up software, as well as control of the stable and correct operation, repair, and maintenance.
Table of Contents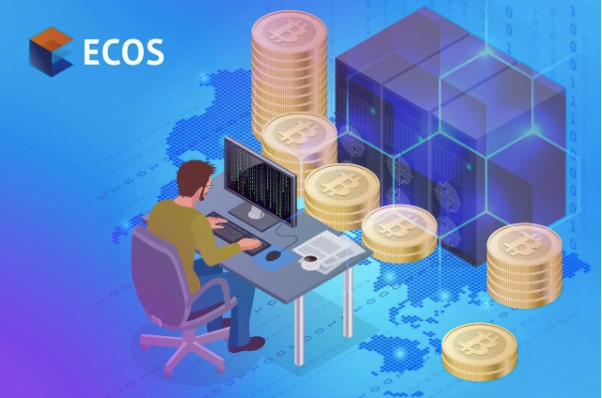 With the help of cloud mining services, you can quickly and easily invest, you just need to register on the site, select the appropriate contract and hash rate, and then monitor the daily income in the panel, paying off the investment. The service charges a small commission for its work, but even with it, cloud mining is an order of magnitude more profitable than the process of assembling and launching your own farm at home.
Data centers are usually located in places with cheap electricity and cool climates such as Armenia, China, Canada. Most often, such companies are engaged in cloud mining of bitcoins using ASIC equipment designed specifically for the extraction of cryptocurrency (different for each algorithm).
The profitability of cloud contracts is due to the fact that the companies themselves providing the service, as a rule, are manufacturers of equipment for production or purchase equipment directly from factories such as Bitmain with significant discounts and in the priority queue (until the massive increase in network complexity).
This significantly reduces the cost of mining, and the consolidation of ASICs into large data centers reduces maintenance costs. This model of work is beneficial to both parties, both the service and investors, since it allows you to get profit and increase income.
Simply put, the company buys or manufactures the mining equipment itself, and then sells its computing power to customers, while the company itself pays for the electricity costs and maintains the equipment.
Cloud mining services in 2021 are gaining popularity again as in 2017. This is due to the fact that inexpensive video cards and ASICs have disappeared from the market. At the end of autumn last year, when the Bitcoin exchange rate reached $20,000, cloud mining companies began to introduce new capacities, because demand increased, and in January 2021, when Bitcoin reached $40,000 per coin, most of the capacities were already sold out to customers.
What problems does the cloud mining service solve?
Connecting, configuring and maintaining farms in working order (paid capacity is fixed and constant);

No equipment downtime (avoiding power outages and Internet outages);

High level of noise and heat (no need to cool and ventilate the room at home);

Tax and legal issues.
Reliable cloud mining in 2021
For several years, ECOS has been the most popular and reliable cloud mining service. ECOS provider has been operating in the cloud mining services market since 2017. The company is part of the ECOS infrastructure, which combines capabilities, tools and a set of services for creating, developing and implementing a business. The provider is registered in the Free Economic Zone of Armenia, the residence in which allows him to receive tax benefits:
VAT - 0%

Income tax - 0%

Customs duties - 0%

Real estate and property taxes - 0%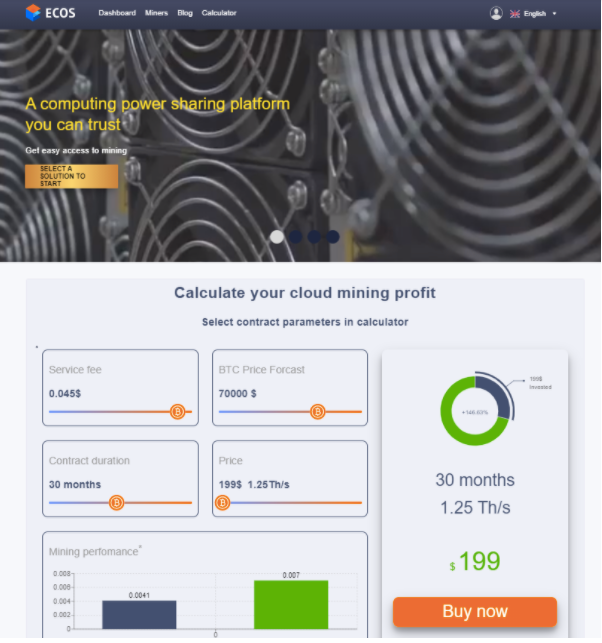 Such conditions allow the company to save on taxes, increasing profits for both its customers and itself. This is also facilitated by the current agreement with the Hrazdan TPP for the supply of more than 200 MW of electricity at a special price (such an offer can only be obtained by working with the TPP directly).
This provides a mining center designed for hundreds of thousands of devices with an uninterrupted power supply. Moreover, the Hrazdan TPP became a co-founder of the ECOS company, therefore it is in its interest to supply electricity regularly and at a minimal price. You can take advantage of this not only through cloud mining, but also by hosting your own miner on ECOS hosting.
The company is constantly updating mining equipment, purchasing modern models directly from the manufacturer Bitmain. Today the provider is using Antminer S19 Pro with a hash rate of 110 Th/s, which mine cryptocurrency as efficiently as possible.
Support is available both on the website and in the Telegram chat, which has almost 5,000 active users of the service. The managers answer almost instantly and really help to sort out the issue, and do not send links to long guides.
How to start mining cryptocurrency in the cloud?
Register an account.

Choose a contract that suits you in terms of duration, risk profile, expected bitcoin price, and required power. The calculator will show you the expected profit for this contract.

Pay for the contract using one of five methods: credit card, BTC, ETH, LTС, and XRP.

Track the mining process in your dashboard, which displays your current balance, the number of bitcoins mined today on your hardware, and profit statistics for the last 14 days. Also here you can see which of your contracts is the most profitable.

Withdraw funds by going to the "Settings" section, then "Wallets and withdrawal of funds". Enter your bitcoin wallet and select the amount to withdraw. Next, you need to select the transaction speed (depending on it, the bitcoin network charges its commission). Done!
Cloud mining profitability in 2021
Let's take a look at how much you can earn in 2021 thanks to cloud mining. For example, let's take the ECOS service and choose a contract with an average term of 2 years of the lease. Most analysts now predict the value of bitcoins at $70000. We will select this amount in our contract settings.
Investment cost $2000. This amount will allow us to mine bitcoins with a capacity of 14.33 Th/s. For the entire duration of the contract, we will earn about $2500 in excess of the invested amount. That's about $3.4 daily or $100 monthly.
You can independently calculate the approximate income in the ECOS calculator and plan your investment strategy. Passive earnings on cloud mining are real!
Try it too by this link