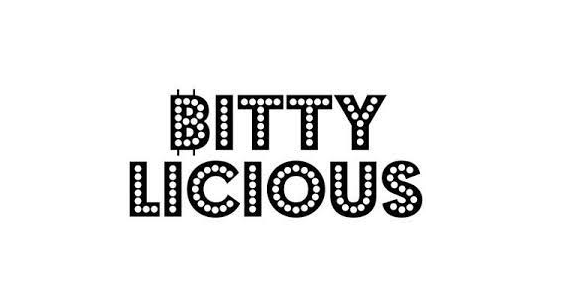 It is not a secret that every crypto holder once will need the services of a crypto exchange. The number of such services is quite big nowadays, but there are trusted exchanges that have gained their reputation for years. One of them is Bittylicious that offers users to buy a cryptocurrency for fiat money. It was established back in 2013, but what has changed since that time? Is this exchange still worth your trust?
Table of Contents
This Bittylicious Review gives answers to many questions regarding this service and how it operates in 2022. Let's start!
Bittylicious overview
Bittylicious is a popular cryptocurrency broker established in the UK in 2013 and operating all over the globe nowadays. The company's main office is located in London and it is a peer-to-peer exchange that means it connects brokers and buyers on its platform instead of storing any coins and money itself. The exchange uses the Protocol of interbank transfers similar to the UK banks and all the transfers are processed within several minutes which is a great benefit. The location determines the basic currency for the platform that is the British Pound Sterling, though other examples of fiat money are accepted too.
Team
Bittylicious Ltd, a company registered in England and Wales with company number 8540541. Bittylicious Ltd registered offices are at Unit 132, 275 New North Road, London, N1 7AA, United Kingdom. Nicole Gera and Marc Warne are told to be directors of the company. The total team of the company does not exceed 10 people but they managed to create a reliable and popular service that received a lot of 5-star reviews on Trustpilot.
How does it work?
Since Bittylicious is a P2P platform, there are three parties involved in the transaction: a seller, a buyer, and the service that acts as a mediator. The last one acts as a marketplace for connecting brokers and people who want to buy or sell crypto. What makes this exchange outstanding among others is dealing only with those brokers who were subjected to verification by the platform. Brokers can join the platform only when they fill out the application forms. They should be able to trade a minimum of £1,000 a week, generate SSL keys, and open a bank account that accepts Faster Payments and shows the sender's name instantly. Usually, these are residents of the EU countries though some exceptions are possible too.
Bittylicious was launched to match traders so it does not accept or send funds itself. A seller deals directly with a broker, but the service is eligible for holding the crypto in escrow until the broker makes the confirmation of the payment receipt. When the last one is provided, the cryptocurrency is released to a buyer.
Bittylicious features
The latest official data provided by Bittylicious in 2018 informs about 67,000 new registered users, over 220,000 facilitated unique trades, and the trading volume was over £99 million. When it comes to other features of Bittylicious, the exchange is characterized by the following:
It is a peer-to-peer exchange that connects brokers and buyers;
Support for multiple cryptocurrencies;
Operation in many countries;
Competitive markup for popular cryptos, but much higher fees for other transactions;
The necessity to be verified to buy deal with bigger amounts;
The speed of transactions, limits, and fees differ greatly depending on the banking option, coin, and other factors.
How to use Bittylicious
If you plan to purchase or sell cryptocurrency, the first thing you should do is to open the Bittylicious website. It can hardly boast a beautiful interface but everything is intuitively clear. There is a form to be completed for a transaction to take place. A person should enter the following details:
Bitcoin or any other coin address;
Choose buy/sell;
Enter the email address;
Provide the amount;
Select the coin or fiat currency from the list.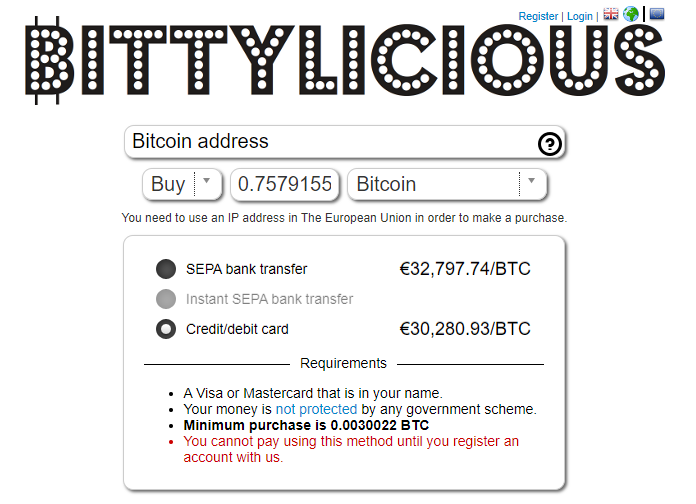 There is some important information under these fields too. You can see what banking options are available for every coin and country, learn the minimum and maximum amount to buy or sell, and other specifications about every transaction. If you meet all the requirements, you will see the Get some coins button below the colored green. You should press it and continue the transaction following the directions provided there.
The time of transaction confirmation usually does not exceed 5 minutes and it takes only about an hour for the coins to be delivered to the wallet. People who use Bittylicious for the first time should know that the exchange hasn't got any wallets, so it is possible to complete the transaction if you have created a wallet anywhere else.
One more important point to consider is the fact that non-registered users are limited in the amount and coin type to buy and sell, so in most cases, it would be better to register on the Bittylicious platform: click the Register button at the upper right corner of the screen for this purpose. Upon sign up, you should provide not only an email and password but also ask for a full legal name. The last one is especially important if you plan to buy a cryptocurrency for fiat money since it can be completed only after the verification of your identity. The last one consists of three stages including:
Confirmation of the mobile phone number;
Proof of name and address;
The second proof of name and bank account.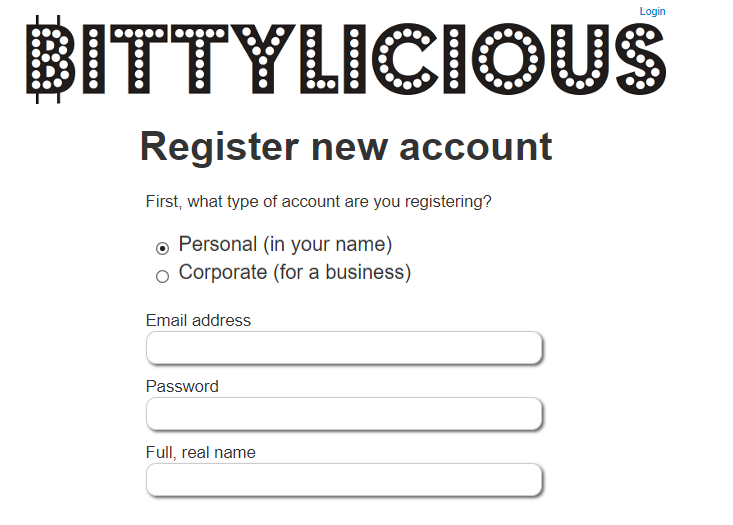 Supported countries
The majority of the exchange users are residents of the countries included in the European Union, but the platform accepts clients from other countries as well. However, there is a list of restricted states and the exchange does not accept card payments from users in the following countries: Cuba, Iraq, Iran, North Korea, Sudan, Syria, and Turkmenistan.
Supported coins and fiat currencies
The total number of cryptocurrencies supported by the exchange is 9. They include such popular tokens as Bitcoin, Litecoin, Ethereum, Dogecoin, Dash as well as less widely known assets called Groestlcoin, Digibyte, Feathercoin, and Vertcoin.
When it comes to fiat money, the only currency listed at the moment is EUR.
Payment methods
Since Bittylicious is used all over the globe, the range of banking options accepted depends on the country of your location. For example, people located in the UK can take advantage of such payment methods as SEPA Bank Transfer, credit and debit cards, iDeal (the Netherlands), and Mister Cash/Bancontact (Belgium).
Fees
According to the Bittylicious official website, users get to the wallet the same amount they see on the trade page. There are no additional fees for buyers. However, the service earns money applying small fees to sellers and it has also included withdrawal fees in the total amount not to charge it separately. The average fee on the majority of coins is 3-7%.
One more important thing to know is the reason why there are such different prices for coins on the platform. Smaller amounts purchased are charged more due to higher transaction fees. Furthermore, there are multiple sellers behind the scenes and they trade different amounts, so the cost of coins can change very frequently.
One more thing affecting the cost of coins is a banking option selected and the difference in price can be quite significant, to tell the truth.
Limits
Since Bittylicious is only a marketplace it has nothing to do with limits. These are brokers responsible for minimum and maximum amounts they are ready to buy and sell. However, it is worth considering verification limits applied by the system. Unregistered users are allowed to purchase coins worth around £50.
One more thing to impact the limits is the IP address. If the IP address and the country you are located in at the moment do not match, be ready to have reduced limits. If someone attempts to purchase coins from an anonymous proxy, the transaction will be declined. User limits can also be much lower if he or she uses a mobile connection.
There is good news too. The overall purchasing limits increase with account age - they start increasing on the 3rd, 7th, 14th, and 30th day of the account age.
There are also ongoing limits on Bittylicious. Only when 12 hours have passed since a previous purchase, you can buy half of that amount again. Once 48 hours have passed, you can get the entire amount again.
A hard limit is applied due to Know Your Customer regulations. All users who have purchased a cryptocurrency equivalent for the sum of €1,000 can proceed with buying only when they upload their IDs.
Is Bittylicious safe?
There have been no hacks of Bittylicious transactions since its launch in 2013, though this platform is not regulated so its safety is still doubtful. The main risk is storing user funds online waiting for confirmation from a seller, so there is no 100% security guaranteed. However, the service puts a lot of effort to keep the funds of its clients in safety, so it has introduced such security measures as 2-factor authentication, customer identification, and SSL Encryption.
Bittylicious support
Users who have questions or face any issues with Bittylicious transactions can turn for help to customs support of the platform. The easiest ways to do that are to connect to Freenode on IRC, channel #Bittylicious to start the live chat, or send an email to [email protected]
Naturally, official inquiries can be sent by post by the address: Bittylicious, Unit 132, 275 New North Road, London, N1 7AA, United Kingdom.
The exchange also provides a telephone number in the contact information, but it is not suitable for support.
Pros&Cons
It could be perceived from the review that Bittylicious has both strengths and weaknesses, but here is their gist to save your time and make the right decision.
Pros:
Easy-to-use;
Validated brokers and users;
Support for several cryptocurrencies and fiat money;
Years of experience;
Based in the UK;
Different payment methods.
Cons:
Quite high and various exchange rates that can change every minute;
No clear limits;
The absence of regulation;
Not mobile-friendly;
Time-consuming start due to the verification procedure.
What do we like about Bittylicious?
It goes without saying that the main attraction of Bittylicious is its hack-free operation for 7 years already. It is difficult to find another P2P exchange that can boast such success, however, it is not the only advantage. Bittylicious follows the trends of the crypto market and makes changes to the coins and fiat money accepted according to that. Furthermore, the service has low network fees and pays much attention to user security that is of utmost importance in the modern world.
Conclusion
Bittylicious is a great choice to purchase popular cryptocurrencies since it is a trusted service with competitive exchange rates, but users should be also careful choosing the banking option and compare prices so as not to lose much on the transaction. If you want to buy Bitcoin, the platform will provide you with new coins in a matter of an hour and without many challenges on your way. However, you should register to increase your purchase limits and come to terms that you are served by the exchange that is not regulated anywhere, so there is always a small percentage of risk involved when you use it.