Do you want to find a trusted exchange not only to buy but also to store, send, receive, and perform other actions with cryptocurrency? One of the pioneers in the crypto market is the CoinCorner exchange. Founded back in 2014 it has preserved its best features and adapted to the novelties of the crypto industry to offer users the best experience. Are you interested in what kind of exchange CoinCorner is at the moment? Read this CoinCorner Review and you will learn a lot of the latest details about this platform.
CoinCorner overview

Table of Contents
An exchange that allows buying and selling, storing and sending, receiving, and transferring Bitcoin and three more popular cryptocurrencies is known as CoinCorner. It was established by crypto enthusiasts in 2014 and is one of few exchanges that has never been hacked.
Currently, the platform has passed through several significant milestones. It has launched a mobile app, API, and payment gateway. Furthermore, it became the first platform in the UK to allow buying Bitcoin with credit and debit cards.
Currently, the exchange welcomes users from the majority of European countries and over 45 states across the globe. The latest achievements of the company are an Auto Buy Bitcoin feature, the launch of cashback shopping services that allow getting Bitcoin, and the introduction of the Google Chrome cashback extension. It keeps on developing and remains a popular crypto destination used by over 200,000 people.
How does it work?
CoinCorner operates similarly to other crypto exchanges. It means that a user should open the website and complete the following steps:
Register a free account.
Fund an account using one of several banking options.
Open the Buy and Sell page and complete the process.
According to the exchange, users who have acquired cryptocurrency can securely store it in the digital wallet or withdraw it to an offline or external wallet.

CoinCorner features
Every crypto exchange has its own number of features that make it outstanding and CoinCorner is not an exception. There is a range of unique features to benefit from this exchange.
Buying & Selling
People who want to purchase Bitcoin or other popular cryptocurrencies can do that on the exchange. It takes around 10 minutes to complete the process since a user should sign-up for the platform, fund the account with EUR or GBP and buy coins by pressing a respective button on the menu. However, it is not the only activity to perform on the exchange.
Crypto owners can store coins in the CoinCorner account or transfer them to the hardware wallet if they wish. Bitcoin holders can also sell coins and withdraw funds to the bank account, pay for goods and services using crypto savings, as well as send cryptocurrency to any person at any distance.
Wallet
CoinCorner wallet is available for registered users. The latter ones can find their wallets below the exchange menu and access any of them. There is a list of fiat and cryptocurrencies with the amount stored in each of them. If you want to copy a wallet address, it is possible to do that by pressing the respective coin or use a QR code provided.
Auto buy Bitcoin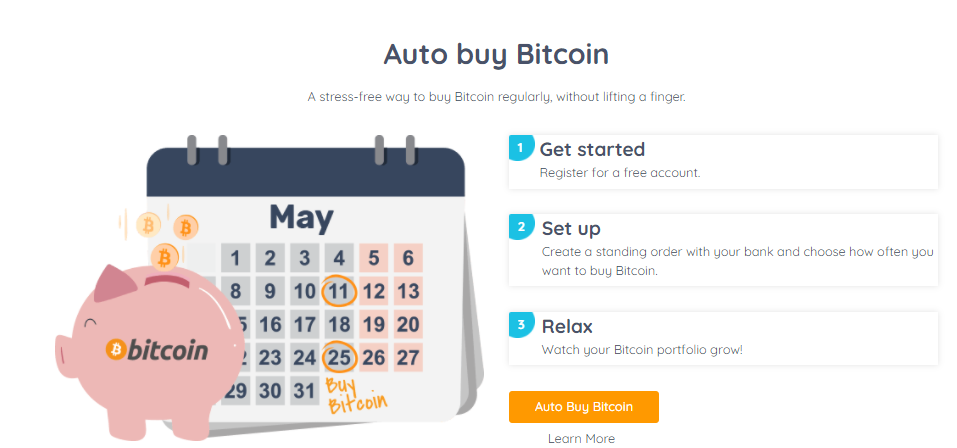 One of the most recent features introduced by CoinCorner is Auto Buy. It allows buying coins in a faster and easier manner. Registered users can opt for regular purchases of Bitcoin by setting up a standing order. A user chooses how often he wants to buy coins, what amounts of this coin but not less than a £10 equivalent, and saves time by avoiding manual purchases.
Earn Bitcoin when you shop online
CoinCorner offers an exclusive chance to earn Bitcoin shopping online. It is possible to earn up to 32% in Bitcoin rewards depending on the goods purchased. What should you do to get this reward?
Browse the directory of partner online retailers participating in the program.
Do shopping using a CoinCorner account.
Earn Bitcoin with every purchase: it will be delivered to your balance.
There are over 1,000 top brands to select for shopping and it is more comfortable to collect cashback with CoinCorner Bitcoin cashback extension for Google Chrome, Edge, Opera, Brave or Android Yandex. Users who start shopping with the extension installed will get pop-up notifications about cashback offers supported by the partner retailer. A user can activate an offer with one click, make a purchase, and wait for an email saying about Bitcoin credited to the account.
CoinCorner Checkout
Business owners can increase the number of customers by accepting Bitcoin payments with CoinCorner Checkout. It features a quick and easy setup, global reach, fraud elimination, and a low fee of 1% only. Financial institutions in different industries already use this feature and can accept crypto payments anywhere: on the website, by email, or by sharing an invoice link.
The main benefits of CoinCorner Checkout for businesses are no chargeback and the receipt of funds directly to the bank account with zero price volatility or risk. Businesses can opt for hosted or embedded integration as well as opt for necessary plugins too. It is enough to fill out the application form for an exchange representative to contact you and explain how to join.
Gift cards
Do you want to surprise a person with an unusual present? Why not buy a Gift Card with Bitcoin using a CoinCorner account. The exchange has partnered up with Bitrefill that offers gift cards from many popular retailers. How does it work?
Load your wallet with Bitcoin.
Browse gift cards and choose the best variant from thousands of examples.
Pay with Bitcoin and get one.
How to use CoinCorner
Look through this step-by-step guide on purchasing cryptocurrency on CoinCorner.
Sign up for the exchange website. You can find the Register button in the upper right corner. Press it and provide a number of details including first and last name, email and password, address lines, city, country, postcode, and others. Admit the registration and wait for the verification email to arrive. Follow the link provided in the email and enter an active phone number. You will be sent an SMS with a code to enter and complete the process.
Pass through the account verification. It is possible to use CoinCorner without ID verification but you will have a deposit limit. When the limit of a deposit is reached or you can do that earlier, but it is necessary to complete the verification by providing a copy of ID and proof of address. Sometimes, users are asked to send a selfie too. The verification process takes a couple of hours and is usually completed on the same day.
Fund the account. You can transfer GBP or EUR to your account using payment methods accepted by the exchange. Money is delivered to the balance almost instantly, but some banking options are available only for verified users.
Buy, sell, transfer and store cryptocurrency. All the exchange functions are listed on the account dashboard. A user should select the necessary operation and complete it following the hints provided.
Withdraw crypto or fiat money. It is possible to cash out fiat money to the bank account, while Bitcoin and another cryptocurrency can be sent to any active wallet by entering its address.

Supported countries
The exchange operates in 45+ countries including the states of the European Union, countries located in Latin America (Argentina, Brazil), South Africa, and Asia.
Supported coins and fiat currencies
CoinCorner supports four cryptocurrencies including Bitcoin, Ethereum, Ripple, and Litecoin. The range of fiat currencies is twice smaller including EUR and GBP.
Payment methods
The range of banking options for deposits and withdrawals is not very extensive, but it includes the most popular methods.
Users can deposit using a credit or debit card. It is enough to choose the currency, enter the amount, provide card details, and complete the process. The transaction is completed instantly with an admin fee of 2% on deposits under £/€2,000. The minimum deposit amount is £/€10. The withdrawal fee is £0.80 or €1.
Bank wire transfers made via SEPA are the second most popular payment method for funding the account. Users should choose this option from the list, select the currency, enter the amount, and send funds to the details provided on the screen. The money is auto-credited to the account automatically. GBP deposits are processed from 1 to 5 days. Admin fee on both deposits and withdrawals is £1 for the UK and £25 for international transfers.
The minimum deposit amount is £5 for the UK and £30 for international transactions. EUR deposits are delivered from 1 to 3 days without an admin fee, while withdrawals will cost €35. The minimum deposit amount is €5.
Neteller is the third payment method accepted by CoinCorner. Only verified users can use it for deposits. The admin fee is 3.2% and the minimum deposit amount is €/£20.
Fees & Limits
CoinCorner fees are quite low since the platform charges a 1% fee for buying and selling cryptocurrency. It is deducted from the amount a user should receive as the result of a transaction. However, it is important to remember about fees applied to deposits and withdrawals as well as limits too. The fee amount depends on the banking option and it ranges from £0.80 to €35 or 3.2%. The minimum deposit and withdrawal amounts start from £5 and there is no maximum deposit and withdrawal limit too.
Affiliate program
The exchange offers a rewarding affiliate program. Registered users who have attracted new customers via an affiliate link can receive £10 to the account for every referred user who registers, verifies an account, and initiates a buy or sell of £100 or more (or currency equivalent) within 180 days of opening the account. Each of the referred customers will receive the same award too.
Mobile app
CoinCorner is available on mobile devices too. Users can not only use the exchange services accessing the platform via a mobile browser but also download the iOS and Android applications available in app stores. The apps are free and offer full website functionality to users.
Is CoinCorner Safe?
There is no sense in doubting the safety of the exchange since it has been proven for over 6 years of its operation. The company complies with KYC and AML checks as well as offers users several ways to protect their assets better. The majority of user assets are kept in multi-signature cold storage and they can protect them additionally using 2-factor authentication too. All personal and financial data is transferred using a secure HTTPS network, while account notifications enabled in the Settings will help you control all the actions performed.
What do we like about CoinCorner?
CoinCorner is a trusted leader in the world of digital money since it has been operating for over 6 years already. It is a secure and full-featured exchange that supports the 4 most popular cryptocurrencies and operates in over 45 countries all around the globe. The exchange has a multi-asset wallet with support for fiat money and a user-friendly interface. CoinCorner customers can benefit from a rather low fee of 1%, no maximum limits, rewards for online shopping, and a clear affiliate program too.
CoinCorner support
Customer support is ready to answer all user queries using two communication means. It is possible to send an email at [email protected] or use a Live Chat available Monday to Friday between the hours of 9 am and 5.30 pm. The chat window can be found in the bottom right corner of the screen when you are logged in to the account.
Pros&Cons
What should you like or dislike about CoinCorner? There are several points to consider.
Pros:
Low buy and sell fees;
Utmost security;
Award-winning and trusted company;
All-in-one service;
Mobile app and web access;
Multiple features.
Cons:
Only four cryptocurrencies supported;
High deposit and withdrawal fees;
Crypto-to-crypto exchange is not supported;
Inability to send or receive ETH, XRP, LTC.

Conclusion
CoinCorner does not stand in one place and moves forward to keep up with modern crypto trends. It has updated the website and mobile apps as well as offered several more great features to users recently. The exchange is ranked high on popular review platforms and is regulated by the Isle of Man Financial Services Authority (IOMFSA) that confirms its reliability and security. You may find cheaper alternatives to buy and sell cryptocurrency online but there is hardly any exchange to boast such a high reputability level like CoinCorner.