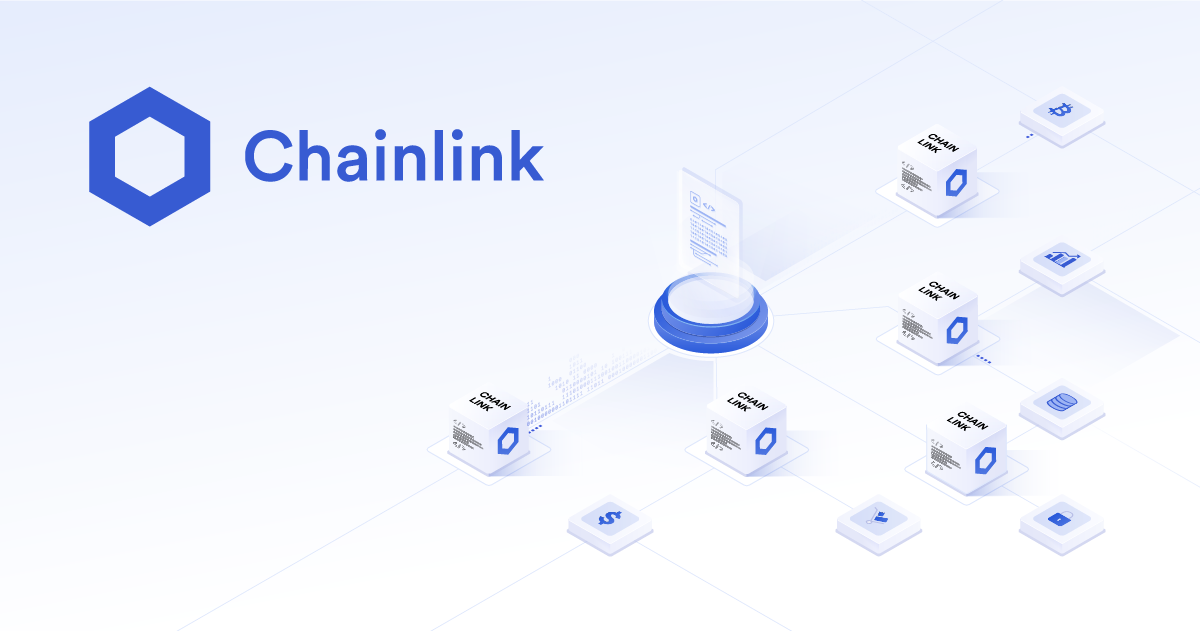 The jaw-dropping profits recorded by LINK in 2020 has led many investors to research how to buy Chainlink in the UK. Many missed out on those gains and do not want to be left behind if Chainlink will ever take-off again.
Table of Contents
Meanwhile, others are not speculators but want to get some LINK to trade or use on developer tools. In this article, we outline some exchanges and ways to buy Chainlink in the UK using GBP.
Here's a quick step-by-step guide on how to buy Chainlink with GBP on Binance
Sign up for a Binance account and complete the identity verification process. (The verification is necessary since you're engaging with Binance's fiat channel).
Check the "Buy Crypto" Tab and Select GBP as the preferred currency.
Separate your preferred Payment Method (We'll use a Credit/Debit card for this example).
On the next page, input the value of GBP you want to spend. The equivalent amount in Chainlink crypto will appear simultaneously.
Hit "Buy Link" and confirm payment details on the following page.
Input the card details and complete the transactions.
You will receive the purchased LINK in your Binance wallet once the payment is complete.
Where to buy Chainlink
Aside from the above steps on how to buy Chainlink in the UK via Binance, there are also several exchanges where you can get some LINK.
CEX.IO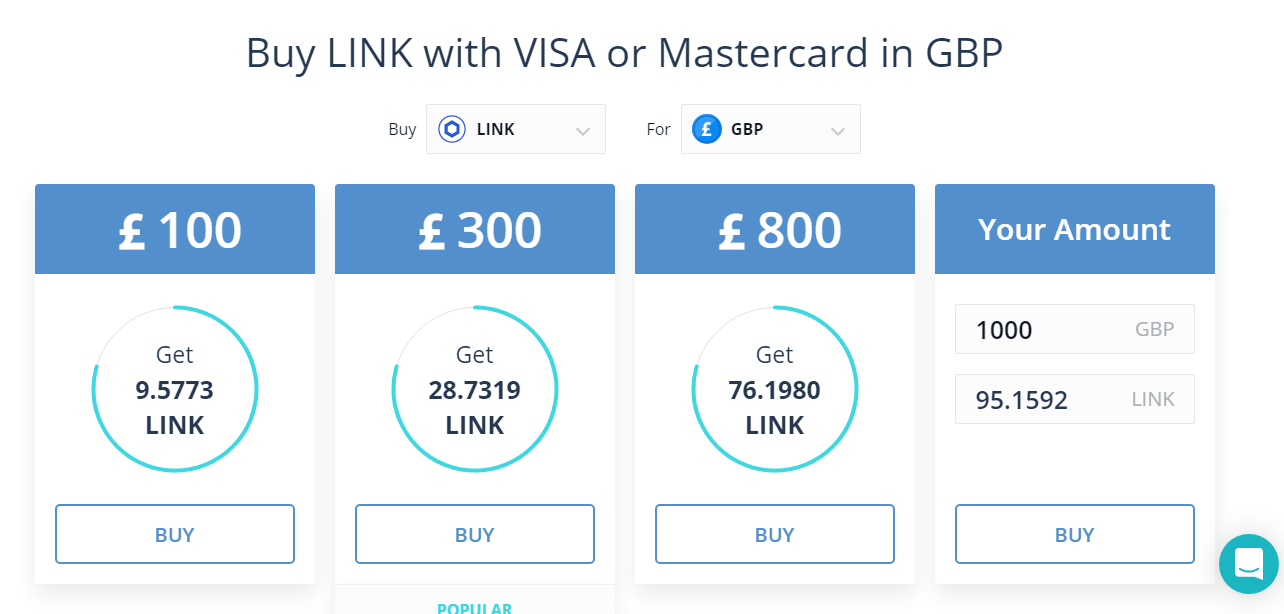 CEX.io is a UK-based cryptocurrency exchange launched in 2013. It allows users to buy Chainlink, as well as other large-cap assets. The minimum purchase amount for GBP holders is £20, and the platform supports many payment methods.
How to buy:
Sign up for a CEX.io account and complete the identity verification.
Proceed to the Buy/Sell page.
Select Chainlink (LINK) as the crypto to buy and GBP as your payment currency.
Enter your Debit/Credit card details on the next page.
Verify payment details and complete the process.
The purchased LINK will be added to your CEX.io wallet almost instantly.
Pros
CEX.io is a reliable exchange platform with no history of security breaches.
CEX.io supported a variety of payment methods.
The exchange has a 24/7 customer support system, including via telephone.
You can buy other large-cap cryptocurrencies aside from Chainlink (LINK).
You can buy up to £100 without ID verification.
Cons
CEX.io charges a hefty 7% fee on card purchases.
The KYC verification process can be slow sometimes.
Payment Methods: Visa, Mastercard, SEPA, SWIFT, Bank Transfer, ACH, Cryptocurrency.
Coinbase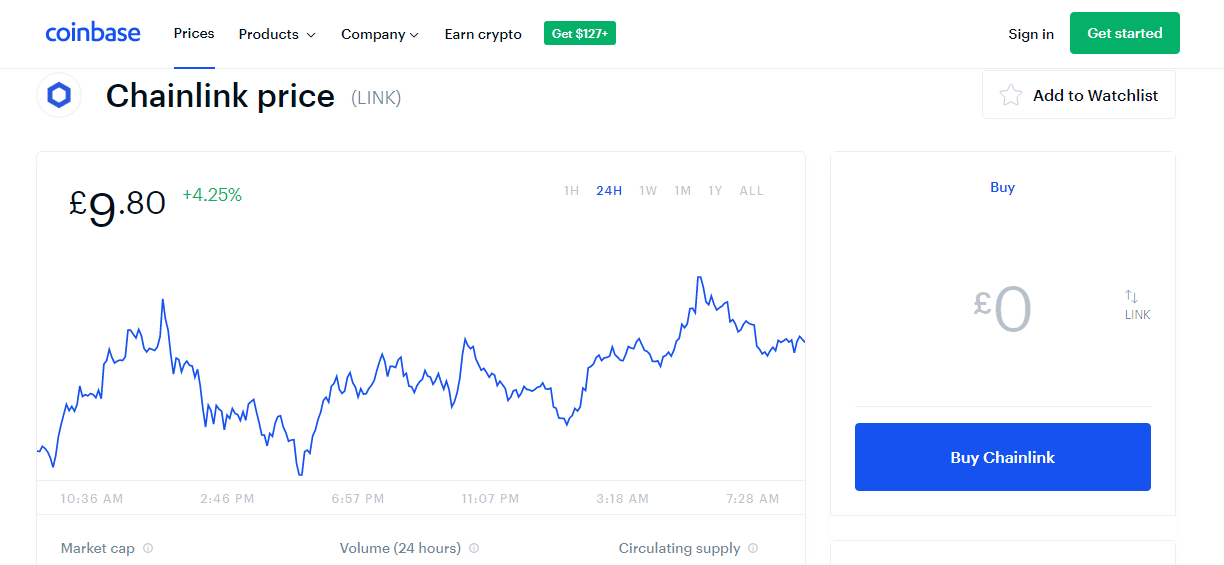 Based in San Francisco, Coinbase is another traditional cryptocurrency exchange that supports Chainlink (LINK) purchases via several payment options. You can either hold your assets on the platform or withdraw to an external wallet address.
How to buy
Create a Coinbase account and complete the user verification process.
Go to your GBP wallet and choose "Link a New Account."
Select "Credit/Debit card" and insert billing address and other details.
Click "Add Card," and you can go to the Buy/Sell page if approved.
Choose Chainlink (LINK) as the asset to buy and input transaction value.
Complete the payment via card, and the purchased LINK tokens will be added to your Coinbase balance.
Pros
Coinbase is one of the most reliable and widely used exchanges (over 40 million customers).
Coinbase has a very user-friendly platform, ideal for first-time investors.
There is native support for both GBP and EUR wallets.
UK users have a variety of payment options to choose from.
Coinbase has a responsive customer support desk.
Cons
Coinbase usually suffers a downtime when there's a surge or rapid decline in crypto prices.
Coinbase supports a limited number of crypto assets when compared to other platforms.
Payment Methods: Faster Payments, SEPA, Bank Transfer, 3D Secure Cards.
Indacoin

Indacoin is another UK-focused cryptocurrency exchange that has been around for a while. Its primary service is allowing users to buy cryptocurrencies, including Chainlink, using credit and debit cards.
How to buy:
Create an external Chainlink address.
Alternatively, create an account on Indacoin and complete the verification process.
Visit the Buy Chainlink page and fill in order size details.
Input the external wallet address if you're using one, or proceed with your Indacoin account.
Click "Continue" and enter your card details on the following page.
Complete the payment, and you'll receive the LINK tokens instantly on your Indacoin account. If you use an external wallet, the transaction goes through within 20-60 minutes.
Pros
Indacoin is fairly reliable and has been around for a long time.
The platform boasts a 24/7 customer support team, including phone support.
You can buy into several other cryptocurrencies aside from LINK.
Users get a purchase bonus in Indacoins (the exchange's token) for their first purchase.
Indacoin offers a degree of privacy by allowing for low purchases without stringent KYC.
The exchange offers a mobile app for transferring and tracking funds on the go.
Cons
Although users see the total amount they'd receive for their purchases, the fees are not transparent or explicitly stated.
The platform only accepts card payments.
Payment Methods: Bank Cards (Visa, Mastercard)
CoinSwitch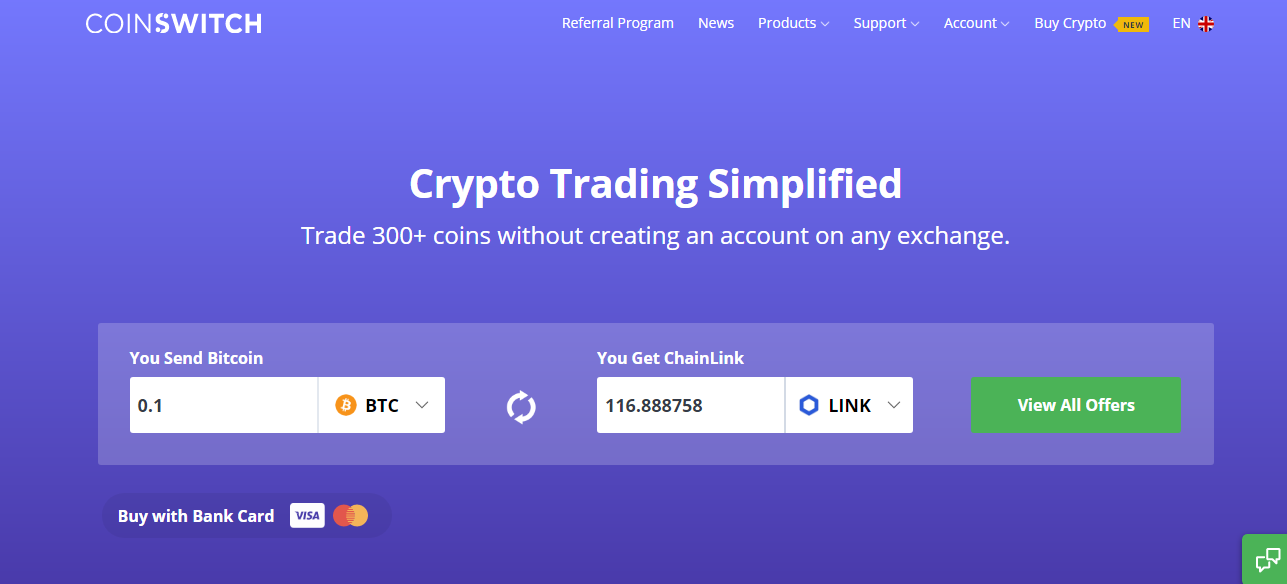 CoinSwitch is an India-based crypto-to-crypto exchange platform that also services the UK audience. Although the exchange recently introduced an option to buy cryptocurrency with bank cards, its primary service involves converting one crypto to another.
How to buy:
Purchase Bitcoin or Ethereum from any of the aforementioned exchanges.
Go to Coinswitch's website and enter Bitcoin or Ethereum as the coin to send and LINK as the coin to receive.
Click "View All Offers" and select the best deal.
Insert the receiving Chainlink Address and proceed with transferring BTC to the provided address.
You'll receive LINK tokens within minutes after the transactions are approved.
Pros
CoinSwitch is a reliable crypto exchange service and easy-to-use for anyone.
The platform supports conversions for a wide number of cryptocurrencies (more than 300).
CoinSwitch has a responsive customer support system.
There are no transaction limits.
The platform now supports Credit and Debit card purchases via Simplify.
The no-registration requirement means you can start trading almost immediately.
Users get the best rates since the provided offers are compared across the best cryptocurrency exchanges.
Cons
The Coinswitch website lags sometimes.
Fees are not stated explicitly on the conversion page.
Payment Methods: Cryptocurrency and Bank Cards (Visa, Mastercard).
Coinjar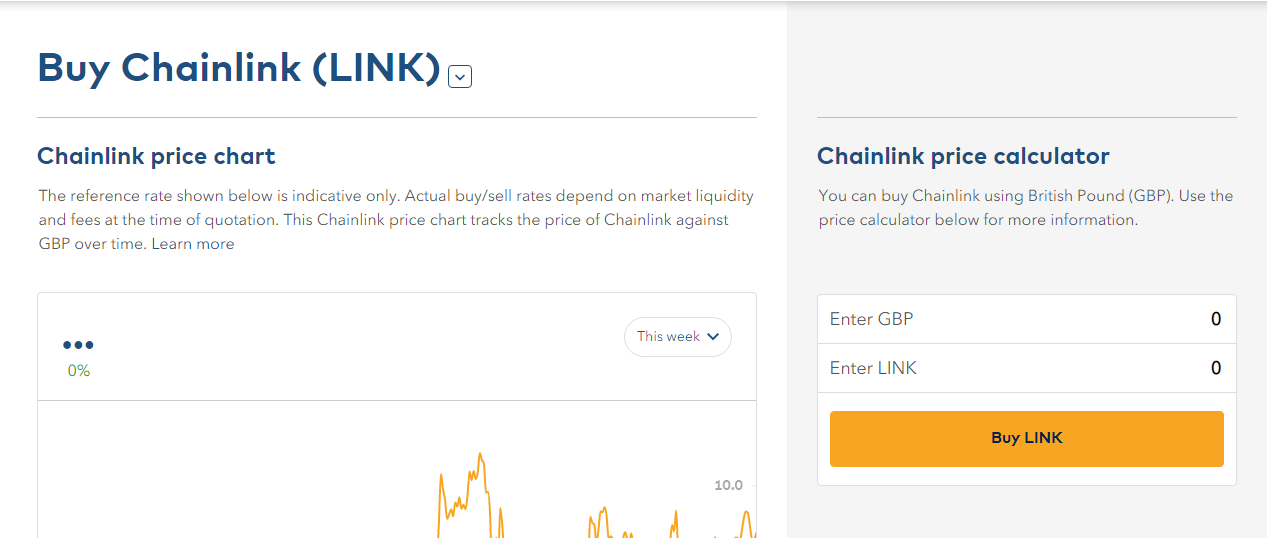 Coinjar is a UK-registered cryptocurrency exchange service launched in 2013. As one of the oldest cryptocurrency exchanges, it is no surprise that it supports Chainlink (LINK) and a number of large-cap cryptocurrencies.
How to buy:
Sign up for a Coinjar account and complete the identity verification process.
Go to Accounts and add Chainlink (LINK)
Go to Cash Account to fund your account via Bank Transfer.
Alternatively, you can add a BTC account and deposit BTC on Coinjar.
Go to Payments, and Select Transfer.
Select BTC or Cash Account (depending on the one you funded).
Choose Everyday Chainlink as the account to convert funds.
Enter the transfer amount and click "Review and Confirm."
Select "Pay Now" to convert the funds to LINK.
Pros
Coinjar's user-interface is ideal for newcomers and provides a range of useful features.
The platform is reliable and has no history of security breaches.
Coinjar boasts an excellent customer support team, including via LiveChat.
The 1% fee associated with currency conversions is one of the lowest in the industry.
There is a full-exchange solution for professional and over-the-counter (OTC) traders.
Cons
Coinjar doesn't support deposits via bank cards.
The platform supports a limited number of cryptocurrencies.
Payment Methods: Faster Payments and Bank Transfers.
BitPanda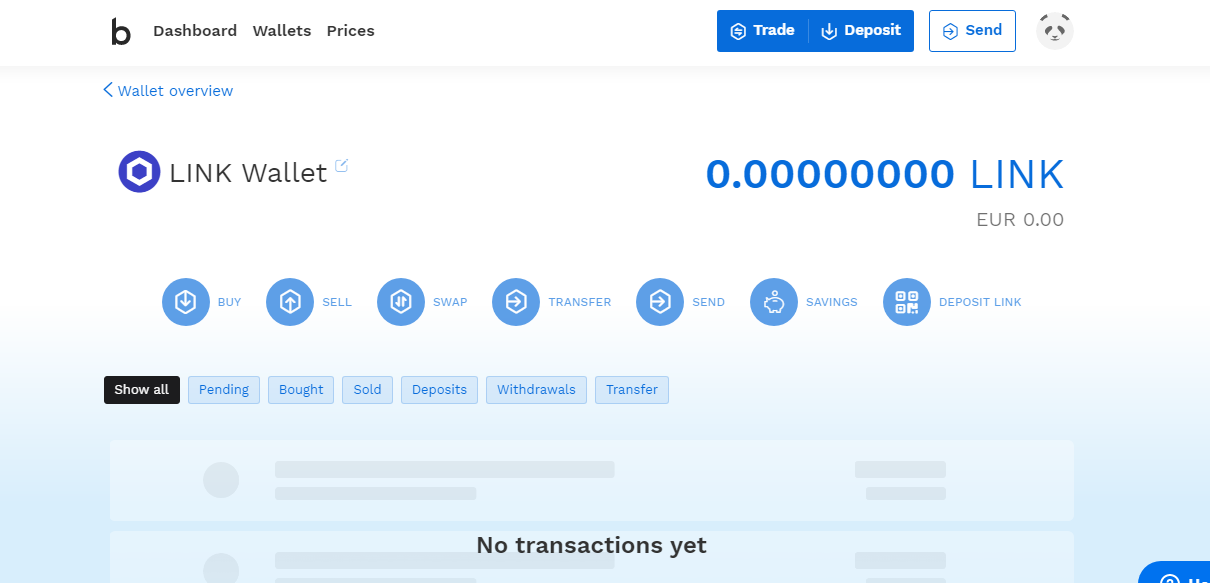 BitPanda is an Australia-based cryptocurrency exchange service founded in 2014. It has since become a force to reckon with in Europe and offers its service to UK customers. You can buy a Chainlink in the UK using BitPanda.
How to buy:
Signup on BitPanda and complete their ID verification process.
Click "Deposit" to Fund your account via your preferred deposit method.
After payment confirmation, go to "Wallets" and select "Chainlink (LINK).
Click Buy and enter the order size details.
Choose a payment wallet or use a Card.
Complete the order and receive LINK in your BitPanda wallet
Pros
BitPanda includes native support for GBP and EUR.
The operating is fully regulatory compliant and thus has high verification standards.
There are no limits once you complete the KYC process.
Bitpanda is feature-packed, offering services such as Crypto Swaps, a Crypto Index Fund, Savings, and an intuitive mobile app.
Users enjoy lower transaction fees when they choose to pay with BEST, the exchange's native token.
Aside from cryptocurrencies, you can also trade precious metals such as Gold and Silver using BitPanda.
Cons
The numerous features can be a little confusing to first-time investors.
Getting started on BitPanda takes a long time because of its stringent KYC process.
Payment Methods: Bank Cards (Visa, Mastercard), Bank Transfer, Neteller, Skrill, SEPA,
Kraken

Kraken is another traditional cryptocurrency exchange that lets UK users buy Chainlink using BTC. The exchange dedicates a full page to explain why Chainlink is essential and offers instant buy options for the asset.
How to buy:
Create an account on Kraken and complete the ID verification process.
Fund your Kraken account via a BTC deposit (BTC is tagged XBT on Kraken)
Go to "Prices" from your dashboard and Switch currency option on the next page to GBP or EUR to view current prices.
Use the Market search bar under "Trade" to search for LINK and select the LINK/XBT pair.
Input the amount of LINK you want to buy and switch order type to "Market."
Click Buy LINK for XBT and wait for order confirmation.
You'll now have the purchased LINK tokens on your Kraken balance.
Pros
Kraken is one of the most secure and trusted exchanges in the industry.
Fees are cheaper (0.26%) since the trade goes through Kraken's order books.
Kraken offers a full suite of trading tools for professional traders, including crypto-based derivatives.
Kraken offers 24/7 customer support.
You can also stake proof-of-stake (PoS) cryptocurrencies for yields using Kraken's staking service.
Cons
There are other exchanges that offer more retail-friendly ways to buy Chainlink.
There is no option to deposit GBP or buy Chainlink using Bank cards.
Payment Methods: Etana Custody, Faster Payments, Bank Transfers, CHAPS, and BACS.
BC Bitcoin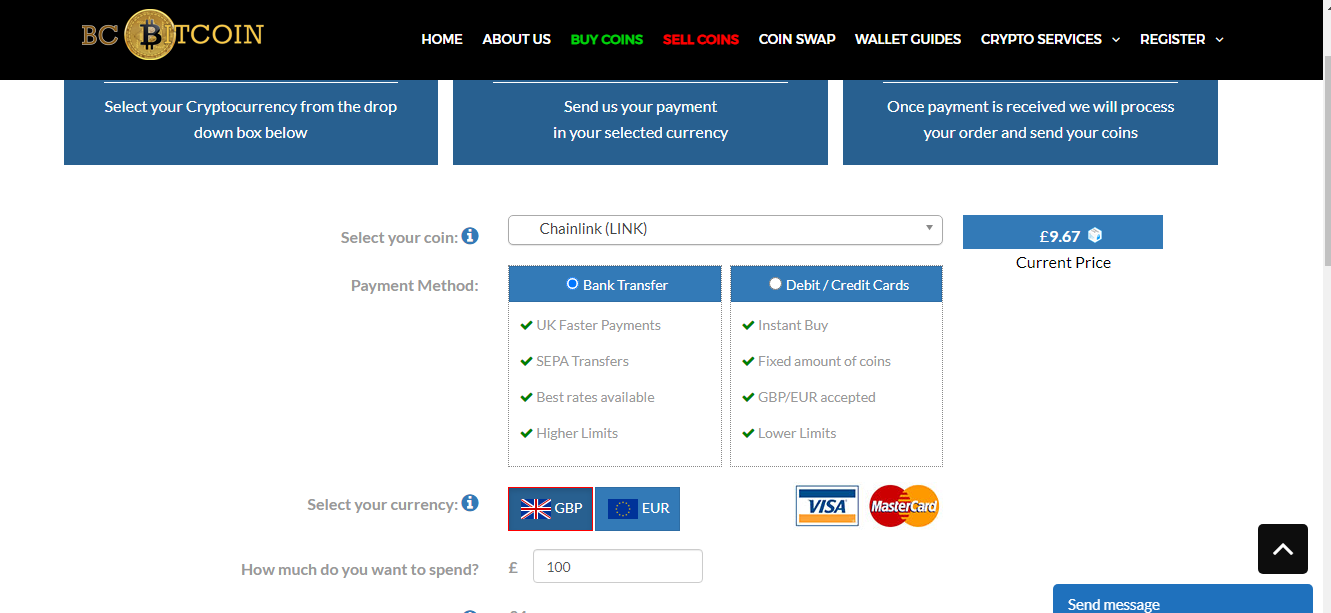 Based in the United Kingdom, BC Bitcoin is a one-of-a-kind cryptocurrency exchange service. The platform does not hold user funds but lets you buy cryptocurrencies that will be sent to an external wallet.
How to buy
Register on the BC Bitcoin website and complete the user verification process.
Go to "Buy Coins" on the menu tab.
Select Chainlink (LINK) as the coin to buy and choose your preferred payment method (Bank or Cards).
Select Currency and specify the order amount.
Provide your external wallet address and proceed to payment.
Once payment is complete, LINK tokens will arrive at your provided address within 20-60 minutes.
Pros
BC Bitcoin's exchange service is straightforward to use.
There are no hidden fees as these are made available on the order page.
BC Bitcoin has a responsive customer service desk.
The platform supports widely used fiat-deposit methods.
There is also an OTC-desk for large purchases.
You can also use the Coinswap option to convert BTC or other assets to LINK.
Cons
Using BC Bitcoin requires setting up an external wallet, which some investors may not know how to do so.
Payment Methods: Bank Cards (Visa, Mastercard). SEPA, Faster Payments,
Where to store Chainlink
After learning how to buy Chainlink in the UK, the next logical question is where you can store them securely.
Top-tier cryptocurrency exchanges like Kraken and Coinbase are relatively safe to store assets in the short-term. However, industry experts agree that using a non-custodial wallet is ideal for securing crypto assets, including LINK.
Therefore, you can invest in a Ledger or Trezor hardware wallet or review our list of the best Bitcoin and cryptocurrency wallets.
Privacy and security tips
Keep the following in mind when buying, selling, or transferring LINK via an exchange or a non-custodial wallet.
Always enable optimum security options on your exchange accounts. This would include two-factor (2FA) authentication or the use of a hardware token.
Use strong and preferably distinct passwords for individual exchange accounts.
Make sure to double-check the receiving address before sending funds. Computers infected with malware could replace the copied address on your clipboard with that of hackers.
Do not leave a large portion of your funds on exchanges. Only leave an amount you trade actively and withdraw it if you are going offline for a significant period.
Conclusion
In this article, we discussed how to buy Chainlink in the UK, exchanges that offer the asset, and security tips to keep in mind.
Chainlink (LINK) 's potential to become one of the most valuable cryptocurrencies in the industry makes it an exciting prospect for investors. However, only time can tell whether the project lives up to that billing.