The odds of you searching for the best bitcoin wallet to secure your assets is as high as your desire to protect your hard-earned money.
Table of Contents
Let's face it.
No one ever loves losing their assets, talk more about precious bitcoins that could be worth so much more in the future. Bitcoins that cannot be recovered because they are permanently lost are called "orphan coins," and we believe you have no plans to send yours to their earlier grave.
It is for this reason that we provide this shortlist of best bitcoin wallets for UK users. While we've made this list primarily with security in mind, we also considered the ease of use and reputation of the recommended solutions.
First, though, let's talk about some things you should look for when making a selection.
What should you look for in a Bitcoin wallet?
Security: As noted earlier, security is the primary feature to consider when looking for a bitcoin wallet. Hackers are always on the hunt for bitcoin owners who fail to properly secure their private key or passphrase, or even store them online.
Therefore, the ideal bitcoin wallet should at least offer enough security for your assets, preferably by keeping substantial amounts entirely offline. The best cryptocurrency wallet is the non-custodial type which allows you to store and backup your keys by yourself.
Ease-of-Use: Whether you're going for a hardware or mobile wallet, the last thing you want is not being able to read instructions on the screen freely, or feel constrained with what you can do with your Bitcoin wallet.
For this reason, you may want to prioritise using wallets that have a smooth user interface and sufficient functionalities.
Multi-coin Support: If Bitcoin will not be the only asset in your cryptocurrency portfolio, then it is best to find a wallet that includes support for other assets that you want to hold as investments.
Most wallets typically support Bitcoin, Ethereum, ERC-20 tokens, and other large-cap cryptocurrencies. If you're investing in projects built on other blockchain projects, please confirm that the wallet you want to use supports these assets.
Having considered what to look for in a Bitcoin wallet, let's go through our best picks.
Best Bitcoin Wallets in the UK
The best UK bitcoin wallets apparent would include those that support the buying of Bitcoin with GBP or EUR. Although most non-custodial bitcoin wallets do not support such a service, here are our top picks:
Hardware wallets
Hardware wallets are devices for cold (or offline) storage of cryptocurrencies. Users private keys are stored on a secure hardware device, making it less susceptible to hack and theft. It is ideal for storing large amounts of cryptocurrencies (typically above $1000).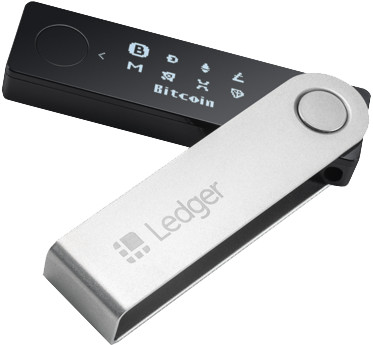 Wallet Cost: £92
Incorporated exchange: No
Pros
Ledger Nano X is the most secure hardware wallet.
It is easy to set up, as long as you follow the guidelines in the user manual.
The device is lightweight and has Bluetooth functionality, making it easier to carry around.
It simultaneously supports multiple coins, unlike the Ledger Nano S.
Supports Bitcoin and crypto purchases with GBP via Coinify
Cons
The Ledger Nano X is a pricy hardware wallet at £92. The high price is the reason why its more affordable variant, the Ledger Nano S, has more sales.
The wallet could use a better user experience.
The Ledger Nano X device features are constructed from plastic or stainless steel and weigh just about 34g. Bluetooth functionality means it can easily connect with your phone or PC without the need for a cable.
By adopting high-grade, secure chip technology, the Ledger Nano X is arguably the most secure bitcoin hardware wallet in the market right now. It boasts a CSPN (First Level Security Certificate) certification issued by ANSSI (National Agency for Information Systems Security).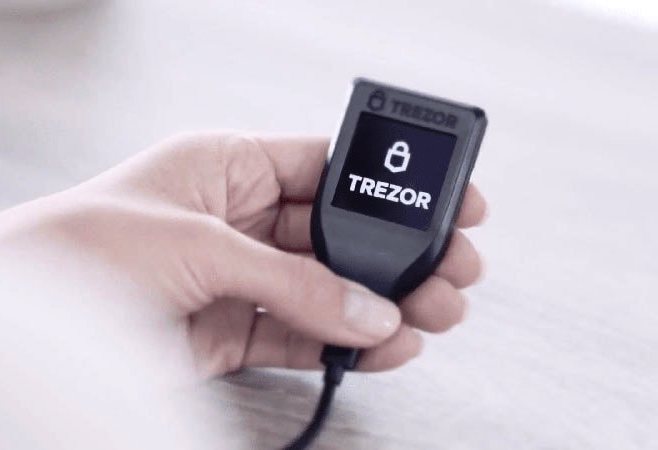 Price: 149 EUR
Incorporated exchange: No
Pros
The Trezor Model T supports more than 1000 coins.
The offers an extra suite of tools for managing your digital security, including a password manager, Universal 2nd Factor (U2F), GNU Privacy Guard, etc.
With a bright colour LCD of 240x240 pixels, the Trezor T offers a better user experience than existing hardware wallet solutions.
The device is ideal for travelling and can be carried even on an aeroplane.
It supports the buying of bitcoin with GBP.
Cons
The Trezor Model is arguably the most expensive hardware wallet on the market right now. The price could drop if a competitor is offering similar features.
Trezor could read your IP address and transaction history unless you set up a Tor browser and run a full bitcoin node.
Mobile wallets
Mobile wallets are like what the name sounds. They are bitcoin wallets that allow you to carry your bitcoins on your mobile phone and are best suited for individuals who transact their digital assets regularly.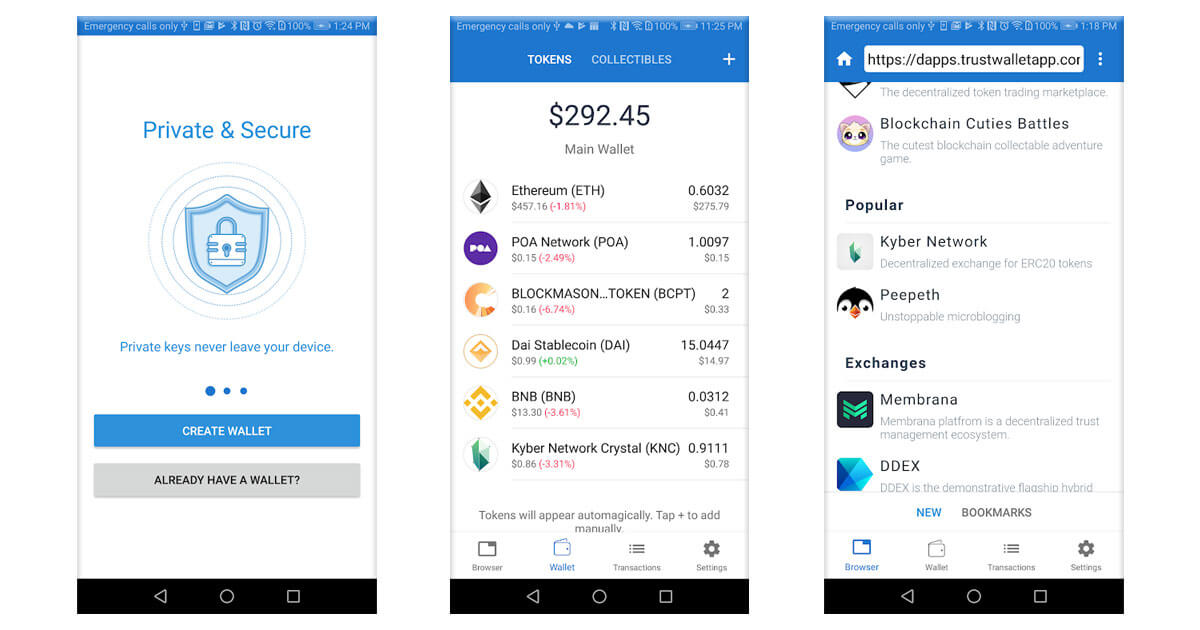 Supported Devices: Android & iOS
Supports Decentralized Apps: Yes
Incorporated exchange: Yes
Pros
Trust Wallet boasts an excellent user interface and easy navigation for first-time users.
Trust Wallet supports most large-cap cryptocurrencies as well as ERC-20 and Binance Smart Chain tokens. (Trust Wallet is owned partially by crypto exchange, Binance).
The wallet includes native support for Ethereum-based decentralised applications, such as DEXes and DeFi apps.
UK users can buy bitcoin and other cryptocurrencies using GBP or EUR.
Cons
As with all mobile wallets, users run the risk of losing all their funds to a minor security mistake.
Trust wallet does not support receiving of bitcoins via Legacy addresses. The wallet only provides bc1 addresses.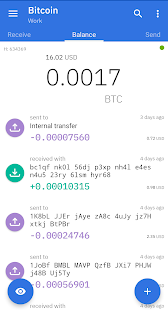 Supported Devices: Android and iOS
Supports Decentralized Apps: No
Incorporated exchange: Yes
Pros
Coinomi is a fully non-custodial wallet and supports multiple blockchain and tokens.
The bitcoin app includes high-security features such as IP masking and HD algorithms.
The wallet integrates Changelly and Shapeshift to support coin exchange.
There are no fees attached to using the app; neither are there ads that affect user experience.
It supports the purchase of Bitcoin for GBP via Simplex, BTC Direct and Gift cards.
Cons
The wallet could use a better user interface.
The Coinomi wallet doesn't support native integration with decentralised applications.
Online wallets
Online wallets are Bitcoin wallets that live on the internet. A cryptocurrency exchange platform typically offers them.
Incorporated exchange: Yes
Supports Decentralized Apps: No
Pros
Blockchain.com is a trusted and reliable platform for opening a bitcoin account.
The service is not custodial since users can recover their assets via a passphrase.
The Blockchain.com bitcoin wallet supports five other coins aside from Bitcoin.
The platform now offers an opportunity for users to earn interest on deposited bitcoins.
You can also buy Bitcoin with GBP using bank cards.
Cons
Blockchain.com doesn't support Segwit addresses, and hence bitcoin transaction fees are higher than usual.
The platform doesn't support as many coins as other online wallets.
Blockchain.com launched in 2012 and continues to offer one of the oldest and safest Bitcoin wallets. The user interface is relatively convenient for first-time users and has onboarded many new investors to the industry. Blockchain.com has over 40 million users.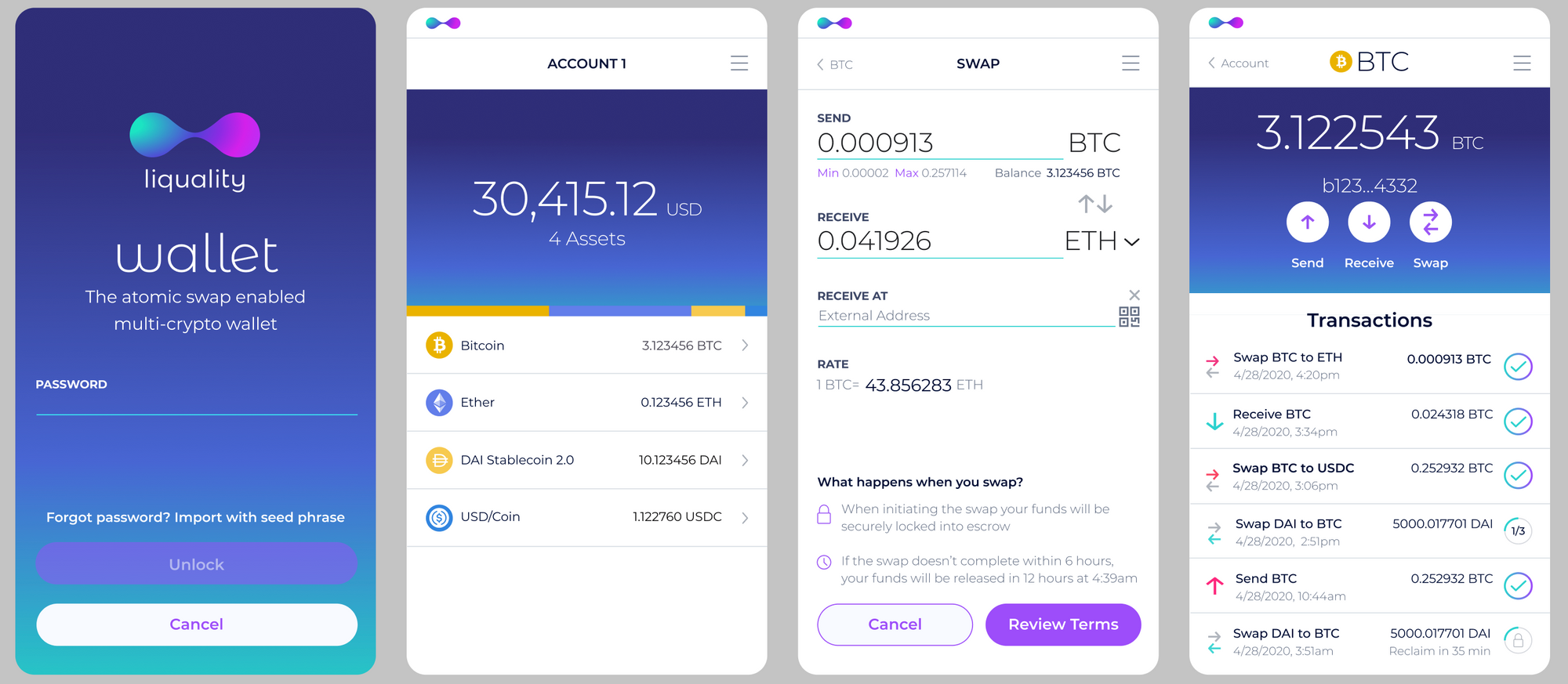 Incorporated exchange: Yes
Pros
The Liquality wallet is fully non-custodial and requires no registration.
It supports atomic swaps for easy conversion between Bitcoin, Ethereum and ERC-20 tokens.
The wallet's UI is easy to use even though the actions it executes are complex.
Liquality supports Bitcoin as well as many tokens used on decentralised apps.
Cons
The solution is only available as a browser extension.
Liquality's wallet solution is relatively new and thus not the best bitcoin wallet for first-time users who have no experience with Bitcoin transaction.
Being a hot wallet means there's a high of getting hacked.
Liquality wallet is a bitcoin wallet that exists in the form of a browser extension. It is fully non-custodial and ideal for investors who use decentralised applications or simply want to transact bitcoin regularly.
Desktop wallets
Desktop wallets are Bitcoin wallets that let you store the private keys and manage your assets on your laptop or desktop device.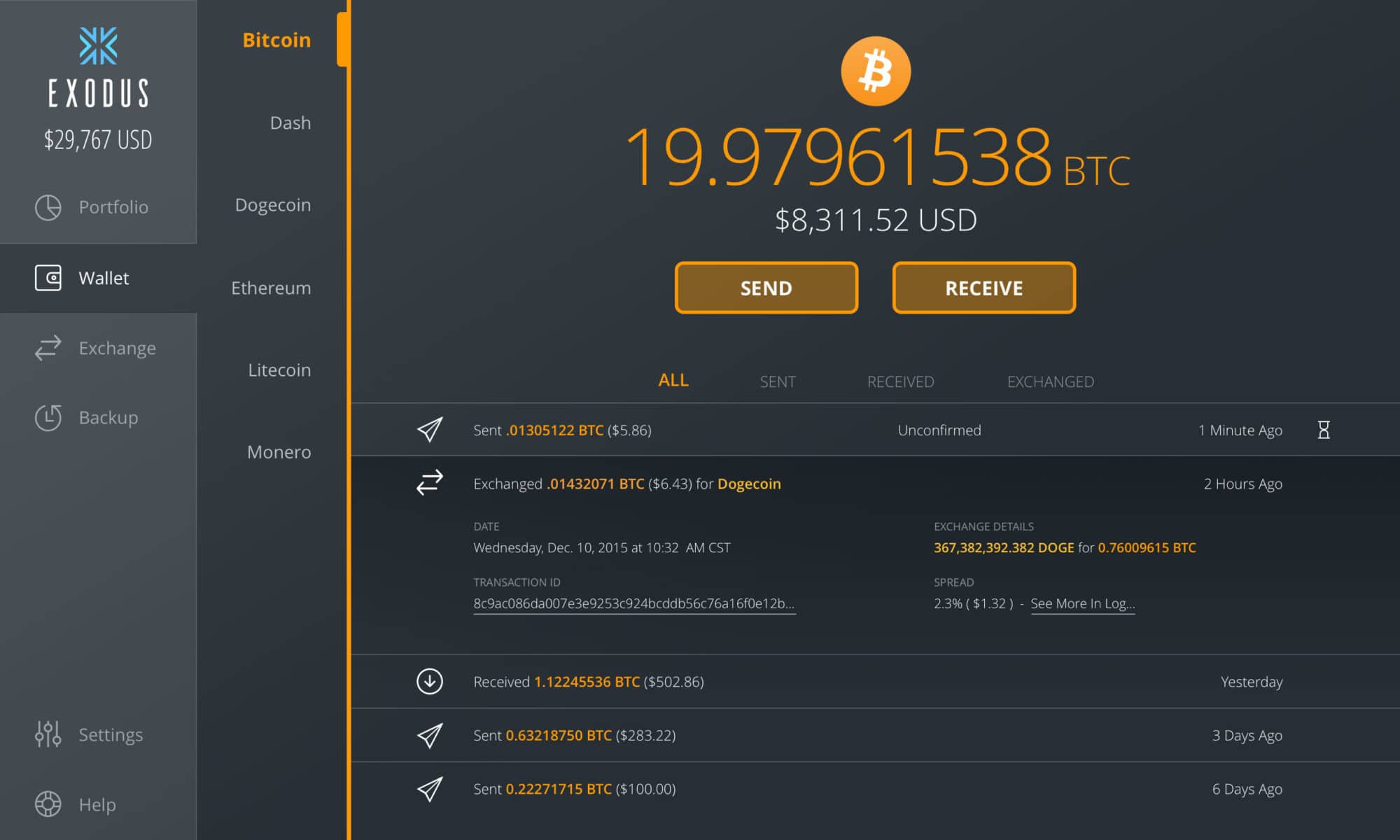 Incorporated exchange: Yes
Pros
The Exodus wallet is easy to set up and offers an excellent user experience.
Excellent customer support
Free to use
It supports multiple cryptocurrencies (100+) and built-in exchange.
Supports staking of proof-of-stake coins.
Cons
The wallet is not fully open-source and has faced security issues in the past.
Fees can sometimes be higher than other desktop wallets.
Exodus wallet launched in 2015 and built a strong reputation for striking a balance between being user-friendly and offering adequate security for crypto assets. It is also available on mobile for both Android and iOS users.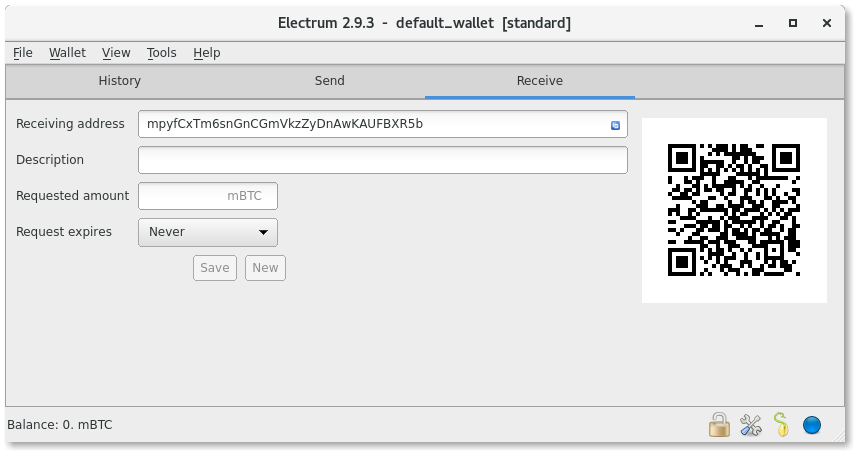 Incorporated exchange: No
Pros
Electrum is arguably the oldest and decentralised Bitcoin wallet.
Funds are stored in cold-storage while users can go online with a wallet that allows them only to view their asset prices in real-time.
Electrum seamlessly integrates with third-party plugins such as Ledger wallets.
Electrum supports multi-sig, allowing the Coin Spend permission to be spread across several wallets and individuals.
Cons
Users are prone to losing their funds when they download Electrum clients from phishing websites. The solution is to download clients only from the official Electrum website.
Electrum is a Bitcoin-only wallet and thus doesn't support in-built exchange.
New generation wallets offer a better UI experience.
Paper wallets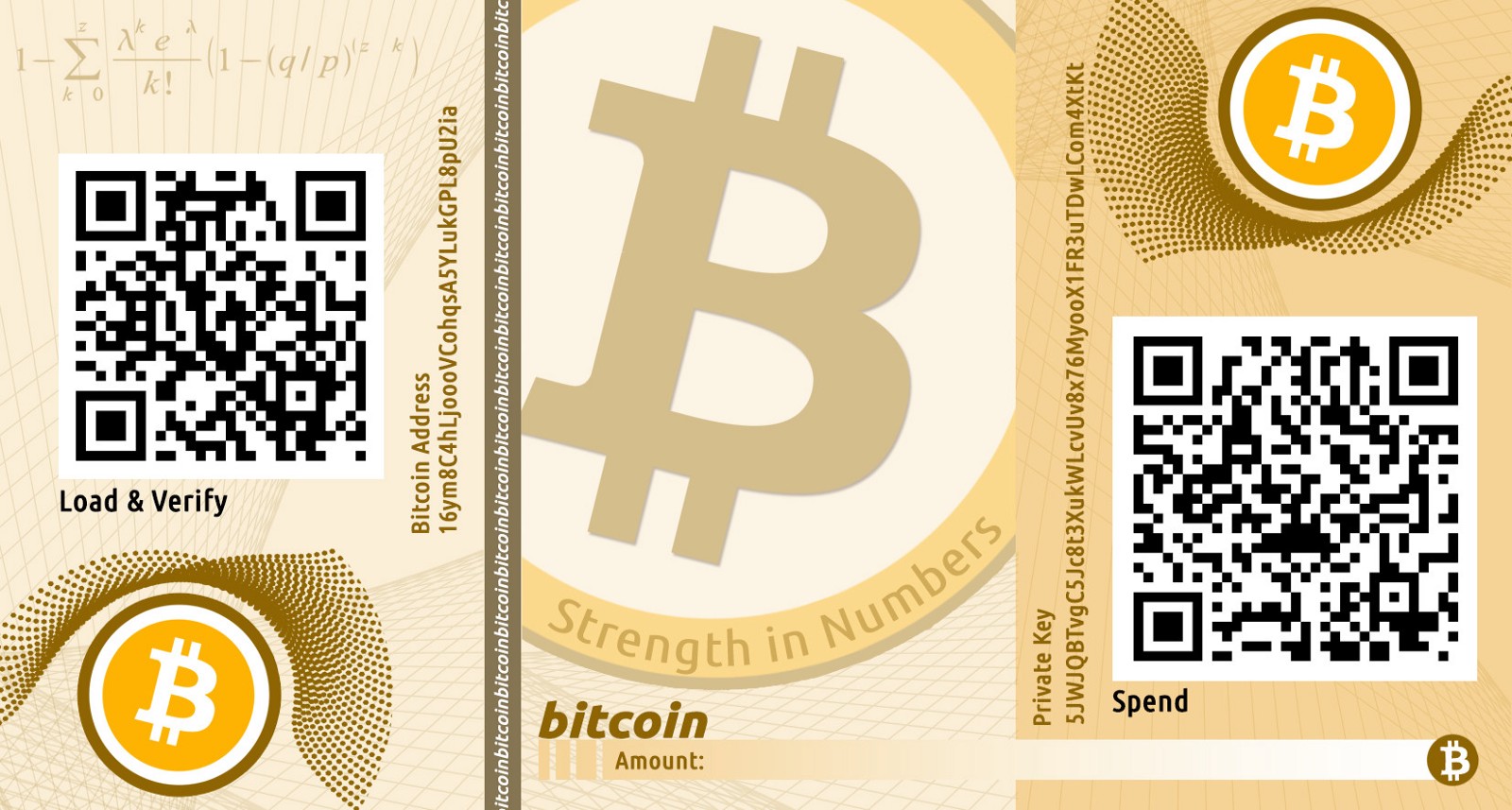 Paper wallets are a way of keeping cryptocurrency wallets entirely offline. When you generate a paper wallet, you print out the public and private keys for a new Bitcoin address and then send funds to that address.
It is considered the safest way to store Bitcoin since the only task is to take care of the paper and ensure nothing happens to it. It is ideal for persons who want to store Bitcoin for the long-term.
The most popular to use bitcoin paper wallet generators include:
To ensure maximum security, we recommend that you generate bitcoin paper wallets only with a completely offline computer, and then laminate the paper which holds your private and public keys.
Pros
A bitcoin paper wallet is one of the safest ways to store long-term BTC.
It is also an ideal way to gift bitcoins to anyone as long the keys are known only to both parties.
Cons
A failure to properly backup your private keys means funds are lost forever.
How to choose the best Crypto wallet
To choose the best cryptocurrency wallet, you need to consider your exact needs as an investor. For instance, long-term holders with no intention to sell anytime soon are better off with just a paper wallet.
However, if you plan to sell them occasionally, then we recommend that you get a hardware wallets such as Ledger or Trezor. The devices will keep your assets completely offline and are convenient for transferring to exchanges anytime you decide to sell. You can also use them for trading directly on decentralised exchanges that support them.
Traders and other individuals who transact regularly prefer a mobile wallet since it is convenient and secure to the extent to which they abide by standard security procedures.
In summary, evaluate your needs and then determine whether it will be best for you to stick with one kind of crypto wallet or combine a multiple of them to ensure maximum comfort and security.
How to get a Bitcoin wallet
Getting started with a Bitcoin wallet can be a little tricky, especially for first-time users. The steps outlined below tried to cover what
Download and install your preferred Bitcoin wallet from the official website of the provider. (We've included links to the recommended Bitcoin wallets for your convenience and security).
For paper wallet, download the zip file and follow provided instructions to generate your keys with an offline device. Then print our your private and public keys using an offline printer and store them securely.
For online wallets, a 12-word or 24-word passphrase is provided during the initial setup, write them down and keep them safe.
Confirm your seedphrase and complete the setup process.
Multi-coin wallets will give you an option to select other coins to add to your portfolio.
How to keep your cryptocurrency safe
The cryptocurrency industry has a long history of individual and exchange hacks worth billions of Euros. Therefore, each user needs to take appropriate measures to keep their assets as safe as possible.
You can keep your cryptocurrency safe by applying the following measures:
Never share your private keys or passphrase with anyone, and do not store them online.
Always double-check addresses before confirming transactions. A malware infection could replace copied addresses on your clipboard with that of hackers.
Do not patronise any site that promises to double your bitcoins or pay outrageous returns on your assets. If it sounds too good to be true, then it's probably a scam.
Use strong passwords for your mobile wallets.
Do not leave large amounts on cryptocurrency exchanges. If you don't hold the keys, then it's not your bitcoin.
Conclusion
In this article, we provided a shortlist of the best bitcoin wallets, including some with support of UK users who want to buy Bitcoin with GBP. We leave it to you to choose which one suits your investment needs, and only recommend that you apply the best security standards.
That way, you won't lose your bitcoins halfway. Also, you will be ready to sell them for way more if the outrageous predictions on the price of Bitcoin come true.