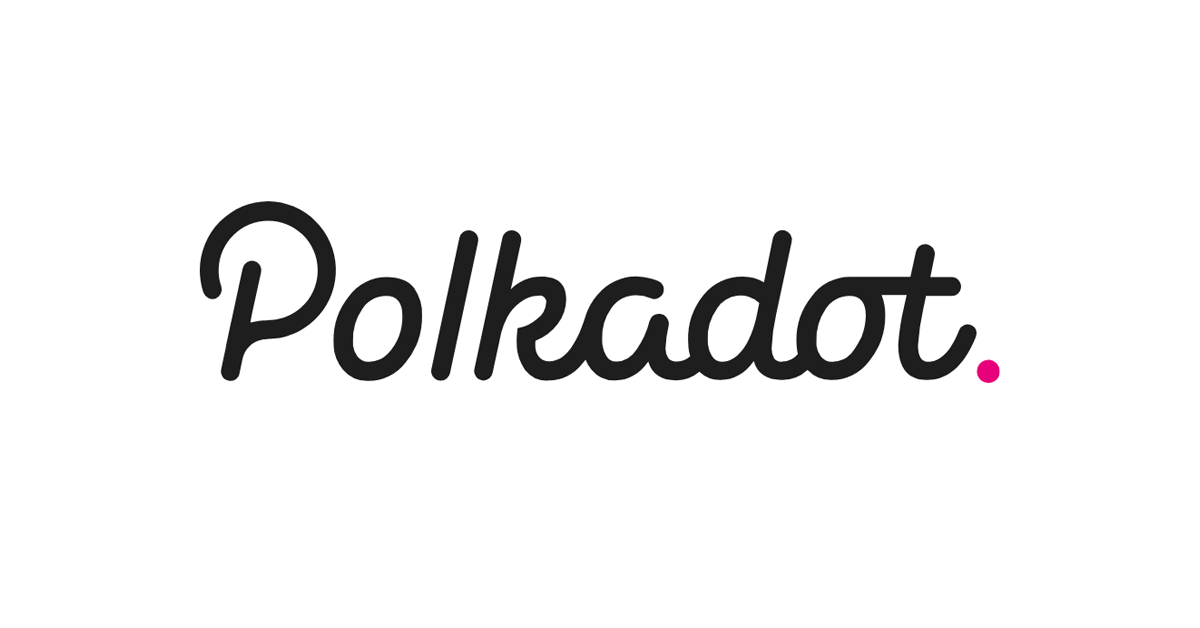 Many newcomers are looking for how to buy Polkadot in the UK, mostly because of the coin's meteoric rise into the top cryptocurrencies by market cap.
DOT is primarily a hot pick for those whose crypto-investment strategy involves holding the top five cryptocurrencies.
Interestingly, since the launch of Polkadot's genesis block in May 2020, some top crypto exchanges listed it and allowed investors to get in early. Today, you can buy DOT with British Pounds, and we'll show you exactly how to do so in this article.
Ready to DOT? Let's go!
A quick guide on buying Polkadot in the UK: Buy instantly with GBP on Binance
Create a Binance account and complete the KYC verification process.
Navigate to the Buy Crypto tab on the top right side of the website.
Choose the buy with Debit Card/Credit Card option.
On the next page, change the currency to GBP and select Polkadot (DOT) as the coin to buy.
Enter the amount to buy and click Buy DOT
Provide your card details and click next.
Review your order and confirm
Once approved, Binance will add DOT to your wallet balance.
To view the purchased DOT, go to Wallet > Fiat and Spot.
How to buy Polkadot (DOT) with GBP
As we noted earlier, other exchanges allow UK investors to buy DOT with GBP, and we'll go over them in this subheading. First, though, let's review another way to buy some DOT on Binance.
Binance – Best Place to Buy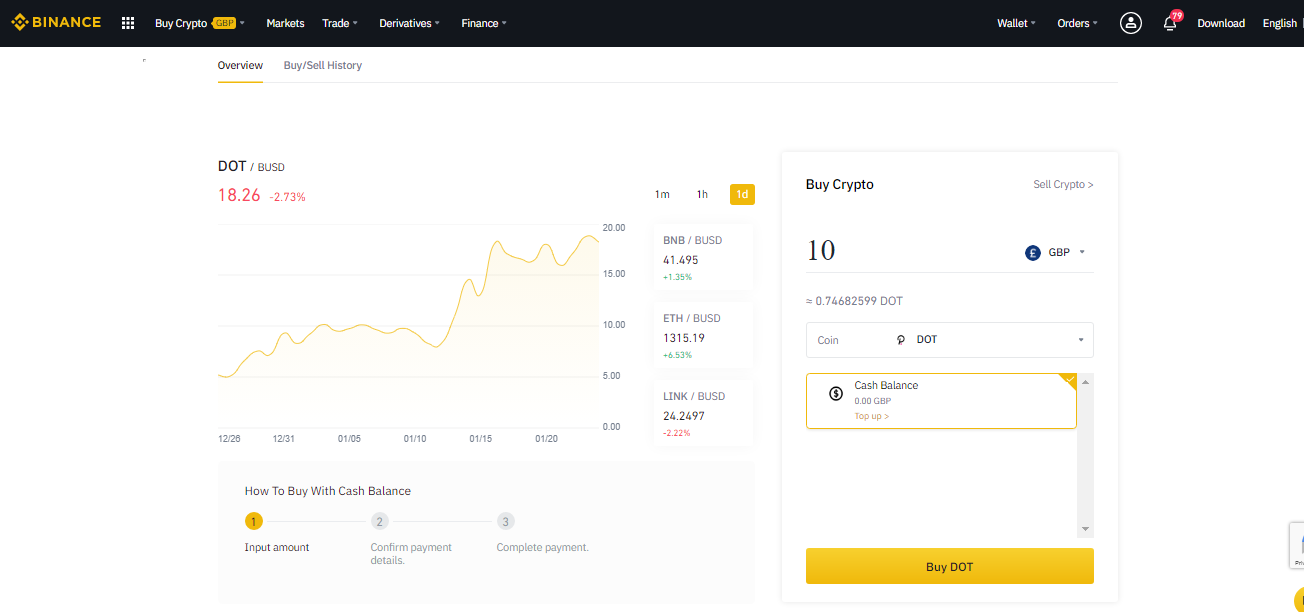 Binance is arguably the industry's largest exchange in terms of trading volume for altcoins. The platform allowed the trading of a range of altcoins and was among the first to list Polkadot (DOT) when it hit the market.
How to do it:
Create an account on Binance and complete the KYC process.
Go to the Buy Crypto tab on the top left side of the website.
Select the Pay With Bank Deposit option.
Choose GBP as the currency to deposit.
Select Faster Payments and enter the amount to deposit.
Write down the Reference code and click confirm.
Make a bank deposit using the provided details and wait for confirmation.
If successful, Binance will credit your GBP wallet on their platform with the deposited amount.
Go to the Buy Crypto tab and choose to Buy with GBP balance this time.
Select DOT as the coin to buy and enter the amount
Confirm the order details and complete.
Supported Payment Methods: UK Faster Payments, Bank Cards.
Crypto.com App
Crypto.com is based in Hong Kong and is a popular option for buying Polkadot and other large-cap cryptocurrencies. They also list a handful of altcoins, although not as many as Binance.
How to do it:
Install the Crypto.com App and Signup
Complete the KYC Verification process.
Go to Accounts > Crypto Wallet.
Select Polkadot and Click Buy on the next screen.
Enter the amount to buy
Add Credit or Debit Card details on the space provided.
Click Buy DOT
Confirm the order details and complete the transaction.
Supported Payment Methods: Credit and Debit Cards, SEPA Transfers.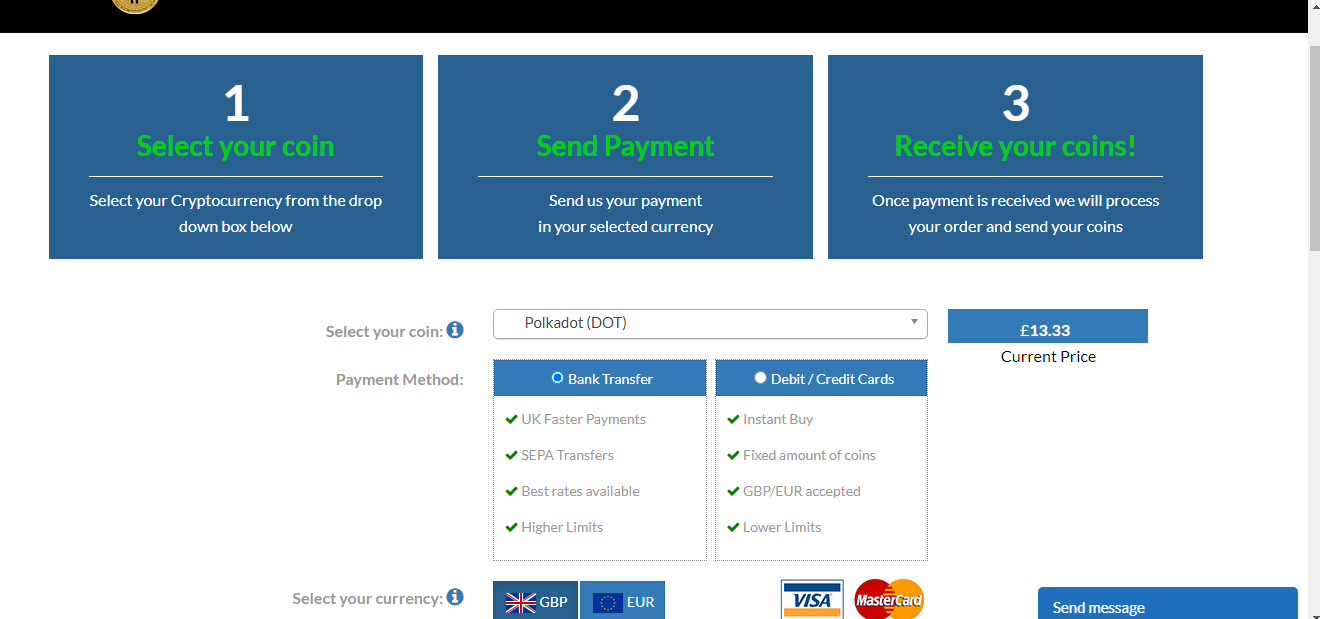 BC Bitcoin is another excellent option if you're looking to buy Polkadot with GBP. They're a non-custodial exchange service, so you'll need an external wallet address that will receive the DOT coins you purchase.
You can either use your Binance account DOT deposit address or make a non-custodial mobile wallet by installing the Polkawallet app.
How to do it:
Register on BC Bitcoin and complete the KYC verification.
Head over to their Buy Page and select Polkadot as the coin to buy.
Select GBP as the currency to pay.
Choose your preferred payment method.
Enter the amount to spend and the receiving wallet address.
Click Next Step and proceed to complete the payment.
If successful, BC Bitcoin will transfer the purchased DOT to the address, you provided.
Supported Payment Methods: Credit and Debit Cards, Faster Payments, SEPA Transfers.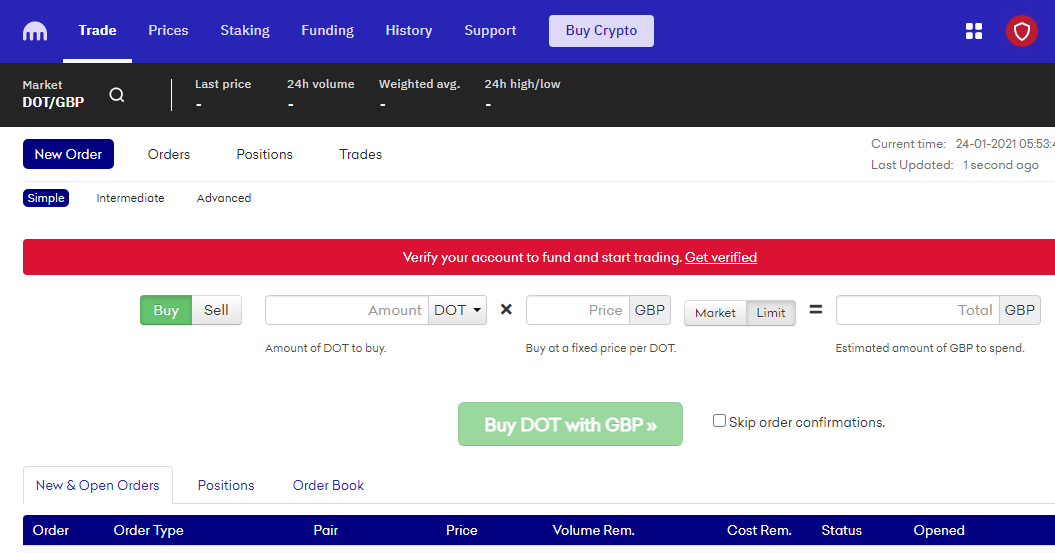 Kraken is one of the few old and traditional cryptocurrency exchanges that support Polkadot (DOT). The only let down is that Kraken currently does not support card purchases.
How to do it:
Register on Kraken.com
Complete the user verification up to Intermediate or Pro Level.
Go to Funding and click the Deposit option on your GBP wallet.
Make a deposit using the provided account details.
If successful, Go to Trade and find the DOT/GBP pair.
Enter the amount of DOT to purchase and GBP to spend.
Ensure to set the order type to Market.
Click Buy DOT with GBP
Review the order and confirm the purchase.
View purchased DOT via Funding > Polkadot Wallet.
Supported Payment Methods: UK Faster Payments
How to buy DOT with other cryptos short step-by-step guide
So far, our guide has focused on how to buy Polkadot with GBP. However, you can also buy DOT using other cryptocurrencies like BTC or USDT on exchanges that list the trading pair.
Once again, we go back to Binance where they offer a DOT pair against BTC, USDT, and BNB.
How to do it:
Register on Binance (KYC not mandatory for crypto-to-crypto trades).
Go to Wallet > Fiat and Spot.
Find your BTC wallet and Deposit to the address provided.
Wait for deposit confirmation.
Go to Trade > Convert
Select BTC as the coin to convert to DOT
Review the order details and confirm the conversions
Go back to Wallet > Fiat and Spot to view the purchased DOT.
Things to consider before buying Polkadot
Before you start exploring the exchanges where you can buy DOT as revealed in this article, here are a few pointers to keep in mind:
Research the Project
Polkadot (DOT) is a relatively new project and has garnered much attention because of its affiliation with the Web3 Foundation. As we always recommend, spend more time to learn about the project's fundamentals, including core team members, milestone and roadmaps.
You can find that information on the official Polkadot website and other credible sources, allowing you to convince yourself that it is truly worth holding as an investment.
Market Sentiment
Polkadot's meteoric rise to fame means that most investors are already in profit, irrespective of their buy-in price. However, that is the more reason to be cautious about buying a coin that is near its all-time highs.
Experts typically recommend waiting for the market sentiment to switch from bullish to bearish before you buy-in. That way, you can start seeing a profit on your DOT investment as soon as prices begin to recover.
Holding Period
You must consider how long you are willing to hold Polkadot, since any attempt to flip the coin for instant gains at current prices may not be feasible. After a fast start, it may require a long-term holding for new investors to realise a profit on their money.
Where to store Polkadot
Now that you know where to buy polka dot, the best places to store your DOT coins for long-term holding include:
Polkawallet (mobile wallet)
Trust Wallet (mobile wallet)
Atomic Wallet (Desktop & Mobile wallet)
Privacy and security tips
To avoid losing your crypto to hackers or other user errors, keep the following tips in mind:
Polkadot requires a one-time 1 DOT for account activation. This amount is non-recoverable.
Malware on your devices could replace addresses on your clipboard with that of hackers. Therefore, always double-check addresses before sending a transaction.
If you already own BTC or USDT, use it to buy DOT on Binance or other supported exchanges to avoid giving out your personal information during KYC.
Do not hold large amounts of DOT on exchanges. Use the recommended mobile wallets preferably and enable their security features.
Conclusion
Polkadot (DOT) is arguably one of the most promising blockchain projects on the market right now. Their mission to efficiently solve the long-standing problem of blockchain interoperability and their milestones makes it one to watch.
In this article, we revealed exchanges where one can buy DOT with GBP in the UK. We also shared a guide on how to purchase Polkadot using other cryptocurrencies on Binance. The process could as well be repeated on other exchanges that support DOT trading pairs.
Will Polkadot live up to its potential and remain a top blockchain project for long? Only time will tell.