Unknown to many, DigiByte is one of the oldest cryptocurrency projects, having launched in January 2014. However, despite such a long history and achieving a certain level of decentralisation, there are not so many exchanges that let you buy Digibyte in the UK.
Some popular UK crypto exchanges such as CEX.io and Bitstamp do not list the coin. That doesn't mean you can't buy Digibyte in the UK, as this article will show you exactly how and where to get your hands on some DGB.
Quick guide on buying DigiByte in the UK: Buy instantly with other cryptos on Binance
Create a Binance.com account.
Go to Wallet>Fiat and Spot
Click deposit on the coin you want to use to buy Digibyte, eg. BTC.
Go to Trade>Convert and convert BTC to Binance coin (BNB)
Go to Markets and find the DGB/BNB pair using the search bar.
Switch the Order type to Market.
Input the amount of BNB to spend on the DGB purchase.
Click Buy DGB.
Binance will add the purchased DGB to your Fiat & Spot Wallet from where you can withdraw.
Where to buy DigiByte (DGB) with GBP
If you have some GBP and need to buy DGB, then here are some exchanges where you can do so.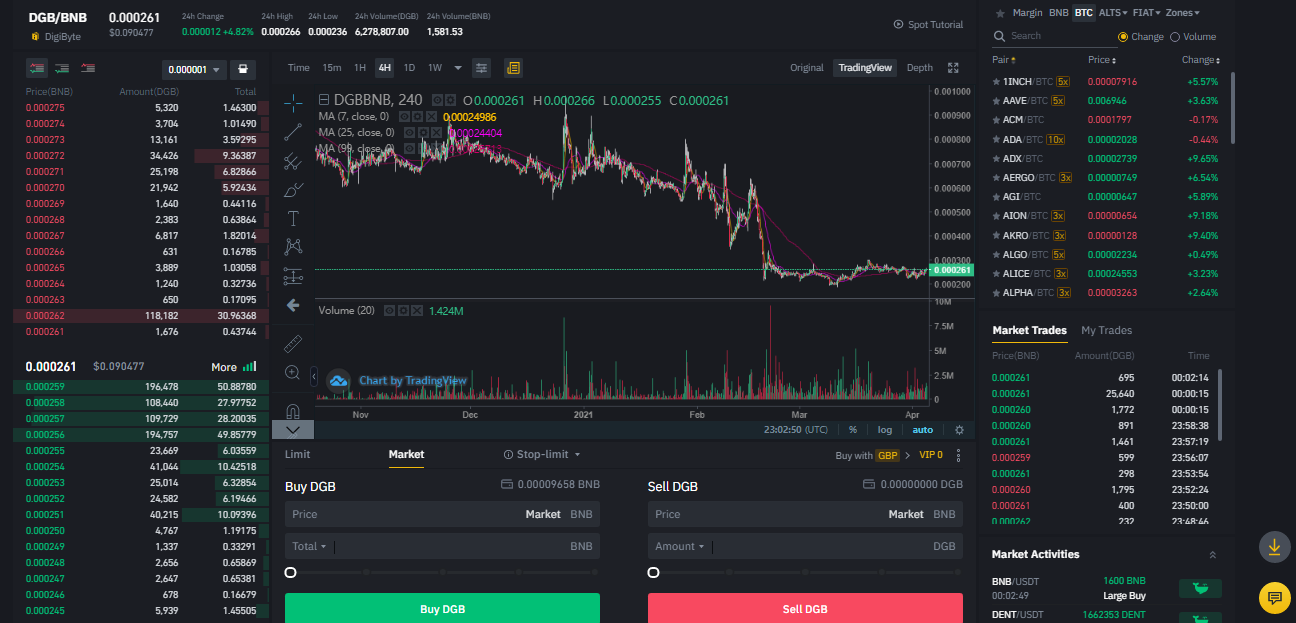 Binance is one of the world's largest cryptocurrency exchanges and offers unmatched liquidity across its trading pairs. However, Binance lists only one pair for Digibyte coin, that is DGB/BNB.

This simply means that to buy DGB with GBP, you need to deposit your fiat on Binance, buy BNB, and then use the order book to swap the BNB for DGB.
How to do it:
Register at Binance.com and complete the KYC process (this is why you want to deposit fiat.)
Go to Buy Crypto and select the Bank Deposit option.
Choose your preferred deposit option (Card or Faster Payments).
Enter the amount and make the deposit.
Go to Instant Convert and convert the deposit GBP to BTC and then from BTC to BNB.
Go to Markets and locate the DGB/BNB pair.
Switch the Order type to Market
Fill in the trade amount and complete the order.
Alternatively, transfer the BNB that you own on another exchange to Binance and directly use the DGB/BNB pair to buy DGB.
Supported Deposit Methods: Cryptocurrency, Faster Payments, Credit and Debit Cards (Visa, Mastercard).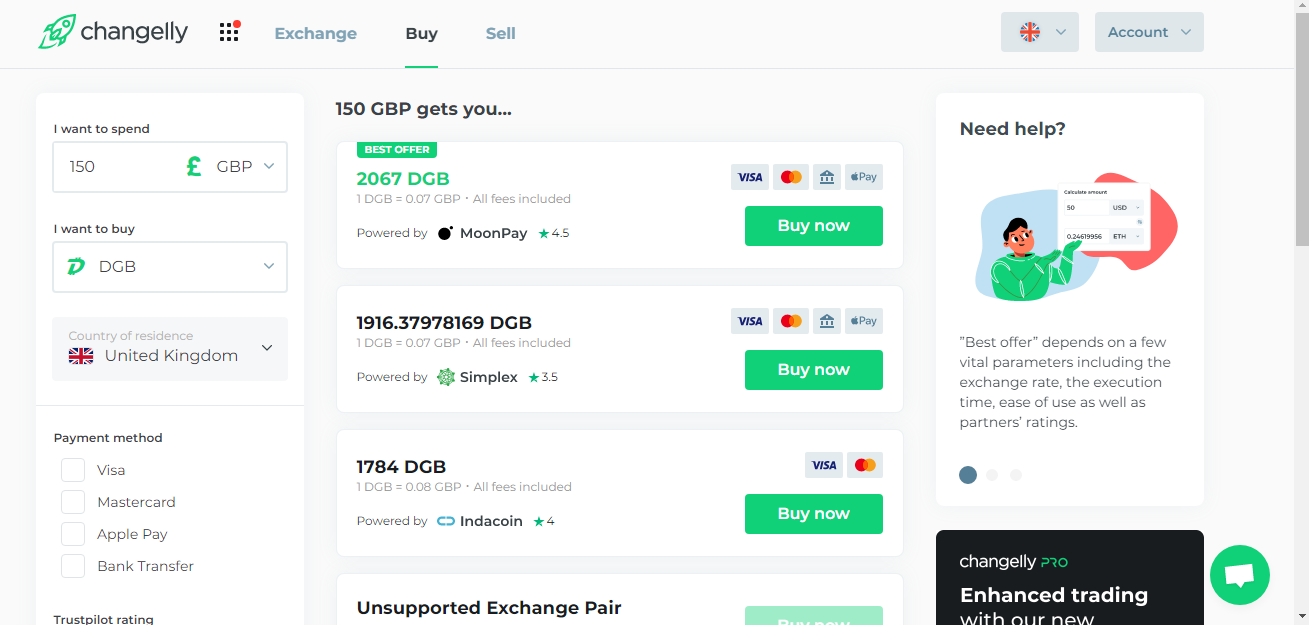 Based in Hong Kong, Changelly is a cryptocurrency exchange index provider and another gateway to buying DGB in the UK. The platform basically provides you with a list of exchanges where you can buy any coin you want at the best rate.
Note, however, that you'll need a personal Digibyte address to receive the funds. You can check Digibyte Wallets to find an ideal app for your device, and then get your deposit address to buy DGB on Changelly.
Alternatively, you can create a Binance account and use the Deposit button available when you find your DGB wallet in the Fiat or Spot section. Once you're done, here's what to do next.
How to do it:
Visit Changelly.com and create an account.
Go to Buy and select Digibyte as the coin to purchase.
Choose the United Kingdom as your country and GBP as your payment currency.
Use the filters provided to choose your preferred payment method.
Click Buy and select your preferred exchange option from the provided list.
Enter your DGB wallet address and go to Payments.
Provide your email address on Changelly's payment partner website to sign in.
Choose your preferred deposit option (Instant Bank Transfer or Credit/Debit Card).
Go through the KYC process.
Complete the payment.
The purchased DGB will arrive in your wallet within 30 minutes after the payment confirmation.
Supported Deposit Methods: Bank Transfer, Credit and Debit cards (Visa, Mastercard).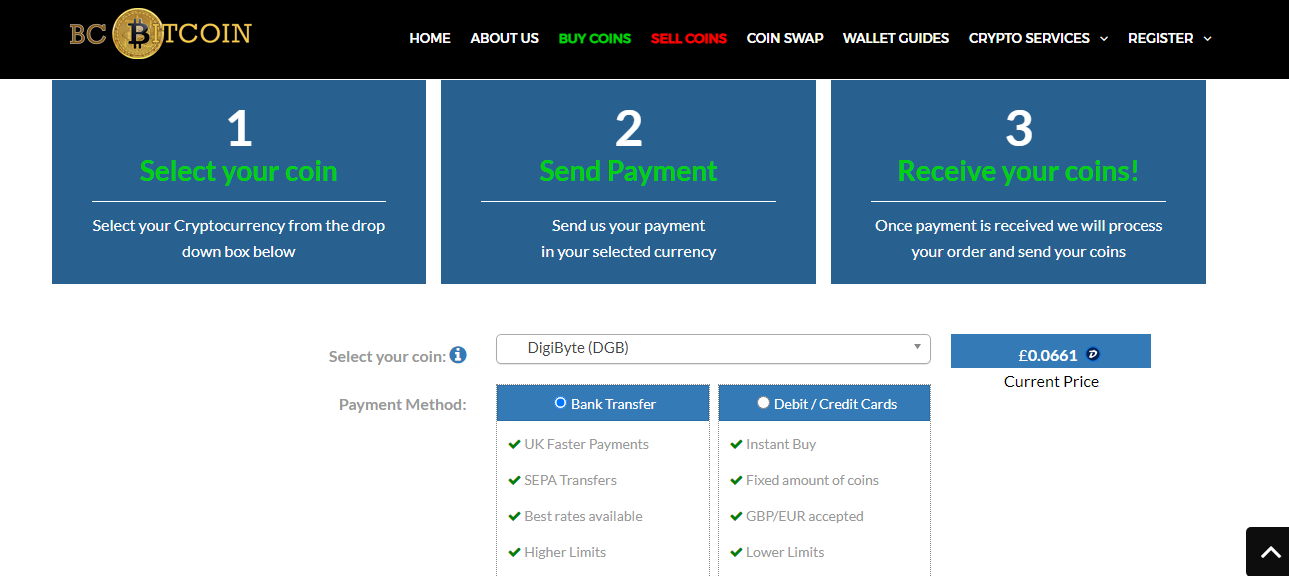 BC Bitcoin is a UK-based cryptocurrency broker. It works in a similar manner to Changelly, with the only difference being that they don't send you to partner websites to complete your purchase.
Similar to Changelly, though, they will send you the coins you purchased to the external wallet address that you provided while placing your order.
How to do it:
Sign up on BCBitcoin and complete the KYC process.
Click Buy Coins from the menu tab.
Select Digibyte as the coin to purchase.
Choose your preferred payment method.
Select GBP as your payment currency.
Enter the amount to purchase and review the associated fees.
Provide an external DGB wallet.
Click Next Step to initiate.
Complete the payment process.
BC Bitcoin will transfer the purchased DGB to the designated wallet address.
Supported Deposit Methods: Bank Transfer (SEPA, Faster Payments), Debit and Credit Cards (Visa, Mastercard).
Things to consider before buying DigiByte
Before you buy Digibyte, you need to know more than the fact that the project is one of the oldest in the industry. Here are a few other things to consider before choosing whether or not to add DGB to your cryptocurrency portfolio:
Time in the Market: While Digibyte has historically yielded mouthwatering profits to investors, the cryptocurrency has also had some bearish seasons just like any other coin. Hence, considering the time in the market, and buying it when the market is at a low is a quick way to make a profit as soon as the market recovers.

On the other hand, buying at times when the coin is at its peak, such as the all-time high of £0.0997 in 2018 could result in substantial losses, albeit in the short term.

Buy-in and Exit Strategy: Whether you plan to buy and hold Digibyte for the long or short term, a buy-in and exit strategy is vital. Hence, determine if you'll be buying a certain amount periodically such as any day the coin suffers a 10% price decline, or simply throw in a large sum and hold until you're in profit.

For your exit strategy, determine at what price you will take some profit and the exact quantity of your holding that you will dispose of at each time.

Digibyte Project Roadmap and Team: While Digibyte boasts a strong community presence on social media, it is worth noting that a group of unpaid volunteer developers are committed to improving the project.

For this reason, the project may not ship new improvements as fast as other coins but are certainly not the worst. You can review the timeline and roadmap for previous developments and determine whether or not you feel the project has long-term potential.
Where to store DigiByte
Like any other coin, the best way to store Digibyte is to use a wallet that you hold a private key or seed phrase. Here are some popular options for DGB.
Hardware Wallets
Mobile Wallets
Desktop Wallets
Privacy and security tips
Here are some privacy and security tips to keep in mind while buying DGB in the UK:
Since there are many cryptocurrency phishing apps, only download Digibyte wallets from official sources. We've included these links in this article to protect you from such malicious apps and a possible loss of your assets.
Double-check addresses before transferring funds. The presence of malware on your PC or smartphone could result in hackers replacing addresses on your clipboard with theirs.
Binance.com is the best privacy-focused option to buy Digibyte in the UK since the platform doesn't require KYC for crypto-to-crypto trades. Simplify transfer BTC to the exchange, swap for BNB, and then buy DGB.
Conclusion
Given its long existence in a nascent industry, one might argue that Digibyte is one of the most promising cryptocurrency projects with long-term potential.
Although not many UK crypto exchanges offer the option to buy this coin, this article revealed three platforms where one can buy Digibyte in the UK. It also detailed the steps on each platform, things to consider before buying the coin, where to store it, and privacy and security tips to keep in mind.
Digibyte is branded 'payment friendly because of its fast transaction times. The next few years evidently will reveal whether Digibyte lives up to its potential, and become one of the leading cryptocurrencies adopted by mainstream users.