Unless you hold only Bitcoin and have no intention of expanding your portfolio, a multi-currency wallet is something you've probably considered. The best cryptocurrency multi-wallet allows you to hold different popular cryptocurrencies in a single device or application. That way, you can send, receive and perhaps even exchange coins without having to do so much.
Truth be told, there are many such apps and devices in the market right now claiming to be the best. We filtered through the lengthy list and provided a list of the best multi currency wallets to try out today.
Table of Contents
Before the list, though, here are some features users must consider when choosing a multi-currency wallet for their portfolio.
What should you look for in a multicurrency wallet?
Security: Since the whole idea of having a personal wallet is to further protect your funds, anyone that you settle for should have a strong security history.
At the same time, the app or device should include advanced security features such as biometrics, two-factor authentication and instant lock to prevent any external attacks.
Supported Coins: It would be best to confirm the number of supported coins and blockchains, although most wallets support popular cryptocurrencies with a sizable market cap. If you're looking to deposit and store a special kind of token, make sure to verify with the provider that they can let you store and transfer the asset.
Intuitive User Interface: The basic function of a wallet is to provide a way for users to easily send and receive coins. Hence, having clear fonts, a function for copying and pasting addresses, viewing all coins in the portfolio and signing transactions must be as simple and user-friendly as possible.
12 Best Multiple Currency Wallets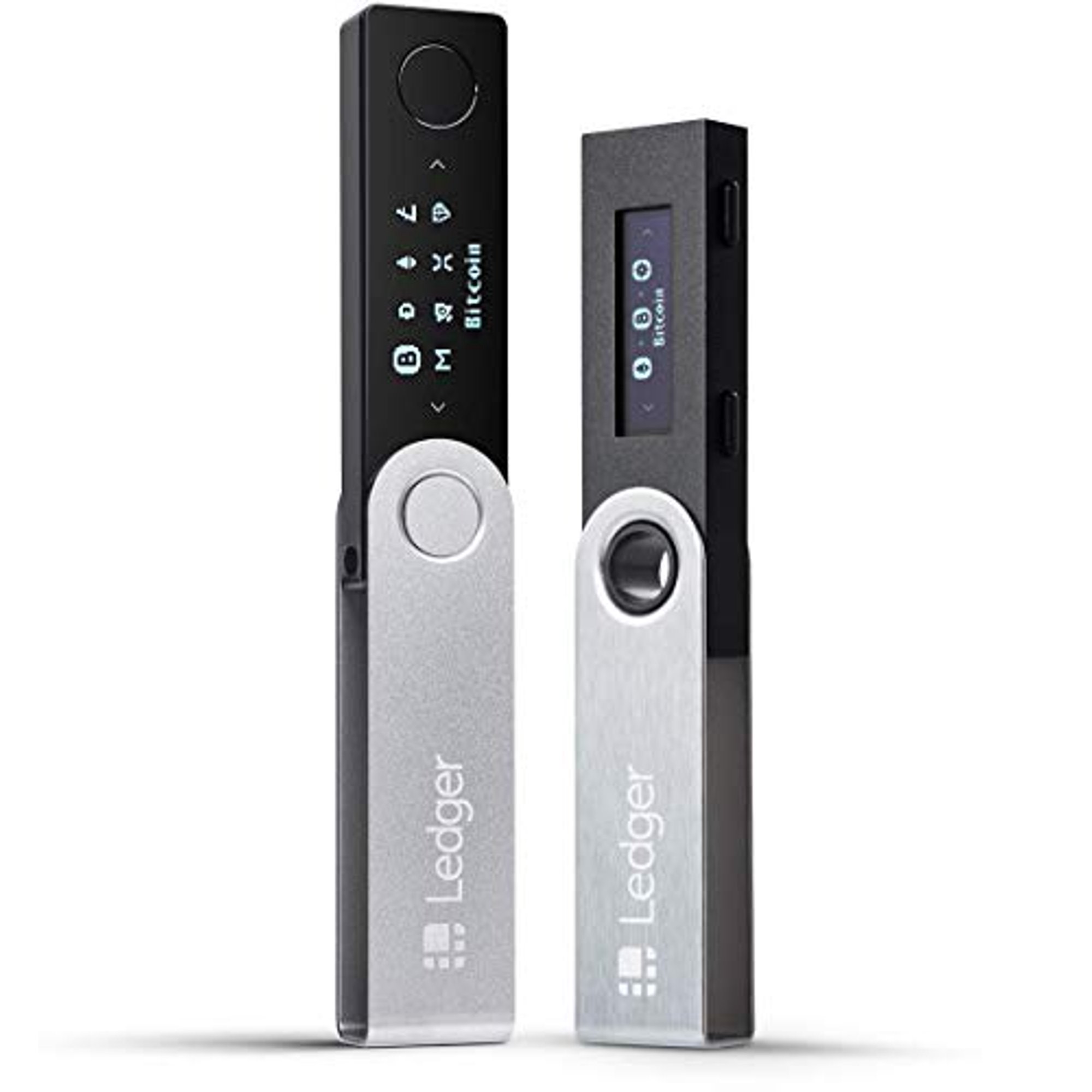 Number of supported coins: 1800+
Incorporated Exchange: Yes
Ledger is a hardware wallet, and obviously the most popular among cryptocurrency owners right now. The device stores the keys to your cryptocurrency completely offline, leaving no room for hackers.
The company has sold over 2 million units with the Ledger Nano X and S devices being the most widely purchased, aside from limited editions.
Pros
Ledger is one of the oldest hardware devices in the industry and has proven highly secure.
Ledger devices support many cryptocurrencies.
The Ledger Nano S variant is highly affordable
Ledger devices integrate seamlessly with most cryptocurrency applications, such as those used for decentralised finance (DeFi).
Anyone with basic knowledge of cryptocurrencies can operate Ledger devices.
Ledger offers a relatively fast customer support desk.
Cons
While Ledger devices are highly secure, hackers have breached Ledger's database several times to steal customer information such as email and home addresses provided during order placement.
Prices:
Ledger Nano S: £43
Ledger Nano X: £87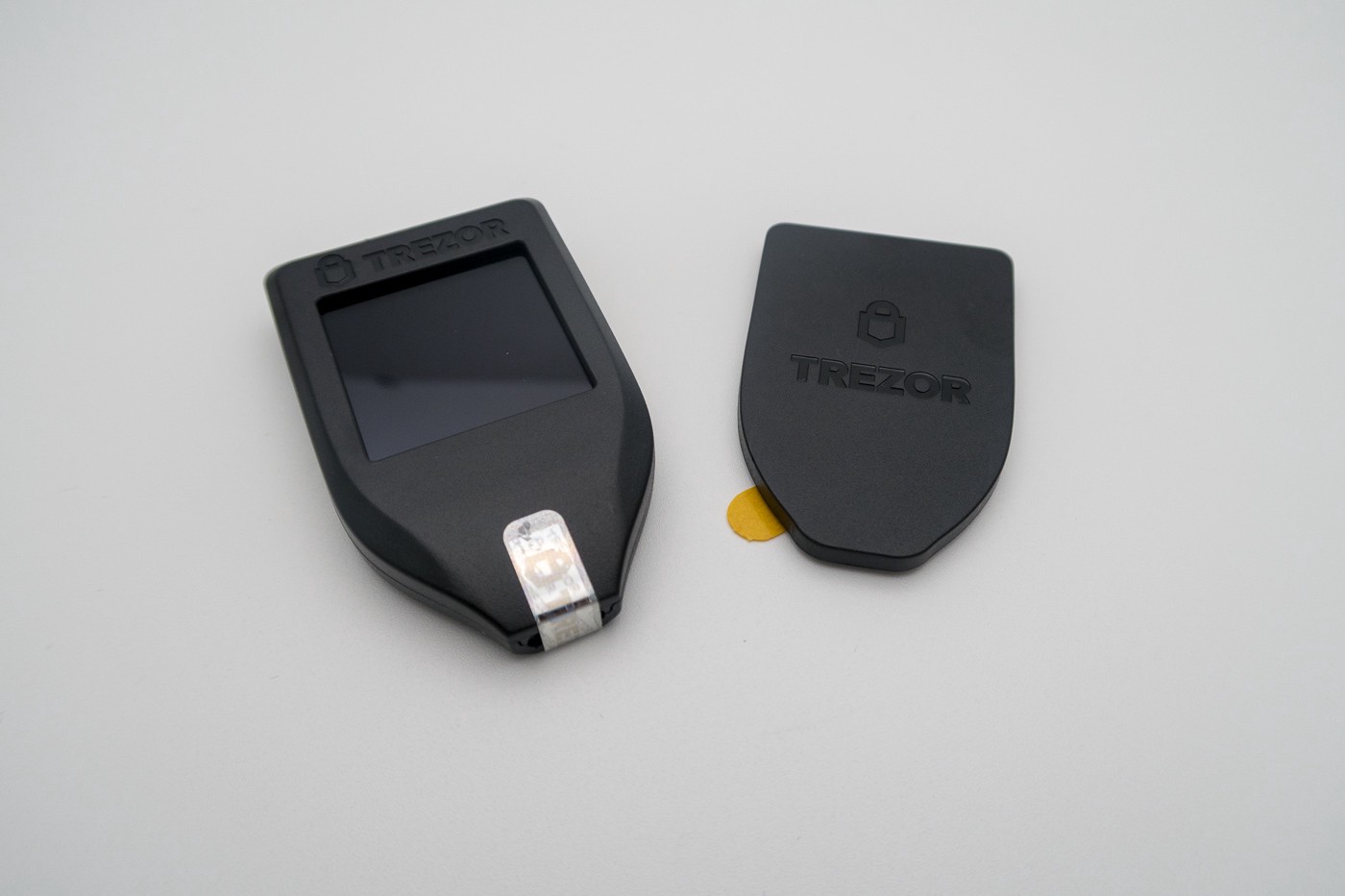 Number of supported coins: 1800+
Incorporated Exchange: Yes
First released in 2014, Trezor remains Ledger's closest competitor, and depending on who you ask, it's the best hardware wallet. Trezor is available in two major variants, the Trezor One (first generation device) and the Trezor Model T (launched in 2018).
Both devices safely store your crypto assets offline, but come with distinct features. The Trezor Model T, which is the premium version, offers a more intuitive user experience and is an ideal multi-currency wallet, supporting more coins than the earlier version.
Pros
Trezor has been widely audited by security researchers and has a great track record.
Both devices are easy to use, although the Model T with a touchscreen offers the best experience.
Beyond storing your crypto, Trezor devices can serve as your U2F hardware token or password manager.
Trezor is also a great multi-currency wallet, supporting most of the popular cryptocurrencies.
Trezor is compatible with most major computer operating systems for easy management of stored funds.
Cons
The Trezor one device does not support a few large cap cryptocurrencies like XRP, Tezos (XTZ), Cardano (ADA), and Monero (XMR).
The premium Trezor Model T variant is quite pricey and expensive.
Prices:
Trezor One: £42
Trezor Model T: £128
See Our Trezor vs. Ledger Nano S Comparison review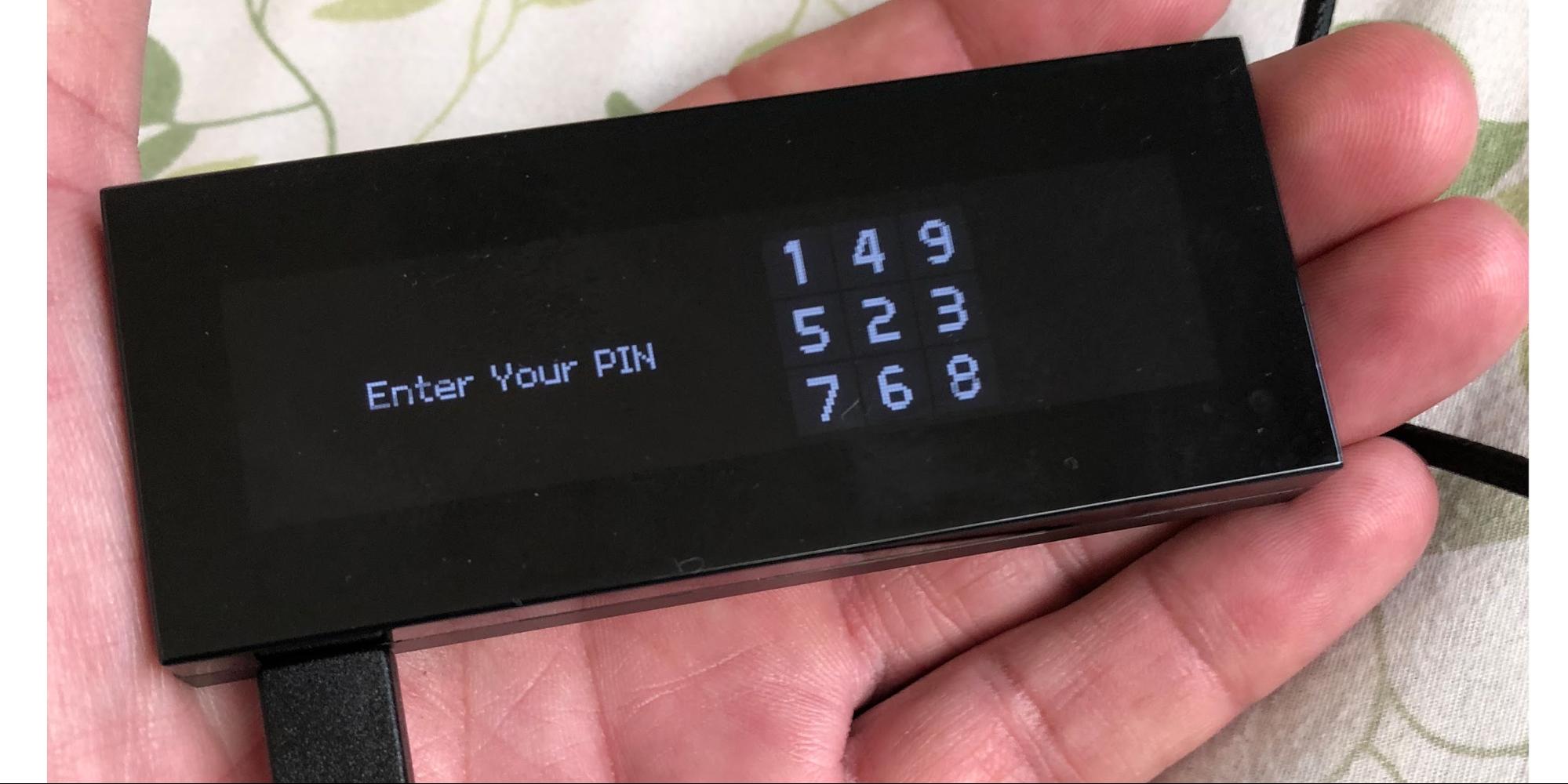 Number of supported coins: 40+
Incorporated Exchange: Yes
KeepKey is a hardware cryptocurrency wallet designed to work alongside the Shapeshift platform. However, the device can work independently and provides excellent offline storage for crypto-assets. KeepKey has a sleek and large display providing sufficient visibility on assets and transaction records.
Pros
KeepKey has been well audited and proven resistant to viruses and malware.
Combined with ShapeShift's web interface, users can buy, sell, send and receive cryptocurrencies using KeepKey.
The in-built exchange offers commission-free trading.
ShapeShift now supports interaction with Ethereum-based decentralised applications.
There is a custom fee switch allowing users to determine their transaction speed.
KeepKey is one of the most affordable hardware solutions on the market.
Cons
While KeepKey is optimised for MacOS and integrates with Chrome and Brave, it is not recommended for Windows.
KeepKey stores less than 50 different cryptocurrencies.
Price: £36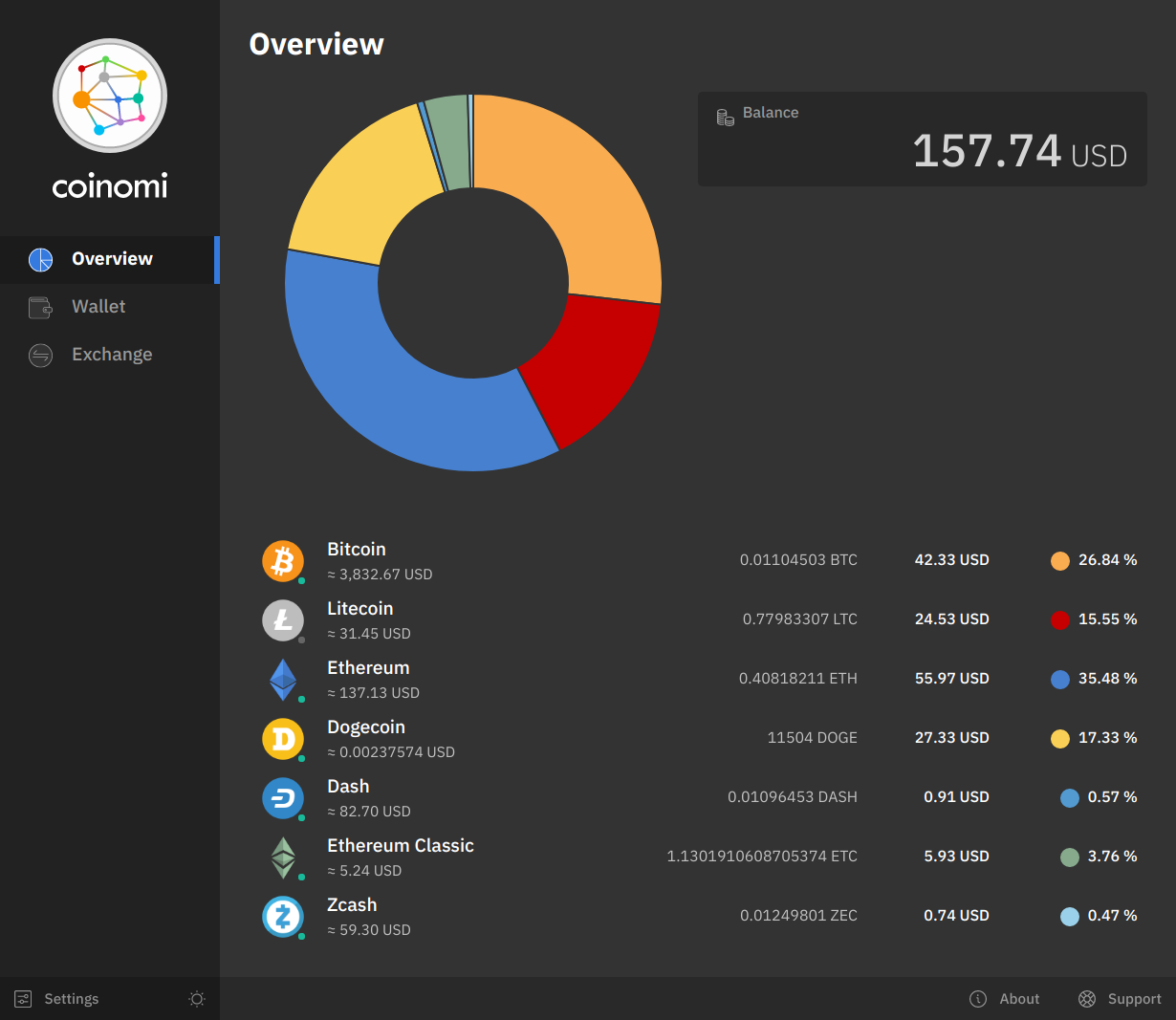 Number of Supported Coins: 1770+
Incorporated Exchange: Yes
Launched in 2014, Coinomi is arguably the best multi-currency wallet available on multiple devices, namely, desktop and mobile. Coinomi is fully non-custodial, integrates over 170 blockchain and is built-ready for modern crypto applications like DeFi and collectibles.
Pros
Streamlined and user-friendly design.
Custom fee settings for transacting different coins.
Multi-seed support for restoring and managing assets on different blockchains.
Coinomi supports cold-staking for popular PoS coins, allowing you to earn interest while keeping your funds 100% secure.
Coinomi integrates with exchanges to let you buy crypto with your bank card.
Aside from fiat purchases on partner sites, Coinomi offers strong privacy and anonymity features.
Cons
Coinomi is no longer an open-source project, meaning users must trust the team to maintain the project and guard against vulnerabilities.
There has been at least one occasion when Coinomi's Bitcoin node failed to sync and users had to wait several days for the issue to be resolved.
Price: Free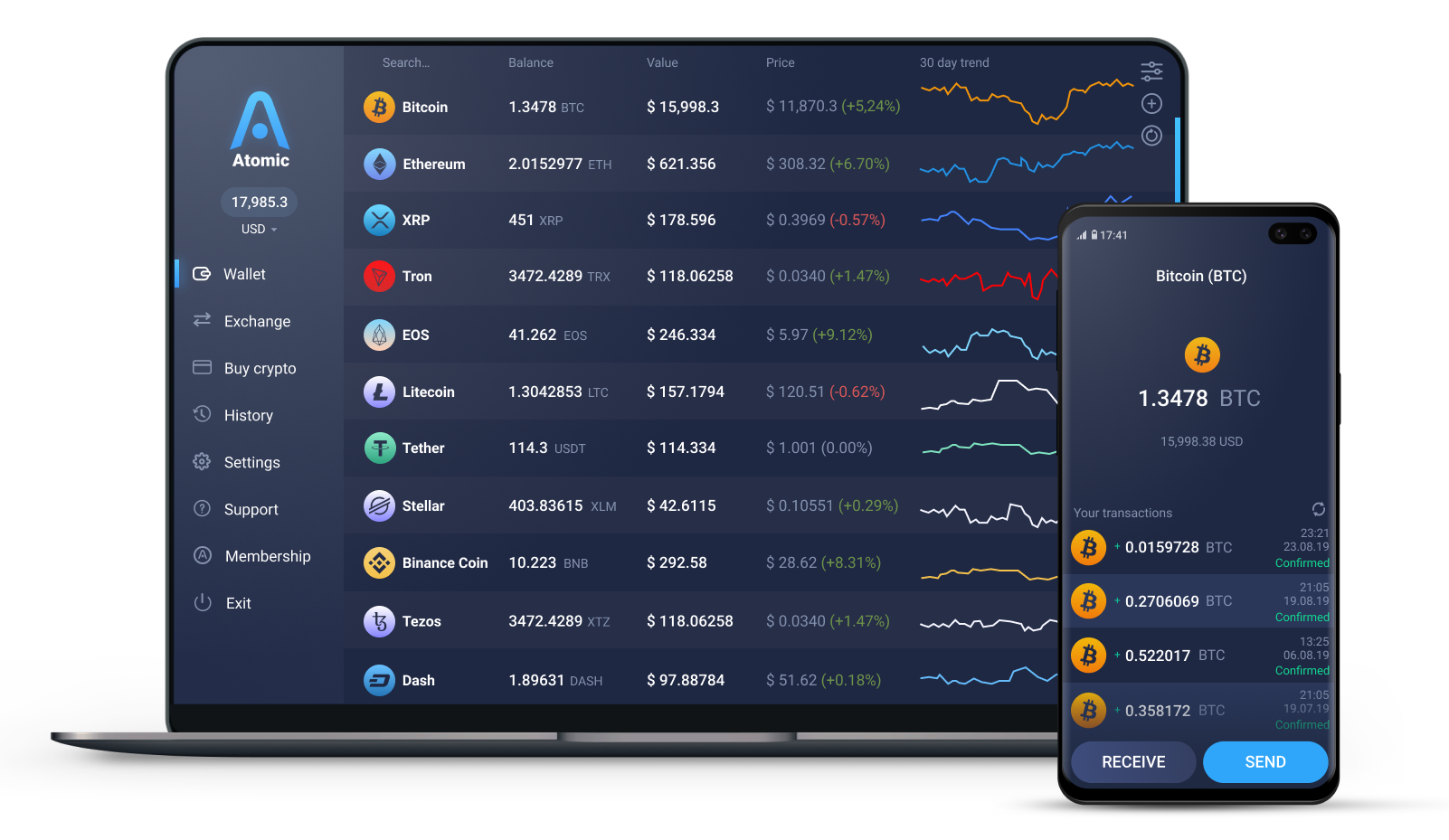 Number of Supported Coins: 500+
Incorporated Exchange: Yes
Atomic Wallet is a mobile and desktop multi-currency wallet. Like other options considered so far, Atomic Wallet is fully non-custodial and lets you store the seed phrase for coins that you hold on the app or desktop software.
Pros
Atomic Wallet is easy to set up with user-friendly features.
The wallet allows for card purchases using different supported fiat currencies.
There is a 1% cashback for using the incorporated exchange service to swap coins.
Atomic Wallet is fully anonymous except for buying crypto with fiat on their exchange service.
Atomic Wallet provides in-app customer service available round the clock.
Users can also stake supported PoS coins
Cons
Atomic Wallet supports fewer coins and blockchains than Coinomi.
The wallet does not integrate with crypto applications such as DeFi protocols and collectibles.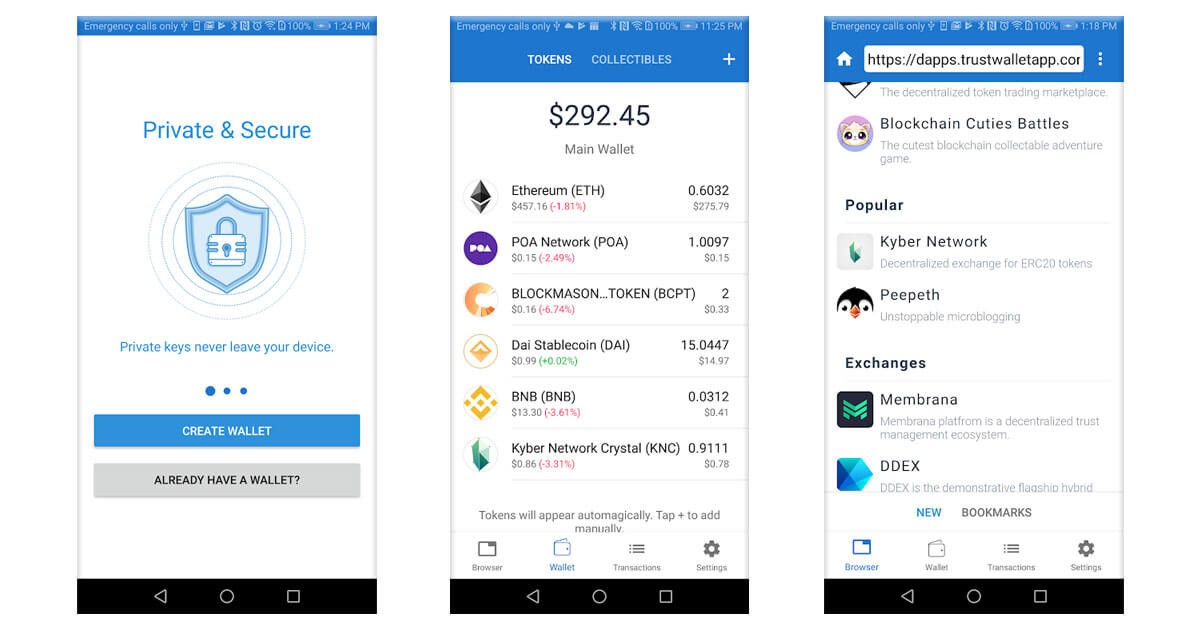 Number of Supported Coins: 160k+
Incorporated Exchange: Yes
Backed by Binance, Trust Wallet is another popular multi-currency wallet worth checking out. The app is only available on Android and iOS, but offers powerful features alongside its non-custodial function.
Trust Wallet launched in 2017, and as such offered a significant improvement in earlier mobile solutions, especially supporting as many blockchains and coins as possible. You can literally store any crypto token on Trust Wallet.
Pros
Trust Wallet is the best mobile multi-currency wallet.
The app has a sleek UI and offers advanced security features such as auto-lock, biometric, and auto-change address.
Trust Wallet comes ready-built to interact with decentralised applications (dApps) on different blockchains.
Trust Wallet offers native-Segwit integration for Bitcoin transactions, allowing users to save on fees.
The custom fee switch is also available for popular blockchain networks.
Users can also buy crypto using credit and debit cards.
Cons
Trust Wallet is owned by Binance and often promotes products such as Binance Smart Chain ahead of more prominent competitors like Ethereum.
Users report large spreads from actual market prices when using the in-app exchange service.
Trust Wallet is only available on mobile.
Price: Free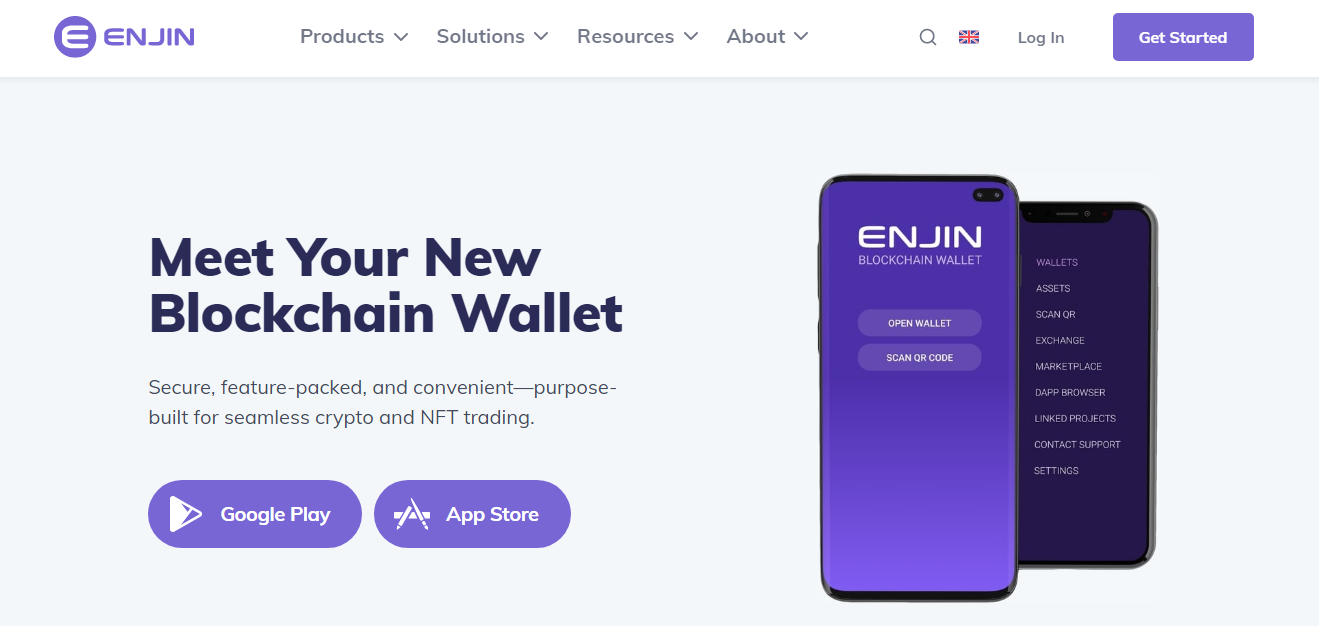 Number of Supported Coins: 7coins + Ethereum-based tokens
Incorporated Exchange: Yes
Enjin is another mobile-first wallet with multi-currency functionalities. Although the app does not support as many coins as others, it can hold all kinds of Ethereum-based tokens as well as Bitcoin, Polkadot, Binance Coin, Litecoin, Dogecoin, and Kusama.
Pros
Enjin Wallet is purpose-built for exploring decentralised applications and collectibles.
Enjin's mobile app interface is second to none, and easy to navigate for even first-time users.
The wallet integrates advanced security features, making it a "hardware-like" mobile solution.
Enjin is being added to new-age Samsung devices to make the app more accessible.
Enjin boasts a highly responsive customer support team and community.
Enjin integrates with Changelly, Bancor, and KyberNetwork to offer in-app exchange services.
Users can customise transaction fees to match network demand at a particular time.
Cons
Enjin focuses mainly on storing blockchain-based assets such as NFTs and thus supports fewer coins.
Enjin Wallet does not support fiat purchases.
Price: Free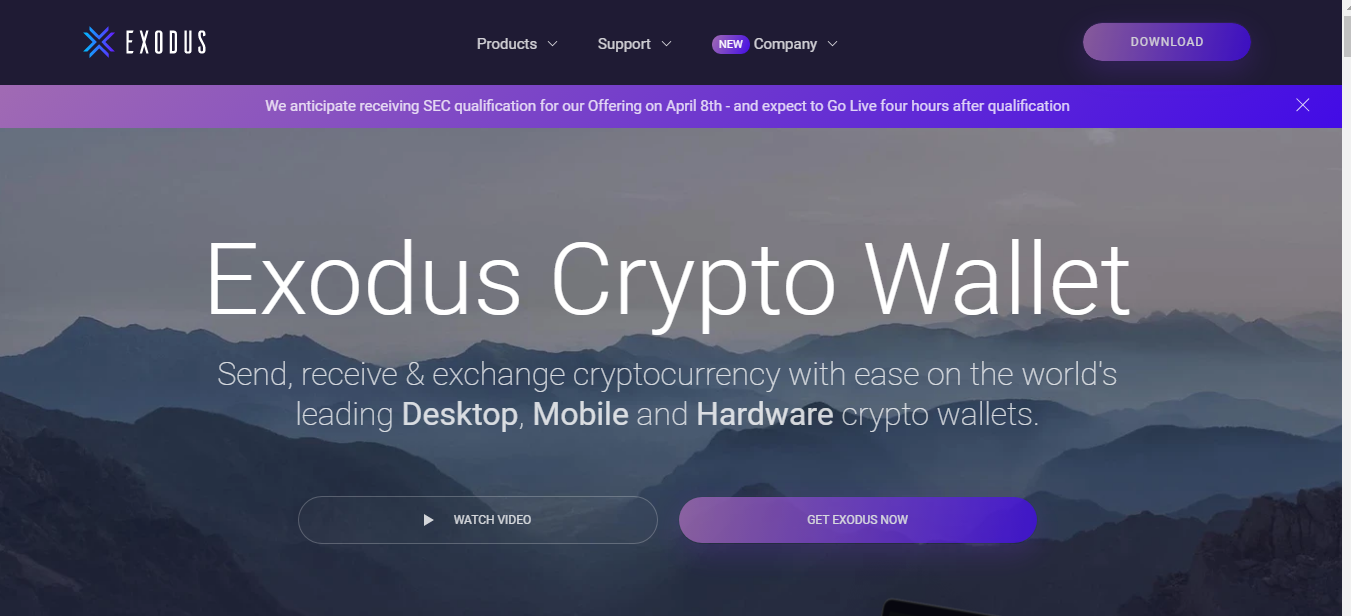 Number of Supported Coins: 100+
Incorporated Exchange: Yes
Exodus is another excellent product for cryptocurrency holders. Exodus is available for free on mobile and desktop and offers a secure one-click integration with hardware wallets like Trezor.
Pros
The wallet is easy to set up and has a very intuitive UI across supported devices.
Users can view charts and portfolios on their dashboard.
Exodus integrates apps to offer staking for PoS coins. Users can also earn interest by using DeFi apps such as Compound without giving up their private keys.
Cross-platform support means users can also manage their portfolio on the go without worrying about security.
Exodus offers excellent customer service.
Cons
The wallet supports fewer coins compared to alternatives.
Exodus only allows custom fee settings for Bitcoin.
Price: Free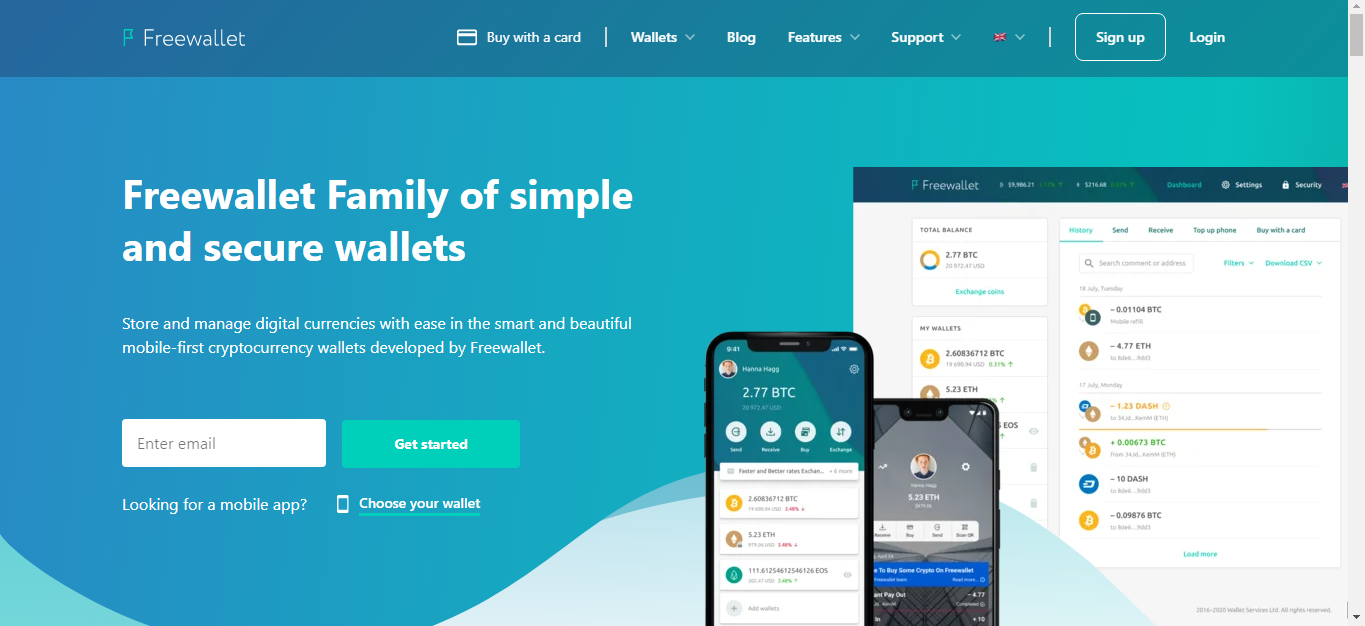 Number of Supported Coins: 100+
Incorporated Exchange: Yes
Freewallet is a custodial app launched in 2016. This means that unlike other options where you get to receive and backup your private key or seed phrase, FreeWallet stores your keys. This is the same as when you use crypto exchange platforms, thus allowing you to recover your funds even if you forget your password.
FreeWallet users can choose to download either a single-version app for specific coins, or download the multi-currency version which supports 100+ cryptocurrencies.
Pros
FreeWallet's minimalistic interface is ideal for new investors simply looking to manage their assets.
FreeWallet provides instant and fee-free withdrawals to other users.
Users can buy cryptocurrency using credit and debit cards.
FreeWallet allows users to set transaction limits per day/week to prevent theft.
Features such as biometric lock and two-factor authentication (2FA) provide an added security layer.
For Bitcoin transactions, users can select four fee-levels to save money on fees.
Cons
Like most custodial services, users can lose their funds if FreeWallet suffers a security breach or other unforeseeable events.
The platform also supports fewer coins than non-custodial options.
Freewallet is only available on mobile and web.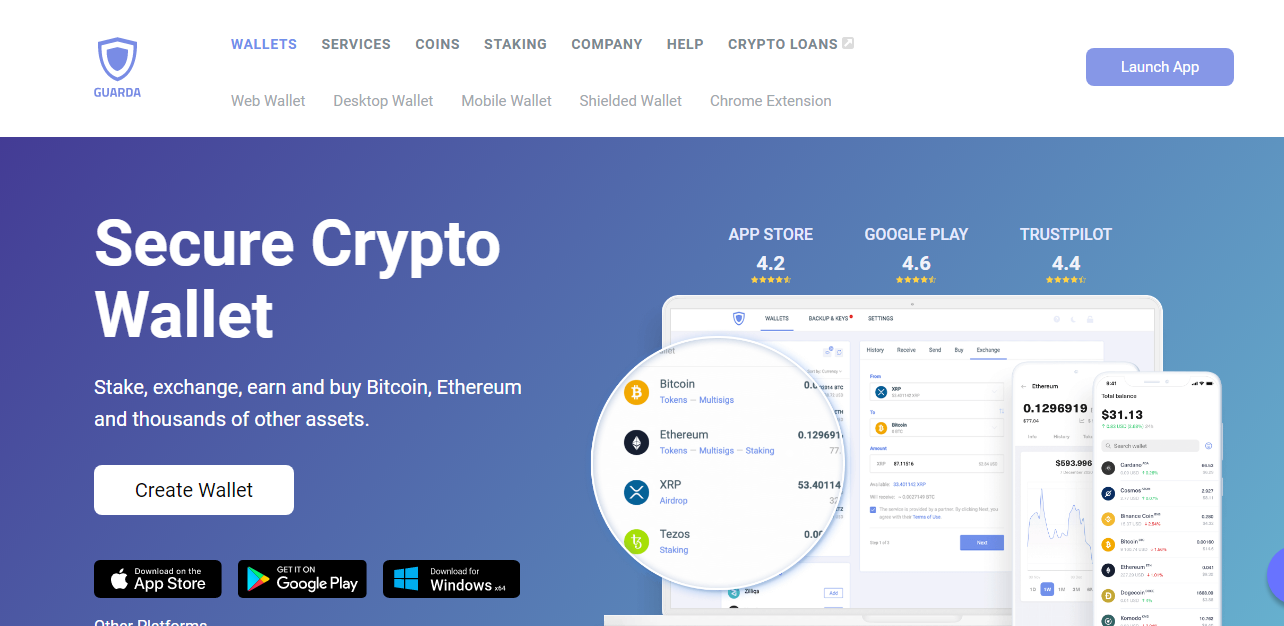 Number of Supported Coins: 10,000+
Incorporated Exchange: Yes
Launched in 2017, Guarda is a full-grade multi-currency wallet application with support for different devices. Aside from mobile and desktop versions, users can also use Guarda on the web or install it as a browser extension.
Pros
Guarda is fully non-custodial and supports up to 50 different blockchains and their native tokens.
Guarda users can buy crypto on the app using credit and debit cards.
Guarda allows for integration with Ledger hardware wallets.
Guarda allows users to stake PoS Coins, including Ethereum 2.0 staking with up to 7.74% APY
Users can securely swap up to 50 supported coins using the inbuilt exchange.
Guarda provides a shielded Guarda Wallet for Z-cash users looking to send highly anonymous transactions.
Cons
Some Guarda wallet users report unfair rates when using the incorporated exchange service.
Guarda's mobile version does not allow access to decentralised applications.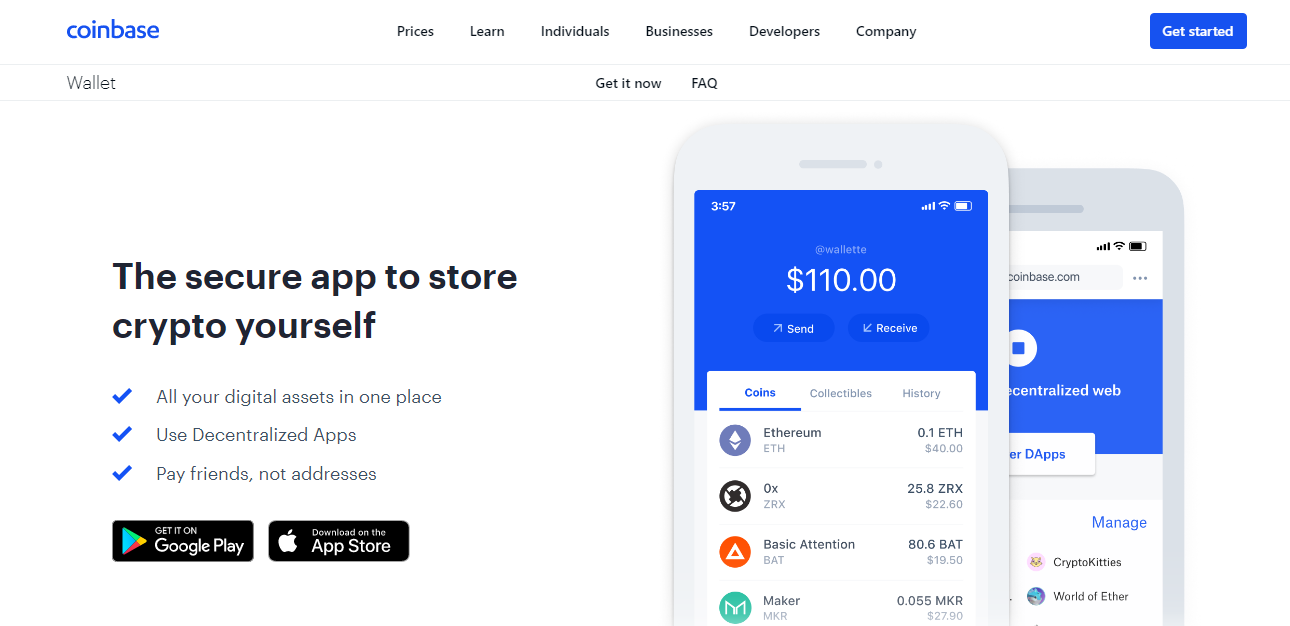 Number of Coins Supported: 5 coins + ERC-20 tokens.
Incorporated Exchange: No
Formerly known as Toshi Wallet, Coinbase Wallet is not to be confused with the Coinbase.com exchange where you can buy and sell cryptocurrencies.
Instead, Coinbase Wallet is a non-custodial app that lets you hold the keys to the coins you store on it. The app is designed by Coinbase developers though, and is available on Android and iOS.
Pros
Coinbase Wallet is strongly built and secured with Secure Enclave and biometric authentication.
The app is easy to navigate.
Coinbase Wallet allows for one-click interactions with many Ethereum-based decentralised applications.
The wallet is also ideal for collectibles and other NFTs.
Users can transfer funds to other Coinbase Wallet through usernames instead of long addresses.
The wallet includes a custom fee switch for supported assets.
Users can buy crypto using the Faa.st integration
Cons
Coinbase Wallet is only compatible with Ethereum-based dApps and tokens.
The wallet supports fewer cryptocurrencies and is also only available on mobile.
Price: Free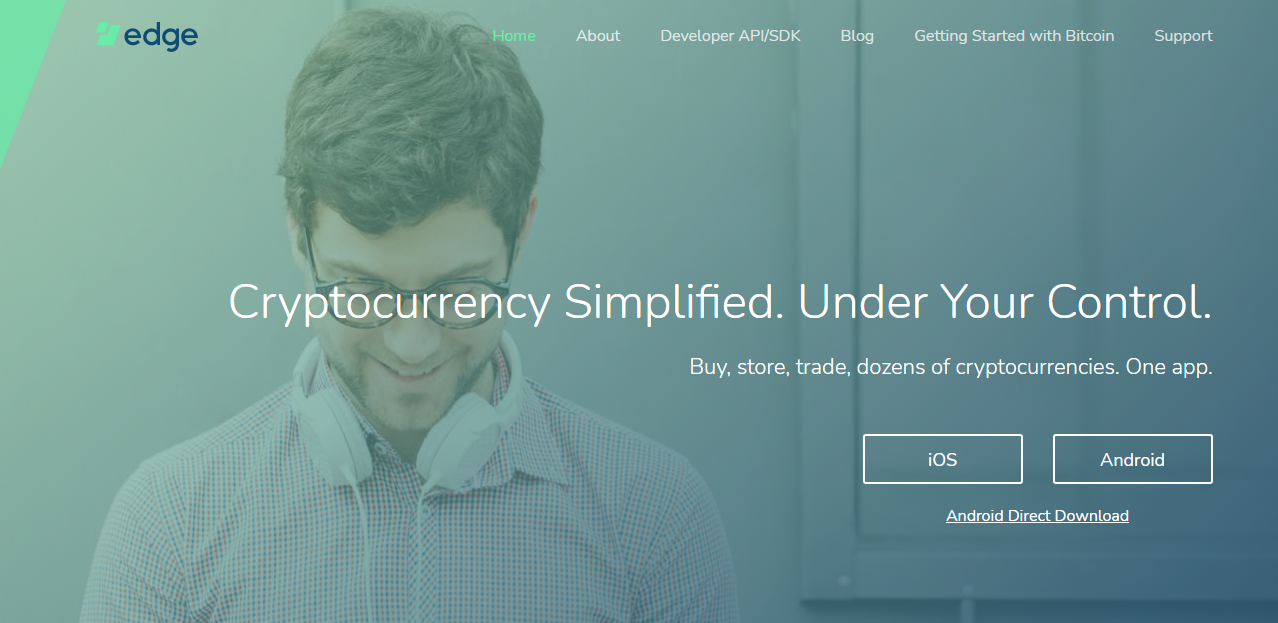 Number of Coins Supported: 30+
Incorporated Exchange: Yes
Edge Wallet was first launched as AirBitz in 2015, allowing secure storage of Bitcoin only. However, in 2017, the team rebranded to Edge Wallet and introduced a multi-currency functionality. Although Edge is non-custodial and does not store the keys to your assets, users only need a username and password to operate the account.
Pros
Edge is a user-friendly platform ideal for new investors who do not want to hold their private keys.
Users can buy and sell crypto using credit and debit cards, as well as bank transfers.
Edge is an open-source project vetted by the crypto developer community.
Edge offers its key management solution to developers building storage solutions.
Users can back up with just a username and password in case they lose their private key.
Cons
Edge supports only popular cryptocurrencies, and hardly integrates new projects.
The wallet isn't ideal for accessing decentralised applications.
Price: Free
How to choose the best multi-currency crypto wallet
Having outlined the best devices and apps in the market right now, choosing one from the pack should be slightly easier, especially if you know your objectives as an investor.
For instance, hardware devices such as Ledger, Trezor and KeepKey are excellent for long-term storage of assets that you plan to hold. These devices keep your private keys completely offline and allow you to transact securely only when the need arises.
Atomic Wallet, Exodus, Coinomi and Guarda are ideal for desktop and mobile devices, providing an internet-connected interface for sending and receiving crypto before moving it on to cold or offline storage.
However, mobile wallets such as Trust Wallet, Coinbase Wallet and Enjin are ideal for interacting with decentralised applications. Coinbase and Enjin focus on Ethereum-based apps while Trust Wallet supports other networks, including Binance Smart Chain.
Lastly, new users afraid of storing or losing their keys can use Edge or FreeWallet, as both solutions allow for easy recovery even in the event of private key loss.
How to get a wallet for multiple currencies
The wallets covered in this article are available on the projects official websites which we've linked. While most mobile versions are listed on either the Apple or Google Play Store, we highly recommend using the links available on official websites. That way, you can avoid phishing apps that often pose as legitimate applications.
How to keep your cryptocurrency safe
Aside from getting a multi-currency wallet with strong security features, here are some personal measures you can take to further secure your assets:
Never enter your recovery phrase on any website other than your wallet or device. Malicious apps and phishing emails often redirect unsuspecting users to fake websites to steal their assets.
Do not publicly disclose on social media or anywhere else the amount of crypto you own. Such disclosures often make you a target for hackers and phishers who will seek every possible avenue to separate you from your money.
Always double-check addresses before sending transactions. For large amounts, send a test transaction before moving the higher sum.
Always store your private key or recovery phrase offline in a secure location. Storing it on your frequently used device or location is bad practice and could result in a loss if someone who understands it comes across.
Conclusion
The cryptocurrency industry has largely moved on from the time when most existing wallets either supported a few coins or provided a poor user experience.
This article detailed the best multi-currency wallets that let users store thousands of assets on highly intuitive and user-friendly solutions. Based on their needs, users must decide which ones work best for them and then abide by the recommended security tips to keep their crypto assets away from hackers.