If you're looking for how to buy cryptocurrency in the UK, then there's a big chance you want to hold these assets as an investment or perhaps send payment to someone.
Buying a cryptocurrency doesn't have to be that difficult, and this guide shows exactly how to do it. It also lists platforms where you can buy, sell and trade cryptocurrencies using a variety of payment methods.
Table of Contents
A quick "step-by-step guide" on how to buy cryptocurrency on Binance
Binance is one of the most popular platforms for buying cryptocurrency. Here's one way to do it:
Register at Binance.com
Complete the email and ID verification process.
Go to Buy Crypto and select GBP as the currency.
Choose your preferred payment method (Credit/Debit card).
Select Crypto to buy on the next page and the amount to spend.
Click Buy and supply your card details on the next page.
Once approved, Binance will add the purchased crypto to your account on their platform.
You can view the purchased assets by going to Wallet>Fiat and Spot.
Steps on How to Buy Cryptocurrency
If you're buying crypto for the first time, then it is worth noting that there are three steps involved.
Signing up for an exchange: At this stage, you must register with a cryptocurrency exchange and complete their user verification process. The process often requires providing some personal information, an identification document, and a live selfie. The approval process typically takes within a few minutes to a few hours. But once you're verified, you can buy crypto on the platform.
Depositing Funds: If you're not depositing funds with a credit or debit card, then you're likely going to transfer funds to the exchange's bank account from yours. The exchange platform usually provides their account details and an ID to use for the GBP or EUR transfer. Once confirmed, they will add funds to your account on their platform.
Buy Crypto: Following the deposit confirmation, you can now buy crypto on the platform using the purchase tab provided. You can buy Bitcoin, or any of the other coins available on the exchange and pay for the purchase with the GBP deposit. Alternatively, you can make an instant purchase and pay with your credit card.
Where to buy cryptocurrency in the UK?
1.CEX.IO – the best place to buy cryptocurrency in the UK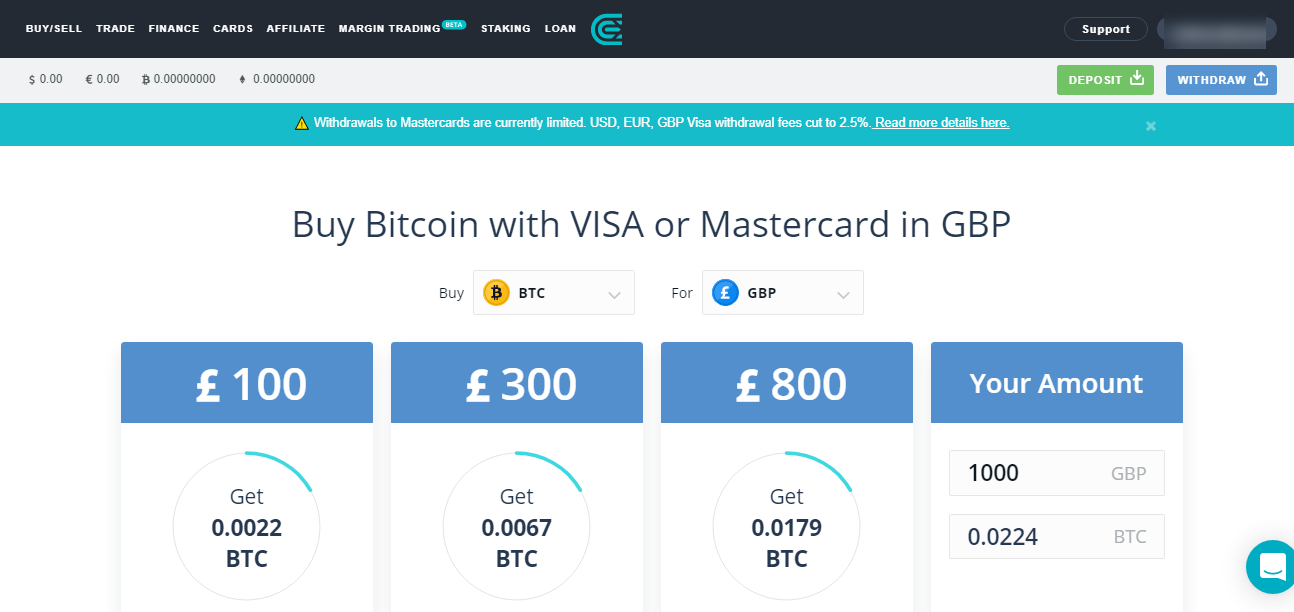 Launched in 2013, CEX.io is one of the oldest cryptocurrency exchanges serving the UK audience and a great option if you're buying crypto for the first time. The UK-based platform provides an instant purchase with GBP option for selected coins and also supports an order book trading format for experienced traders.
How to do it:
Register at CEX.io and complete the compulsory user verification process.
Go to Buy/Sell
Select the coin you want to purchase and select GBP as your payment currency.
Enter the amount to spend and review the corresponding coin value.
Proceed to purchase and provide your card details for verification on the next page.
If approved, review the order details and complete the transaction.
CEX.io will credit the purchased crypto to your account.
Alternatively, you can fund your account via the Deposit button.
Once confirmed, go to Trade and select the GBP pair for the coins you want to buy, e.g BTC/GBP.
Switch the Order Type to Market and fill in the amount of BTC to buy.
Click Place Order.
Pros
CEX.io is a reputable crypto exchange with little to no risk for customers.
The platform is relatively user-friendly.
CEX.io offers customer support via phone and email, making it easier for customers to get assistance.
Customer funds are insured by an insurance fund managed by the company.
The exchange is transparent with its fee schedule and typically charges a reasonable 2.99% fee on card purchases, and less for wire transfers.
CEX.io provides four fiat deposits and withdrawal gateways for UK customers.
The exchange also supports staking for selected Proof-of-Stake (PoS) coins.
Cons
Compared to competitors, CEX.io offers a limited selection of coins.
The platform's trading interface isn't as robust as what other competitors like Coinbase and Binance offer.
Supported Payment Methods: Debit, Credit Card (Visa, Mastercard), Faster Payments, SWIFT, Skill, and other cryptocurrencies.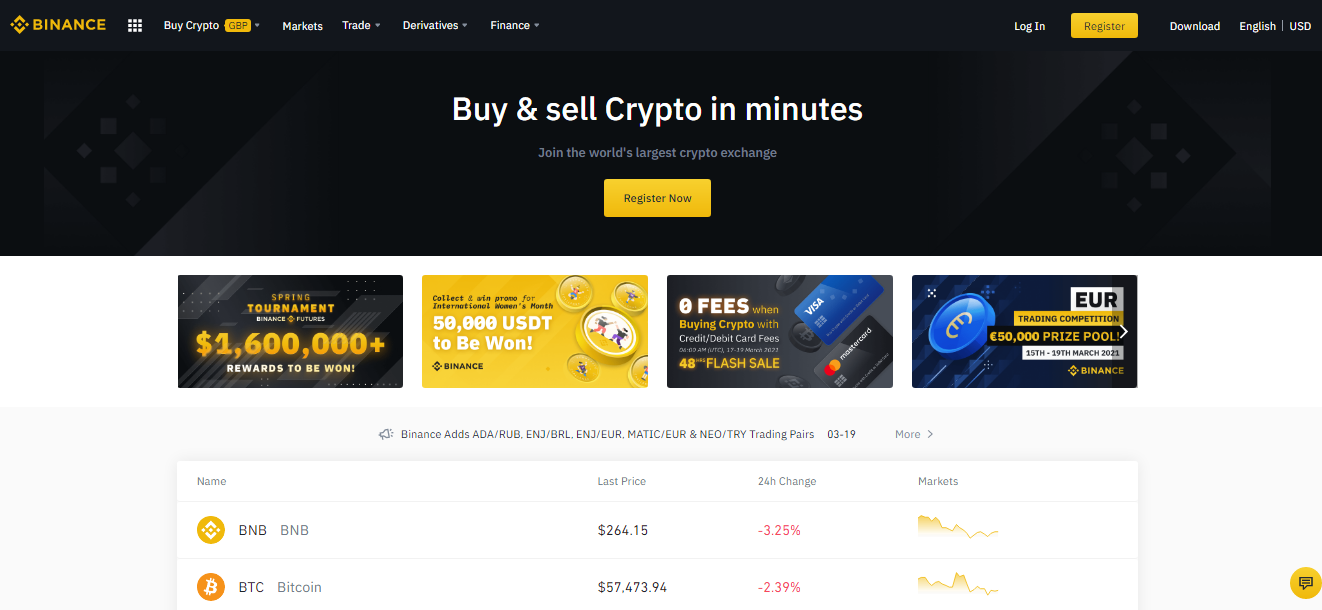 Binance is a global cryptocurrency exchange platform and another popular choice for anyone searching for how to buy crypto in the UK. There are numerous purchase options as well as coins for users to add to their portfolio.
How to do it:
Register at Binance.com and complete the verification process.
Go to Buy Crypto and choose GBP as your preferred currency.
Select the Bank Deposit option and proceed.
Choose your preferred deposit method.
Enter the amount to deposit and review the associated fees.
Click Continue and make the deposit either by providing your card details or completing a bank wire using the bank details provided by Binance.
If successful, go back to Buy Crypto and choose the pay with Cash Balance option.
On the next screen, select the amount you want to spend and the number of coins you want to purchase.
Review the details and complete the order.
Pros
Binance offers the widest selection of cryptocurrencies.
The platform charges a meagre 1.8% fee on card deposits.
Binance provides advanced features for professional traders.
Binance has customised debit cards for customers who wish to spend crypto daily.
Users can use Binance's peer-to-peer (P2P) platform to trade directly with other users and access a wider range of deposit options
Cons
Binance's exchange interface isn't really friendly for beginners.
Customers reported long wait hours trying to reach the customer support team.
Supported Payment Methods: Faster Payments, Bank Cards (Visa, Mastercard, etc.), and other cryptocurrencies.
3. Coinfloor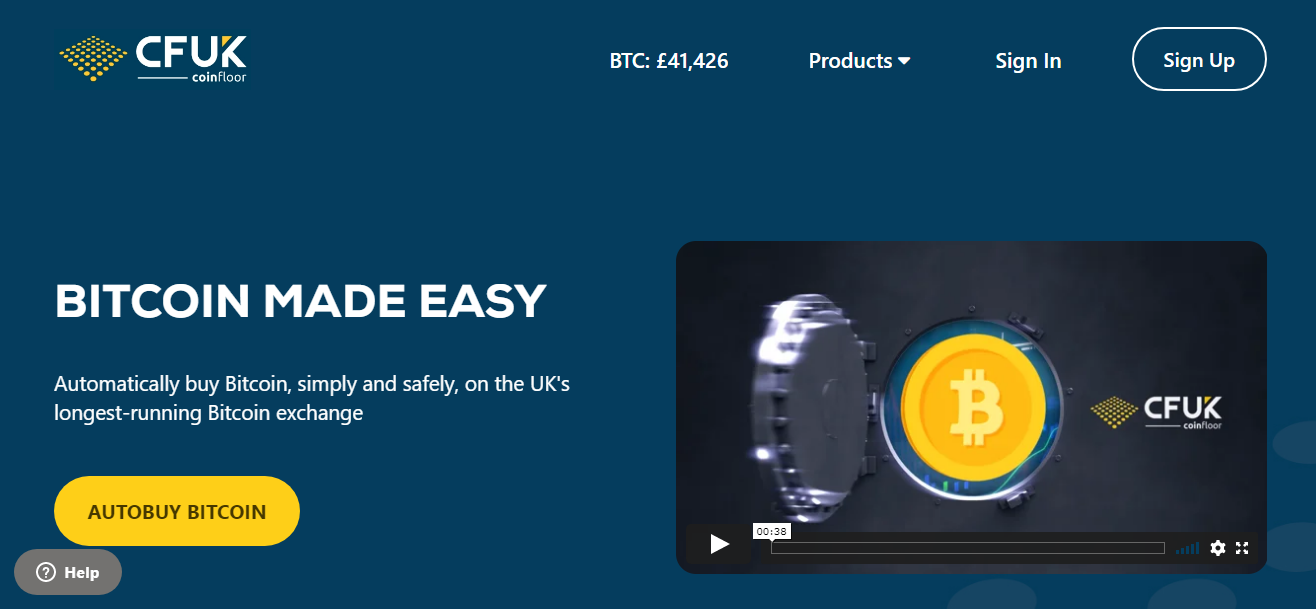 Launched in 2013 and headquartered in London, Coinfloor is another of the UK's oldest cryptocurrency exchanges. Worth noting is that the platform only supports the buying and selling of Bitcoin, focusing most of its efforts on helping customers invest in the leading cryptocurrency.
How to do it:
Register at Coinfloor.com and complete the Account verification process.
Go to Autobuy and copy your deposit details.
Open your banking app to make a one-time deposit or set up recurring standing orders with the provided account details.
Complete the transfer or set up and wait for confirmation.
Once approved, Coinfloor will make regular Bitcoin purchases on your behalf at the designated time.
Pros
Coinfloor's platform is user-friendly and ideal for Bitcoin-only investors.
The exchange is transparent regarding its fee schedule for everyday users and professional traders.
Coinfloor supports Auto-buys, providing a good way to set up regular recurring Bitcoin purchases.
The exchange has highly liquid order books for BTC/GBP trading and offers advanced tools for experienced traders.
Coinfloor provides a handful of educational resources for new Bitcoin investors.
Coinfloor offers Bitcoin custody, OTC, and corporate solutions for companies looking to allocate a portion of their capital to Bitcoin.
Cons
Coinfloor supports only Bitcoin and thus is not an option for investors seeking exposure to other cryptocurrencies.
The platform only offers bank transfers as a fiat deposit method.
Supported Payment Methods: Bank Transfers, Bitcoin deposit.
4. Coinbase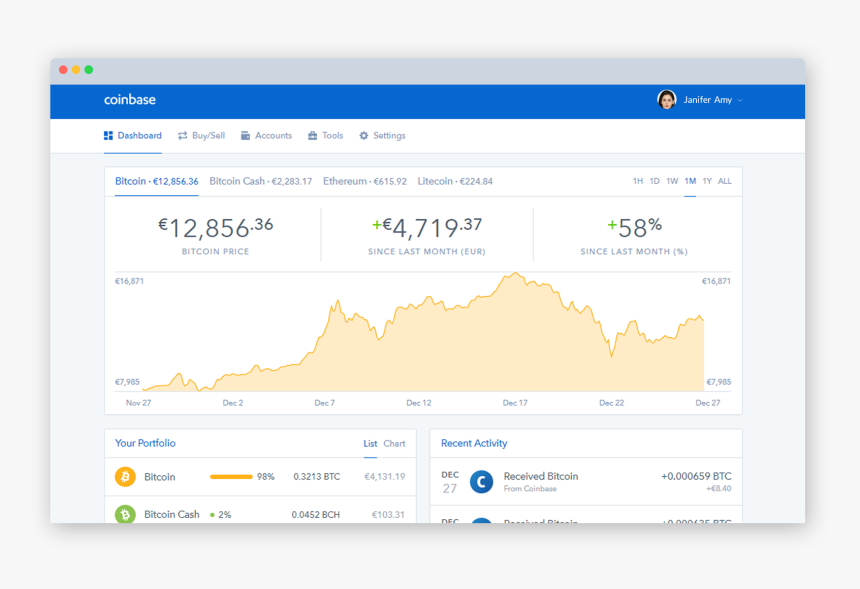 One has to be really new to crypto to have not heard of Coinbase. The platform has been around since 2012, and primarily caters to the U.S. market. In recent years, though, Coinbase has expanded its services to UK customers and represents another excellent option if you're looking for where to buy the cryptocurrency.
How to do it:
Create a Coinbase.com account.
Complete the verification process to unlock fiat payment methods.
Go to Settings from your account's dashboard and choose Payment Methods.
Use the provided option to link your UK bank account to Coinbase.
Once confirmed, go to Portfolio to find your GBP wallet.
Select Deposit and initiate a wire transfer from your bank to Coinbase using the provided
Reference Code.
Following deposit confirmation, go back to Portfolio and choose the coin you wish to buy and choose to pay with your GBP balance.
Alternatively, you can use the Instant Buy option to purchase your coins.
Pros
Coinbase is a reputable cryptocurrency exchange, guaranteeing account and fund security.
Coinbase's interface is user-friendly and ideal for first-time investors.
Customers can set up recurring purchases to build their portfolios.
Coinbase offers a professional trading platform (Coinbase Pro) to meet the needs of experienced traders.
Coinbase supports staking for selected PoS coins.
Cons
Coinbase has a history of suffering downtimes during peak price periods.
To remain regulatory compliant, the exchange lists a limited number of coins.
Users also report long wait hours or days to get in touch with the customer support team.
Supported Payment Methods: Wire Transfer via Faster Payments, SEPA, Debit and Credit Cards (Visa, Mastercard), and other cryptocurrencies.
5. Wirex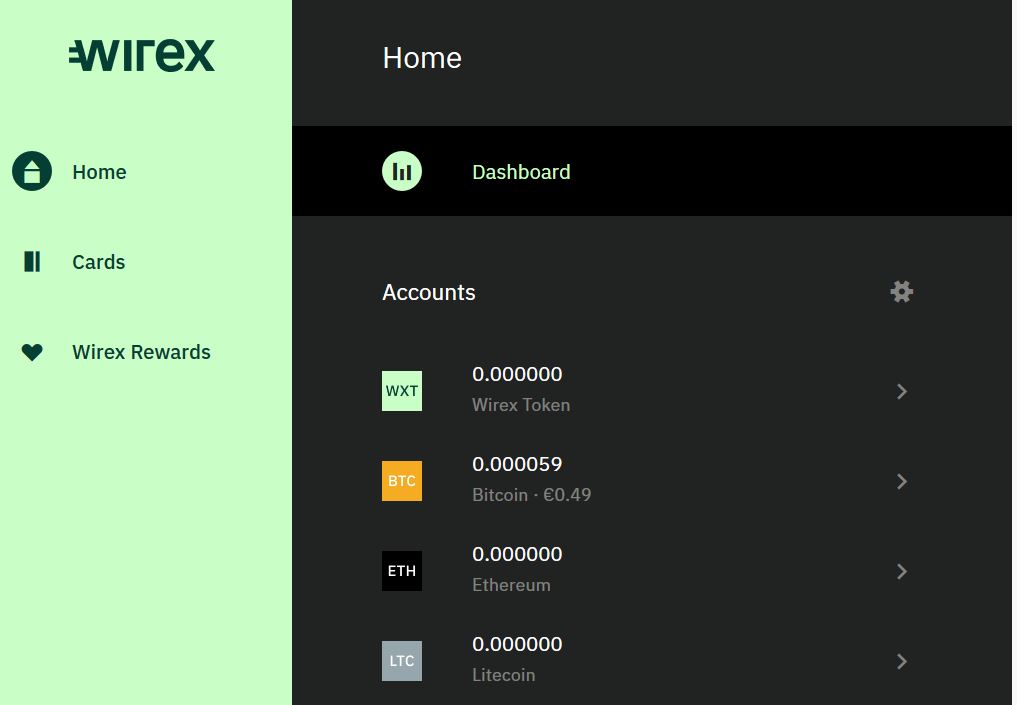 Launched in 2017, and headquartered in London, Wirex claims to be a "crypto-friendly currency account." The platform's primary offering is a mobile app and card that lets users easily convert between fiat and cryptocurrencies. Customers can use the conversion feature to buy and sell cryptocurrency at any time.
How to do it:
Download and install the Wirex app from your app store.
Register on the app and verify your identity.
Go to Preferences > Linked Cards and link your local bank card.
Once approved, go to Accounts and select the cryptocurrency you want to purchase.
Click Add Funds at the bottom of the page and choose to pay with a linked card.
Review the order details and complete the transaction.
Alternatively, you can Add Funds via a bank transfer using the details provided by Wirex when you choose the option.
Once confirmed, use the Exchange Currencies tab to convert GBP to your desired cryptocurrency.
Pros
Wirex is regulated by the UK FCA and thus very reliable.
Wirex has a user-friendly trading interface.
The platform supports a wide range of fiat currencies.
The Wirex debit card lets users spend on crypto and offers additional perks.
Fees on Wirex are very friendly when compared to competitors.
Cons
Wirex supports fewer cryptocurrencies.
The user verification process is tiring and can take time.
Supported Payment Methods: Wire Transfer via Swift, SEPA, and Faster Payments. Local bank cards.
6. Localbitcoins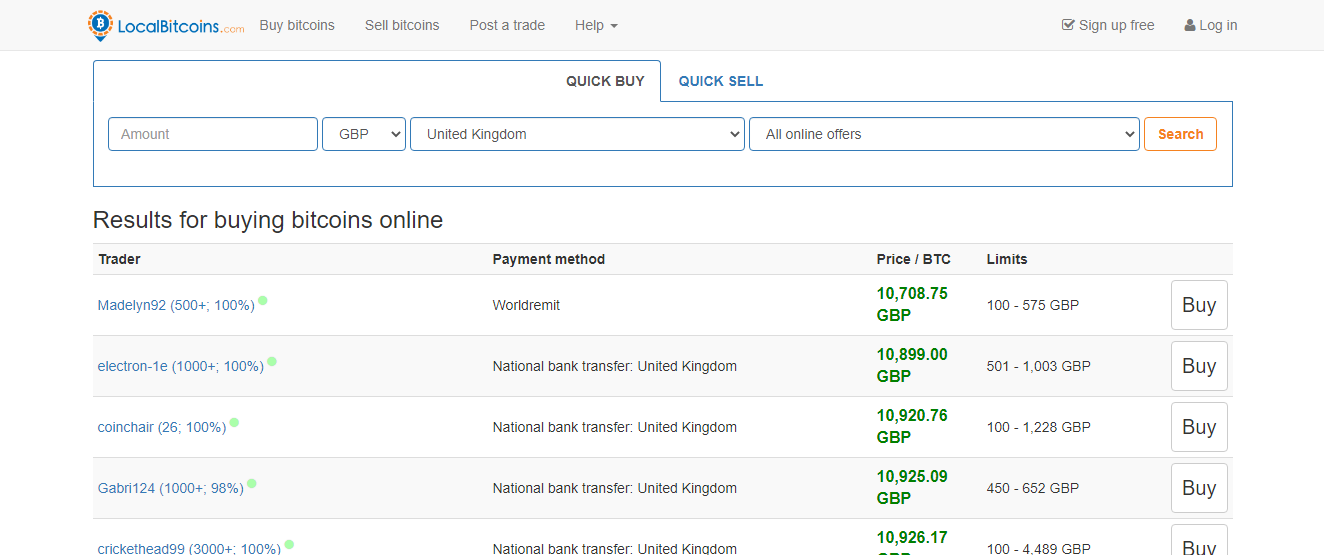 Localbitcoins is a peer-to-peer (P2P) bitcoin exchange. Unlike the other platforms we've considered so far, you're purchasing coins directly from another person, and have to send payment to an account that they designate. Once confirmed, the seller will release the amount to your Localbitcoins bitcoin wallet.
How to do it
Register at LocalBitcoins.com and verify your identity
Go to the Buy Bitcoins tab.
Enter GBP as your currency and select the UK as your country and then search.
Choose an offer that matches the amount of GBP you want to spend.
Also, ensure that the seller's payment option matches the medium you want to use.
Click on the offer page and enter the exact amount you want to purchase and initiate the transaction.
Complete the payment within the allotted payment time and wait for the seller to confirm and release your coins.
The amount will be added to your Localbitcoins bitcoin wallet from where you can withdraw it to an external wallet or exchange.
Pros
Being a P2P platform allows for several payment methods.
The transaction flow is straightforward and ideal compared to buying crypto via an order book on a centralized exchange.
Sellers only pay a 1% fee for each successfully sold offer. Hence, buyers can enjoy minimal fees on bank transfers.
Users can buy up to £1000 without verifying their identity.
Cons
While Localbitcoins screens buyers and sellers to prevent fraud, users could run into trouble by mistakenly ordering from unreliable people. This could result in delayed transactions.
The LocalBitcoins website could use an upgrade to look modern.
Supported Payment Methods: National Bank Transfer, World Remit, Moneygram, PayPal, Neteller, Bitcoin Deposits.
7. Bitpanda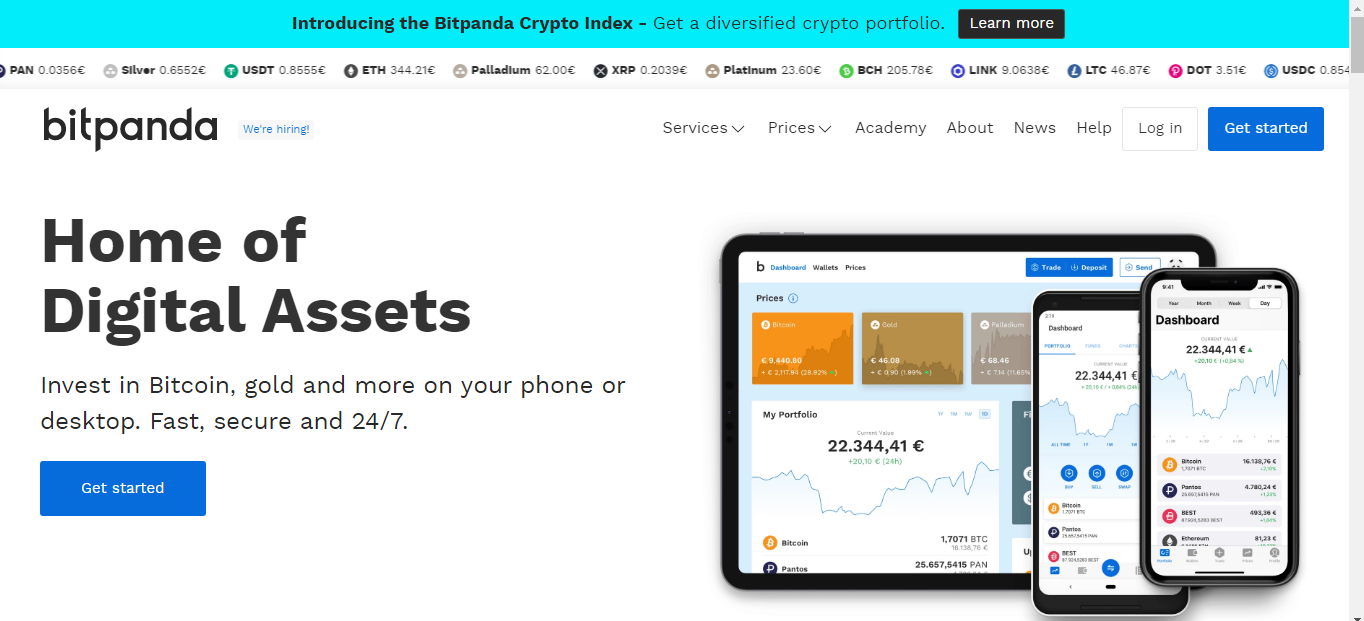 Based in Australia, Bitpanda is another excellent platform for UK investors to buy cryptocurrency. The exchange has been around since 2014 and particularly caters to the needs of retail users. In recent times, Bitpanda has also expanded its offering to include precious metals and stocks.
How to do it:
Register on Bitpanda and complete their ID verification process.
From your account's dashboard, click Deposit to fund your account using your preferred payment option.
Once confirmed, go to Wallets and select the coins you want to purchase.
Click Buy on the coin and enter the amount.
Choose to pay with your wallet balance.
Complete the transaction and Bitpanda will add the purchased coins to your wallet.
Pros
Bitpanda's platform is easy-to-navigate and suits the needs of regular investors.
The exchange includes native support for using GBP and EUR to buy crypto.
Bitpanda offers direct Crypto Swaps, an interest saving wallet, and other features.
Users can invest in stocks, precious metals, and other assets from the same place.
Bitpanda employs stringent KYC and security processes to ensure the safety of user funds.
Cons
The platform lists a limited number of cryptocurrencies.
Having so many features can end up confusing investors who only want to buy crypto.
Supported Payment Methods: Wire Transfer, Bank Cards (Mastercard, Visa), Neteller, Skrill.
8. BC Bitcoin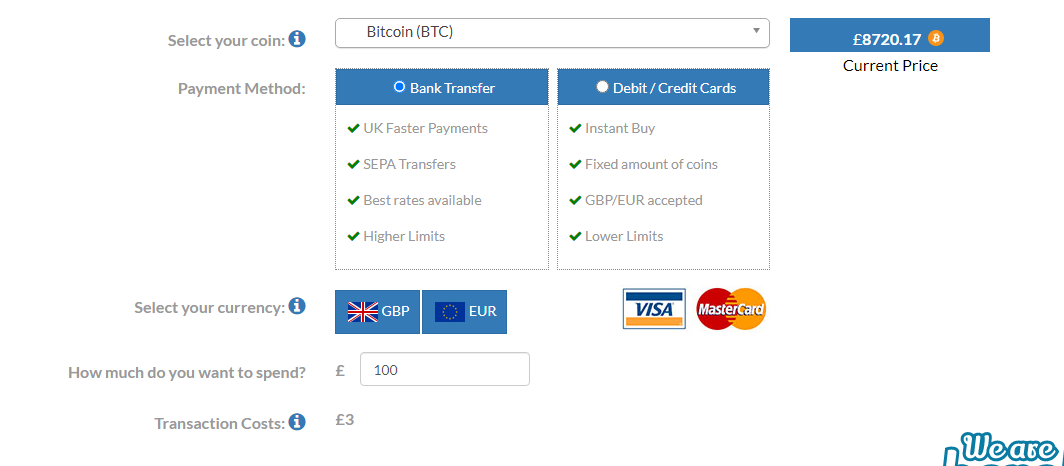 BC Bitcoin is a UK-based cryptocurrency brokerage service. Unlike the exchanges that we've considered so far, you need an external wallet to be able to buy Bitcoin from BC Bitcoin. Once you place and order, the platform sends the purchased amount to the cryptocurrency wallet you designate.
How to do it:
Register at BC Bitcoin and verify your account.
Click the Buy Coins tab once logged into your account.
Select the coin you want to buy and choose a currency to pay with
Specify the amount you want to purchase and the payment method.
Provide your wallet address and memo if applicable.
Proceed to checkout with the order details and complete payment.
BC Bitcoin will deliver the coins to the provided address within 20-60 minutes after the payment confirmation.
Pros
Buying crypto at BC Bitcoin is straightforward and ideal for investors who simply want to buy and hold cryptocurrencies in a personal wallet.
The broker is transparent regarding associated fees and typically displays them on the order page.
BC Bitcoin boasts a reliable customer service desk, including phone support.
Customers can also swap from one coin to another using the Coin Swap function.
BC Bitcoin offers a recurring payment service for automated purchases.
There is an OTC desk for large orders available on request.
Cons
Using BC Bitcoin requires advanced knowledge of cryptocurrency wallets and addresses.
The platform has a stringent KYC process that could perhaps use some improvement to allow for faster onboarding.
9. Bitcoin ATM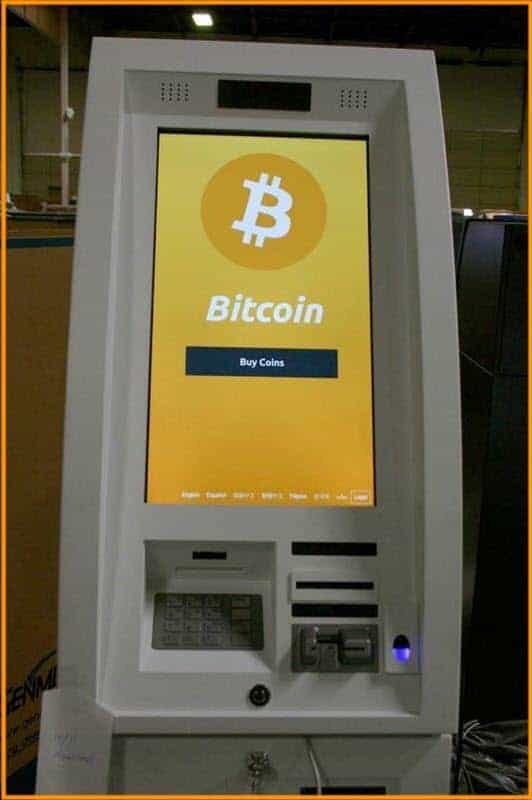 Bitcoin ATMs are becoming a popular sight, with nearly 200 such machines currently located within the United Kingdom. Some of them allow users to buy Bitcoin, sell it, or do both using their bank card or physical cash as the payment method.
Although most Bitcoin ATMs vary in their display and functionality, anyone with a basic knowledge of crypto and how to operate a traditional ATM can use these machines.
How to do it:
Initiate a purchase transaction on the ATM.
Provide your KYC details if required.
Enter the amount of BTC to purchase.
Scan the QR code from your wallet address so that you will receive the coins.
Insert cash or card to make payment.
Once confirmed, the purchased coins will be sent to your wallet within the time stipulated by the ATM provider.
Pros
Bitcoin ATMs represent one of the few methods for spending physical cash on crypto purchases.
Bitcoin ATMs that do not require KYC are ideal for preserving the privacy of the buyer, especially if it accepts cash payments.
These machines provide an avenue for users to spend spare cash on crypto more easily.
Machines that support selling provide an avenue for users to cash out on crypto like they would cash.
Cons
Fees on Bitcoin ATMs are typically high, around 8-10%
Most machines only support Bitcoin purchases.
Supported Payment Methods: Cash, Bank Cards.
Things to consider before buying crypto
If this is your first time buying cryptocurrency, then you will find it helpful to consider the following points:
Time in the Market: Like every other market, the cryptocurrency market has bull and bear markets. Put simply, there are times when prices remain low for a while, and there are times when prices soar. After an epic bull market in 2017, the crypto space witnessed a bear market in 2018 and has been on a steady rise since then.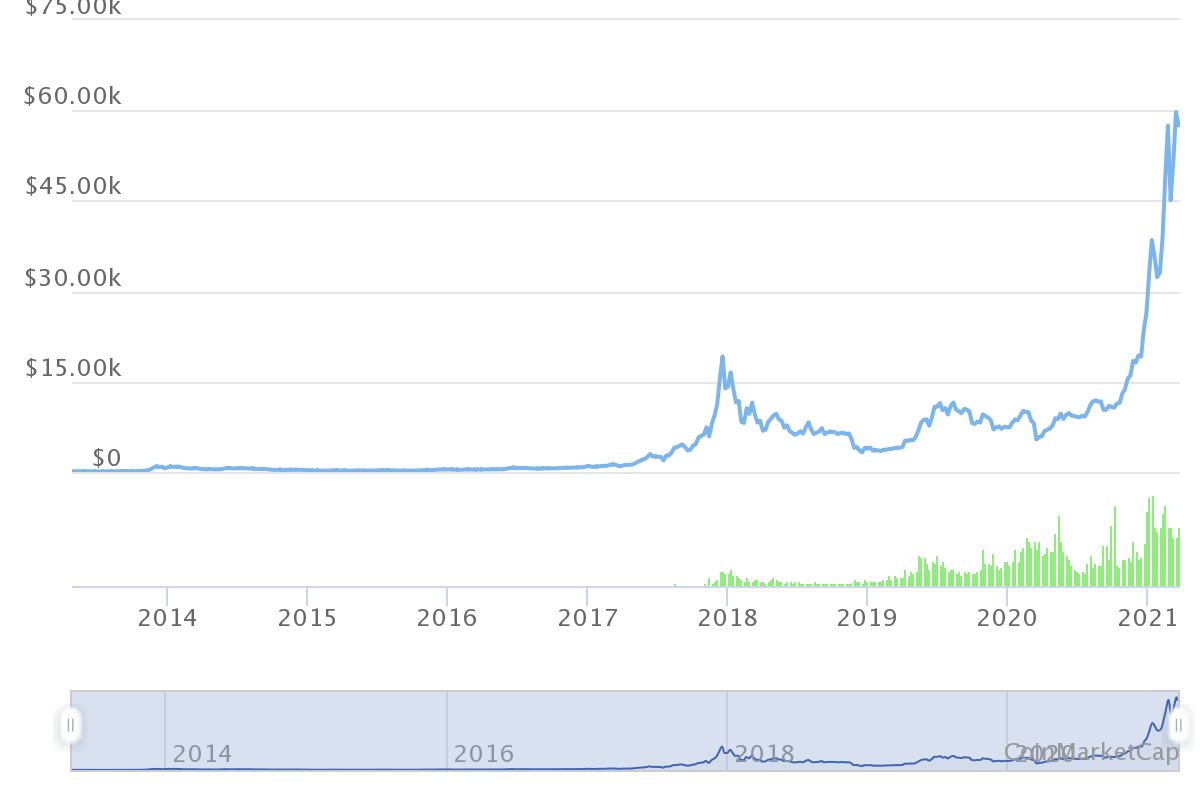 Since the objective of every investor is to generate returns, bear markets are usually a good time to buy coins with the hope of selling them in a bull market. However, buying into cryptocurrency when prices are high could mean having to wait longer to realise tangible profits.
Investment Strategy: Every prospective crypto investor must determine whether they want to spend a lump sum on a one-off purchase, or whether they want to build their position over time. The former approach may be ideal for a passive long-term investor, while the latter is an excellent choice for active investors looking to build their crypto portfolio.
Dollar-cost averaging (DCA) – the process of spending a specified amount periodically on crypto purchases – is a popular choice for new investors as it allows them to lower their buy-in price and profit from any significant market rise.
Associated Risks: Prospective crypto investors must abide by the rule of not 'investing more than they can afford to lose." The crypto market is highly volatile, and 50% moves in either direction are not unheard of.
Additionally, investors could lose their coins if they fail to properly secure their wallet or exchange accounts. Understanding these risks is important for anyone considering whether or not to invest in cryptocurrencies.
Where to store your coins
Given the industry's muddy history with security breaches and wallet hacks, anyone with substantial amounts in cryptocurrency must consider where to store their coins.
Many experts agree that investing in a hardware wallet such as Trezor or Ledger is one of the best security practices, at least for the everyday investor. These devices store your coins offline to mitigate any risk of losing them to hackers.
Users who choose to leave substantial amounts on exchanges like Coinbase or Binance must recognise that, although relatively reliable, these platforms present third-party risks. Operators could get hacked, face regulatory action, or other unexpected developments that might put user funds at risk.
Privacy and security tips
Abiding by the following measures can help you secure your crypto from hackers:
Never enter your wallet's private key or passphrase on any website.
Never disclose publicly the number of bitcoins you own, as this might make you a target for criminals both online and offline.
Always use strong passwords and advanced security features such as two-factor authentication (2FA) to secure your crypto exchange account.
Make sure to double-check addresses before sending transactions. If you're sending a large sum, consider sending a test transaction to the recipient's address first, and then the rest if successful.
When visiting exchange websites or installing wallets, ensure that you're on the right URL and install only the latest applications.
Conclusion
Cryptocurrencies are here to stay and will likely continue to co-exist alongside traditional financial and currency markets. However, getting in on the act is as crucial as choosing the right platform.
This article detailed how to buy cryptocurrency in the UK, providing a list of reputable exchanges and brokers where interested investors can get started. It also covers the pros and cons of choosing each platform and hopes to help readers choose a platform that satisfies their investing needs.
Conclusively, it provided security tips and guidance for investors to safeguard their money. Happy investing!