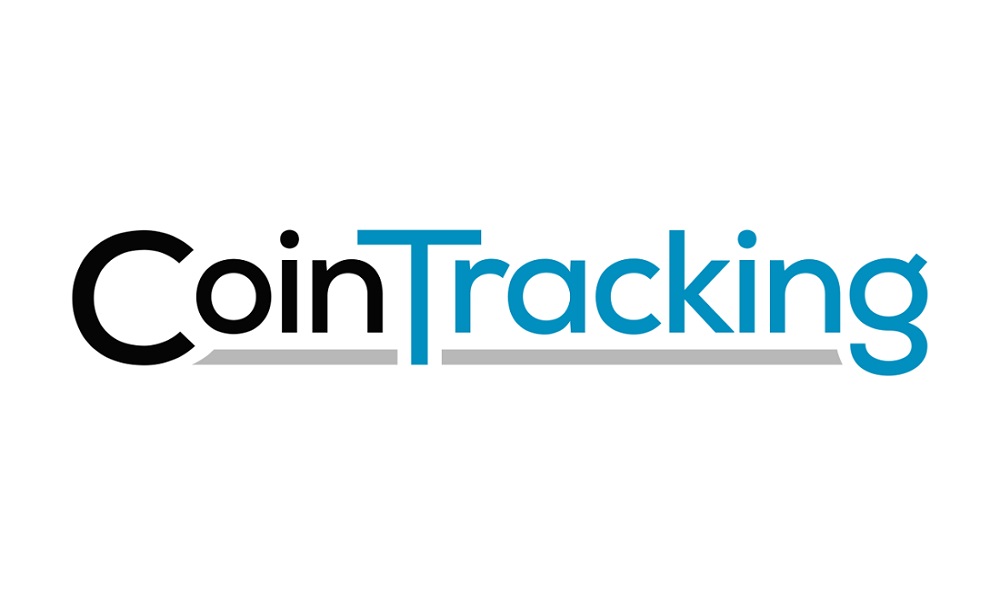 Many people don't opt for crypto trading being discouraged by the necessity to track all the transactions and prepare tax reports. However, the choice of the right tool like CoinTracking may make reporting easy and fast. This comprehensive crypto dashboard is so rich in functionality that you can benefit in a variety of ways using it. Furthermore, it is definitely an outstanding platform that does not have true competitors in the market. Are you ready to learn more about it?
Table of Contents
Look: this CoinTracking review is your trusted guide to the world of crypto reporting.
What is CoinTracking
CoinTracking is a cryptocurrency tracking and tax reporting software that was launched in 2013 and was the world's first cryptocurrency tax reporting tool and portfolio manager. The main goal of why this software was created was to make the lives of crypto enthusiasts easier since it can perform a lot of services automatically. It is enough to import trading data through exchange APIs or CSV files.
This software analyzes trades and generates real-time reports on profit and loss, coin value realized and unrealized gains, reports for taxes, and much more. The tool supports over 10k assets with full historical data and supports tax reports for over 100 countries. Currently, the total number of CoinTracking users has exceeded 880k people and 1250 corporate clients. The total value of all portfolios created with its help is estimated at $24.7 billion.
Key features
Being one of the richest tools in functionality CoinTracking has lots of features worth user attention, and here you will find the most important ones.
1. Trade imports
Users can import data from more than 110 exchanges with the possibility of automatic import via APIs. This software supports direct sync with the blockchain and allows exporting files in different formats including Excel, PDF, CSV, XML & JSON.
2. Tax report generation
The tool allows creating tax reports for over 100 countries taking into account lots of factors including capital gains, income, mining, etc. There are 13 tax methods to choose from including FIFO, LIFO, AVCO, LOFO, HRMC, and others). There is also a tax export for CPAs and the tax office too.
3. Personal analysis
There are 25 customizable crypto reports and interactive charts for trades and coins. You can generate profit/loss and audit reports as well as consider realized and unrealized gains with its help too.
4. Coin charts and trends
The main advantage of CoinTracking is a full history for all 10,914 coins as well as access to the latest prices for these assets. You can access the list of top coins by trades and volume as well as discover trends, coin statistics, and analysis too.
5. Professional help
The tool provides access to the tax laws of over 100 countries and allows users who are not ready to cope with tax reports themselves to get assistance from crypto tax advisors or order a report created by the representative of the Full-Service team. There are also different tutorials, video guides, and FAQs for beginners.
6. High-security level
The software provides data and API encryption as well as offers to protect sensitive and financial data with 2FA. You can also create and restore trade backups and can import any data from exchanges without providing access to them.
How does it work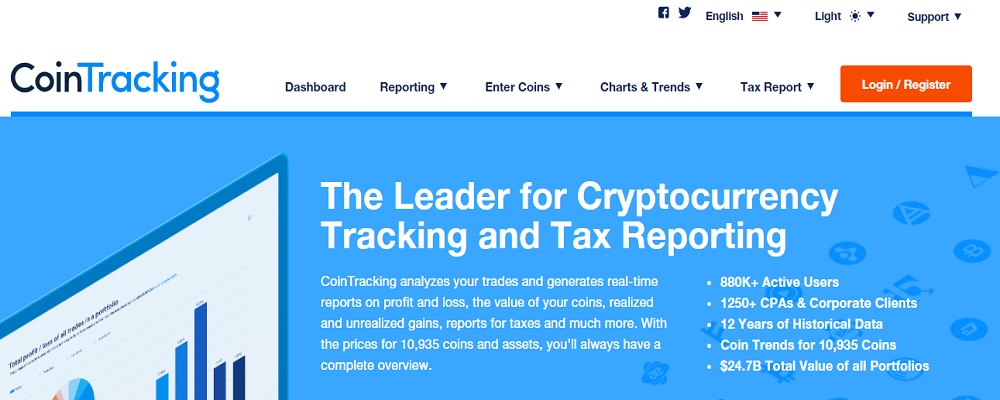 The process of tax report creation takes a little time and can be completed in 3 simple steps:
Creation of the account and choosing a plan

Every new user who joins the platform gets a free account with a limited number of features. There is the possibility to get the most of Coin tracking software with prepaid plans.

Importing transaction data

Both manual and automatic importing are supported. You can export files with Comma Separated Values (CSV files) from the majority of exchanges manually or connect exchanges to the account and get automatic sync using API connections (API sync).

Developing a tax report

There is the Tax report button on the My Account menu, so you can press it and select the create a new Tax report button. You will see a page where you can choose a tax year, filter transactions, select an accounting method as well as use advanced features for more informative reports. You can import files from around 30 exchanges and such popular crypto wallets like Trezor, Electrum, GateHub, Exodus, and others.
Services
In addition to using CoinTracking services individually, it is possible to order Full-service and get professional assistance in two major directions: crypto transactions and tax reports. This service is available in English and is provided by an independent public accounting firm called Polygon Advisory Group LLC. There is a team of licensed CPAs and other crypto tax professionals to provide qualified help in the following directions.
Crypto tracking
Users who face issues with complicated crypto transactions or any other issues connected with tracking, accuracy, speed of transactions may opt for the following services offered by the company:
Reviewing account for the identification of any issues and errors;
Handling complicated transactions including margin trades, DeFi, and crypto lending;
Resolving transaction import and reconciliation issues;
Checking data completeness and transaction accuracy;
Fixing errors and missing transactions;
Accounting for ICOs, exchange shut-down, lost or stolen coins, airdrops, gifts, etc.
Tax reporting
Another important direction covered by Full-service professionals is assistance or a full preparation of a tax report from scratch. They offer creation and reviewing tax reports in user accounts as well as preparing US federal and state income tax returns with the coverage of all complexity levels, years, and return types (individual and business).
Supported countries and languages
A full list of countries supported by CoinTracking includes over 100 titles and these are not only the states located in Europe but also America and Asia. The website is available in 11 languages including English, German, Italian, French, Russian, Spanish, Polish, Portuguese, Korean, Chinese.
User experience
There is no need to be an advanced computer user to benefit from CoinTracking solutions. The website has a user-friendly interface with a drop-down menu for quick access to the whole functionality. Furthermore, it is available not only in different languages but also supports several light shades. There is a clear division of services for individuals and companies as well as comprehensive tutorials and responsive customer support. There are also mobile applications for fast access anytime and anywhere.
The software has many positive reviews and is recognized to be the most multi-functional one in the crypto industry.
Mobile app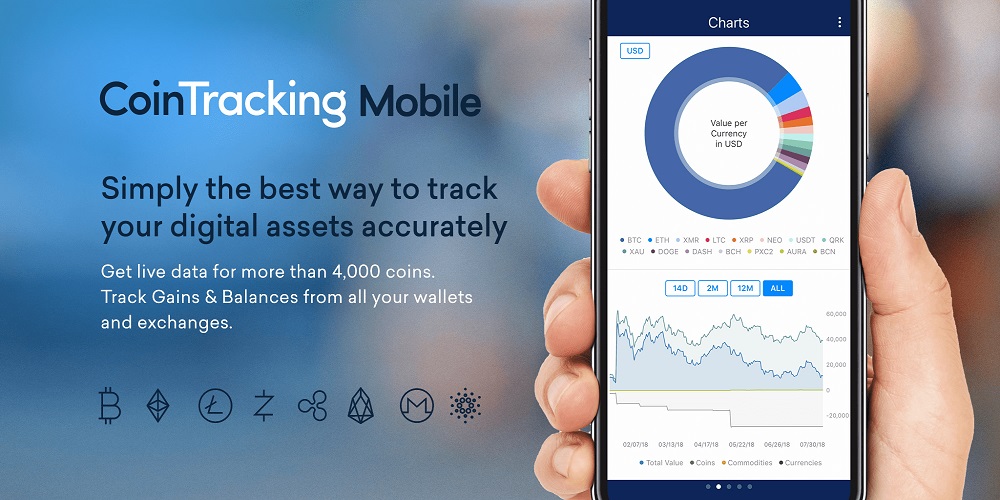 In addition to a responsive website that can be viewed on mobile gadgets, there are CoinTracking apps for both Android and iOS devices. The mobile app allows getting track of over 4,000 coins and taking control of all the exchanges and wallets used. The app offers a day and night mode for better visibility, allows tracking gains in real-time, and taking a quick glance with the widget.
Pricing
All new investors of the CoinTracking dashboard get a free plan with up to 200 transactions, coin tracking, import of files up to 5 MB, only 2 manual imports, and 2 backups.
A desire to extend functionality encourages to choose from 3 paid plans (paid yearly):
It supports up to 3,500 transactions, importing files up to 20 MB, 5 auto imports and unlimited manual imports, 5 backups, API, and many extra features.
Expert – $16.99 per 20,000 transactions, $21.99 per 50,000 transactions, and $27.49 per 100,000 transactions
Despite the difference in the number of transactions, all other features in this plan are the same. It supports importing files up to 20 MB, 10 auto imports and unlimited manual imports, 10 backups, API, and many extra features that are the same as in the Pro plan.
Unlimited – $54.99 a month
In addition to the unlimited number of transactions, it allows importing files up to 200 MB, 50 auto imports and unlimited manual imports, 20 backups, API, a wider range of personal export formats, advanced tools, prioritized calculations, and support.
How to get started with CoinTracking
The first step to your crypto report is registration on the CoinTracking website. There is a blue box on the right where new members are asked to provide a username and password to join the platform. When you confirm the email address provided you are enrolled into a free version of the software automatically. The maximum limit of transactions for a free account is 200, so you will need to purchase a plan to continue using the services offered and get access to a wider range of features.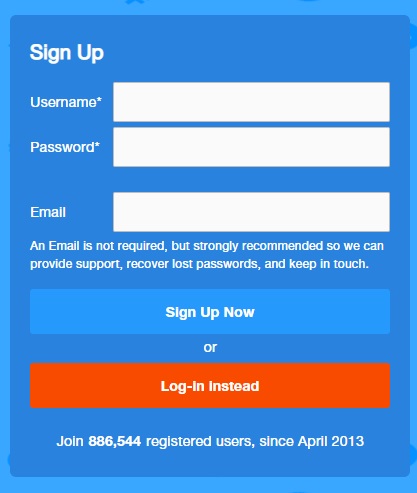 Security
Coin Tracking has been in the crypto market for over 12 years already and has gained an excellent reputation. It supports anonymous registration as well as provides complete data and API encryption that can be also protected with 2FA. Furthermore, there are backups for restoring trading history at any time.
Customer support
Any issues or extra information about the project can be received from customer support. You can access it in the upper right corner where you can select the FAQ section or contact the support team. There is a blue chat button in the lower right corner of the screen to activate a bot. The support team is available in English and German from Monday to Friday (8 am to 6 pm UTC). The average response time is 48 hours at the moment. Coin Tracking is also present on popular social media websites including Youtube and Twitter, so you can contact its representatives there too.
Pros&cons
Let's summarize what makes CoinTracking the best crypto reporting software and why you may be disappointed with it in some cases.
Pros:
Diversity of features;
Support for numerous exchanges, wallets, assets, and countries;
Mobile compatibility;
Simple, customizable, and user-friendly dashboard;
Free trial;
Lots of guidelines for new users;
Security and anonymity.
Cons:
Paid plans;
A mobile app does not support all features of the web version.
Is CoinTracking legit?
There is no sense to doubt CoinTracking legitimacy since it is enough to remember it has been a pioneer in crypto tax reports and tracking and has remained a leader for over 12 years already. The tool has been trusted by over 800k people and is a universal product for citizens of over 100 countries, while the security and safety of all clients are considered a priority too.
Why choose CoinTracking?
The main reason why CoinTracking remains a leader in the competitive crypto market is its functional versatility and constant development. The team keeps track of the modern trends and tendencies and updates the product for it to meet all the requirements of crypto holders.
F.A.Q
What is CoinTracking?
This is a cryptocurrency portfolio manager with wide functionality and lots of useful features.
Who can CoinTracking be useful for?
Anyone who is involved in the world of crypto will find CoinTracking useful: these are traders, crypto investors, businesses that accept crypto payments, etc.
Is CoinTracking trustworthy?
Yes, it is. The software was released in 2013 and is trusted by over 800k users worldwide.
What are the basic features of CoinTracking?
The main solutions that make users interested in this tool are coin tracking and simple tax report generation, but there are many other useful features too.
Is there a free plan in CoinTracking?
Yes, there is. New members of the platform can use basic functionality for up to 200 transactions for free. When you run out of them, you can continue using software only when you purchase a paid plan.

Summary
Focusing on the main features of a crypto portfolio manager this cointracking.info review has confirmed its reliability and popularity one more time. CoinTracking has been a trusted leader in crypto management and tax reporting for over 12 years already and it does not plan to lose its championship. It has lots of benefits for crypto investors but it may take time for beginners to grasp all the functions it offers too.