Reddcoin (RDD) is one of the oldest cryptocurrency projects, having launched in 2014. Although it continues to thrive as a community-led initiative, users often have issues with figuring out where to buy Reddcoin.
The coin is not available on the most popular exchanges for reasons possibly related to the high listing fee requirement on such platforms. There are still a number of places, though, where you can buy Reddcoin either with fiat or other cryptocurrencies.
Table of Contents
This article reveals them and also shows exactly how to go about it. It also offers recommendations on what to consider before buying the cryptocurrency, and where you can store it securely.
To learn more about the project, you can read our Reddcoin review.
A quick guide on buying Reddcoin
Download and install Reddcoin wallet.
Go to Bcbitcoin.com and create an account
Complete the KYC verification process.
Go to Buy Coins and select RDD as the coin to purchase.
Choose to pay via Bank Transfer and select your preferred currency.
Enter the order amount and provide your wallet address.
Click "Next Step" and complete the funds transfer using the provided bank details.
BC Bitcoin will transfer the purchased quantity of RDD coins to your address once the payment is confirmed.
How to buy Reddcoin (RDD) with fiat currencies
BC Bitcoin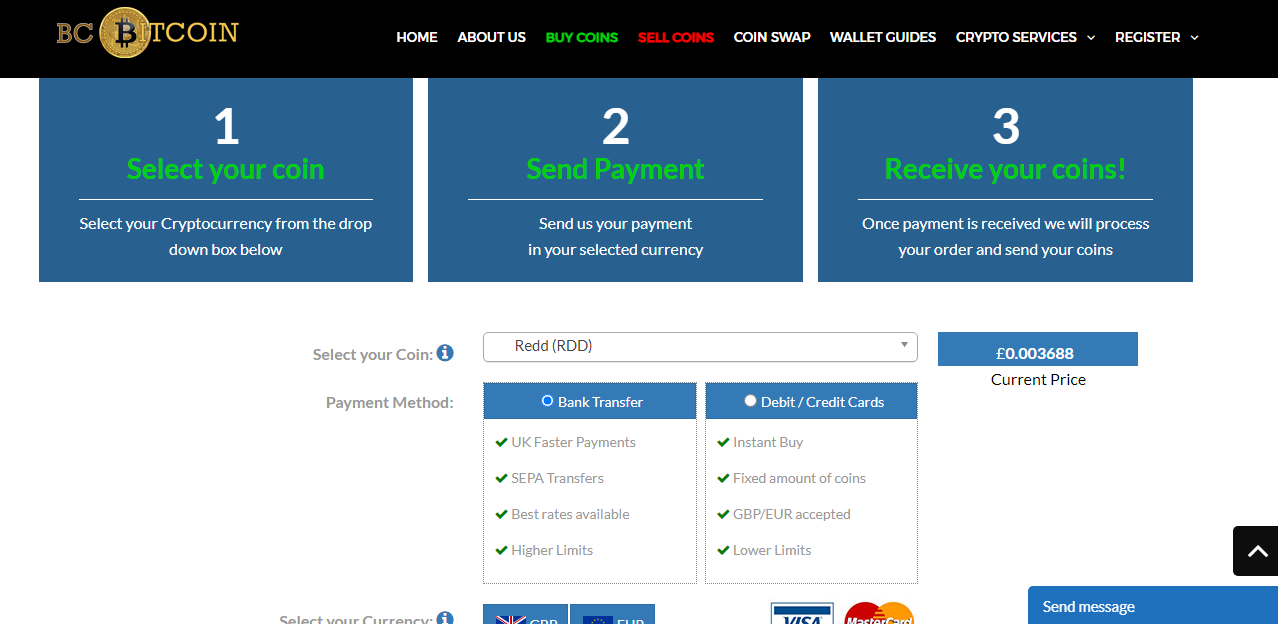 BC Bitcoin is one of the few UK-based cryptocurrency brokers that allow you to buy RDD with GBP and EUR. The process described earlier assumes that you want to make the purchase via bank transfer. However, BC Bitcoin also lets you buy RDD with credit and debit cards.
How to do it:
Register at Bcbitcoin.com and complete the KYC process.
Go to Buy Coins and choose RDD as the coin to buy.
Choose to pay via Credit/Debit card.
Enter the amount to purchase, and provide your Reddcoin address.
Review the order details and click on "Next Step".
Provide your card details to complete the payment.
BC Bitcoin will transfer the purchased coins to your address within thirty minutes.
Supported Payment Methods: Bank Transfer, Credit and Debit Cards.
Litebit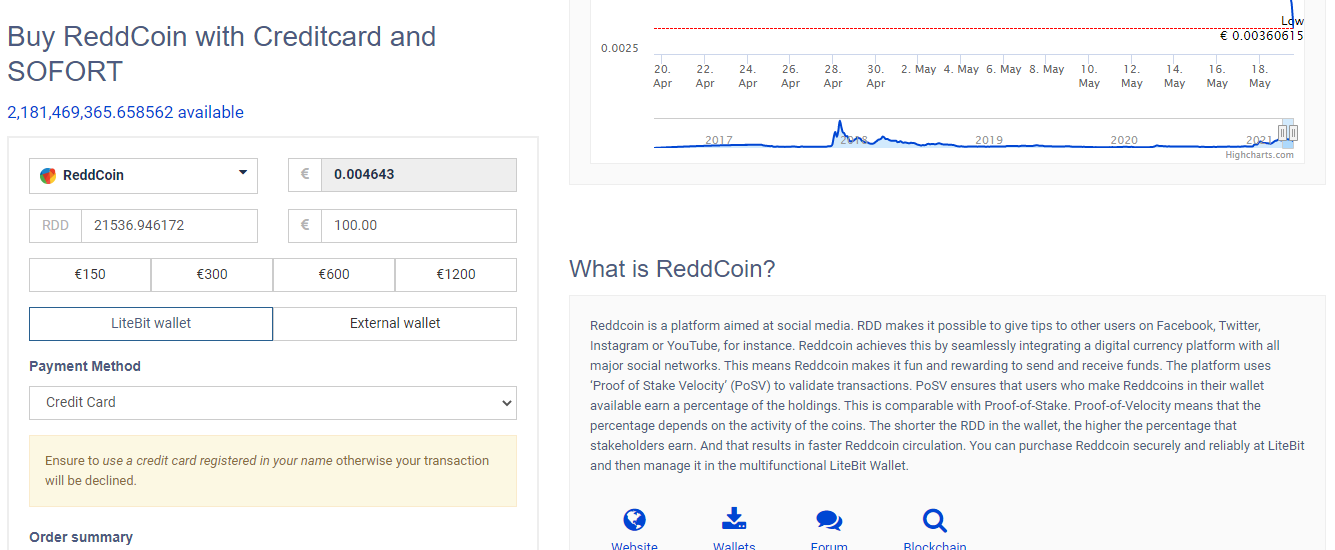 Litebit is a Netherlands-based cryptocurrency exchange that allows customers to buy Reddcoin using EUR. Unlike BC Bitcoin where you buy and have it sent directly to your wallet, Litebit adds the purchased amount to your wallet on their platform. You can then choose whether or not to withdraw to your personal wallet.
How to do it:
Register at Litebit.eu and complete the initial email and phone verification process.
Complete the KYC process.
Use the search bar to find and select Reddcoin as the coin to purchase.
Input the amount for the purchase and choose to pay with a Credit Card
Review the Order Summary and click Next.
Provide your card details on the next page and complete the trade.
Once successful, go to Wallets.
Click Withdraw on your Reddcoin Wallet.
Input the withdrawal address and amount.
Initiate a Withdrawal.
Supported Payment Methods: CreditCards, SOFORTH, SEPA.
Bitvavo
Bitvavo is also based in the Netherlands and is another platform where you can buy Reddcoin (RDD). Although there are rumors about Bitvavo delisting Reddcoin, the cryptocurrency is still available at the time of writing.
How to do it:
Register at Bitvavo.com and complete the KYC process.
Click Transfer Funds and then Deposit Euro
Enter the amount to deposit and select SEPA or any other method you prefer.
Transfer funds to your designated bank account using the provided description.
Wait for confirmation from Bitvavo.
Once successful, go to the platform's list of coins and select Reddcoin.
Click Buy and input the amount to purchase.
Choose to pay with your Euro balance and complete the order.
Supported Payment Methods: Soforth, SEPA, Credit cards.
Reddcoin Exchange – Best Place to Buy with Debit Card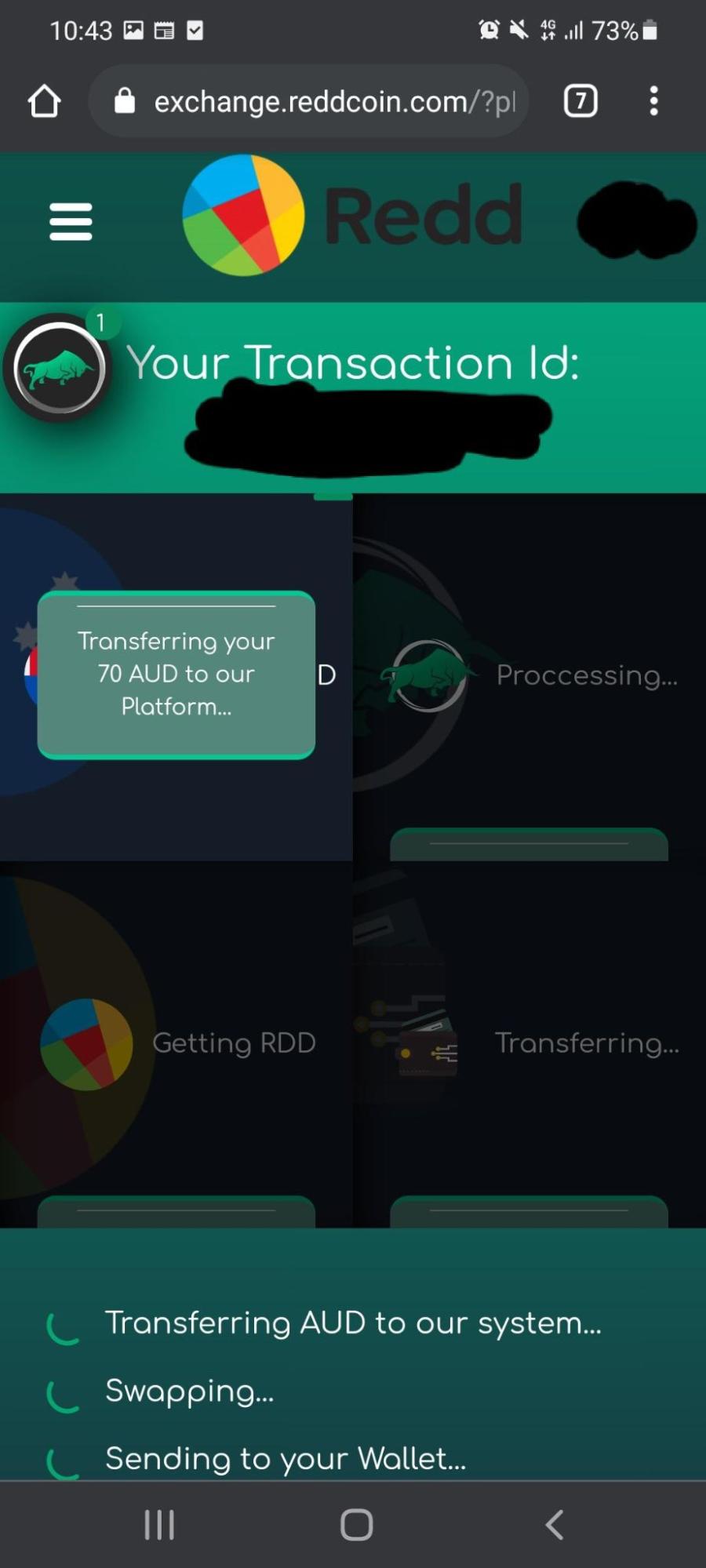 Reddcoin Exchange was launched in the first quarter of 2021 by the project team, thanks to a partnership with Instaswap.io. The widget platform allows users to buy Reddcoin using bank cards that support USD, AUD, GBP, or EUR.
Although the fiat purchase options were reportedly under maintenance at the time of writing, users can also use the widget to swap BTC for Reddcoins. The purchased or converted coins will be transferred to an RDD wallet address that you provided during the purchase.
Supported Payment Methods: Bank Cards, BTC.
How to buy Reddcoin with other cryptos
If you have BTC or USDT, a few platforms such as Bittrex and Bitmart lets you convert any of them to Reddcoin, which you can then withdraw to your personal wallet. We'll use Bittrex for this tutorial since it was one of the first exchanges to support crypto-to-Reddcoin exchange.
How to do it on Bittrex:
Create a Bittrex account and complete their ID verification process.
Go to Holdings and click deposit on your BTC address.
Copy and transfer BTC to the provided address.
Once confirmed, go to Instant Buy and Sell.
Select Bitcoin as the coin to convert to RDD
Enter the amount to convert and preview it.
Complete the transaction and Bittrex will add the purchased RDD to your holdings.
You can withdraw by going back to Holdings and clicking withdraw on your RDD wallet.
Where to store RDD
Aside from keeping your RDD coins on the exchange where you stored them (we strongly do not recommend this), here are some places where you can securely store your RDD. The options listed below allow you to keep a private key or seed phrase to your assets:
Desktop
Desktop/Mobile
Things to consider before buying Reddcoin
Previous Price Performance: It is a popular saying that "past price performance does not guarantee future results." Hence, it may not be wise to buy Reddcoin merely because of how high its prices have soared in the past.
The cryptocurrency's primary focus on being a "social currency" and supporting social causes means it is not often the focus of media hype and other developments that can make its price jump significantly.
However, RDD has yielded some solid returns for earlier investors, and can probably do more as the project and the industry itself reach mainstream adoption.
Secure Storage: If you plan to hold Reddcoin for a long time, then it is worth considering the method and device you want to use to store the asset. Reddcoin is not supported on any of the popular hardware wallets such as Ledger and Trezor.
The official Reddcoin wallet which runs on a desktop and contains a full record of blockchain transactions, is one of the safest options. Meanwhile, mobile wallets like Coinomi and Guarda are probably the most convenient ways to use and send RDD on your mobile, aside from the tipping options on social media.
Project Development: Unlike other cryptocurrency projects with active developers and new features being rolled out regularly, Reddcoin looks like a rarely maintained project. There are rare commits on the Github page and reported issues take several days and sometimes weeks to get a reply.
Privacy and security tips
Keep the following recommendations in mind while buying, sending, or securing your Reddcoin.
Do not store substantial amounts of Reddcoins on exchanges. If you hold large amounts, it might be best to use any of the custodial wallets listed earlier, preferably on a desktop computer that you do not use often.
Make sure to enable two-factor authentication (2FA) and other advanced security features on exchanges where you buy Reddcoin.
Do not publicly disclose to social media groups the amount you invested in Reddcoin. Such a display of wealth might put you at the mercy of hackers who will explore every possible phishing method to separate you from your coins.
Conclusion
Unlike more popular cryptocurrencies that are widely supported on exchanges, there are only a handful of platforms where you can buy Reddcoin with fiat or other cryptocurrencies.
This article listed exchanges that support RDD and also detailed how to go through the conversion process. It also listed things to consider before buying the cryptocurrency, and then offered privacy and security tips to keep in mind.
Reddcoin has stood the test of time in an industry where many projects vanish within months, and sometimes even hours after launch. The project may or may not reach mainstream adoption and prospective investors must analyse their objectives and strategies before getting involved.