Finding the right wallet to store Stellar (XLM) is just as vital as the decision to have the coin in your portfolio. Without using the best Stellar Lumens wallets, there is a chance one ends up in those horror articles about someone losing coins to hackers or other ugly incidents
An excellent way to avert such dangers is to carefully research the options available to them, and then go for the best.
Table of Contents
This article makes it relatively easier for you to find the best wallet for Stellar Lumens. It provides a list of the options available, reviewing their pros and cons, pricing, supported coins, and much more.
Before we explore options, though, let's go over some of the key features you should look for in a Stellar wallet.
What should you look for in a Stellar wallet?
Security: Your crypto is as secure as the wallet you use to store it. Hence it is vital that you choose, preferably wallets that store your assets offline, and have advanced security features that help protect against external attacks.
Hardware wallets are typically the best option for maximum security, but you might also need a mobile app for daily transactions, and must put security first while choosing from the lot.
Ease of Use: An easy-to-use interface and control buttons are core features of an ideal Stellar wallet. Users must be able to move funds securely without worrying about avoidable mistakes such as sending coins to the wrong address or inputting the wrong transaction value.
Additionally, it should be easy to recover funds in the unlikely event that you lose the device or move to a different location.
Support for Stellar-based Assets: If you don't intend to hold only Stellar lumens, then you must ensure that the wallet you choose supports XLM, as well as any Stellar-based tokens that you want to have in your crypto portfolio. Some apps also let you trade on decentralised exchanges for Stellar-based tokens, and you must also consider if this is what you need.
With those points in mind, the next section goes over the best Stellar Lumens wallet.
Best Stellar Wallets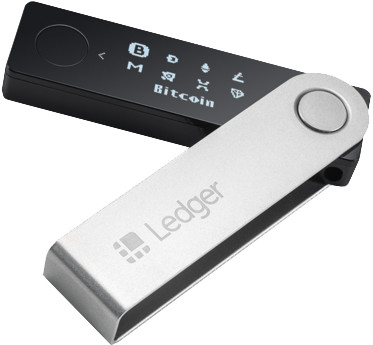 Wallet Type: Hardware
Price: £92
Available apps: Desktop, iOS, Android
Number of Supported Coins: 1800+ (Bitcoin, Ether, Stellar, Litecoin, Binance Coin, Tezos, etc).
Pros
Store, send, and receive XLM securely.
Mobile and desktop apps for buying, selling, and swapping crypto
Supports offline staking of popular PoS coins.
Lightweight and easy to carry about.
Supportive customer support team.
Cons
Does not support Stellar-native assets
Might be a little expensive for small investors, with the Nano S variant a cheaper alternative.
The Ledger Nano X is arguably the safest hardware wallet on the market today having the high-grade CSPN (First Level Security Certificate) certification issued by ANSSI (National Agency for Information Systems Security).
The device weighs only 34g and is made of plastic and stainless steel. It has a large screen and two buttons for operating the device and signing transactions. There is also a Bluetooth functionality, meaning you can easily connect with your mobile and track your portfolio on the go.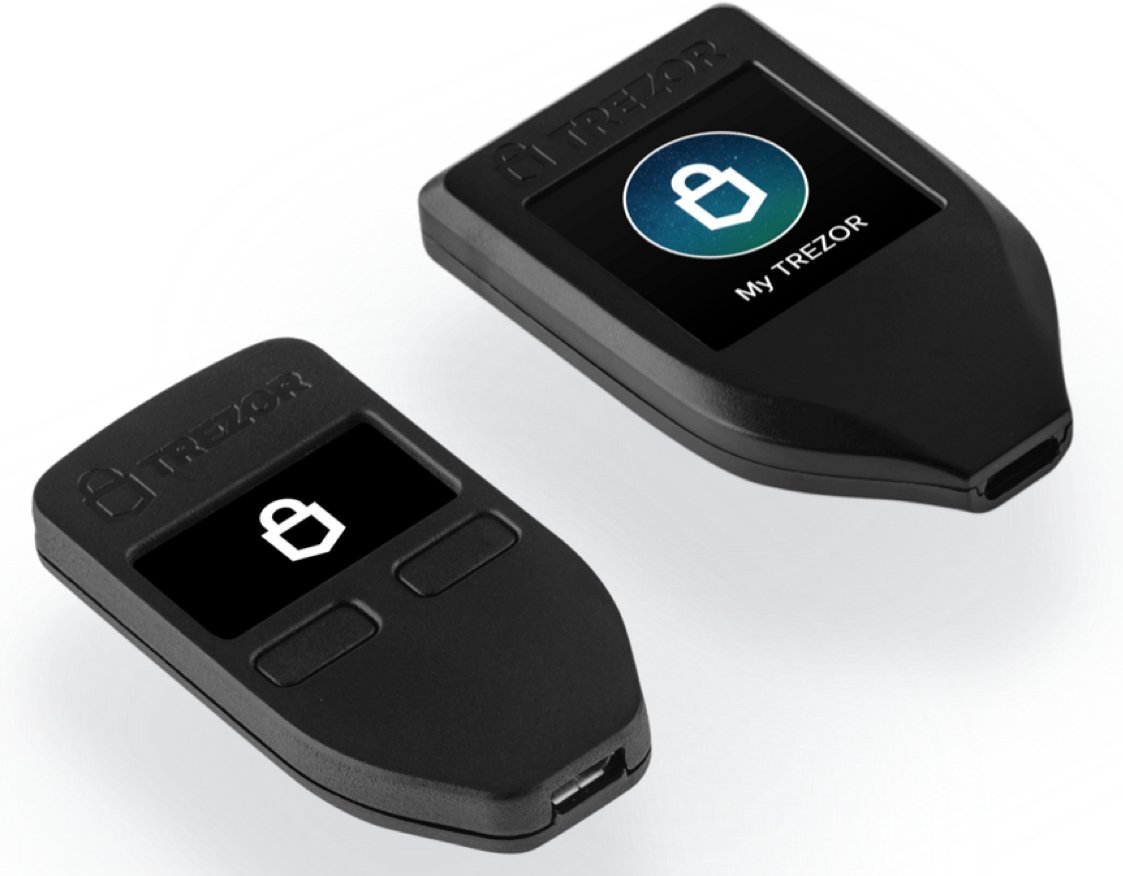 Wallet Type: Hardware
Price: £42
Available apps: Desktop, Android
Number of Supported Coins: 1000+ (Bitcoin, Ether, Litecoin, Dogecoin, NEM, etc.)
Pros
Securely receive, store and send XLM.
The Trezor One is relatively affordable and ideal for small investors.
It is also easy to set up as long as you follow the user manual.
It can also serve as your U2F hardware token for securely approving your digital transactions.
Excellent customer support desk.
Cons
Does not support other popular coins such as Tezos, Cardano, XRP, and Monero.
Not compatible with iOS devices (yet).
The Trezor One is one of the most affordable hardware wallets in the market right now. It weighs a mere 12g and features a bright OLED screen with 128x64 pixels (sufficient for you to view all transaction details).
The device is CE and RoHS certified, meaning that it meets existing quality and environmental standards. It runs a custom operating system developed by Trezor and uses a micro-USB connector to connect with mobile and desktop devices

Wallet Type: Stellar Desktop Client
Price: Free
Available apps: Desktop and Web
Number of Supported Coins: XLM (all Stellar-based assets including USDT, DOGET, EURT, BTC, etc).
Pros
Fully custodial as users store their private keys.
Supports XLM and Stellar-based assets.
User-friendly interface
An in-built decentralised exchange (DEX) for converting between Stellar-based assets.
Buy XLM and other cryptocurrencies with Visa or Mastercard.
Cons
Not available for download on mobile.
The client is a hot wallet and is often connected to the internet, increasing the risk of security breaches.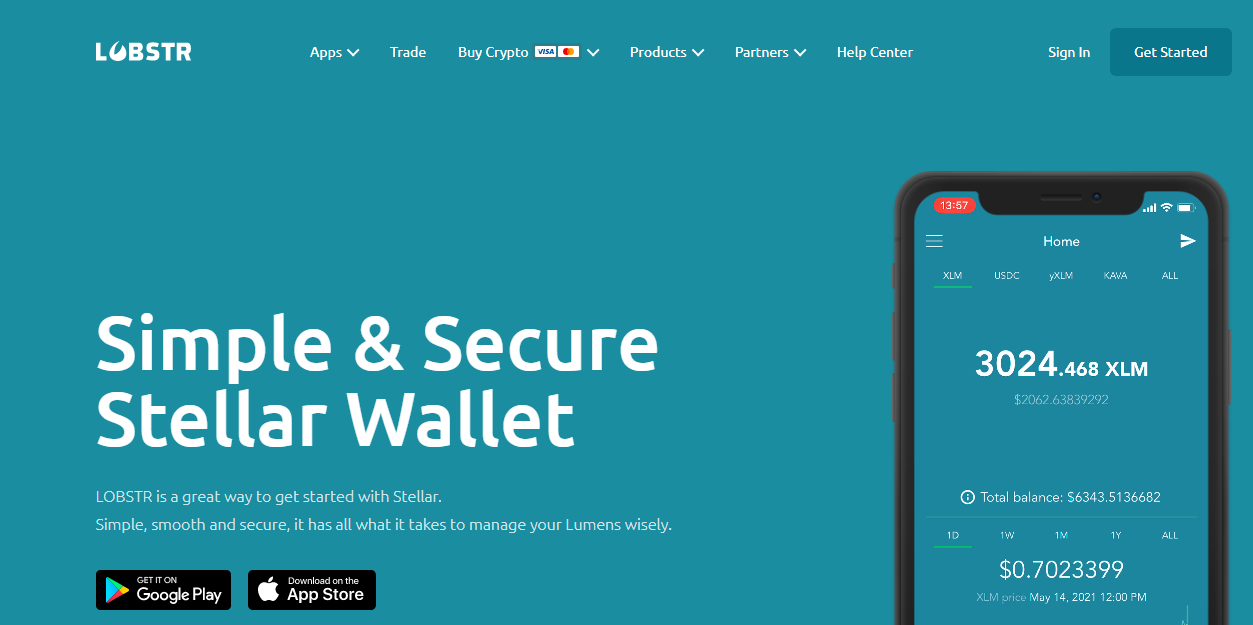 Wallet Type: Mobile
Price: Free
Available apps: Mobile and Web
Number of Supported Coins: XLM (all Stellar-based assets including MOBI, yXLM, VELO, BTC, etc).
Pros
Users store their private keys.
Built with support for XLM and Stellar-native assets.
Supports trading of assets via an inbuilt decentralised exchange.
User-friendly interface
Supports secure multi-signature locks for accounts.
Buy and sell other cryptocurrencies.
Cons
Available only on mobile and web
It's not ideal for long-term storage as it is online and susceptible to attacks.
Lobstr is a lightweight mobile and web wallet for storing XLM and assets on the Stellar Network. It offers one of the best user interfaces for interacting with Stellar and complements this with advanced security features such as two-factor authentication (2FA) and multi-signature via the Lobstr vaults.
Like StellarTerm, which is also offered by the same entity, Lobstr allows for direct trading of assets via decentralised exchange service. There are order books and advanced trading functionalities such as you'd normally have on a crypto exchange.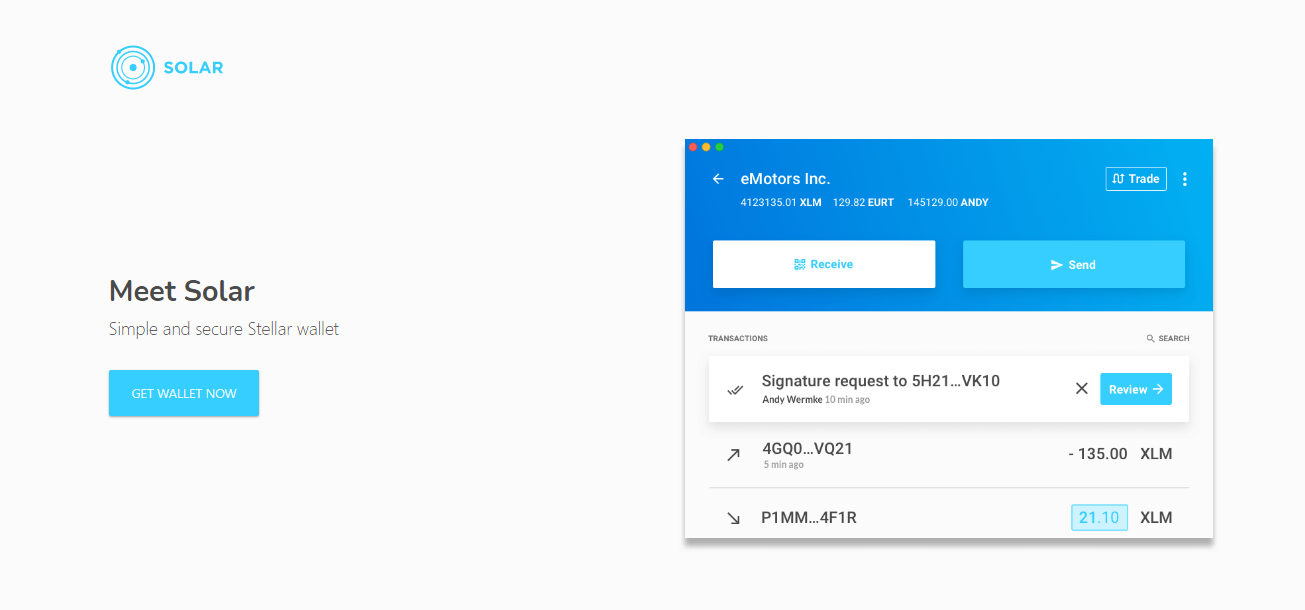 Wallet Type: Mobile
Price: Free
Available apps: Desktop and Mobile
Number of Supported Coins: XLM (all Stellar-based assets including MOBI, yXLM, VELO, BTC, etc).
Pros
Easy to set up.
User-friendly interface across all devices.
Users retain their private keys.
Support for XLM and all Stellar-based assets.
Support for multi-signature storage of assets.
The code for the wallet is open-source and thus relatively secure.
Cons
There is no option to purchase crypto with fiat.
Best for daily use as hardware devices are better long-term storage options.
Solar Wallet is another excellent option for investors who want to manage their assets on the go. There is both a desktop and mobile version with a great UI and UX design and a number of exciting features.
You can send and receive XLM, trade on Stellar's decentralised exchange, manage your assets, all of these while maintaining control of your private key. The advanced multi-signature security feature is also ideal for organizations transacting on the network.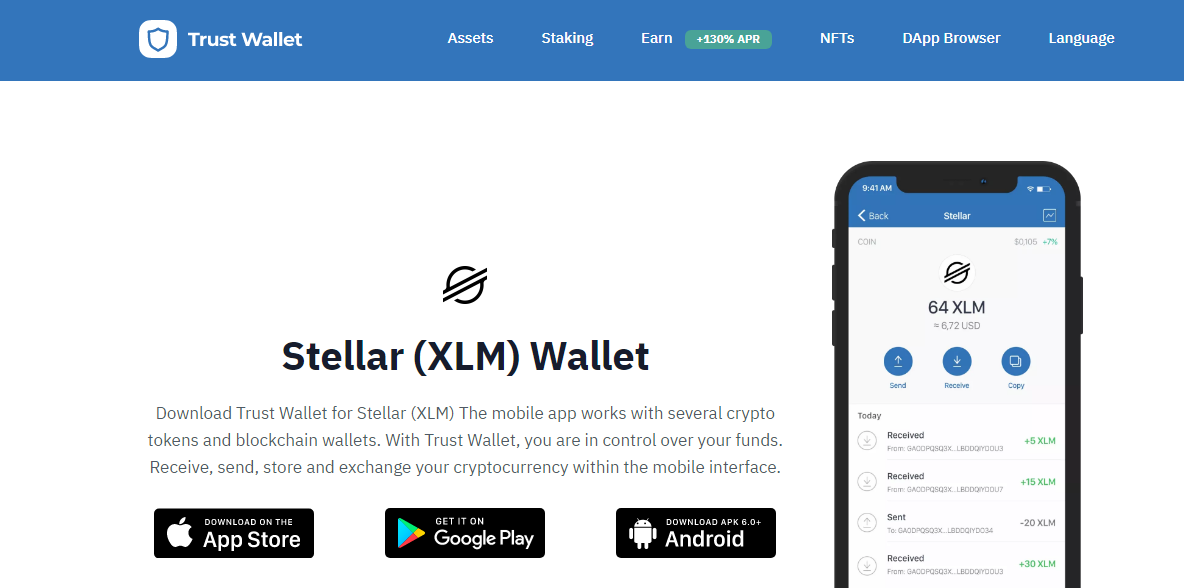 Wallet Type: Mobile
Price: Free
Available apps: Mobile (Android and iOS)
Number of Supported Coins: XLM and 160,000+ cryptocurrencies and tokens. (Bitcoin, Ether, Binance coin, Polkadot, etc.)
Pros
Users store their private keys.
Easy-to-use even for beginners.
Send, store and receive XLM securely.
Buy crypto with fiat using Visa or Mastercard.
Cons
Does not support Stellar-based assets
Only available on mobile
Trust Wallet is a popular mobile wallet with support for XLM. Why not a Stellar-native wallet, it is an excellent option if the only thing you want to do is store, send and receive XLM on the go. The app is fairly easy to navigate and supports more coins than other available options.
Binance Exchange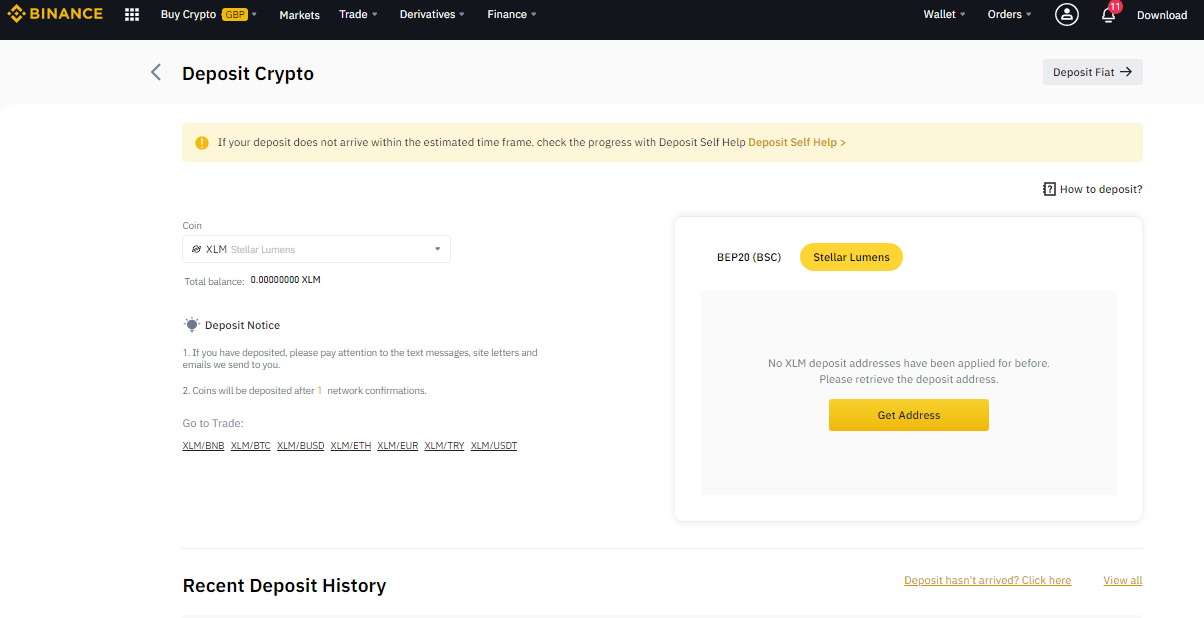 Wallet Type: Exchange
Price: Free
Available apps: Desktop, Mobile (Android and iOS)
Number of Supported Coins: XLM and 500+ cryptocurrencies. (Bitcoin, Ether, Binance coin, Polkadot, etc.)
Pros
Securely send and receive XLM
Buy XLM with credit and debit cards, bank transfer, and other fiat methods.
Exchange or convert XLM for other cryptocurrencies.
Advanced security features to secure user accounts.
Cons
Binance stores the private key to your wallet, although this might be a good choice if you're not confident about storing it yourself.
The exchange has a low response time for customer enquiries.
Binance is a cryptocurrency exchange service, and one of the largest in the industry. Their platform supports XLM deposits and withdrawals, as well as trading of XLM for other cryptocurrencies.
There is an Instant Conversion feature for changing XLM into Bitcoin, ETH, BNB, BUSD, and other supported assets. While we do not recommend storing large amounts or leaving your assets on Binance for a long time, it can be an excellent option for trading your XLM or earning interest.
How to choose the best XLM wallet
In an earlier section, this article highlighted the factors to consider when choosing a Stellar Lumens wallet. Ultimately, your choice will depend on your needs as an investor or organization. Here are our top picks based on the best wallets for Stellar Lumens reviewed so far:
Long-term Storage: Ledger and Trezor
Storing XLM and Stellar-based assets: Lobstr and Solar Wallet
Using Stellar DEX: StellarTerm
Where to Buy Stellar: Binance
Sending and Receiving XLM: Trust Wallet
How to get a Stellar wallet
To get a physical Stellar wallet such as the Ledger Nano X or Trezor One, you can order it on their company's website. Please note that it is risky to order such devices from third-party vendors, as they might be exposed to attack vectors.
For software-based or mobile Stellar Lumens wallets, you can download them from official websites. We have included links to these websites for your convenience and safety. Installing apps from unknown and unofficial sources can result in a loss of funds.
How to keep your coins safe
You can secure your XLM and other cryptocurrencies by keeping these tips in mind:
Always use a hardware wallet to store large amounts and funds you do not intend to spend soon. As history has proven, exchanges are susceptible to hacks and other security breaches that can result in the loss of customer funds.
Make it a habit to double-check addresses before transferring funds. Especially for large transactions, it might be best to send a 'test' transaction and then a follow-up if the earlier one is successful.
Enable advanced security features on both your wallet and exchange accounts. This includes two-factor authentication (2FA), email verification, face and biometrics unlock, and multi-signature locks for accounts held by more than one person.
If you suspect that your wallet has been compromised, the best approach is to create and move your funds to a freshly created account with a different private key. This may be done before trying to figure out the reason for the breach.
Conclusion
Based on its growth trajectory and market position, Stellar is a potentially promising cryptocurrency project. Many third-party entities have built wallets for interacting with the network and assets built on top of it.
This article reviewed the best Stellar Lumens wallets, highlighting the pros and cons for each option, as well as the devices on which they're available. It also recommends specific wallets based on an investor's need, and hopefully, this guide has shown you how to make the best choices for managing and securing your Stellar assets.