The UK can boast one of the biggest selections of cryptocurrency exchanges in the world. Many of them have become global and operate in other countries too and Cryptomate is among them. This popular crypto exchange has already made transactions with a volume of over £17 billion and has a 4.6 rating on Trustpilot with over 500 reviews. Impressive, right? But how exactly does Cryptomate work and what features does it have? This Cryptomate review will clear up everything you may be interested in.
Table of Contents
What is Cryptomate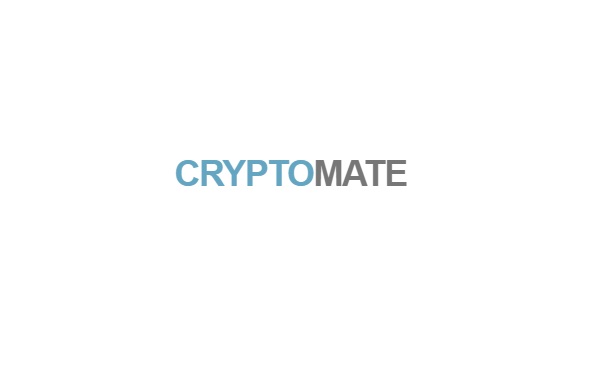 Cryptomate is a UK crypto exchange with headquarters in Cardiff. It has operated since 2015 and is owned by the company J & M Trading Limited.
Cryptomate is a peer-to-peer exchange that connects vendors and people willing to buy/sell cryptocurrency. It means customers' money is not stored by the exchange making it a more secure solution. The exchange was launched with the goal to allow people to buy and sell crypto faster and with a pain-free experience.
Cryptomate orders are processed rather quickly taking around 20-30 minutes on average. The exchange has already gained recognition of many clients since the number of customers served has already built the 12K threshold and the number of transactions has exceeded 50K.

What else should you know about this exchange? Keep on reading this cryptomate.co.uk review and all your questions will disappear.
Licenses
Cryptomate offers brokerage services and is registered under the laws of England and Wales under company number 11038596 as J & M Trading Limited trading under the name Cryptomate. It complies with KYC & AML regulations and has appointed an MLRO to be responsible for Anti-money laundering efforts and reviewing all disclosures about potential money laundering activity.
How does it work
The procedure of buying and selling cryptocurrency on the platform does not differ much from other exchanges. The whole process takes place on the website and requires customers to complete several steps on the way to success.
Registration
Unlike other websites where the Register button looks different to attract user attention, Cryptomate has added one to the upper menu. You can start the sign-up procedure by pressing this button or choose the coin you want to buy and proceed with the registration procedure there.
You are asked to enter the email, password and repeated password, tick the captcha at the first stage of the process. When you complete it, it is necessary to verify your email address and pass through the KYC verification procedure to get access to trading.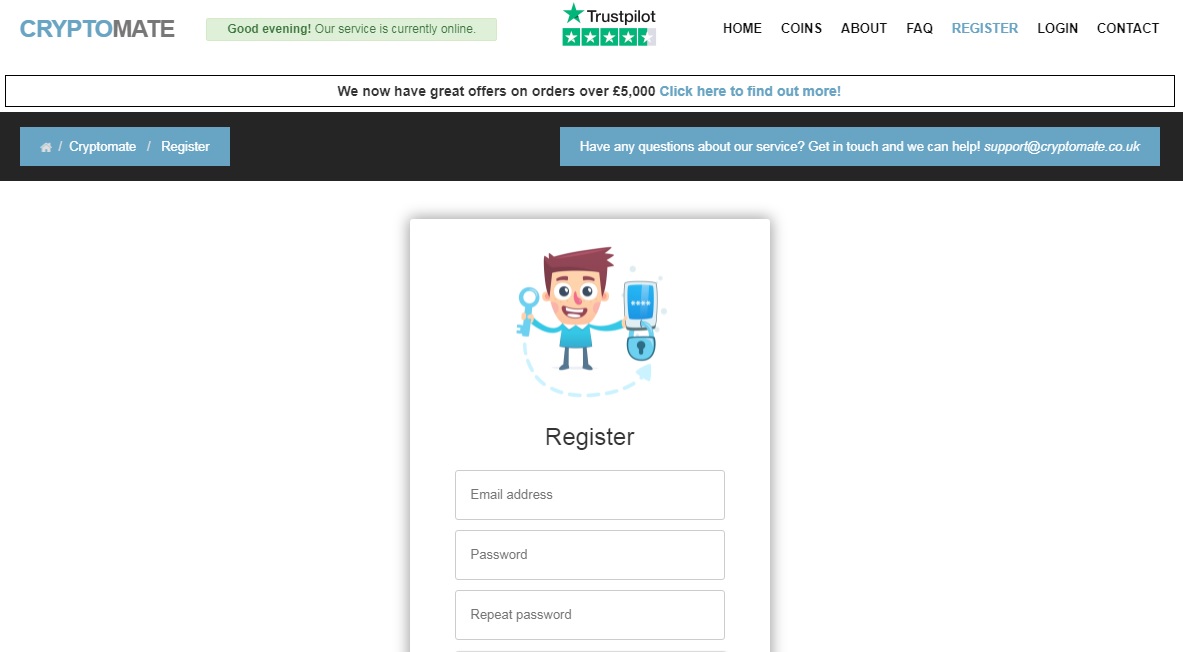 User experience
Cryptomate website looks a little outdated and different from the majority of other exchanges that offer the form to make a transaction immediately. It looks more like a website that takes you to the world of crypto though you will definitely see the Buy now button next to every coin supported. Pressing it you are exposed to the information about this coin, the chart of how its price has changed recently, current cost, and the description of the procedure of how to buy one on Cryptomate. It is great for users who are new in the world of crypto and want to get more details about the process.
The smooth user experience on Cryptomate is also confirmed by numerous positive reviews on Trustpilot (rating of 4.6 with over 500 reviews), so it won't take much effort to get the clues of trading there.
Supported countries
The majority of exchange customers are residents of the UK, though individuals and businesses from other countries can use its services too. The only exception is made for ones added to the US or EU sanctions lists and citizens of the following countries: Afghanistan, Algeria, Bahamas, Bangladesh, Bolivia, Bosnia & Herzegovina, Botswana, Cambodia, Ecuador, Ethiopia, Ghana, Guyana, Iran, Iraq, Laos, Nepal, North Korea, Pakistan, Serbia, Sri Lanka, Syria, Trinidad & Tobago, Tunisia, Uganda, United States, Vanuatu, Yemen.
They cannot receive the services of the company.
Supported currencies and coins
The list of supported currencies is provided directly on the landing page where customers can choose one from the grid and continue the process. The total number of coins listed is 18. They include such popular coins as Bitcoin, Ethereum, XRP, Tether, Litecoin, Bitcoin Cash as well as less widely traded options like 0x, NEM, VeChain, TrueUSD, and others.
The only fiat currency supported by Cryptomate is GBP.
Payment options
The only payment method accepted on Cryptomate is the UK bank wire transfer. The exchange explains this choice by its security, instancy, and ease of use. Furthermore, the platform supports the Faster Payments feature to make the process as quick as possible.
How to buy coins
When you join Cryptomate and pass through the verification procedure, you are ready to buy cryptocurrency. This is a simple process that consists of 3 steps:
1. Choose a cryptocurrency
A full list of supported coins is provided on the home page and you can select any of them and press the Buy now button.
2. Get a wallet address
Cryptomate does not offer its own wallet to store cryptocurrency, so you should have a third-party wallet to send crypto to. You can choose any desktop, web, hardware, and paper wallet for this purpose.
3. Place an order
Enter the amount you want to buy and you will see the amount in GBP you should pay. Provide a wallet address to send coins to, email to get a confirmation code, and confirm that. You will get an email with a code to enter and continue the process.
When this is completed, you are redirected to the 15-minute countdown page to make your order available to vendors. The "ding" sign says about the order acceptance and you will receive payment details automatically after it. Process the payment and wait for the arrival of coins. It usually takes around 15 minutes.
Fees
All fees are incorporated into the price on Cryptomate. Customers receive exactly the amount they see on the order form since the commission is already included. The company sells coins at a variable percentage above the market rate to cover operating costs and to allow vendors to make a profit. The average fee is around 6%-7% according to the reviews.
Limits
There is a minimum order amount on Cryptomate that cannot be lower than £50. Unverified users can buy a cryptocurrency for the maximum amount of up to £200. If you pass through KYC requirements, this amount can reach up to £1,000 per order.
Can you sell coins on Cryptomate?
The exchange supports selling crypto as well. It is very easy and fast to sell coins and get GBP. There is a simple application form to fill. You should specify the following points:
Full name;
Email address;
Coin to sell and the amount;
Enter a message if you want.
When you submit a request, the exchange representatives will get back to you within 15 minutes. It will provide a wallet address to send coins to and your GBP equivalent will be sent via bank wire transfer too.
The exchange supports buying crypto for the amount between £250 to £100,000. The maximum amount for unverified users is £1,000. The exchange supports 26 coins for sale.
Customer support
Cryptomate has a professional customer support team that can be accessed in the chat or by filling out the contact form. If you have any questions, you can send a message and get a quick response to your query. Many reviews of the platform confirm that its customer support is very responsive and helpful too.
Pros&cons
Every exchange has some strengths and weaknesses. What are they on Cryptomate? Here are some to consider.
Pros:
Non-custodial exchange that doesn't store clients' funds;
Support for many popular crypto coins;
Possibility to buy crypto without verification;
Friendly and responsive customer support;
Fast payment processing.
Cons:
Quite high fees;
No mobile app;
Outdated website design;
No wallet.
Is Cryptomate legit?
New users of the platform may wonder: is Cryptomate a scam? Probably, an exchange that has been in the market for over 5 years already and served thousands of people can't be called not legitimate. Unfortunately, the FCA does not authorize businesses related to crypto, but this platform operates in accordance with British laws and has not been involved in scandals. Furthermore, the company does not store any money or payment information on its servers, while all communication is secured through 256-bit SSL encryption.
F.A.Q
What is Cryptomate?
Cryptomate is a peer-to-peer platform that connects vendors with crypto buyers.
What cryptocurrency is supported on Cryptomate?
The exchange offers a quite extensive range of coins - around 25 - including the most popular ones like BTC, LTC, ETH, XRP, and others.
Is there a wallet on Cryptomate?
No, it isn't. This is a non-custodial exchange that doesn't store clients' money.
How much can you buy without verification on Cryptomate?
The maximum amount of coins to buy without the verification process is the equivalent of £200.
How long should I wait for the coins?
It takes as little as 15 minutes to deliver funds.
Summary
Cryptomate is an exchange that supports many crypto coins, offers a simple and fast exchange procedure, as well as considered trusted and popular in the UK. At the same time, there are many alternative exchanges with lower fees and a wider range of fiat currencies supported, so it can be a great solution for beginners and people looking for security.