How annoying it can be to switch between numerous platforms to get all the necessary information about the crypto market, trends, and analytics! However, now you can get access to an all-in-one crypto dashboard called CoinTrendz. Managing a cryptocurrency portfolio has become easier than ever. Would you like to learn more about the platform and how it works?
Look: this CoinTrendz review is your trusted guide to the new project, its features, strengths, and weaknesses.
Table of Contents
What is CoinTrendz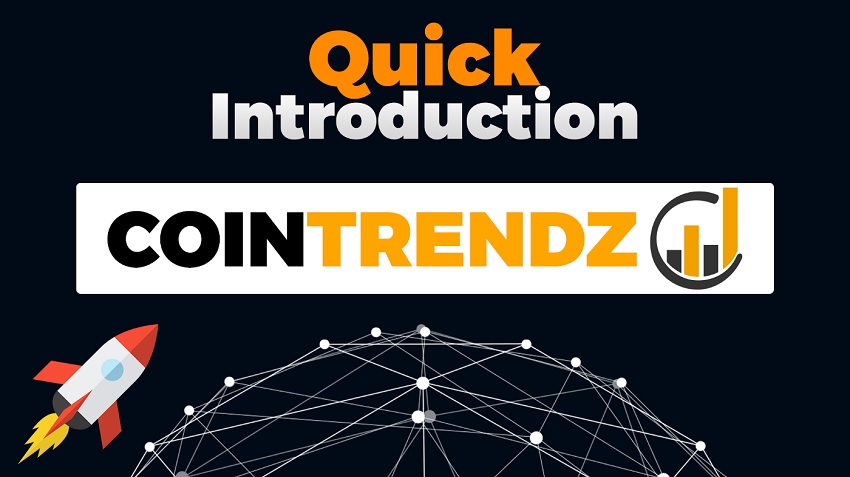 CoinTrendz is an all-in-one crypto dashboard that allows managing a cryptocurrency portfolio in one place. This dashboard offers lots of different information including crypto market alerts, technical indicators, crypto trends, events, news, and lots of other details. Currently, the platform reports about over 23k active users and has been in the market for around 4 years.
The mission of the project is to create a universal platform that allows setting different types of alerts to keep track of the volatile crypto market. It is suitable both for experienced traders and newbies since it was developed by a team of blockchain enthusiasts, traders, holders, and investors.
Features
Since the main mission of the platform is to provide real-time alerts about changes in the market, all the core features are based on their different types.
These alerts allow setting the price, volume, market cap alerts for any cryptocurrency of user choice. It can be one-shot alerts or repeated ones.
Advanced crypto exchange alerts
You can choose a necessary exchange from the list and select the desired crypto market to set both volume or price alerts. You can set the percentage of the increase or decrease, time interval, and the frequency of the alerts sent.
Crypto Pump and Dump Alerts
These alerts notify traders when the market is pumping or dumping. You can choose the respective exchange, select the desired crypto market, and get one-shot or repeated notifications.
When the new crypto market is added to the exchange, you will get a notification and be the first to know. There is the possibility to choose an exchange of user choice.
You can add your cryptocurrency investments to the platform and track your gains and losses in real-time. This is a free feature to make fast decisions without delays!
How does it work
CoinTrendz is a web platform that runs and monitors the crypto market 24/7. It features an extensive database with millions of data rows from different crypto exchanges and markets. This data is analyzed by running custom algorithms and the bot sends notifications on unusual market actions.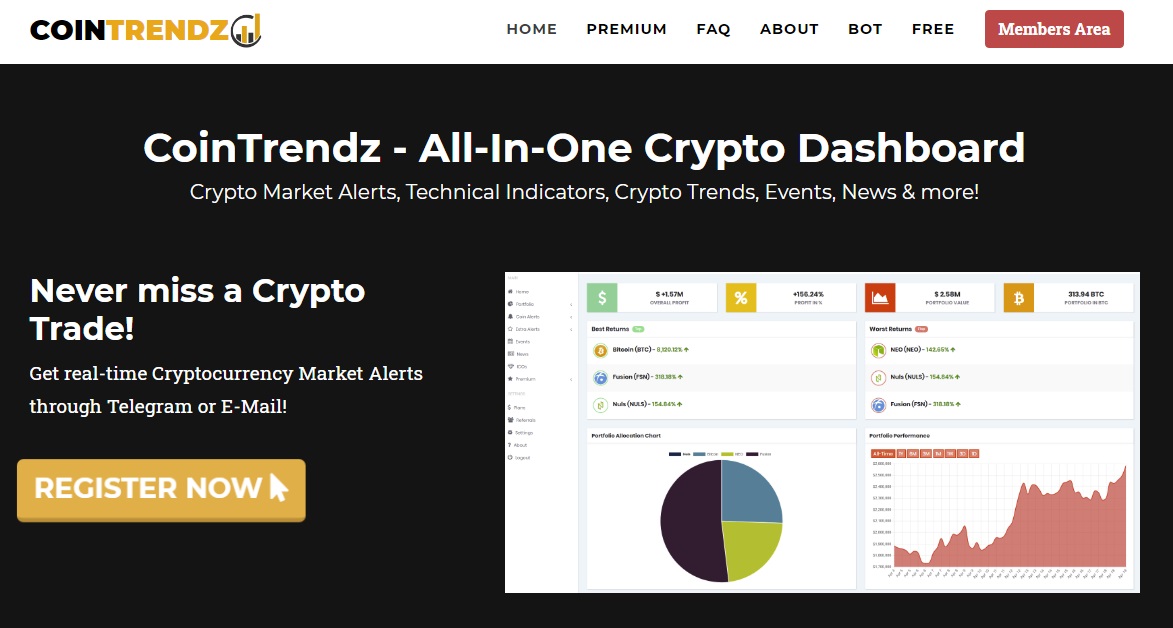 CoinTrendz bot
CoinTrendz has developed its bot for tracking crypto markets. The bot is 100% free and provides real-time market information round the clock. It is a highly available and always running bot that can be used in groups too in Telegram. The number of bot queries per day exceeds 17k, while the total number of groups created is over 11k.
There are several important bot features that would be appreciated by every trader. It informs about the following things:
Crypto prices;
Trading view charts;
Volume information;
Google Trends Chart about cryptocurrency;
Technical Analysis,
Top 10 Cryptocurrencies by Market Cap;
Top Gainers & Losers, etc.
It is enough to type the command to get a response from the bot. The full list of commands is available on the official website.
Alerts
According to the CoinTrendz data, the number of alerts sent by the platform has already exceeded 24 million. Users can receive alerts both by e-mail and Telegram. These are customizable, reliable, and real-time alerts that can be activated by connecting the account to Telegram. Any device that supports Telegram can accept these notifications, and all the alert types are described in the Features section above.
Portfolio tracker
CoinTrenz has provided crypto enthusiasts with a free cryptocurrency portfolio tracker. Every crypto investor can add a crypto asset owned and get a clear picture of profits and losses represented on the dashboard.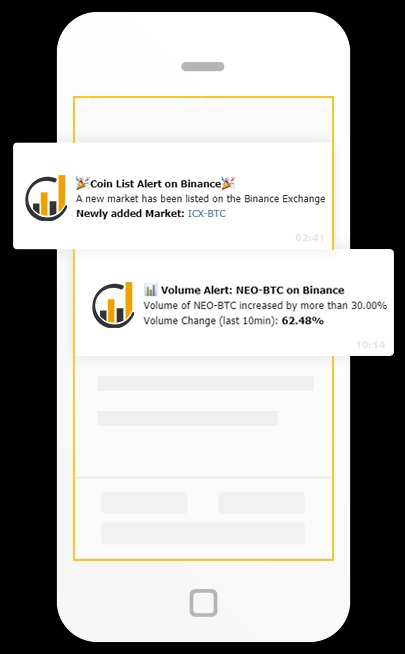 Pricing
The main benefit of CoinTrendz is the possibility to use this dashboard for free. You get all the core functionality including portfolio manager, Telegram alerts, crypto news, and events. However, there is an alert quota with a limit of 5 coin alerts, 4 advanced alerts, 3 pump and dump alerts, and 2 crypto market alerts. Naturally, no additional perks are available in the free plan.
A Premium plan that costs $24.95 per month offers 10 times bigger alert quota and 5 additional perks including coin list alerts, RSI scanner, technical analysis signals, volume detector, and Ad-free CoinTrendz bot.
How to get started with CoinTrendz
Everyone can get custom crypto alerts on CoinTrendz as soon as he or she registers on the platform. The sign-up procedure is free and fast. You should enter your first and last name, username, email address and password as well as agree to the Terms of Use. You will receive a letter of email verification and when you complete it, your account is ready for getting alerts.
Security
CoinTrendz does not store or sell any cryptocurrency so there is no risk of losing your investment when you use the services of this platform. The only exception is possible losses brought about by your personal decisions based on the information provided by the service, however, it is not the responsibility of the company.
When it comes to personal information shared with the platform, the service utilizes practical protection measures to safeguard against the loss, abuse, and modification of the individual Data. Personal Data is stored in secured databases and is always sent out by means of an encrypted SSL method.
Affiliate program
CoinTrendz offers an affiliate program that allows earning Bitcoin for inviting friends. It is enough to share your referral link in your blogs or social media profiles and you will get a lifetime recurring commission for every payment made by referrals. The first month's bonus starts from $10 per 1 user, while all the subsequent referrals will bring $5 each. Furthermore, you will get a 20% commission each time he or she will upgrade the subscription.
Customer support
CoinTrendz is always open for criticism and suggestions as well as ready to provide assistants if one is required. Therefore, the community has a friendly customer support team that can be accessed either via Twitter @CoinTrendz or through Live-Chat. You can find a round yellow chat button in the right bottom corner of the screen. There is also a FAQ section for getting answers in a fast and easy manner.
Pros&cons
Let's summarize all the best features of CoinTrendz and things to be improved in the shortlist of benefits and drawbacks.
Pros:
Easy to use;
Modular;
Free plan;
Android mobile app;
Responsive customer support;
Different alert types;
Affiliate program.
Cons:
Not all data are guaranteed to be accurate;
Premium plan has a limited number of alerts.
Why choose CoinTrendz?
The main reason why CoinTrendz should be tried by crypto traders is the possibility to have all the data in one dashboard and receive instant alerts to make data-driven decisions and prevent losses. There is a mobile app to access alerts anytime and anywhere as well as different features for more and bigger profits.
F.A.Q
What is CoinTrendz?
An all-in-one dashboard that offers crypto market alerts, technical indicators, crypto trends, events, news, and much more is called CoinTrendz.
What types of alerts does CoinTrendz offer?
There are 4 basic types of alerts including crypto market, advanced crypto exchange, crypto pump and dump, coin list alerts, and portfolio coin tracking feature.
How are these alerts delivered?
You can get alerts by Telegram or e-mail.
Is CoinTrendx free?
Yes, it is. There is a free plan with basic functionality and few types of alerts in every category as well as a Premium plan with more alerts and extra perks.
Is CoinTrendz legitimate?
Yes, it is. The platform is used by over 20k people and offers real-time data and instant alerts, though chances to get wrong data exist too.
Summary
The absence of CoinTrendz reviews and a couple of things to be improved do not spoil the impression of this functional and informative dashboard. It contains everything a trader can wish to have and helps to make decisions fast and on the basis of real-time data. Such operability and accuracy prevent many crypto enthusiasts from losses and helps to get higher rewards in an easier manner.