Earning on cryptocurrency fluctuations is the reality faced by millions of crypto investors on a daily basis. No wonder many traders look for automated solutions that offer the same high dividends and save lots of time and energy. One of such automated trading software examples is TradeSanta. This innovative tool allows connecting an account of the supported exchange and trading round the clock without a necessity to devote all your time to the activity. Are you interested in how TradeSanta works and what makes this trading bot platform different from others?
Look: this TradeSanta review focuses on all major points you should know about the platform.
Table of Contents
What is TradeSanta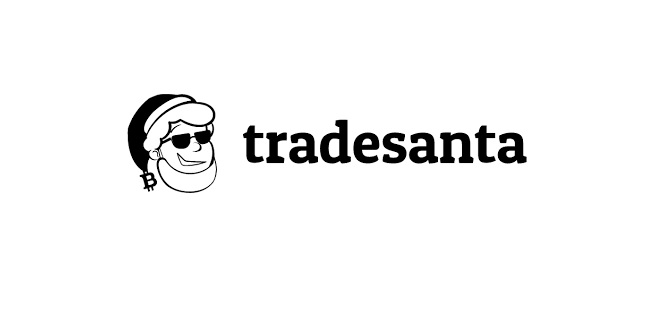 TradeSanta is a cloud-based software designed to automate cryptocurrency trading strategies and make trading accessible to everyone. It has loads of features you won't find on traditional exchanges and offers 24/7 automated crypto trading services on such popular exchanges as Binance, Bittrex, Bitfinex, and HitBTC. Due to a big variety of trading options, TradeSanta allows users to enter both short and long positions easily and quickly. There is a user-friendly interface for simple start and responsive support to solve any issues without delays.
How does it work
TradeSanta is a bot that should be installed to be activated. When this is done, it is ready to buy and sell cryptocurrencies. You can adjust filters for a bot to start opening deals immediately or when it receives a signal from technical indicators.
Another important setting to adjust is the base currency and the amount to be traded. The first order of the bot is to buy a necessary amount and the next step is placing the Take Profit order in addition to several Extra orders. A user indicates the percentage level in the settings and each time the cryptocurrency cost moves in the opposite direction than the primary strategy, the bot executes one Extra order and places a new Extra order automatically too. The last ones are necessary to benefit from the price fluctuations and adapt original trading strategies to new circumstances.
TradeSanta features
The range of features offered by TradeSanta is quite various. However, the basic list is limited to the following ones.
Users can adjust strategies according to their wishes and market situation. They can prefer to take profit for every purchase separately (Grid) or average the price for all orders (DCA).
If you prefer Grid, all orders will be triggered by a bot only for the amount indicated and when sell indicators are met. This strategy is used when markets are relatively stable and you can make necessary adjustments quite frequently.
A DCA bot won't wait long and will sell the amount from the whole range of buy orders within one transaction. This strategy is often selected for high volatility markets.
When the choice of the original strategy is not the best, extra orders will help to make profits. In case the price moves in the opposite direction than you expected, a bot will place an extra buy or sell order for a bigger number of coins at the current cost. It allows making a profit using a smaller price range during the next trades. It means that with more coins possessed at the moment it will be easier to turn this loss into a winning trade.
Long And Short Strategies
The software supports a simultaneous launch of automated trading bots with both short and long strategies. No matter whether the price grows or falls down, bots can cover any changes.
Indicators used by the software let bots enter the market when the optimal point is reached. There are three filters for TradeSanta to choose from RSI, MACD, and Bollinger signal. Each of them can be utilized separately or all 3 filters applied simultaneously. You should set both entry and exit points and the orders will be placed automatically when any indicator is spotted.
Trading tools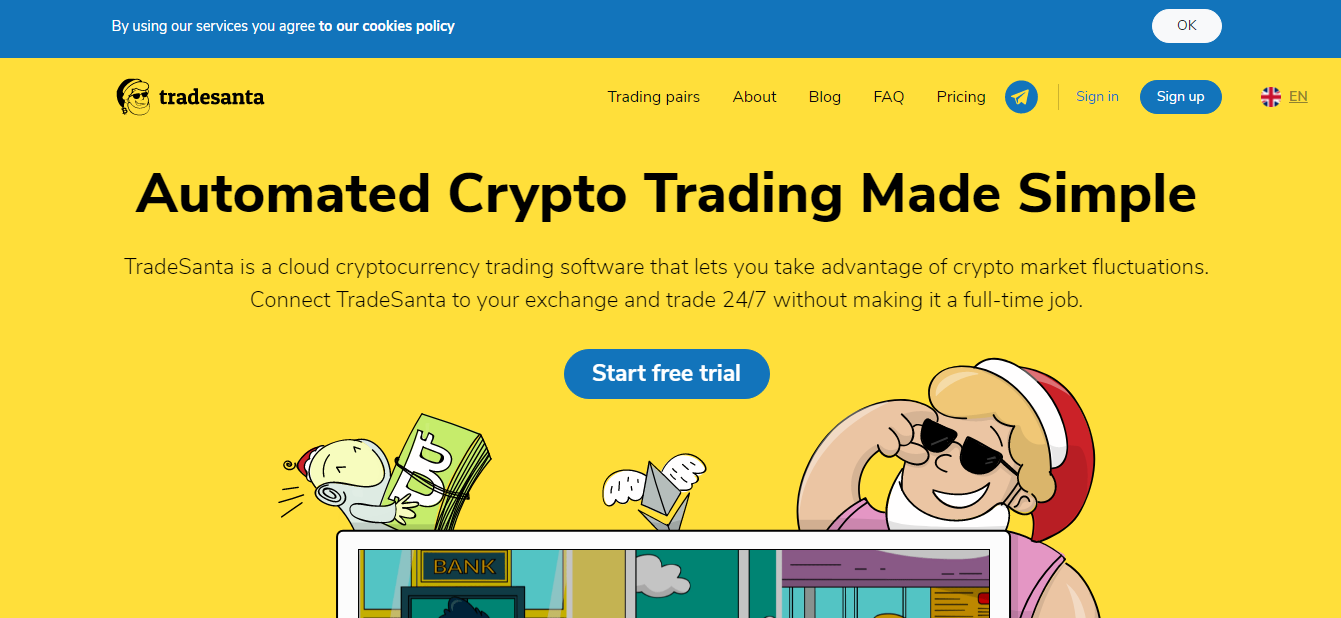 There are four major trading tools on TradeSanta.
Martingale: an automatic increase in each order's crypto volume by a factor of 1.05 to 2 made to regain lost value
Buying coins for commission: the case when a bot buys additional coins to cover the commission if there is not enough money (the equivalent of $5 is purchased).
Stop Loss: this feature allows exiting the position when your trading strategy does not work. It minimizes the risk of losses since it is activated only when the price has experienced a drastic and unexpected drop or growth.
Entering at market price: a bot can place the order next to the first ask and start trading immediately. If the parameter is off, the crypto bot tries to place the first order at the optimal price.
Trading pairs
There are numerous digital assets but only several of them are used for trading. TradeSanta offers over 6,000 pairs to trade, so you can opt not only for popular currencies but also the latest releases.
Supported exchanges
Currently, TradeSanta supports several popular exchanges including Binance, Bitfinex, Bittrex, HitBTC, Upbit, OKEX, and Huobi. Bitmex is coming soon too.
Technical indicators
These are technical indicators that allow a bot to enter the market at the necessary moment. There are 3 of them available on TradeSanta.
MACD (Moving Average Convergence Divergence) – a trend-following momentum indicator that shows the relationship between two moving averages of a security's price.
RSI (Relative Strength Index) – a momentum indicator signaling if the stock is oversold or overbought on a scale from 0 to 100. It is calculated for 14 periods on a 5-minute timeframe.
Bollinger signal – a volatility indicator. A bot will buy coins when it receives a signal and the last one is sent when the price crosses the lower Bollinger band and it will sell coins when the upper band is crossed.
User experience
TradeSanta is a user-friendly software that can be used even by people without trading experience. There is a clear interface and the possibility to get assistance from the support team if any issues are faced. You can watch informative video tutorials, read a brand blog, and create bots easily and quickly too.
The platform offers an informative dashboard to monitor and modify all trading bots created, get new ones, check balance and perform other tasks. Furthermore, new users can access the TradeSanta Glossary or look for answers to many questions in the FAQ section.
Languages
The website is available in 7 languages including English, Turkish, Japanese, Spanish, Russian, Portuguese, and Korean.
Free trial
If you want to ensure that TradeSanta is the software you were looking for, there is a free trial period for new users. You can get 3 days of the Basic package free trial to check major features and see how it works.
Pricing
If you appreciate a free trial and would like to earn using a TradeSanta trading approach, there are 3 basic plans to choose from.
Basic ($14 per month): up to 49 bots, unlimited trading volume, and a number of pairs, all strategies, Telegram notifications, general support.
Advanced ($20 per month): up to 99 bots, trailing Take Profit, unlimited trading volume and number of pairs, all strategies, trading View signals for Binance, Huobi, and HitBTC, Telegram notifications, and new statistics.
Maximum ($30 per month): all the features of the advanced plan plus an unlimited number of bots.
The platform accepts payment only in BTC, ETH, and USDT.
How to get started with TradeSanta
If you want to try how TradeSanta works in practice, there are several steps to complete
on your way to success.
Sign up
The first step to your automated trading experience is registration on the platform. You should provide a username, valid email address, and strong password. You will be sent an email with a verification procedure. Follow the instructions and complete the procedure according to them.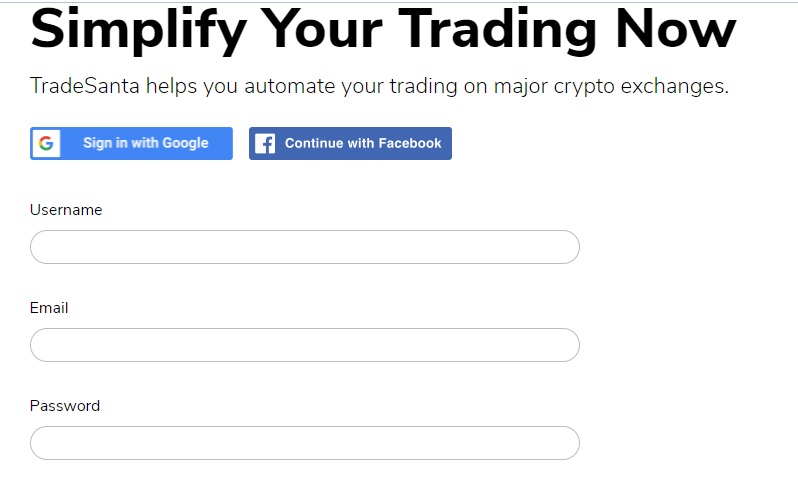 Choice of the account type
TradeSanta offers free and paid plans to its users. If you want to check the way this bot works, opt for a free account where you can get up to 5 bots. If you plan to get more bots, consider one of the paid plans described above. To activate such a plan, you should make a deposit in USD, and it will be automatically swapped to BTC. After that, you will receive an opportunity to create bots and start trading.
Connecting TradeSanta account with an exchange
When your account is ready, you can connect it with one of the exchanges supported. There is a left menu where you can find The Access points category. Choose the All accesses option and select the Add access button. Remember that you need an API key and API secret key for every access point you create.
Bot creation
You can get a new bot by clicking the Trading bot button and selecting the Create option. You will get an opportunity to name it, select the exchanges for it to be deployed into as well as adjust a short or long strategy position.
The next step is the choice of the crypto pair and setting the initial amount to start trading with. You can also automate a series of purchases using the Take profit value feature.
All bots created on TradeSanta can be configured in accordance with the user's preferences, so there are several more points to adjust to.
TradeSanta app
The web platform is a perfect choice to manage bots, but you can also check how they work using a mobile app. There are applications for iOS and Android devices to monitor the portfolio anytime and anywhere. It is enough to download an app and log into your account to get access to a dashboard with indicators of all-time profit, today's profit, total balance, the number of active bots, and plan type.
Security
It goes without saying crypto trading is a risky process, but when it comes to the security of the TradeSanta platform, there is no sense to doubt it. You can protect your account with 2-factor authentication, while the API keys entered provide permission for trade only, so your funds can't be withdrawn by a bot. It is proof of the platform's security and reliability!
Referral program
Not only trading brings about income on TradeSanta. There is also a rewarding referral program that offers 20% of each plan purchase made by the invitee. It is enough to complete three simple steps to get this reward:
Log in to the account and open the Settings category on the menu.
Copy the referral link provided there and share it with friends.
Receive funds to the referral balance when one of them makes a purchase of the plan.
Referral income can be spent on TradeSanta's services or withdrawn to the wallet. There is no minimum limit of the balance to transfer to TradeSanta's balance, but you should get at least $30 to withdraw funds to the external wallet.
Customer support
Trading may seem confusing for beginners until they try automated trading. However, even if they face any difficulties or will need professional assistance, TradeSanta customer support is always at hand. It is available 24/7 and can be contacted by email at [email protected] or Telegram.
Pros&cons
Looking through different automated trading platforms you can easily spot their strengths and weaknesses, so TradeSanta is not an exception. There are both pros and cons to consider choosing this platform.
Pros:
User-friendly interface;
Automated trading suitable for beginners;
Free trial;
Mobile and desktop versions;
Extensive tool system;
Affordable fees.
Cons:
Not many exchanges are supported at the moment;
No fiat money deposits.
Why choose TradeSanta?
The main reason why TradeSanta looks outstanding in the crypto market is the variety of automated trading options it offers. Despite the complexity of the trading process, this platform makes the process simple, fast, and beginner-friendly. The number of exchanges supported is constantly growing and the connection process seems very easy and fast, so you can start trading almost immediately after registration. Hosted in the cloud the platform is absolutely secure and does not require much time to monitor the process since there are many tools to eliminate risks and get the most of trading profits.
F.A.Q
What is TradeSanta?
A cloud-based software used for automated cryptocurrency trading is known as TradeSanta. It allows applying different trading strategies and makes crypto trading available to everyone.
How does it work?
You should register an account and create trading bots for a start. Every bot can be adjusted to the parameters preferred and it monitors the trading pair assigned to it according to the indicators provided. When specific indicators are spotted a bot places the order and completes the transaction accordingly.
How to start with TradeSanta?
you can start trading on the platform by registering an account there. As soon as it is completed, you should select the paid plan or opt for a free trial, connect the account to the crypto exchange, choose a trading pair, create a bot, and set up the parameters according to the strategy selected. Now you are ready to start trading.
Is there a mobile app for TradeSanta?
Yes, there is. You can download TradeSanta mobile applications both for iOS and Android-powered smartphones and tablets.
Is TradeSanta a scam?
Not, it isn't. It has a 4.3 rating on Cryptogeek based on 15 TradeSanta reviews, offers excellent security, and partnered up with the 8 largest crypto exchanges to guarantee users the best possible automated trading experience.
Summary
If you are interested in automated trading, TradeSanta can be a good choice for a start. This platform is rich in features and tools as well as offers a seamless experience both on desktop and mobile versions. New traders can get some experience thanks to a 3-day free trial while proficient crypto investors can choose one of three paid plans.
It is clear that the world of crypto trading is constantly growing and it is important not to lose the opportunity of getting extra income from crypto trading on TradeSanta, especially if it does not require much time and investment.