Introduction
For traders seeking to optimize their profits and control risks, the binary and margin trading platforms offered by Finteria are a great choice. Finteria facilitates easy and effective trading of options, allowing traders to invest in a range of assets such as stocks, commodities, currency pairs, and indices. The platform is also user-friendly and efficient.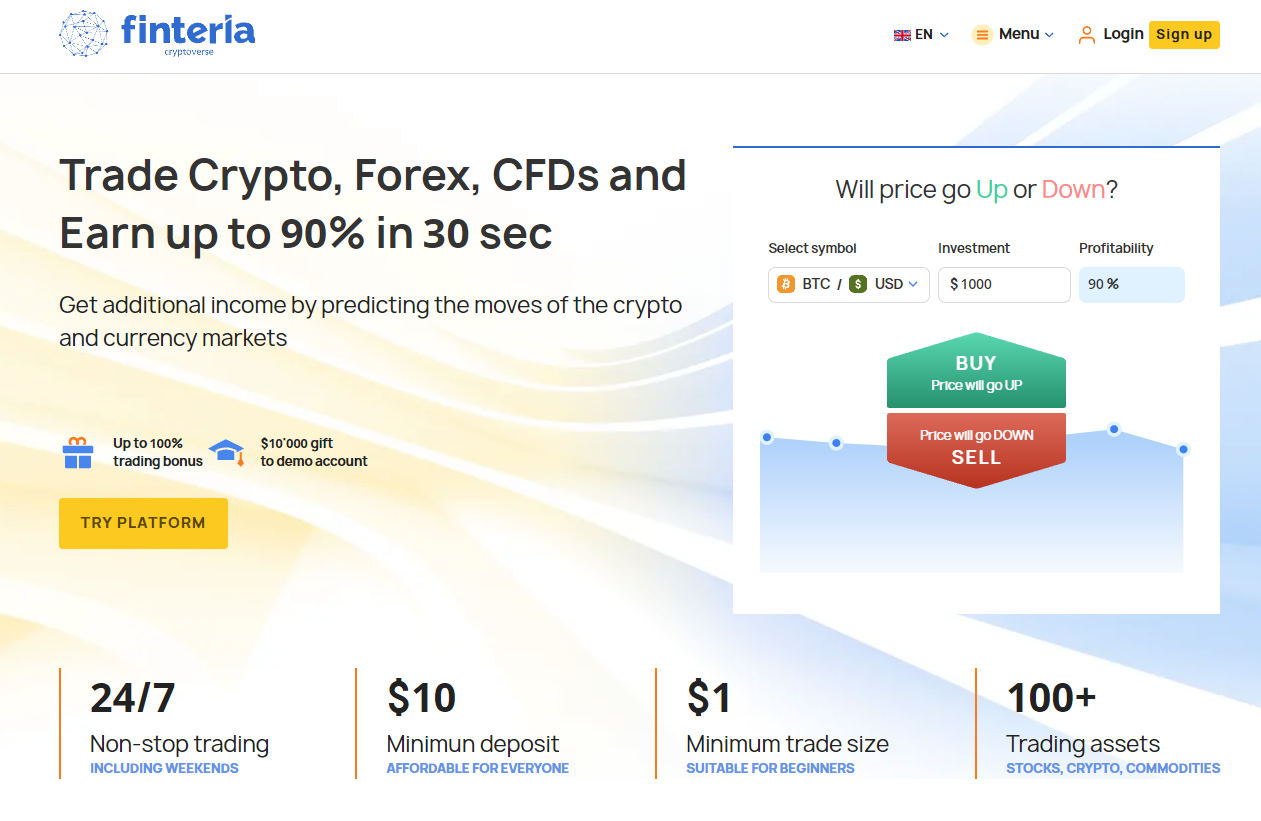 Table of Contents
What is Finteria?
Finteria is owned by Finteria Markets LLC, and the company is registered in St. Vincent. Finteria is a crypto broker offering a variety of trading options, including Crypto, Forex, and CFDs, and a promising earning potential. They offer a guided trading feature, making it easy for new traders to navigate the platform, and the ability to trade. Finteria also records a high volume of daily trades, indicating its popularity and the trust of its users.
FINTERIA features
Finteria.com provides a wide range of trading instruments with more than 70 assets available, such as forex, stocks, commodities, and cryptocurrencies, suitable for both novice and experienced traders. Deposits can be made using different payment methods, including credit cards, Bitcoins, USDT, and altcoins, giving users the freedom to choose the most convenient option for them. Finteria.com also offers fast and straightforward withdrawals with no additional charges, and users can withdraw using the same payment method used for depositing.
Finteria is a customer-oriented trading platform that offers a 100 USD bonus for the first completed deposit into the trading account. New clients can receive this bonus by using the promo code "100CASH". Additionally, the platform offers a bonus of up to 100% on deposits, for example, a 20% bonus would increase a $100 deposit to $120. Finteria and MetaTrader 5 platforms support trading in Forex, Crypto, Stocks, and Commodities markets, and TradingView provides charts for more than 100 trading instruments with a flexible set of analytical tools, including backtesting and indicators.
Supported Regions and Fees
There is no data to support any country or region-specific restriction in trade on Finteria's platform.
Finteria is a 'no fee' crypto exchange. The policy indicates that the company has the right to alter the same anytime they deem necessary.
How to use FINTERIA?
The platform provides a range of payment options, including credit cards, Bitcoins, USDT, and altcoins, giving you the freedom to select the one that suits your preferences. Withdrawals are effortless and prompt, with no additional charges. Moreover, you can retrieve your funds utilizing the same payment mode you utilized for depositing, which is an added advantage.
With a minimum deposit requirement of just $10, Finteria is an attractive option for beginner traders. This affordable entry point enables traders to test the waters of the market without putting a substantial amount of capital at risk.
Traders can easily place trades using the platform's interface, and they can also take advantage of forex options trading signals for automated trading based on pre-determined rules. By analyzing market data, the forex trading system can generate signals indicating the optimal times to purchase or sell an asset, simplifying the process of making profitable trades.
Customer support
If you have any queries or concerns regarding Finteria, it is recommended that you contact their customer support for assistance. You can find their contact details below:
E-mail: [email protected]
Pros & cons
Pros
Finteria requires a very small amount of seed capital to start your investing journey.
Binary trading option allows users to maximize gains with minimum risks.
Finteria allows people to increase their buying power and take larger positions within a short period.
Cons
High leveraging comes with high trading risks. Investors need to have a solid strategy in place to be able to profit well using Finteria platform.
The act of sharing personal information is often perceived as a potential security threat. People may feel uneasy about the data protection measures implemented by organizations that are not authorized or accredited by reputable governing bodies.
Security and User Safety
Privacy Policy
The privacy notice from Finteria Markets LLC ensures that they process personal data under the General Data Protection Regulation (GDPR). Finteria collects and processes personal data including identification data, contact data, account data, and financial data. They process personal data to verify identity, open and maintain trading accounts, prevent money laundering, manage risk, provide access to services, prevent misuse or unlawful use of services, and inform clients about new services. The lawful bases for processing personal data are consent, contractual obligation, legal obligation, and legitimate interest. Finteria does not sell personal data to third parties but may share it with third-party software providers and financial or supervisory authorities. Personal data may be transferred outside the European Union/European Economic Area only if appropriate safeguards are implemented. Personal data is stored securely, and for no longer than necessary for the purposes for which it was collected. Clients have several rights under GDPR including the right to access, rectify, erase, and restrict the processing of personal data, and the right to data portability.
Risk Disclosure
Finteria Markets LLC, informs the client of potential risks involved in trading on financial markets. The risks include the effect of leverage, highly volatile instruments, technical risk, abnormal market conditions, trading platform issues, communication risks, force majeure events, and statutory prohibitions and restrictions. The document is an integral part of the Client Agreement, and the client is responsible for all risks and chosen trading strategy.
Anti-Money Laundering Policy
Finteria Markets LLC's AML Policy complies with anti-money laundering and Know-Your-Client requirements. The policy outlines procedures for monitoring transactions and identifying and assessing the risk of clients engaged in criminal activity. The company also avoids business relations with unidentified clients or those residing in high-risk countries or the US, Canada, and Japan. Additional identification information may be collected
Summing Up
Finteria.com trading platform is designed to be user-friendly and allows for easy trading with preset rules and offers multiple assets such as forex, stocks, commodities, and cryptocurrencies. With a minimum deposit of just $10, it's an excellent option for new traders. Finteria.com provides various payment methods for deposits and withdrawals without additional charges. Furthermore, it offers a bonus of $100 for the first completed deposit and up to a 100% bonus on the platform. The platform also offers analytical tools for more than 100 trading instruments through the Finteria platform, MetaTrader 5, and TradingView making it one of the most comprehensive choices for binary options trades.