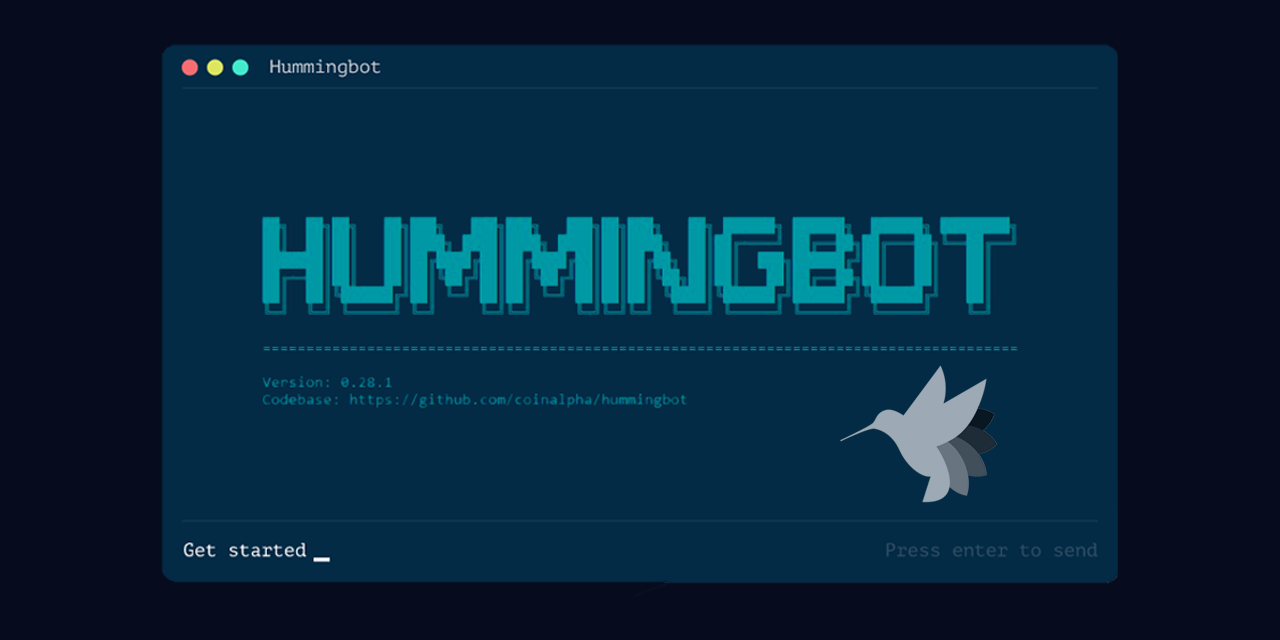 How to attract more users to a crypto exchange? One of the most efficient ways is to extend the number of services offered and Hummingbot can be a great solution for that. This experimental software was created to help crypto exchanges build and run high-frequency trading bots and grow their clientele number in this way. However, Hummingbot can be useful not only for exchanges but also for traders, developers, and token issuers. How does it happen? Read this Hummingbot review and find out more about this project.
Table of Contents
Hummingbot overview
Hummingbot is an open-source trading engine that allows running automated algorithmic trading strategies called bots both on centralized and decentralized exchanges. It utilizes a modular architecture to write exchange connectors and trading strategies independently from each other. There are 14 pre-built protocol and exchange connectors in this project including such trusted leaders as Coinbase, Binance, Kraken, etc.
How does it work?
Hummingbot can be compared with a Bitcoin mining bot. Though it also runs both locally and in the cloud, there is one great difference: it runs a market-making algorithm instead of a hashing one and powered by users who maintain an inventory of tokens in different markets instead of electricity.
Since modern exchanges are open with their APIs, almost everyone can run a market making bot and get a profit from all bid-ask spreads existing there. The actual algorithm is quite straightforward since it makes the bot buy low and sell high to earn on every bid.
The team
Since it is driven by an open-source community we can measure the success of the project by their GitHub stats – more than 1000 stars, 8000 commits total. That's pretty impressive.
The idea of the project has been invented by Yingdan Liang who believed in the future of smart contracts. Originally, the team was working on them but soon they realized that it would be much better to create a robust, performant, and reliable trading bot to trade across multiple exchanges. Currently, any developer can join the team and work on project improvement.
Hummingbot features
There are several features that make Hummingbot worth your attention. It is a must-have bot for smaller exchanges since it can attract traders to them from popular centralized exchanges. This project allows any DEX to have the same liquidity because market makers will get arbitrage from bid-ask difference anytime.
However, it is not the only feature of Hummingbot. It has become a trading engine to execute transactions with the parameters provided by users eliminating some technical complexities of transacting with centralized and decentralized exchanges. Furthermore, it is going to facilitate trade execution and interaction with different exchanges by performing different actions including:
Price and order book retrieval;
Submission of trade instructions;
Handling asset transfers for different functions.
The open-source nature of Hummingbot is explained by the desire to achieve trust and transparency. Code is always available for audit and inspection to get trust; otherwise, users won't provide their private keys and exchanges won't share their API keys with a bot. However, there is one more benefit from being an open-source tool - it is free to use. It allows users to make markets across multiple exchanges and is easy-to-install and use too.
Ecosystem
According to the official website, the Hummingbot ecosystem consists of a community of algorithmic traders and developers who utilize and make contributions to the open-source bot codebase. However, there are several integral parts of this ecosystem too.
Market-making bot
The process of market-mining is defined as a provision of continual offers to buy and sell assets. It is exactly the thing Hummingbot does. Everyone can install this bot compatible with the majority of popular operating systems, configure it, and operate it using the commands.
When it comes to functional bot features, there are 6 of them:
Paper Trade Mode to test Hummingbot and simulate trading strategies without risking any actual assets.
Balance Limit - the max and min amount of the assets to be used by not in the wallet or exchange.
Minimum Order Size - the amount set by a bot for pure or cross-exchange market making.
Performance History - displaying the duration of total past trades, assets inventory, and value, market trading pair performance.
Kill Switch - a feature to stop the bot when it reaches a certain performance threshold.
Integrate Telegram - getting real-time updates and issue commands to your trading bot from any device where you have Telegram installed.
Liquidity Mining

Liquidity mining, also known as yield farming, is the act of providing liquidity via cryptocurrencies to decentralized exchanges (DEXs).
Liquidity is measured in slippage - a difference between the observed mid-market price and the actual executed price for a trade of a given size. There is a special category on the website menu devoted to Hummingbot liquid mining. It explains how it works and offers the latest data about the project. Liquid mining is characterized as open, real-time, non-custodial mining performed through running a Hummingbot. Users get rewards every week and can earn returns in multiple markets simultaneously which makes this type of mining outstanding.
Community
The current community working on the development of the Hummingbot ecosystem includes over 8,000 members and it is growing rapidly. There are 72 major Github contributors spread all around the globe. Everyone can join this great community and install the bot on almost any computer.
Academy
There is an exclusive Hummingbot Academy that tells everything about the project and how to achieve success in it. The Academy offers everything from the installation procedure, bot configuration, to a variety of start guides, FAQs, video tutorials, and case studies. Users can specify the query and find necessary guides in the search engine.
Pre-built strategy templates
There are 4 pre-built strategy templates available in Hummingbot:
Market making. Hummingbot posts bid and ask orders on the market waiting for other players of the market to fill their orders.
Arbitrage. It allows monitoring 2 different markets and capturing free of risks market profits when it buys high and sells low each time there are new trading opportunities.
Cross-exchange market mining. This strategy combines two previous ones. Hummingbot makes markets on smaller less liquid exchanges and does the opposite, back-to-back transaction for any filled trades on a more liquid exchange.
Celo arbitrage. This is an arbitrage strategy type that arbitrages between the automated market maker (AMM) exchange on the Celo blockchain and other markets supported by Hummingbot.
Participate in DeFi
How to earn with Hummingbot? There are several steps to complete:
Install the Hummingbot client.
Create the first bot.
Run your bot in a live mode or as a paper trading bot.
The total process takes only around 15 minutes.
Who can use Hummingbot?
Hummingbot can be useful not only for traders but also for developers, token issuers, and exchanges. What benefits can each of them receive using this bot?
Traders can take advantage of a highly customizable tool and start mining and earning revenue. They can get more power checking the script's features and codebase as well as forget about technical complexities that are performed by the development team.
Developers can apply their knowledge and make a contribution to the open-source project. They can work on strategies, scripts, and exchange integrations, learn more about high-frequency, algorithmic trading, and exchange knowledge with the project community.
Exchanges can increase the number of traders and the volume of coins traded. They can add liquidity mining capabilities to the service, make a new powerful trading tool, as well as benefit from the vibrant community of both traders and developers.
Token issuers can provide tokens with liquidity as well as reward their community with native tokens.
Conclusion
Hummingbot is an innovative trading engine that allows earning income on running a bot on different exchanges and has a lot of positive reviews. This market making bot uses a unique liquidity mining algorithm and uses 4 different strategies for this purpose. What makes Hummingbot special is its unique possibility to bring benefit not only to traders but also exchanges, developers, and token issuers. Are you one of these crypto enthusiasts? Probably, Hummingbot can open new opportunities to you too.