The DeFi movement became mainstream in 2020. From trading and exchanges to loans – all the financial markets are slowly getting disrupted by non-custodial smart-contracts.
But what about earning interest? Many people try to invest money in different parts of the financial retail ecosystem to get monthly dividends and usually these amounts are not very significant. However, blockchain technology creates new opportunities for investors who can get an interest of 3.5-4% (in tokens) a month which is at least 42% a year without doing anything. This possibility has been created by OrientProject, the DeFi project created by one single independent crypto visionary, who decided to create an exclusive staking mechanism for a limited period of time. Does it look too good to be true?
Table of Contents
Let's learn more about the new token together in this review article and cover its benefits and risks.
OrientProject Overview

OrientProject offers crypto holders a decentralized financial platform for making crypto investments and getting passive income for a certain period of time. The project was developed on the Ethereum network with the implementation of the latest technology, contracts, and new features. This ERC-20 based token called Orient (OFT) was created to give investors purchasing power, let them trade, hold, stake, farm, etc. Its main goal is to provide crypto investors with impressive dividends for a period of 5 years.
How does it work?
OrientProject is a platform that allows purchasing OFT tokens for Ethereum. They can be stored on popular ETH wallets and bring their holders dividends for the period of time they have spent there.
There is a standard monthly income of 3.5-4% which means that holders of 100 OFT tokens will get 103.5 OFT tokens if they spend 30 days in the wallet. The yearly revenue is estimated at 42% and the project will run for 4 years only.
OrientProject features
This is a relatively young project with a roadmap of around 3-4 months only. Currently, it is developed by one crypto enthusiast who gets help from freelancers. The development team has already completed several significant stages including smart contract implementation, launch and pre-sale of OFT token, website development, listing on exchanges, etc.
The main feature of this project is an innovative long-term staking mechanism that does not require energy expenditures and extra costs but offers real-time tracking and spending of the revenue anytime.
OrientProject ecosystem
The project network included three important components.
Token
Orient is an Erc-20 based token used for staking in the project. It can be recognized by the OFT name on different exchanges. It is already available for purchase with the initial price of $1 per unit. There were 20% of tokens offered for presale which is equal to 5,000 OFT. The ranges of the minimum and maximum contribution are equivalents of 0.2 ETH and 5.5 ETH respectively. The total supply is 25,000 tokens.
The rest of the tokens are distributed in the following way:
70% for staking ( 20% offered for presale included);
10% for the development and implementation of new contracts;
5% for marketing and advertising;
10% for the development team;
12% for liquidity;
1% reward for early launch promotions.
Staking
The network is going to support staking in several pools including USDT, USDC, WETH, YFI, YFE, and OFT. Currently, they are not available for staking analysis but it will happen in the near future. As it was mentioned, the maximum revenue offered by OFD will be 4% monthly.
Farming
The website also offers users to select a farm to stake. They can choose from USDT, USDC, WETH, YFI, YFE, and OFT farms by clicking the button next to the one preferred.
Why choose Orient?
Despite the novelty of the OrientProject, it can become a competitive player in the blockchain industry due to the number of benefits it offers:
A quite high staking percentage;
Revenue is paid out immediately;
Multiple withdrawal possibilities;
Long-term perspective;
Low total supply
L.I.S System (liquidity injection system)
Coin liquidity is considered.
Where to Acquire Orient token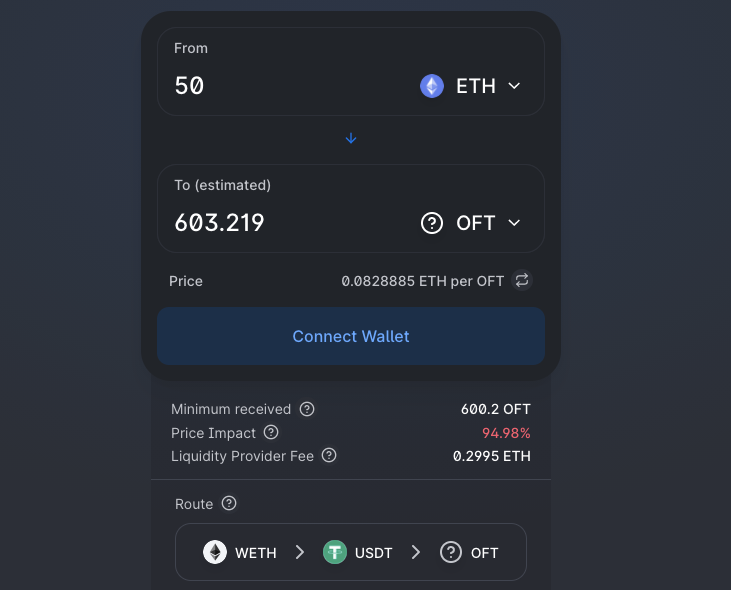 The easiest way to buy an OFT token is by using Uniswap . The pair can be found via the project website. You will see the Buy OFT token button in the upper right corner of the screen. When you press it, you are redirected to the Uniswap interface to complete the process. There is an opportunity to connect a wallet to the service and process funds faster than usual.
Orient smart contract address: https://etherscan.io/token/0xc0a25a24cce412e2fb407c08e3785437fee9ad1d
Conclusion
OrientProject is a new product that can't boast lots of details about it and multiple reviews. However, it has attracted the interest of crypto community greatly due to the unique opportunity to get quite high income from staking. It has to meet several important milestones in the future to prove its efficacy and gain trust, but the idea put in its core is really attractive for many crypto holders.