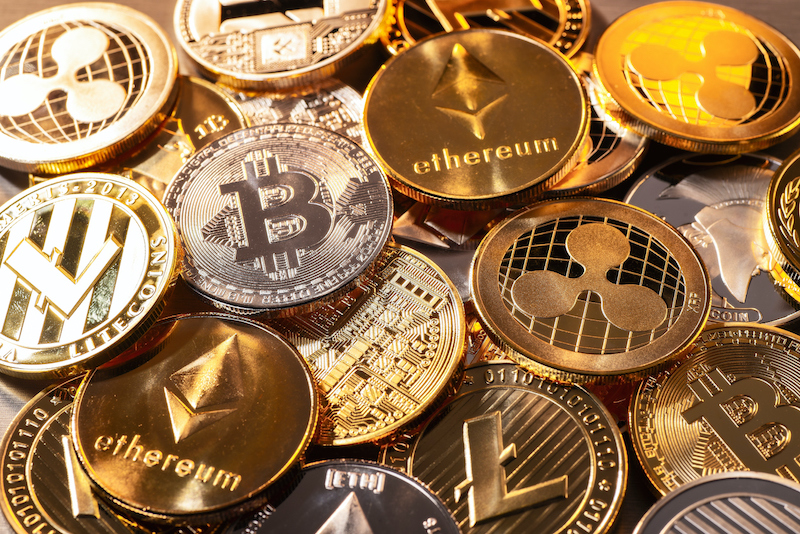 Anyone searching for how to buy altcoins in the UK isn't taking an unfamiliar path. Many investors believe that in the short-term, Bitcoin has lower upside potential, and for this reason, are looking for promising altcoins to add to their portfolio.
Table of Contents
We are not here to provide you with a list of the hottest altcoins to buy (we know you want that as well, lol).
In this article, we provide a guide on how to buy altcoins in the UK using GBP, and some of the best exchanges to use. We also differentiate altcoins, coins, and tokens and offer some guidance on how to secure your altcoin bag.
First, a Step-by-step guide on how to buy altcoins with GBP on Binance
Create a Binance.com account and complete the identity verification process.
Go to the Buy/Sell Page.
Select GBP as the currency to spend and select your preferred altcoin from the coin drop-menu.
Choose your preferred payment method (card transactions settle faster)
Enter card details on the next page and confirm the order details.
Complete the transaction and receive the coins on your Binance.com wallet.
Where to buy altcoins
Here is a full list of recommended exchanges where you can buy altcoins in the UK.
Binance – the best place to buy altcoins!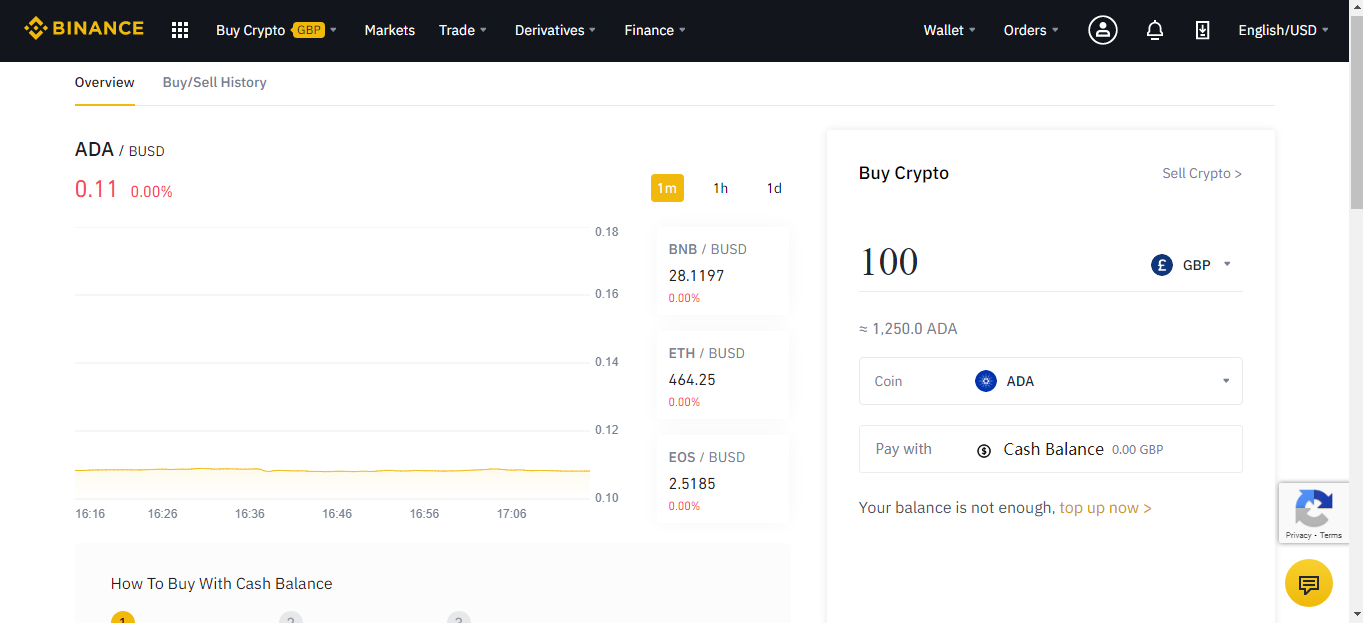 Binance is arguably the best altcoin exchange. The platform launched in 2017 with a focus on allowing investors access to as many cryptocurrencies as possible. Binance lists most large-cap cryptocurrencies, including new tokens such as those in the decentralised finance (DeFi) space.
How to buy:
Register for a Binance account and complete user verification.
Go to Wallet and locate your "GBP" wallet using the search button.
Choose your preferred deposit method (Faster Payments)
Transfer money from your UK bank account using the provided bank details.
Once payment is confirmed, Binance will credit your GBP wallet balance.
Go to the Buy/Crypto tab and Select "GBP," Pay With GBP Balance.
Select your preferred altcoin from the dropdown menu and click "Buy."
Confirm payment details, and proceed.
The altcoin will be credited to your Binance wallet.
Pros
Binance is a fairly reliable crypto exchange and supports hundreds of altcoins.
Binance provides unparalleled liquidity across its altcoin pairs.
The exchange has a highly responsive customer service desk.
Binance supports most altcoin network upgrades, so you won't have to move your funds when such a situation arises.
Binance has an insurance fund for making customers whole in the event of a hack on the exchange.
Binance has staking options for popular altcoins, and all users need to do is deposit these alts on their wallet to start earning.
Cons
Some altcoins listed on Binance are high-risk investments, and the exchange has come under fire for listing projects that later pulled the rug.
Binance is loosely regulated and may come under regulatory pressure at any time.
Payment Methods: Bank cards (Visa, Mastercard), Faster Payments, Cryptocurrencies.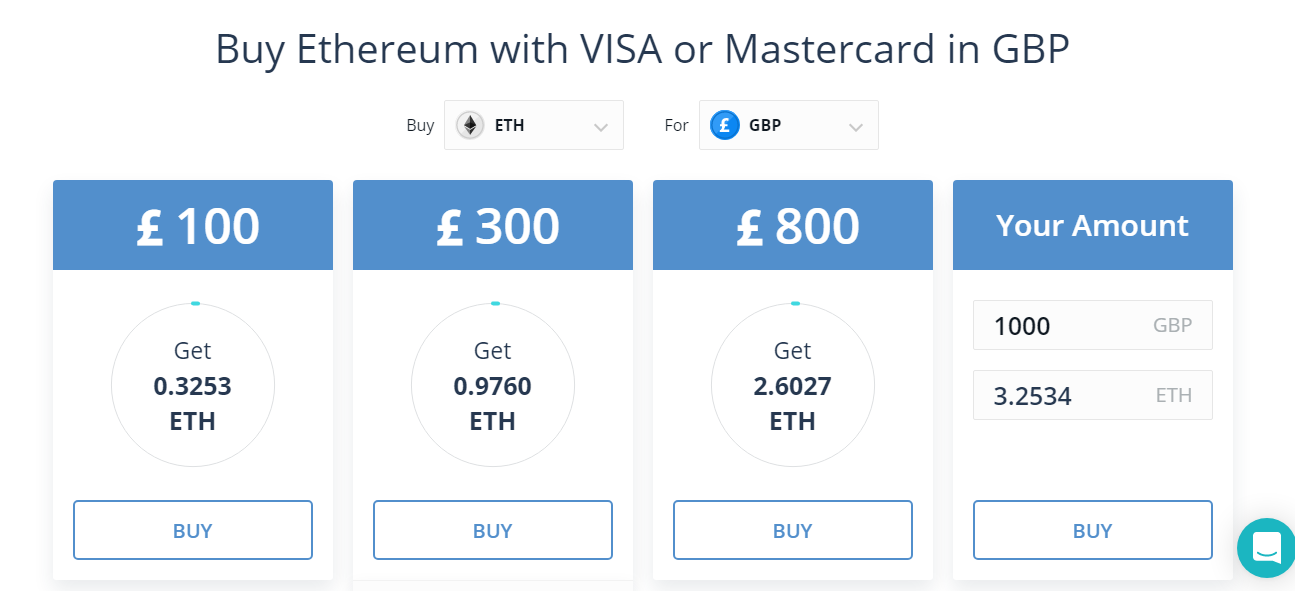 CEX.io is a UK-based cryptocurrency exchange and has been around since 2013. The platform offers a range of altcoins for trading against GBP and BTC.
How to buy:
Sign up for a CEX.io and complete the verification process.
Click "Deposit" and choose your preferred payment method. (Bank Cards)
Add a New Card and wait for verification.
Select GBP as currency to deposit and input amount.
Complete the transaction and receive a GBP deposit to your CEX.io wallet.
Go to "Trade" and select your preferred altcoin against the GBP pair.
Fill in the order size on the next page and place the order.
Once the order is filled, you'll have the altcoins available on your CEX.io balance.
Alternatively, you can use the Buy/Sell button if you're looking to buy any of the following alts, ETH, BCH, DASH, LTC, XRP.
Pros
CEX.io is a reliable exchange and has no history of security breaches.
The CEX.io dashboard is free from cluster and easy-to-navigate.
The platform supports a variety of payment methods for UK users.
CEX.io boasts a reliable customer service team.
Professional traders can trade altcoins with a margin up to 3x.
Users can stake altcoins or take out loans collateralised by their deposits.
Cons
The platform supports fewer altcoins compared to Binance.
The verification process is long and tiring.
The main trading platform lack some features that professional traders may expect.
Payment Methods: Bank Cards (Visa, Mastercard), SWIFT, Skrill, Faster Payments.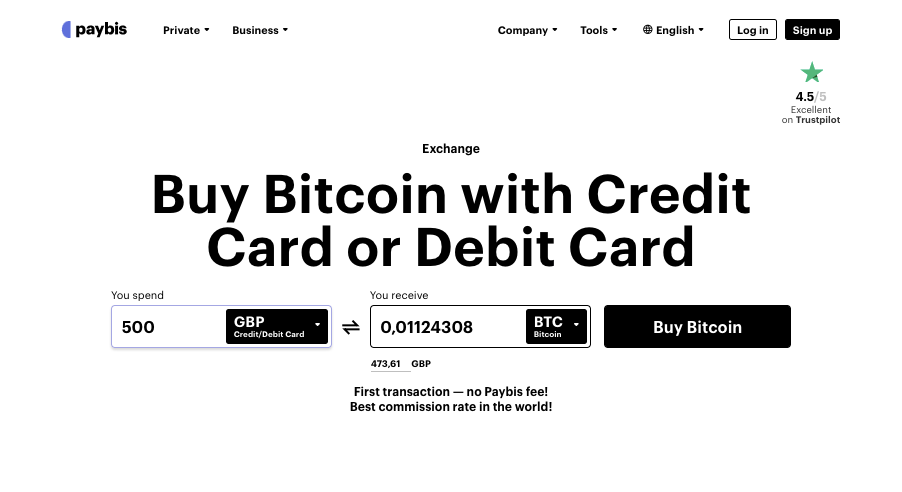 PayBis is a UK-based cryptocurrency exchange launched in 2014. It supports exchanging 10 crypto assets for 47 fiat currencies in an easy and quick manner. The exchange is highly trusted across the globe since it offers services in 180+ countries.
How to buy:
Register on the platform and confirm the email address;
Pass through a fast verification procedure providing the copy of your ID or other documents listed in Terms and Conditions;
Select a suitable option to buy cryptocurrency;
Provide necessary details according to the banking option chosen;
Enter how many coins you wish to acquire;
Provide a crypto wallet address to send coins to;
Finalize the exchange process and get the payout right away!
Pros:
The first transaction on the exchange is free of fees;
Transparent fees;
4.5-star rating on Trustpilot;
Quick verification;
24/7 customer support;
Security and license of FinCEN Department of the Treasury, USA;
Fast exchange.
Cons:
Not all banking options feature low fees;
The range of advanced trading features is small.
Payment methods:
Credit and debit cards, SEPA Bank transfer, Skrill, and Neteller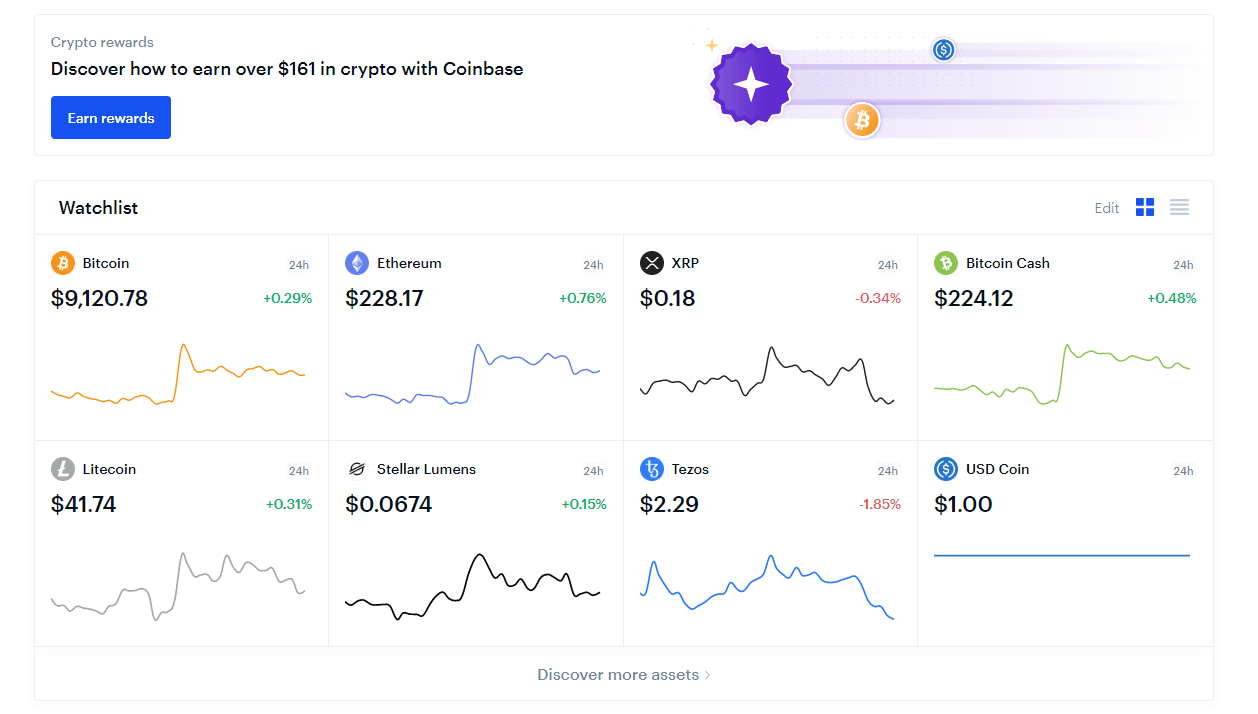 Coinbase is one of the oldest cryptocurrency exchanges having launched in 2012. The platform initially served US users but has since branched out to support the UK and European users looking to buy crypto with GBP and EUR.
How to buy:
Create a Coinbase account and complete the ID verification process.
Go to Settings and select "Payment Method."
Link your UK Bank account by providing the required details.
After confirmation, go to "Portfolio" and click the "Deposit" button in your GBP wallet.
Use the provided information to initiate a transfer from your linked UK bank account.
Fill the details correctly while making the transfer, including your "Reference Code"
Once completed, your Coinbase account will be credited within 1-3 business days.
After receiving deposits, go to "Portfolio" and choose your preferred altcoin and initiate a purchase with your GBP balance.
Alternatively, you can use the Instant Buy option to get the following altcoins, ETH, ETC, BAT, ZRX, and USDC coin.
Pros
Coinbase is a retail-focused exchange and suitable for first-time investors.
Coinbase's trading platform (Coinbase Pro) offers a full suite of tools for traders.
Coinbase has a responsive customer support team.
Users can set up recurring buys to support their dollar-cost averaging (DCA) needs.
Coinbase uses a "Vault" feature to further secure user assets.
The exchange also has insurance coverage for coins stored on its platform.
Cons
Being regulatory compliant means, Coinbase supports a limited number of assets.
Coinbase typically suffers a downtime when the market spikes or drops within a few hours.
Payment Methods: Faster Payments, SEPA Transfer, Bank Cards (for Instant Buys)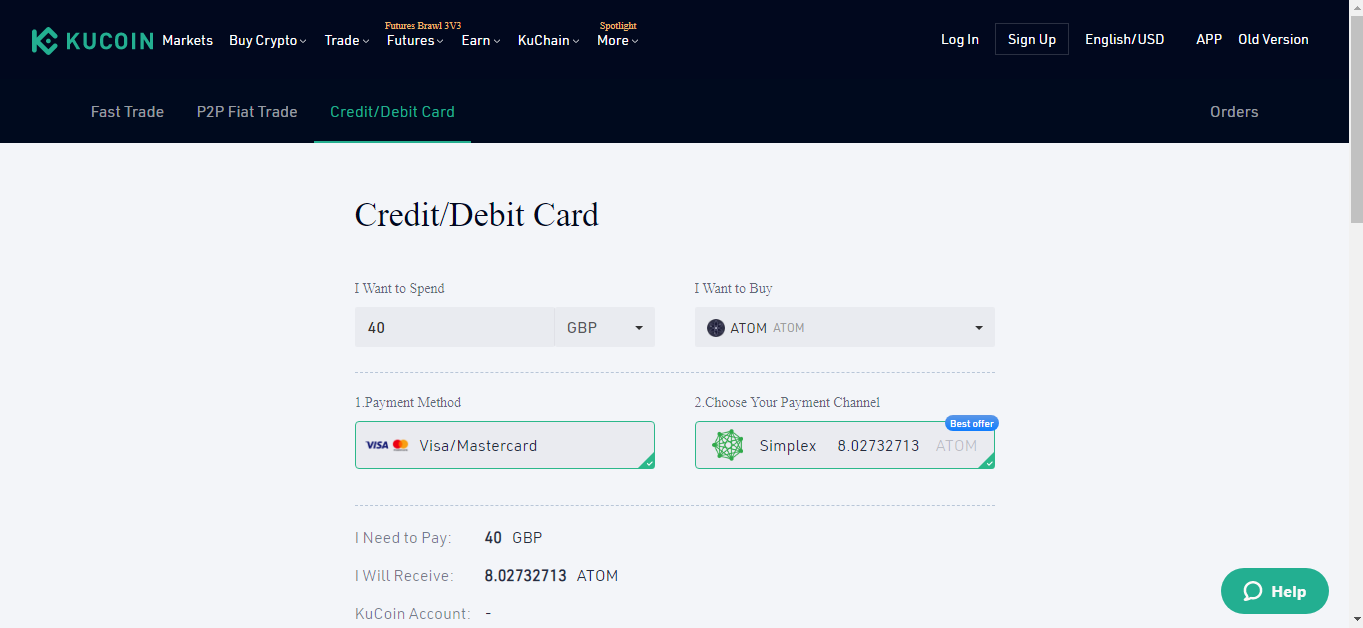 KuCoin is another popular cryptocurrency exchange that offers a variety of altcoins for trading. The platform launched in 2017 like Binance but already boasts some 4 million users.
How to buy:
Sign up on KuCoin.
Go to "Buy Crypto" and select Credit/Debit cards.
On the next screen, select GBP and currency to spend and enter the purchase amount.
Choose your preferred altcoin from the right drop-down menu and initiate the purchase.
Enter card details on the checkout page.
Complete card verification on the next screen and click "Buy."
The purchased altcoin will be added to your KuCoin main account.
Pros
KuCoin supports soft staking for a majority of altcoins.
Professional traders can trade alt-based futures on KuCoin.
There is also an option to trade alts with margin up to 10x
The platform offers hundreds of altcoin pairs, including some that are not available on Binance.
KuCoin has a P2P trading feature that supports additional payment methods.
KuCoin has a responsive customer support system.
Cons
KuCoin has suffered a security breach that stalled withdrawals on the platform for several weeks.
The use of third-party services to support coin purchases means fees are higher than usual.
Payment Options: Bank Cards (Visa, Mastercard). SEPA, Faster Payments for P2P trades.
Changelly launched in 2013 with its operating company headquartered in the Czech Republic. It supports the trading of over 130 cryptocurrencies and is unique because it doesn't hold customer's crypto assets. It aggregates the best offers from exchanges and lets you complete the purchase from their interface.
How to buy:
Create an external wallet address for the altcoin you want to buy (You can use Trust Wallet or Coinomi for this purpose.)
Go to Changelly.com and switch the portal to "Buy."
Select the "United Kingdom" as Country of Residence and GBP as the preferred currency.
Choose your altcoin from the drop-down menu and click "Buy Now."
Pick a favourable offer from the next page and enter your wallet address on the next.
Complete the registration with Changelly's partner.
Enter card details and verify order details.
Complete the payment and you'll receive the coins at your designated address.
Pros
Changelly is a reliable exchange service.
The exchange interface is intuitive and easy-to-navigate.
The platform is a gateway to many altcoins including those not listed on some exchanges.
Changelly's aggregator allows you to choose the best offers for your desired altcoin.
Users can use the "Swap" feature to convert between different altcoins.
Cons
The purchase process takes longer when compared to other exchanges.
Changelly's total fee of (7%) is outrageous compared to other platforms.
Payment Methods: Bank Cards (Visa, Mastercard), Bank Transfer, Apple Pay.
What is the difference between coins, altcoins, and tokens?
It is easy to think that coins, altcoins, and tokens are the same kind of assets. However, there is a remarkable difference.
Coins, as used in the cryptocurrency industry, refer to cryptocurrencies that have their own native blockchain. For instance, the Ethereum network has its native coin called Ether (ETH). Other tokens minted using Ethereum's ERC-20 standard are therefore rightly called tokens, instead of coins.
Note that crypto-assets minted on other blockchain networks other than Ethereum is also called tokens. Also, tokens can represent digital ownership of real-world assets such as real estate, bonds, etc.
Examples of Coins: Litecoin (LTC), Binance Coin (BNB), Ripple (XRP), Tezos (XTZ), VeChain (VET), Monero (XMR), etc.
Examples of Tokens: Basic Attention Token (BAT), Chainlink (LINK), Uniswap (UNI), etc.
Lastly, altcoins (alternative cryptocurrencies) is a term used to refer to any crypto-asset that isn't Bitcoin. This name is a result of Bitcoin's position as the first cryptocurrency. Most projects that followed tried to provide alternatives and improvements to Bitcoin's pioneer technology.
Where to store altcoins
After buying your altcoins, the next thing to consider is the best place to store them. There are primarily two places where you can store your altcoins:
A Non-Custodial Wallet

You can store your altcoins using a non-custodial wallet. These are apps or devices that let you hold the private key or passphrase to your assets. You will need a regular password for daily transactions, and then a backup of the passphrase in case you lose it.

It is best to choose a wallet that supports a variety of altcoins. Also, hardware wallets are a preferred option if you're holding large amounts and do not plan to sell-off your assets anytime soon.

Mobile Wallets: Trust Wallet, Coinoni, Coinbase Wallet, Atomic Wallet.

Hardware Wallets: Ledger, Trezor.

An Exchange Wallet

As the name suggests, this storage pattern simply means leaving your altcoin holdings on exchanges. While we don't recommend this (exchanges can go offline or get hacked), it is unavoidable if you're going to trade your assets actively.

We recommend that you use only Tier-1 exchanges, that is, platforms with high-security standards and insurance coverage for customer funds. Examples include Coinbase, Binance, and CEX.io.
How to track your Altcoin Portfolio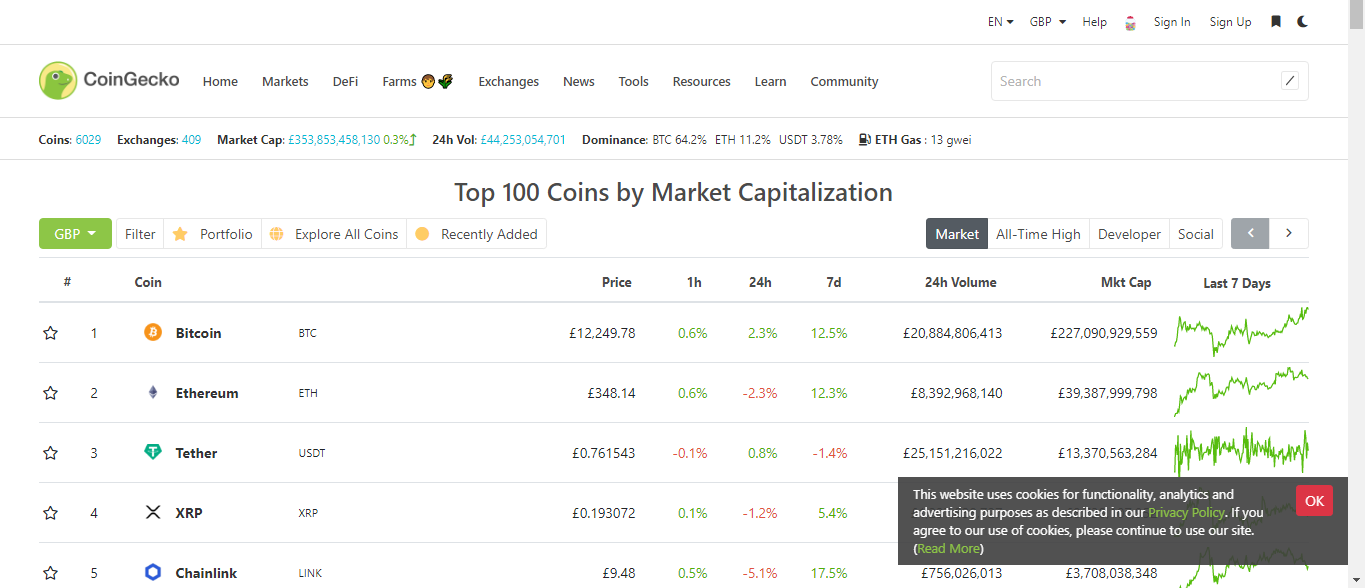 Coingecko offers a free tool to track your altcoin portfolio price in GBP, EUR, and other currencies. The only thing you have to do is use the site's website or install the mobile app, available on Android and iOS.
You can track thousands of altcoins by adding them to your watchlist and enabling price alerts on these assets. Aside from the regular ranking by market capitalisation, Coingecko provides a news aggregator service so you can follow up on market-moving news about your altcoin selections.
You can use altcoins to pay for literally anything, including casino games.
Privacy and security tips for Altcoin Holders
You can adopt the following measures to secure your altcoin bags:
Use a hardware wallet to store large amounts that you don't plan to sell soon.
Correctly back up your seed phrase in multiple locations.
Use two-factor authentication (2FA), and other security options provided by your preferred exchanges.
Always double-check addresses before hitting the "Send" button. There is a risk of malware replacing copied addresses, or you pasting an address other than the one you intend to use for that particular transaction.
If possible, use different passwords for different exchanges.
To protect your privacy, only do KYC on exchanges where you transact large sums and when necessary. You can delay verification of certain levels if applicable.
If you suspect a security breach, quickly restore the wallet's passphrase on a different device and move to a new address that only you can access.
Conclusion
In this article, we fulfilled our promise to reveal how to buy altcoins in the UK, and exchanges where you can buy altcoins with GBP. We also shared privacy and security tips for investors and hoped you consider these as you invest in altcoins.
While no one can accurately predict the future, it is unlikely that all altcoins fail to reach mainstream adoption. Thus, holding some alts won't be a bad idea for those who have the capital to play the hold-and-wait game.