The introduction of cryptocurrency has divided the world into two camps: supporters of crypto coins and ones preferring fiat money. However, is there a possibility to unite these camps and give them one universal product that allows getting benefit from both digital and traditional money? Revolut has become the most successful project to offer users this opportunity. It allows getting more from the money possessed. How can you do that?
Look: this Revolut review will explain what makes this solution unique and how crypto enthusiasts and fiat money connoisseurs can benefit from it.
What is Revolut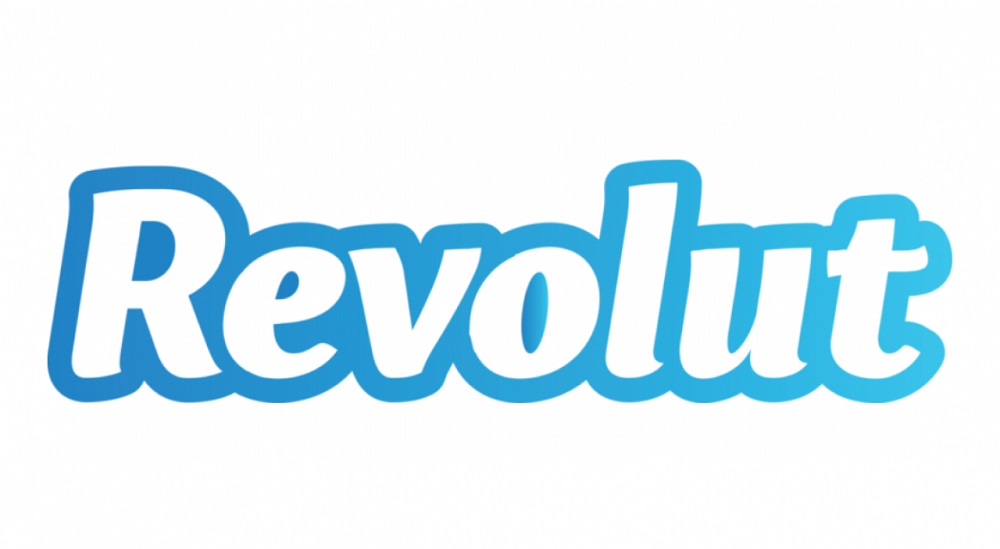 Revolut is a fin-tech company that has challenged traditional banking systems and provided users with a convenient and easy-to-use app that offers a variety of financial services directly in the mobile device. It offers the world's first truly global financial superapp that was originally launched in 2015 in the UK. Nowadays, the app has gained incredible popularity and is now available all around the globe. There are offices across Europe, the Americas, Asia Pacific and beyond. The company can boast over 15 million active personal customers and over 500k business clients. It operates in 35 countries and supports over 30 currencies. Over 100 million transactions are made by the company per month and it is constantly developing to provide users with new solutions. Revolut website and app are available in 21 languages and its headquarters are located in London.
Revolut features
The range of features offered to Revolute customers is quite extensive. They are grouped into 4 categories, so let's have a closer look at them.
Account
There are several features offered by Revolut connected with account:
1. Connecting accounts of all external banks to Revolut and discovering seamless spending control.
You can oversee all your money in one place, spend smarter thanks to handy budget and analytics tools, adding money quickly and easily, secure linking without sharing any passwords, etc.
2. Smart budget tracking to avoid overspending.
The app offers real-time categorised analytics and makes useful predictions. It allows setting monthly limits and controls your daily spendings sending you head ups if you are getting close to the limit.
3. Easy card settings control.
You can freeze, enable or disable contactless payments, or change spending limits anytime and anywhere. Furthermore, you can spend money abroad with reasonable exchange rates in over 150 currencies. It also allows spending with a virtual card or linking your card to Google Pay or Apple Pay too.
4. Issuing prepaid cards for kids.
A Junior account is controlled by parents and helps young people to build healthy money habits from early years. You can get alerts when your child spends money, freeze and unfreeze the card when you want, and prevent purchases with age-restricted merchants. There is also a colorful range of cards and all the variety of tools available for junior users too! You can even motivate them with monetary rewards thanks to Tasks and Goals as well. The Junior card can work without an app as well!
5. Managing bills is easy with the Pockets feature.
It allows sorting direct debits, subscriptions and scheduled payments into different Pockets for them to be paid automatically. You can set necessary money aside, track your spendings, and get lots of other benefits even if you haven't been so organized this month!

Wealth
You can grow your wealth and get more prosperous every day with the following Revolut features:
1. Stock trading
The app offers commission-free investments in stock starting from $1. You can get access to over 750+ stocks and trade in fractional shares within your budget. You can read Global Market News directly in the app and check real time market graphs for better results with Revolut trading.
2. Simple and fast crypto investments
You can exchange over 30 cryptocurrencies instantly with a minimum investment of $1 only. The buying and selling process takes seconds and you can set up Price Alerts and Auto Exchanges to move fast across the market.
3. Commodities exchanging
It is possible to exchange commodities within the app and be exposed to to gold, silver and precious metals from just $1. You can set price alerts and get notified when necessary commodities hit the target. Users can take advantage of auto-exchange feature, make a Vault or even get cashback in precious metal.
4. Putting money aside with Vaults
Savings Vaults offer to maximise your money by earning up to 0.65% AER on USD and 0.40% AER on GBP. Money is paid out every day and can be withdrawn any time. Vaults can be created not only in over 30 fiat currencies but also crypto and commodities. There is access to Group Vaults with the opportunity of granting withdrawal permissions too.
Payments
Another range of features offered by Revolut is connected with processing payments. Let's find out what this innovative app keeps in store for its clients.
It is very easy to send and request money with no hidden fees in over 30 currencies. You can accompany them with funny GIFs, track your subscriptions, direct debits, recurring payments, send money to local bank accounts for free, etc. There are quite competitive fees for international transfers, bill splitting and group billing opportunities too.
Extras
There is also a range of additional features you can benefit from using Revolut.
1. Rewards
You can get more from your favorite brands in the form of personalized discounts and cashback.
2. Donations
Make donations with a tap without any fees from the payment processor. There are numerous local and global charities to donate money.
3. Pay-per-Day travel medical insurance
It works on the geolocation technology basis, so you can be charged only when you are actually abroad. The insurance includes both dental and medical coverage with as little as £1. The reimbursement is paid directly into your Revolut account. There is an instant sign up and application procedure with an opportunity to include other people.
4. Mobile insurance
You can order a global coverage against all accidental damage from £1 a week. You can protect several devices directly in your app, pay on a weekly basis or a single annual payment, as well as file a claim online to get a repair, replacement or compensation payment.
5. Safety
The company guarantees award-winning security. All the money is safeguarded by licensed banks. Card details processing is protected with TLS protocol. All card details are stored according to Payment Card Industry Data Security Standard (PCI DSS). All the online payments are subjected to verification, the number of contactless payments is limited , and suspicious transactions are frozen too.
Licenses
Revolut is registered with the FCA and features Level 1 of PCI DSS. All the funds are stored in Barclays Bank and Lloyd's registered in the UK. Furthermore, Revolut has acquired European banking license as well. Unfortunately, Revolut's cryptocurrency service is not regulated by the FCA
Revolut services
Revolut offers solutions both to personal users and businesses. What is the difference between them? Let's find out.
Personal
Over 15 million accounts in Revolut are possessed by individuals and are called personal ones. Holders of these accounts get access to a variety of features including money exchanging, crypto and gold purchases, money management and many others. There are several plans to choose from and the selection features depends on the plan too.
Business
Revolut Business offers companies to register a business account and get access to over 500k customers. Companies can hold, exchange, send and receive funds at the interbank rate, make free transfers between Revolut Business accounts as well as free international and local payments. There is an opportunity to track spending in real-time for your entire team, automate your expenses and capture receipts, take advantage of Business API, and use custom integrations too.
How it works
Revolut allows investing in cryptocurrency but you don;t actually own the coins purchased. This cryptocurrency can not be withdrawn to the wallet, but you can speculate on its price and get dividends from that. How to do that? It is necessary to complete the following steps:
Download a Revolut app to Android or iOS device.
Register an account there.
Tap to Dashboard and select cryptocurrencies there.
Read and accept Terms and Conditions.
Browse exchange rates and start trading cryptocurrency with any supported fiat money.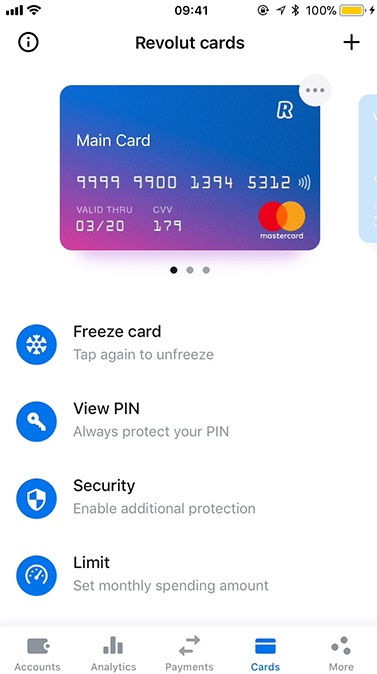 One of the most important steps on the way to crypto trading is signing up the platform. You should know what to expect when you decide to join the app:
When you downloaded an app to your mobile device, go through the account set-up process and provide personal details you usually share with traditional banks. It includes full legal name, home address, date of birth, nationality and residency, email address and phone number.
Verify your identity by taking a selfie and uploading a scan of your government issued ID.
Fund the account using bank wire transfer.
When these steps are completed, you can turn to crypto trading without any doubts.
Which countries does Revolut support?
The company operates in over 35 countries. The majority of them are European countries including the UK, Ireland, Austria, Germany, Italy, Norway and many others. However, there are also such countries as Australia, Bonaire, Singapore on the list too.
The most recent achievement of the company was adding the United States to the list of supported countries and several more large countries are coming soon including Canada, New Zealand, Brazil, United Arab Emirates and others.
Revolut app
Revolut is a mobile application that can be accessed on the mobile device. It does not have a desktop version and runs on gadgets powered by Android and iOS. A necessary app can be downloaded either from Google Play or from the App Store.
Card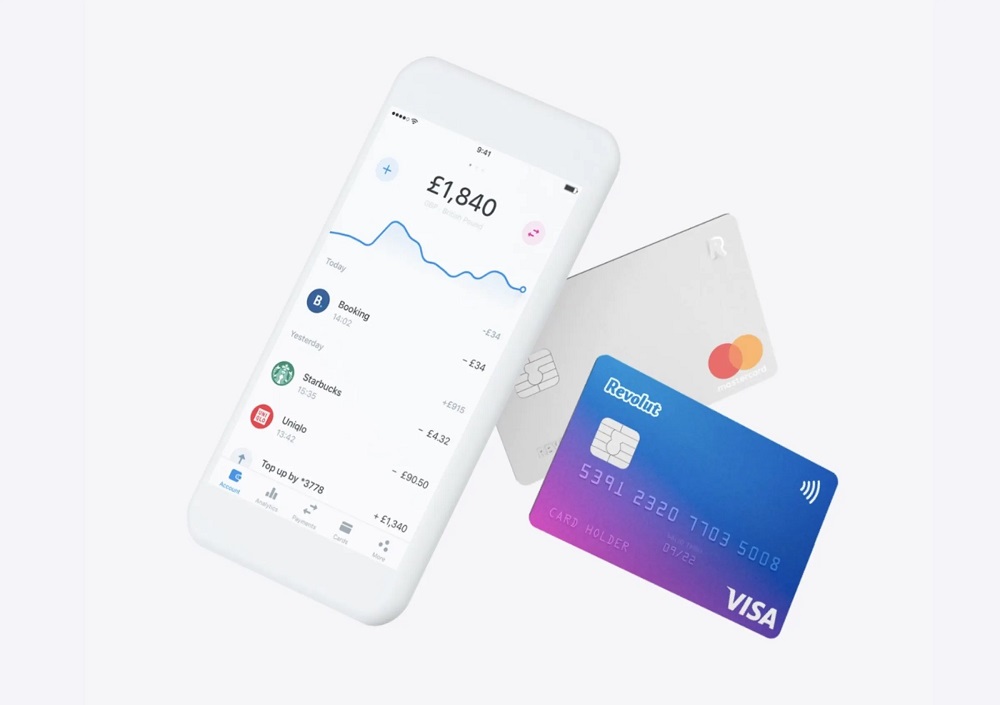 In addition to a virtual card that can be used for spending money immediately, there is a n opportunity to receive a Revolut debit card. There are different prepaid cards for every plan, so you can check all of them and choose the one suitable personally for you.
A physical card can be ordered directly from the Revolut app. There is the Cards tab where you can select Physical and apply for one. You should set your card's PIN, enter a delivery address and select a delivery method before paying for a card. The delivery time depends on the card type and usually takes around 9 working days. You can manage your card directly in the Revolut app too.
Pricing
There are 4 plans offered by Revolut:
Standard - free.
Plus - $2.99 a month.
Premium - $6.99 a month.
Metal - $12.99 a month.
Revolut supported currencies
The number of cryptocurrencies supported by Revolut has grown significantly and now this list includes over 30 crypto coins including Bitcoin, Litecoin, Bitcoin Cash and many others.
Rates
Revolut may charge you a small fee on deposits to cover the costs in certain cases. However, it does not apply fee to process or return a debit.
For international transfers in the local currency of the recipient country, users exceeding their allowance will be charged 0.3% of transfer value, with a minimum fee of £0.30 and a maximum fee of £5.
International transfers in currencies other than that of the local recipient country will be charged a flat fee of £3 when sending USD, GBP, EUR or CHF, or a flat fee of £5 for all other currencies.
Limits
For newly added cards there is a temporary deposit limit that allows adding a certain amount of money per 24 hours. Other than that, there aren't any specific limits for deposits.
There are also withdrawal limits on ATMs. Cash withdrawals are limited to £3,000 or currency equivalent per 24 hours. You can only withdraw £200, £200, £400, and £800 at no cost on the Standard, Plus, Premium and Metal plans respectively every month.
Exchange rates
Currency exchange transactions are not charged up to £1,000 per month anything above these allowances is charged 0.5%. Users with Premium and Metal accounts feature unlimited currency exchange free of fees.
Revolut charges a fee for cryptocurrency exchanges. This fee is 2.5% for Standard users (and 1.5% for Premium and Metal users).
The exchange rate for precious metals is 1.5% for Standard and Plus users (and 0.25% for Premium and Metal users).
Payments
Revolut does not charge you for transferring money within your foreign exchange allowance limit. If the amount exceeds, you will be charged 0.5% on that amount. Premium and Metal plan holders have unlimited foreign exchange allowance.
Spending with the Revolut multi-currency card in store or online is generally at no cost too.
How to withdraw money from Revolut
It is possible to withdraw cash from ATMs if you own a Revolut debit card as well as send money to the bank account to get them too.
Withdrawal fees
There are standard amounts for withdrawals in ATMs for every plan without any fees, but when you exceed them, get ready to pay 2% fair usage fee.
Revolut standard vs premium
The main difference between a standard and paid plans in Revolut is a range of features available for users. When you have a Standard plan, your range of possibilities is quite limited and you should pay a bigger number of fees too. Revolut Premium and Metal accounts give a wider range of functionality and prevent users from overpaying, though they have a monthly maintenance fee too.
Customer support
Revolut customer support is available 24/7 though not all reviews are absolutely positive about it. You can contact the representatives within the in-App chat and Premium and Metal users receive a priority service. Another way to get a recorded response is to call an automated phone-line +442033228352. If you are ready to find a solution to any problem yourself, there is an informative help center on the official website too.
Pros and cons
Revolut is a mobile financial app with lots of benefits. Let's have a closer look at the app advantages and consider what is not excellent there too.
Pros:
Worldwide acceptability;
Support for both fiat and cryptocurrencies;
Licensed and secure;
No hidden fees;
A variety of features;
Rewards and additional profits.
Cons:
Limited withdrawals without fees;
No chance to withdraw cryptocurrency;
Best features are not free;
Possible issues with customer support and automated anti-fraud system.
Is Revolut safe?
Security practices used by Revolut are rather convincing. The company has a fully-fledged risk management and anti-fraud team to prevent any security issues. Furthermore, the range of safety measures is really impressive. All the users pass through the verification procedure and protect their cards with PIN. All the online transactions require confirmation and personal details are protected with TSL encryption too.
The anti-fraud system notifies users when it detects any suspicious activity. There are single-use cards for safe online shopping, while Revolut security systems are constantly monitoring the web to inform a user if his/her personal details are compromised. It proves Revolut is a trustworthy app, and no wonder there are over 15 million people using it all around the globe.
F.A.Qs
Does Revolut have a crypto wallet?
No, it doesn't. Furthermore, users who buy cryptocurrency with the help of this app do not exactly own it and can earn only on trading it.
What cryptocurrencies does Revolu support?
It supports over 30 cryptocurrencies available for purchase and sale directly through the app.
Does Revolut support automatic crypto exchange?
Yes, it does. You can use Limit or Stop Orders to buy or sell at a specified price or better.
How to buy and sell cryptocurrency via Revolut?
There is a crypto section within the Revolut app. When you download an app, register an account, pass through the verification procedure, you can use all the features in the app including crypto trading.
Can you send cryptocurrency via Revolut?
Crypto withdrawals are currently only available to Metal customers in the UK and can be made in the 'Payments' tab in the app.
Summary
It is not surprising many clients call the app offered by the company a Revolut bank since the range of features it offers is offered only by the world's leading providers of financial services. It has a big number of benefits, though many crypto enthusiasts are disappointed with the inability to withdraw cryptocurrency and enjoy the possibility to pay with it anywhere in the world. Revolut is constantly developing and extends not only the number of countries it operates in but also the range of features offered, so people can expect new solutions from this mobile banking app in the future!