Since the invention of cryptocurrency developers have been looking for new innovative ways to incentivize the users to support the blockchain. One of the most popular ideas is masternode coins with Proof-of-Stake reward system. These coins are known for their profitability and can be a great source of passive income. Where can users stake and invest in masternode? The first way is to buy a virtual private server from a hosting provider and try to do it on your own. The second much more convernient way is to use an automated platform for staking.
Today we are going to review StakeOfStake - an innovative done-for-you staking service. This project is a part of SCRIV NETWORK ecosystem and offers to earn promising cryptocurrencies based on Proof-of-Stake technology in seconds. This article explains what StackofStake is, when it was created, and what problems it solves for crypto holders.
Table of Contents
StackofStake history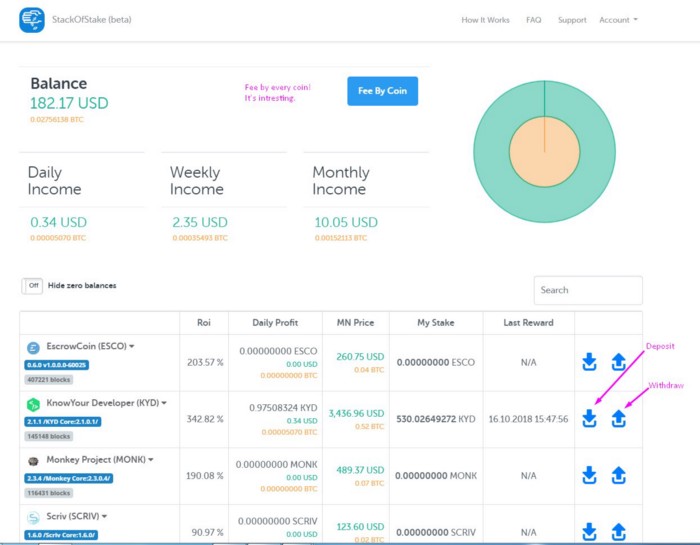 StackofStake is a product of the SCRIV NETWORK that was set afloat one month later after the release of this unique ecosystem. It was launched in March 2018 but it has already passed three important stages of its development.
The 1.0 version was launched with the goal to create the first fully automated staking platform and the first version was exclusively for SCRIV to prove the sustainability and demand for such service.
The 2.0 version has increased the number of supported cryptocurrencies significantly including any coins based on DASH and PIVX source code. The company was focusing on small crypto projects to catch the full attention of their communities and build a reputation in the crypto space with its product.
The latest StackofStake 3.0 version offers a fully reworked user interface and user experience. Currently, it has a lot of features including a staking pool, shared masternode pool, cryptocurrency exchanger, mobile apps, API, and more.
Problems StackofStake solves
StackofStake is one of several staking and masternode investment platforms operating nowadays, but its main benefits are being fully automated and support for 50+ cryptocurrencies. It allows earning passive income investing in different cryptocurrencies.
How does it work? A crypto holder should sign up to the platform using an email address or social media profile, make an investment, and get passive income for helping the project to maintain the stability and safety of cryptocurrency networks.
The amount of earnings depends on the coin, network difficulty, number of masternodes online, coin price, and other factors. The platform promises higher rewards for SCRIV holders.
Technologies used
StackofStake is based on the SCRIV network - an ever-growing ecosystem that offers many different tools for cryptocurrency enthusiasts. SCRIV is a cryptocurrency based on the Tribus mining algorithm and DASH codebase that can be also used for investment. In fact, StackofStake is only one of the tools offered by this ecosystem.
When it comes to the technologies used by the staking platform, it utilizes the Smart Balancing algorithm. According to it, all the coins are sent to the mutual pool and this algorithm maintains the highest revenue rate possible finding the best ratio (POS/MN/zPOS).
StakeOfStake features and products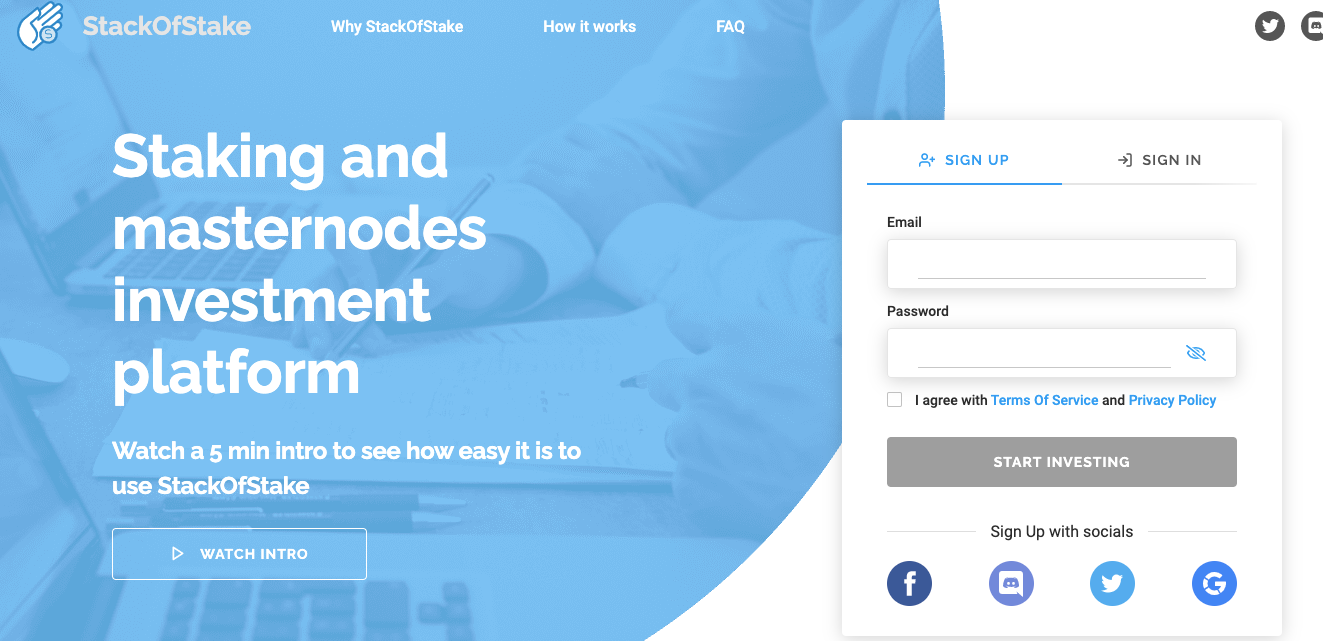 The range of features introduced in the 3.0 version of the platform is really extensive. The first and foremost StackofStake migrated to a new modern and clean look, but there are several important features that were added as well:
Instant exchange of altcoins to BTC and vice-versa without leaving the platform;
Portfolio builder is almost automatic and requires only a couple of clicks to be completed;
Premium subscription and loyalty program for SCRIV owners.
People who access the platform using a referral link will let its provider earn up to 15% of the platform fee as the reward for referring new users.
The platform has a number of features that make it outstanding: express trade completed in seconds, 360-degrees analysis tools, and correct project scores made by robots.
StackofStake offers a mobile app for Android 8.0+ and iOS 8.0+ users. The platform utilizes the most advanced security measures and protection techniques as well as offers to activate 2-factor authentication for better funds protection.
The crypto space is evolving very fast, and the company is trying to stay in the flow. Since early 2020 it has been validating Nebulas blockchain - that was its first involvement in dPOS network. Also, the company team is in contact with multiple stablecoin providers to potentially bring stablecoin staking to StackOfStake in the future.
Pricing
Both deposit and withdrawal fees are not applied by the platform with the exception of a small network fee. When it comes to rewards they range between 0 and 40%, but the majority of coins bring an 8% income.
Conclusion
StackofStake is a new popular staking and masternode investment platform that can be used for investment and getting passive income. It is constantly evolving and new features are introduced to the platform users to make the staking process more efficient and simpler. If you are interested in masternode investment, you can use StackofStake for personal use or take advantage of its API for corporate clients.