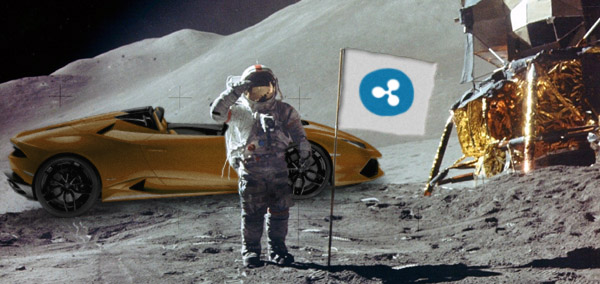 The search for the best XRP wallet for UK investors is one that you likely embark on when deciding to add the digital asset to your portfolio.
From an all-time high of $3.84 at the peak of the bull market in 2018, the price of XRP hovers over twenty cents in 2020. But, the catch is that no price action will deter the army of XRP holders, who continually search for the best solutions to store their digital assets while hoping that price will skyrocket someday.
If you're looking for a wallet to store XRP or searching for the best Ripple wallets with support of GBP, then you can rest assured that we got you covered in this article.
We answer questions about what new and prospective investors should consider before using or installing an XRP wallet. We also provided a thoroughly researched shortlist of the best XRP wallet for UK investors, and believe our review will make it easy for you to choose the one that suits your investment needs.
What Should You Look for in an XRP wallet?
The factors to consider when choosing a cryptocurrency wallet differs slightly, and would usually depend on your investment objects.
If you are transacting with your assets regularly, then it may probably be best to use a wallet that allows you to do so at any time and from any device. These are called hot wallets since they're connected mostly to the internet.
If your objective is to buy and store XRP to sell them some time in the future, then you need a cold storage solution. These wallets are typically offline and are considered the most secure for long term holders.
We recommend that you stay clear of online custodial wallets such as those offered by cryptocurrency exchanges. When you do, you're not in charge anymore.
These platforms are always susceptible to hacks, and it is best to only leave on them overnight, an amount you can afford to lose.
We'll now consider the best XRP wallet for UK investors, including those with support for British Pound (GBP).
Best Ripple Wallets For Storing Coins (Including XRP Wallets with a Support of GBP)
1. Ledger Nano X


Type: Hardware wallet
Launched: 2014
Ledger primarily offers two hardware wallet variants, the Ledger Nano S, and the Ledger Nano X device. Although both devices are highly secure for storing cryptocurrencies, we shortlisted the Nano X device as the best XRP wallet for UK users, since it offers a cooler user interface when compared to its counterpart.
The Ledger Nano X costs twice as much as the S version and uses Bluetooth technology to allow for safe connection to the Ledger Live app from which you can safely execute transactions.
Except for ARM processors, the Nano X is compatible with 64-bits desktop computers (Windows 8+, macOS 10.10+, Linux) and smartphones (Android 7+ and iOS 9+). Aside from XRP, you can natively store over 1250+ cryptocurrencies and tokens, without having to worry about losing them to hackers.
Pros
The use of Bluetooth technology means the Ledger Nano X is mobile. You only need a smartphone to manage your assets. Alternatively, you can connect it to your PC or Android smartphone using a cable.
The use of a certified secure chip means the Ledger Nano X offers the highest level of protection for cryptocurrencies, allowing your private keys to stay completely offline.
Compatible with all modern smartphones and devices.
Cons
Ledger's fiat-to-crypto partner, Coinify, does not support XRP purchases. Therefore, you must buy your XRP from a different channel, and send it to the Ledger Nano X for secure storage.
If you ever want to go into mining, the device is not compatible with receiving a lot of small transactions. Ledger warns that such funds could get stuck, and take too long to settle.
2. Trezor Model T

Type: Hardware wallet
Launched: 2018

The Trezor Model T is another high-security grade hardware wallet with support for XRP and over 1600 cryptocurrencies. The Model T is not to be confused with the lower variant, Trezor One, that surprisingly doesn't support Ripple coins.
Pros:
GBP support for XRP via Simplex and Changelly.
Trezor offers a more intuitive interface than Ledger devices.
It provides a fully secure cold storage solution.
3. Atomic Wallet


Type: Desktop and Mobile
Launched: 2018
Unlike Ledger, Atomic Wallet provides a desktop cryptocurrency wallet that has earned the trust of many users. The application supports over 300 different cryptocurrencies and is available on Windows, macOS, Linux, Ubuntu, Debian, and Fedora.
It is a suitable XRP wallet for UK users since Atomic Wallet supports Changelly as its fiat-to-crypto exchange partner. Changelly allows for GBP/XRP conversions, meaning you can buy your XRP on the desktop app, and securely store, send and receive transfers.
Atomic Wallet also offers a mobile app. But we do not recommend this, since it is a hot-wallet solution and thus not viable for the long term storage of XRP.
Pros
Secure storage of private keys in encrypted form on your desktop
It supports GBP-XRP purchases with bank cards.
The application supports 130+ cryptocurrencies, including XRP.
Cons
Higher fees (up to 7.1%) on crypto purchases when compared to other platforms and exchanges.
4. Bithomp


Type: Paper Wallet
The method of storing cryptocurrencies via a paper wallet is not as popular as the use of hardware or mobile devices. However, it is one of the best ways to secure XRP that you're not selling anytime soon.
Bithomp allows users to create paper wallets for XRP. After creating a wallet, you can buy XRP from a different platform and send to the address generated for your new paper wallet.
Pros:
A paper wallet is arguably the safest way to store crypto as long as you keep the paper away from fire and water.
Cons:
Susceptible to destruction by fire and complete loss, if the paper is stored in one location.
5. Coinomi


Type: Desktop and Mobile
Launched: 2014
Coinomi offers a non-custodial desktop and mobile wallet solution. The desktop version is compatible with Windows, macOS, and Linux, while the mobile variant is available for Android and iOS users.
Pros:
Easy to set-up and intuitive user-interface
Ideal XRP wallet for UK users with GBP support via Simplex
The application supports 125 blockchains and thousands of tokens.
Cons:
Being open-source means that any technical issues that arise with the app could take longer to fix than on custodial wallets and exchanges.
Tips on How to store XRP safely
Use wallet applications from known sources. We've included links to the recommended XRP wallets in this article for convenience.
Always double-check website addresses. The same applies to recipient addresses before hitting the "Send" button. Clipboard malware can replace addresses that you copy to your clipboard, and replace it with that of hackers.
Always backup your private keys securely and in multiple locations.
Conclusion
As we noted at the onset, cold storage solutions, especially Ledger, is the best wallet for cryptocurrency investors. If you're looking for hot storage solutions for day-to-day transactions, you can rest assured that any of the desktop or mobile applications covered in this article can suffice.
If you're living in the United Kingdom, the XRP wallet for UK users shortlisted above will allow you to store your assets securely. Hopefully, you'll get to sell them for a lot more in the future as Ripple continues to build out solutions that integrate the digital asset.