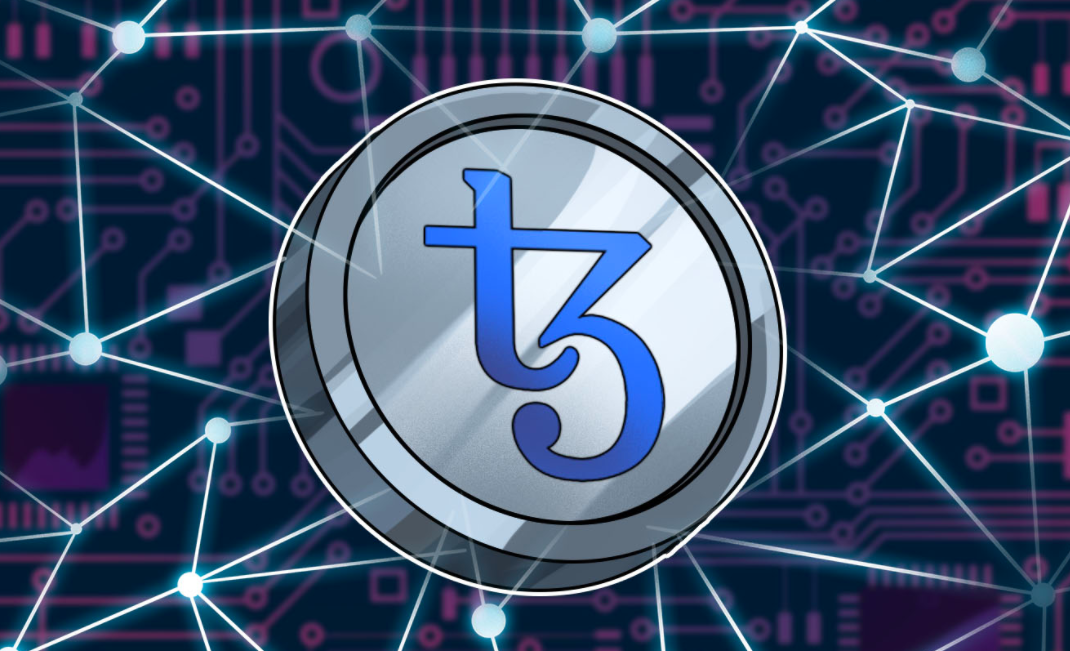 Is it possible to buy Tezos in the UK with a Pound sterling? Absolutely, there are various exchanges that have listed XTZ coin and some of them have multiple payment options for you to choose from: crypto, credit card, or a bank transfer like SEPA.
Table of Contents
How to buy Tezos (quick guide):
Create an XTZ private wallet and generate a new address.
Sign Up for an exchange like Binance.
Deposit your account with the preferred payment method (crypto or fiat). Click on "Funds" and select "Deposits".
Search for the pair you want to trade.
Select the preferred type of order and specify the amount to buy.
Place an XTZ order.
Transfer your new coins to your private wallet.
Tezos in a nutshell
How does Tezos differ from other popular cryptocurrencies like Bitcoin or Ethereum?
Tezos network has three unique features:
On-chain governance
Liquid Proof of Stake
Formal verification of smart contracts
Tezos network has its own token called a Tez or a Tezzie. Tezos (XTZ) is not based on mining. Instead, token holders receive a reward for taking part in the proof-of-stake consensus mechanism.
Tezos would allow anyone who owned its XTZ cryptocurrency to vote on possible changes to its rules, and once decided, the software would automatically update to ensure the changes were made.
By using this system, the project aimed to reduce the chances its blockchain might fork, creating two separate cryptocurrencies with two distinct prices.
The arrival of Tezos would alter blockchain taxonomy, effectively separating crypto assets into two camps, those with "off-chain governance" and those with "on-chain governance."
To make its system work, Tezos users were allowed to vote through a process called "baking," in which they agreed to lock XTZ they owned in special contracts (aka smart contracts). Users could either become bakers or delegate XTZ to other bakers to win newly minted XTZ from the protocol.
The co-founders, Arthur Breitman, and Kathleen Breitman have been developing Tezos since 2014 with a core group of developers. The company is headquartered in Switzerland. They raised a $232 million in an uncapped ICO in just 2 weeks, accepting contributions of both Bitcoin and Ether.
How does it work?
The Tezos blockchain uses a native-middleware called 'Network Shell." This allows them to develop a modular style with a self-amending ledger.
A generic blockchain protocol is divided into three layers:
Network Protocol: This is the gossip protocol that is responsible for peer listening and broadcasting between nodes.
Transaction Protocol: This is the transactional layer which defined the accounting model that is implemented by the blockchain.
Consensus Protocol: Pretty self-explanatory. This defines the consensus protocol that will help our blockchain reach agreements on the state of our transactions.
In Tezos, the last two protocols, Transaction and Consensus, are combined together to be referred to as Blockchain Protocol. The Network Shell aids in the communication between the network protocol and the blockchain protocol. The network shell is agnostic to the transaction protocol and the consensus protocol
Where to buy Tezos (XTZ) in the UK?
After you got a basic idea of this coin and the mechanism behind it, let's check where you can buy Tezos in the UK.
Binance
Trade XTZ for cryptocurrency
Step 1. Register an account on Binance
Account verification is not required if you are not going to trade more than 2 BTC a day.
Step 2. Deposit your funds
Assuming that you already have some BTC in your private wallet. For trading on Binance, you need to deposit those coins on Binance. Go to the wallet section and click "DEPOSIT".
Send Bitcoin to your deposit address. After the transaction is completed and confirmed on the blockchain, you can start trading.
Step 3. Trade Tezos
Go to the "Exchange" section and type in Tezos or XTZ to find the Tezos market.
Select your trading pair (e.g. XTZ/BTC)
Select the type of order (Limit, Market or Stop-Limit)
Enter the amount and the price (entering of the price not needed on market orders) you want to buy XTZ on Binance.
Click on "Place Buy Order" to execute your order.
Step 4. Transfer your new coins to your private wallet.
Buy XTZ with GBP
Step 1. Register your account on Binance
Step 2. Verify your account
You will have to verify your identity and address by providing a copy of your document in order to get access to fiat transactions.
Step 3. Deposit your Binance account
Using SEPA or Faster Payments you can deposit your account with GBP.
Step 4. Buy stablecoins
Unfortunately, it is not possible to buy Tezos with GBP directly. That's why you first need to purchase a stablecoin (USDT or BUSD) or BNB, a native Binance token.

Step 5. Place a buy order
Select your trading pair (e.g. XTZ/USDT)
Select the type of order (Limit, Market or Stop-Limit)
Enter the amount and the price (entering of the price not needed on market orders) you want to buy XTZ on Binance.
Click on "Place Buy Order" to execute your order.
Step 6. Transfer coins to your private wallet.
Once you purchased XTZ, don't forget to send the money to your private wallet.
CEX.IO
Buy Tezos with Credit Card
Step 1. Register your account on CEX.IO
Step 2. Set up your payment method
Add any kind of card to your account, both Visa and MasterCard are accepted.
Step 3. Place your order
Go to Products -> Instant Buy
Select your trading pair (e.g. buy XTZ for GBP) and enter the desired amount.
Confirm your order
Step 4. Transfer the coins to your private wallet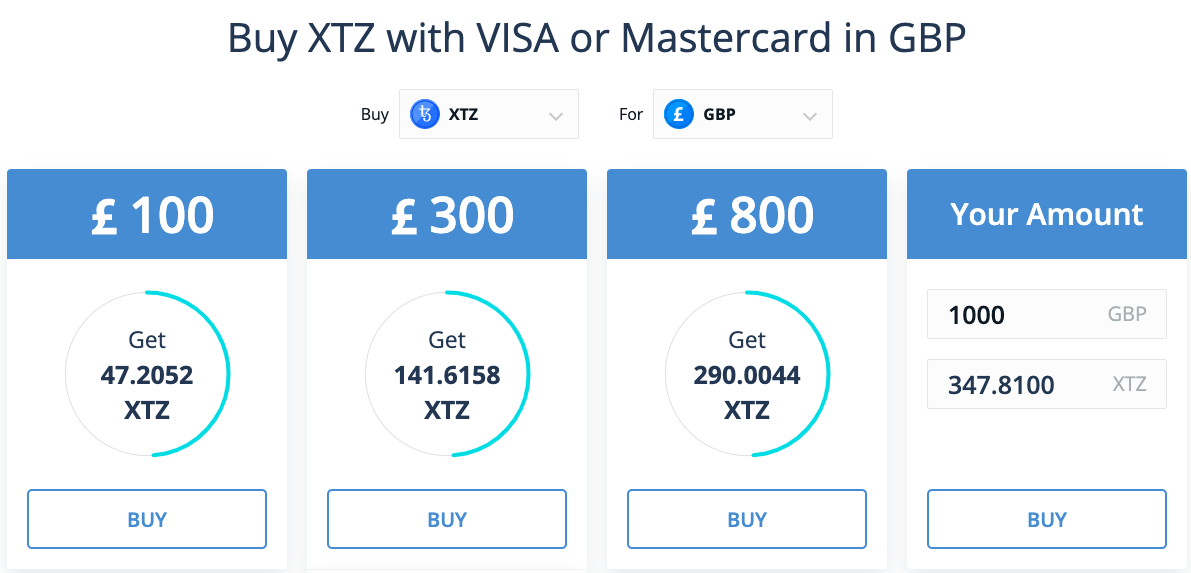 Kraken
Buy Tezos with a bank transfer
Step 1. Sign up for a Kraken account
Step 2. Verify your account
After providing your name, date of birth, country of residence, and phone number, you can buy XTZ with cryptocurrencies. In order to use fiat currency (i.e. GBP or EUR), you'll need to provide our experts with additional supporting documents verifying your identity.
Step 3. Fund your account
Sign in to your Kraken account and navigate to the Funding tab
Use the 'Search' bar and type your preferred currency, or tick "Show all assets". Then select the relevant "Deposit" option
Select your preferred Funding Provider from the drop-down menu.
Enter your bank information.
Step 4. Place your buy order
Once your account is funded with fiat, you're ready to purchase XTZ.
Where to store Tezos (XTZ)?
Tezos, as well as any other coin, should be stored in a private wallet for safety reasons.
Currently, there is no official Tezos wallet of the Tezos Foundation. However, there are other available options:
Hardware wallets look like USB devices and contain your private key securing them by a closed environment, not connected to the internet.
Here you find the current Tezos support of Ledger and Trezor.

Every private key can be printed out and you can store that at any point you want. So, a paper wallet is a printout of your private key. Make sure to store it safely.
Summary
Cryptocurrencies are complicated and volatile assets, and buying any digital coin or token comes with a high level of risk attached. Tezos is a controversial project but one that nonetheless has plenty of unique and interesting features.
And if you want to buy XTZ coin in the UK, you now know how to do it.