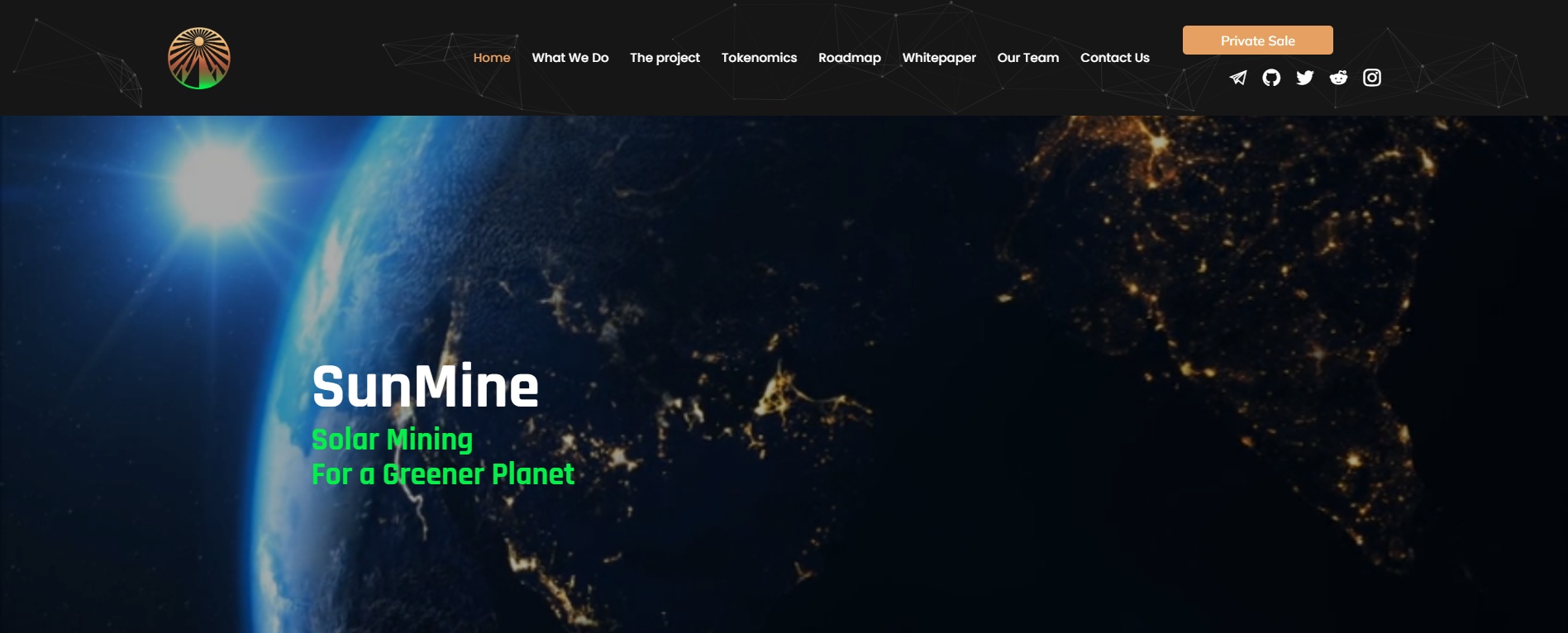 What's good in the hood, folks? I'll tell you what. Today my guest is — Jhonatan Pérez, CEO and developer of SUNMINE.

Chris: I like your website so much. A captivating video explains it all. But could you articulate once again for our readers: what is SunMine about?
Jhonatan: SUNMINE proposes an ecological way to mine cryptocurrencies through the use of solar panels. Our main goal is to build the first cryptocurrency-mining farm using 100% renewable energy. We will mine Litecoin and Dogecoin using Antiminer L7 machines. The mining profits will be used to buy and burn our token $SUMI increasing its value. Once the farm is consolidated, the mining profits will be distributed between the holders creating a passive income.

Chris: How is blockchain helping you to achieve your mission?
Jhonatan: SUNMINE uses the blockchain to create a transparent and efficient mining project. On the other hand, SUNMINE integrates green renewable energies into the blockchain. There is a link between the solar panels that will give energy to the project and the blockchain that allows us to go ahead with a clean and sustainable mining farm.

Chris: Great! And what is SUMI?
Jhonatan: $SUMI is SUNMINE token and its main goal is to become a passive income for holders. $SUMI supply is limited and fixed. We will implement a buyback system where mining profits will be used to buy and burn our tokens making $SUMI more valuable.
Once the mining farm is consolidated, the mining profits will be distributed proportionally between the top 10.000 holders combining the buyback with a holder's redistribution system.
SUMI limited supply, buyback system, and mining profits redistribution represent a strong combination to generate a mid long-term passive income for holders.
Chris: What are you current results in terms of SUMI sales?
Jhonatan: We started with SUNMINE more than a year ago and we didn't launch since market conditions. We just started our private presale through our website and three well-known launching platforms contacted us.
Chris: I see. What will be the investment distribution?
Jhonatan: The distribution will be divided into two main phases. We will first adapt the installations for mining purposes, purchase the first Antiminer L7, and rent clean energy from local suppliers. The second stage will include the first solar panels, increasing the number of mining machines, and adapting the mining performance on our website. All the phases can be found in our white paper where we explain costs, time, and performance.
Chris: Can you share who are your founders and how the core team came together?
Jhonatan: The core team is integrated by Johnathan Pérez(CEO and developer), Yolanda Lezama (CFO), and Carlos Mogollon (blockchain advisor). Then we have a multidisciplinary team from marketing expertise to social media.
Chris: What are your next key steps in accordance with the roadmap?
Jhonatan: We just finished our KYC with Norbit which provides the top KYC on the market using AI and assuring that the guy behind the project is the real owner/dev. We are working on SUNMINE audit too and it will be finished soon. We will go ahead with the private presale without any rush considering how uncertain is the market for the last semester. After that, we will decide which platform will choose for our launch.
Chris: Thank you for your time! Any last word?
Jhonatan: Over the last few years, there has been a lot of concern about the environmental pollution and global warming effects of crypto mining. SUNMINE integrates the blockchain with a clean and self-sustaining ecological ecosystem generating a great example of how the crypto path should move on.
We are crypto passionate and we want a green blockchain where technology and sustainability can walk the same path