Binance is one of the largest cryptocurrency exchanges in terms of daily users, coins listed, and trading volume. However, investors and traders seek out Binance alternatives for a number of valid reasons.
For one thing, Binance is unavailable to customers in the United States and the United Kingdom. Although Binance previously served US customers through its Binance.us platform, the exchange has since struggled for regulatory reasons. Similarly, Binance's UK operation ultimately met its end because of new regulations around advertising. Since then, Binance no longer accepts new UK customers.
Table of Contents
Aside from the above reason for seeking out Binance alternatives, here are some disadvantages that existing and prospective Binance users must consider.
Binance Disadvantages
Complicated User Interface: Our Binance review noted that the exchange platform is complex and difficult to navigate, especially for someone just getting started with cryptocurrency. First-time users might struggle to get through the otherwise simple process of buying crypto, while even experienced traders might find it difficult to locate some functionalities in the Binance interface.

Major Regulatory Issues: As previously explained, Binance has run into regulatory headwinds in multiple jurisdictions. Although the exchange has since tried to beef up its regulatory compliance efforts, it is not the most popular venue for investors seeking a highly-compliant trading platform. Put more simply, if you are a fan of playing by regulatory rules, then Binance may not be your best option.

Relatively Slow Customer Support: During periods of peak market activity, Binance's large user base means that the exchange struggles to keep up with user complaints. Customers may have to wait several hours to receive a response via LiveChat or email.
In view of some of the disadvantages considered so far, here are some Binance alternatives that customers could consider.
6 Alternatives to Binance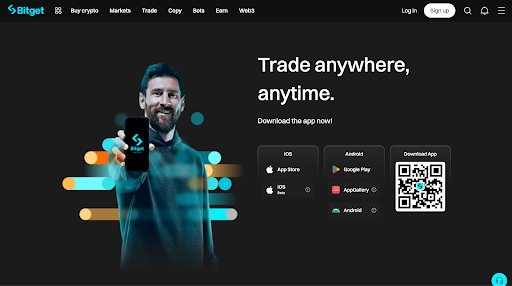 Launched in 2018, Bitget has built a strong reputation as a reliable cryptocurrency exchange. The platform boasts an estimated 20 million customers and handles around $10 billion in daily trading volume. Beyond basic trading options such as spot and futures trading, Bitget has gained popularity for its copy trading feature, which allows even newbies to make money from crypto.
Features
P2P trading
Instant buy and sell or convert
Spot, margin, futures, and copy trading
Cryptocurrency-backed loans
Cryptocurrency staking and yield-earning products
Transparent proof-of-reserve (PoR) audit and insurance fund.
Pros
Transparent fees
Responsive customer support
Deep liquidity across listed trading pairs.
Multiple fiat deposit and withdrawal options
Enables the use of comprehensive trading bots to maximize profits
Supports a wide range of popular crypto assets (550+ assets)
Cons
Bitget is primarily available on mobile (Android & iOS)
Payment Methods: Credit and Debit Cards, SEPA, Faster Payments, Google Pay, Apple Pay, and Cryptocurrencies.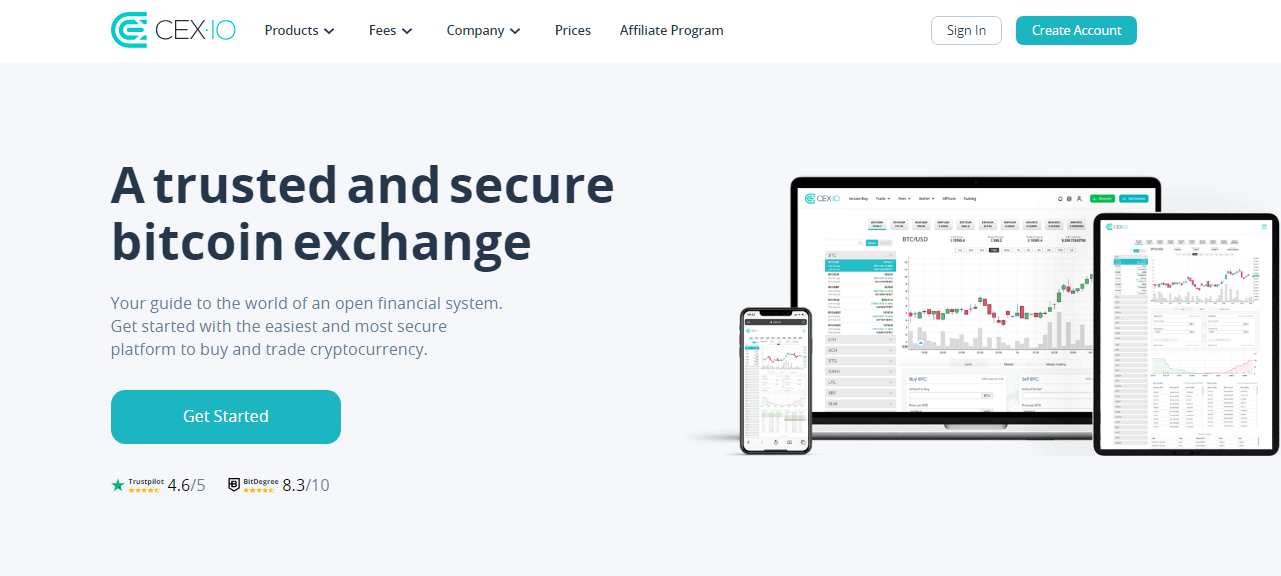 CEX.io is one of the industry's oldest crypto exchanges, having launched in 2013. The platform is officially registered in the UK and holds a money business license with the U.S. Financial Crime Enforcement Network (FinCEN).
CEX.io boasts over four million registered users and offers basic and advanced trading functionalities for cryptocurrency investors.
Features
Instant purchases with credit and debit cards.
Spot trading for supported coins with limit and market order types.
EUR, GBP, and USD fiat pairs.
Margin trading.
Staking for supported Proof-of-Stake (PoS) coins.
Crypto-backed loans.
Pros
CEX.io is a fully regulatory-compliant exchange operator.
The platform offers a minimalistic interface ideal for everyday investors.
The CEX.io mobile app is available on Android and iOS, allowing users to buy and sell crypto on the go.
CEX.io boasts fairly reliable customer service with quick response times.
Users can deposit fiat via a range of payment methods.
CEX.io uses advanced security features and has no history of security breaches.
Cons
CEX.io supports few cryptocurrencies and trading pairs compared to Binance.
The platform does not provide sophisticated tools for professional traders.
CEX.io fees are also slightly more expensive compared to competitors.
Payment Methods: Debit, Credit Cards, Bank Transfer (SWIFT, SEPA, ACH), Cryptocurrencies.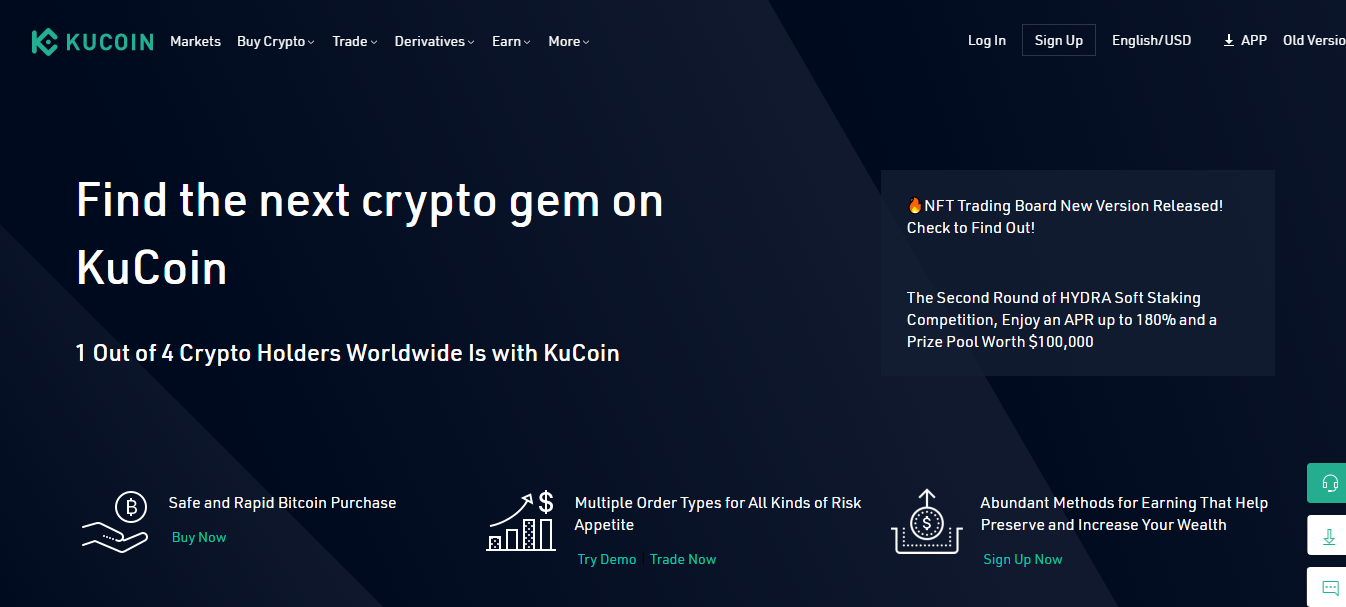 KuCoin brands itself as the "people's exchange," and launched in September 2017, a few months after Binance. The exchange is arguably the best Binance alternative for anyone looking for a platform offering similar features to Binance.
For instance, both platforms offer a native token to give traders access to lower fees (KCS and BNB, respectively). Additionally, they support both spot and derivatives crypto trading with sufficient liquidity.
Features
Instant purchase with Credit and Debit Card
Spot and derivatives trading.
Trading bots for automated trading.
Crypto Lending for Interest.
Staking for PoS coins.
Spotlight on investing in new crypto projects.
Peer-to-peer (P2P) exchange.
Pros
KuCoin offers nearly all the same features as Binance and thus is a great alternative.
KuCoin has a more responsive customer service team.
While not the easiest-to-use interface, KuCoin is easier to navigate.
KuCoin also offers a mobile app for on-the-go traders.
The identity verification process is easy to complete and is not mandatory for certain crypto deposits and withdrawal limits.
Kucoin offers tools for advanced and professional traders, including the use of trading bots.
Cons
KuCoin suffered a large-scale security breach in 2020, although the platform subsequently recovered 84% of the roughly $280 million stolen by hackers and covered user losses.
KuCoin does not support KYC for U.S. customers but lets them trade within the free account limits.
KuCoin is loosely regulated and registered in Seychelles.
Payment Methods: Debit and Credit Cards, Bank Transfer (SEPA), Cryptocurrencies.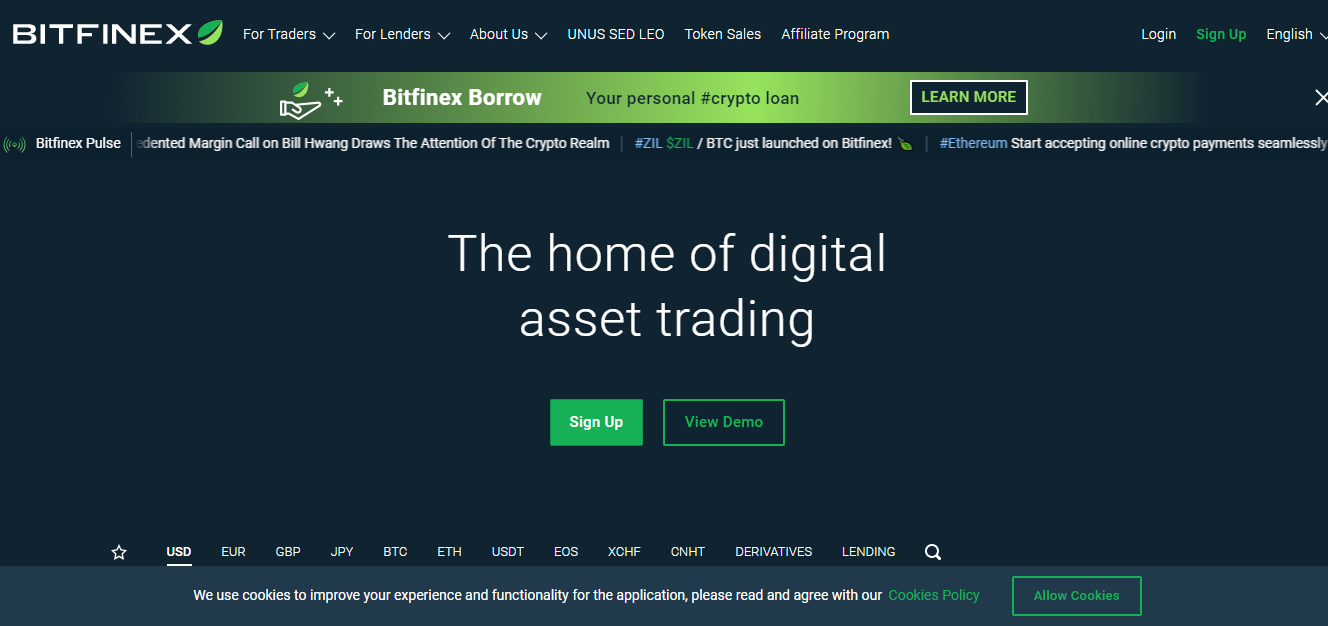 Since Binance caters to the needs of professional traders, Bitfinex is another great alternative to Binance. Bitfinex is based in Hong Kong and has been around since 2012. Despite starting as a peer-to-peer exchange, Bitfinex has grown into one of the world's largest spot and derivatives cryptocurrency exchanges by trading volume.
Features
Demo trading
Spot and Margin Trading
Advanced Order types.
Framework for event-driven automated trading.
Derivatives products.
Margin Funding to earn interest.
Staking for selected PoS Coins.
Crypto-backed loans
New token sales.
Bitcoin Lightning Network Integration
Pros
Bitfinex provides sophisticated tools for experienced and professional traders.
The demo trading feature is ideal for newbies to learn about crypto trading without putting money on the line. This feature is missing on most crypto trading platforms.
Bitfinex boasts unparalleled liquidity across its trading pairs.
The exchange is transparent regarding its user-friendly trading fees.
Bitfinex offers an intuitive mobile app (Android & iOS) with full portfolio management features.
Users can also expect a faster customer service experience.
Cons
Bitfinex is not ideal for regular investors who just want to buy and hold Bitcoin.
Bitfinex has a muddy history, having suffered a security breach way back in 2012.
Payment Methods: Credit cards (Visa, Mastercard, UnionPay), Bank Transfer, Cryptocurrencies.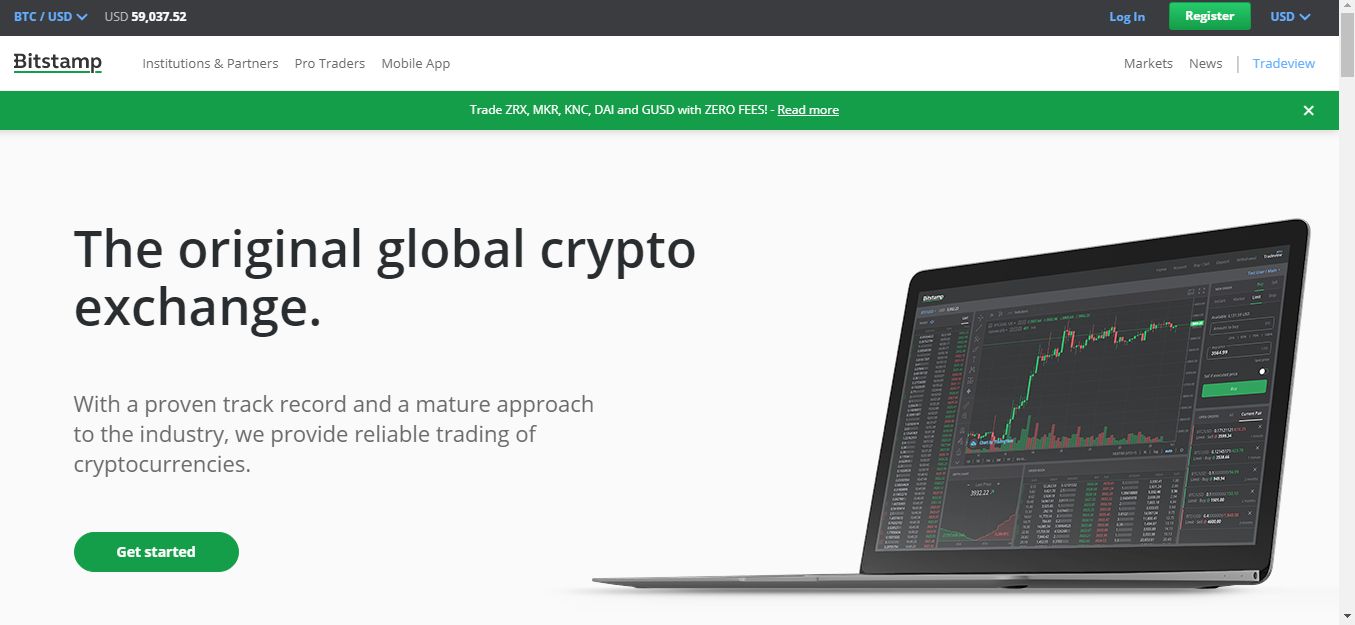 BitStamp is a London-based cryptocurrency exchange and has been around for a decade (launched in 2011). Bitstamp services both retail and institutional clients and offer a healthy selection of coins to trade and invest in.
BitStamp Pro, the professional trading arm of the exchange, is a great Binance alternative. The platform provides a feature-packed trading interface and highly liquid order books.
Features
Instant Buy with credit and debit cards.
Professional trading interface.
EUR, GBP, and USD fiat pairs.
Nasdaq-grade matching engine.
Bitcoin Lightning Network integration.
Pros
Bitstamp is fully regulatory compliant and reliable.
Its high-grade liquidity makes it the go-to-platform for institutional investors.
The platform also features a minimalistic interface for everyday investors.
Bitstamp has a 24/7 customer service desk available on both phone and email. The exchange also offers dedicated account managers to high-profile clients.
The Bitstamp mobile app (available on Android and iOS) is highly intuitive and user-friendly.
Cons
User verification is compulsory to access the platform's features.
Only a handful of coins are available to investors.
Bitstamp suffered a $5 million hack in 2015, a breach later attributed to hackers phishing on employees.
Payment Methods: Credit and Debit Cards, Bank Transfer (SEPA, ACH, Faster Payments), Cryptocurrencies.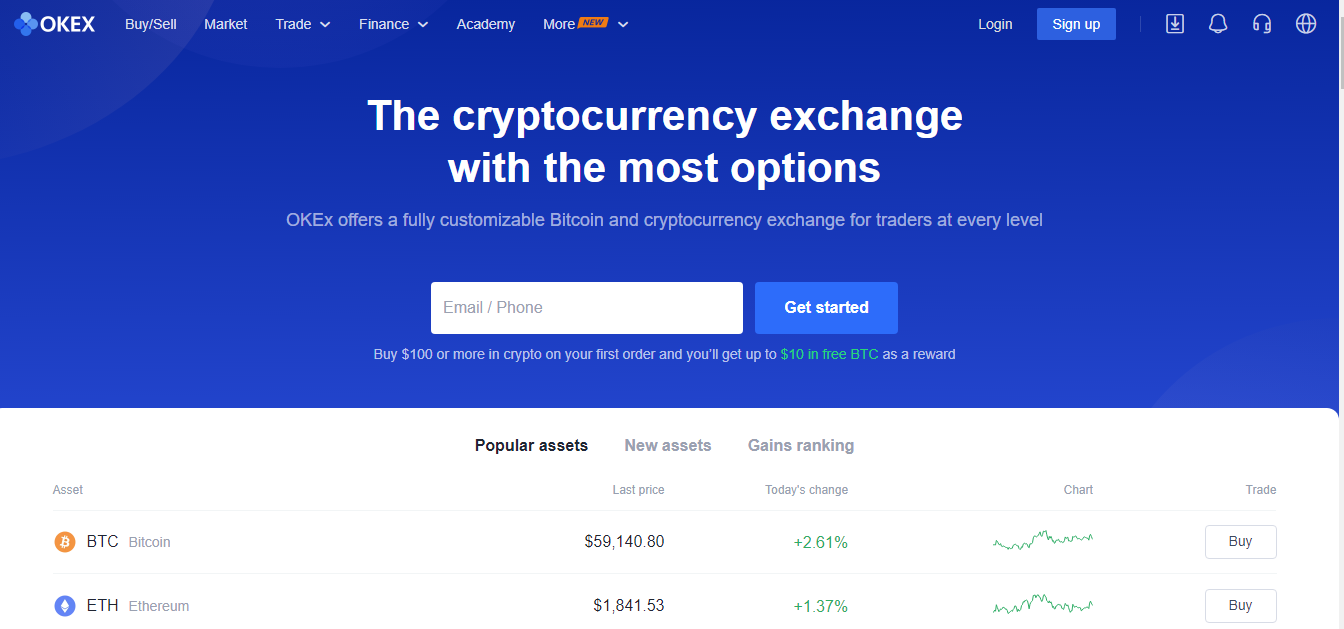 Headquartered in Malaysia and reportedly registered in Seychelles, OKEx is another great Binance alternative, offering similar features and services. OKEx prides itself on being used by "traders at every level," and rightly so.
Although not a picture book description of a retail cryptocurrency exchange, OKEx simplifies most of Binance's offerings and aims to meet the needs of all kinds of traders and investors. OKEx launched in 2014.
Features
Basic spot trading
Margin and derivatives trading
Crypto-backed loans.
Brokerage services.
Crypto Academy for new investors.
Exclusive new token sales.
P2P exchange
Cross-chain bridge to convert blockchain assets.
Pros
OKEx has been around for a long while and thus is relatively reliable.
The platform offers advanced trading tools and functionalities.
OKEx is an ideal alternative for traders looking for a simpler interface.
OKEx provides educational resources for new investors to get up to speed with crypto.
OKEx has a healthy coin selection, including the largest by market cap and some new projects.
Regular traders can count on the OKEx mobile app to trade on the go.
The exchange also boasts a faster customer service desk compared to Binance.
Cons
OKEx is loosely regulated and unavailable to U.S. persons
While OKEx hasn't been hacked, users have reported mysterious suffering account breaches in the past, resulting in loss of funds.
Payment Methods: Credit and Debit Cards, Cryptocurrency.
How we picked and tested
We made this list of sites like Binance in no particular order. Hence, readers should not assume that the ranking necessarily means that one exchange is better than the other. Instead, these are platforms that offer near-identical services and some better than Binance in some respect.
For picking and testing, we considered the following:
The number of years on the market: Four of the listed exchanges are older, with KuCoin the only one that launched within the same period. Bitstamp is the oldest on the list.
Trading functionalities: Since Binance primarily serves the needs of professional spot and derivatives traders, we handpicked exchanges that offer the same grade of functionalities and tools for trading crypto. Based on our selection, only Bitstamp does not offer derivatives trading of any sort, although the exchange has a professional trading suite.
Customer Service: Prompt customer service is one area where Binance occasionally lags. All the exchanges on this list boast faster response times to customer inquiries. Some even offer phone support, which isn't on Binance's feature list.
How to choose the best Binance alternative
Your choice of a replacement will depend on your needs as a trader. The suggested exchanges offer almost the same trading fees and functionalities. With that in mind, you may want to consider other options, such as:
Security history
Customer service
Regulatory standing
Number of listed assets
Ease of depositing and withdrawing fiat.
Bitget, Bitstamp, and CEX.io offer multiple fiat deposits and withdrawal gateways and largely comply with local and international regulations. However, they offer fewer coins and trading pairs compared to Binance.
Bitfinex, OKEx, and KuCoin are near Binance identicals in terms of the number of coins listed but are also loosely regulated. The trio also has a history of security breaches despite paying customers back in the aftermath.
Conclusion
Binance is a great cryptocurrency exchange and one of the most widely used in the industry. However, some disadvantages might push users to seek alternative platforms offering similar services.
This article listed the best Binance alternatives, revealing their features, pros, cons, and payment methods. We also disclosed how we picked and tested and what to consider when settling for one.
Hopefully, this guide helps you make the right choice of exchange to use alongside Binance or replace it.