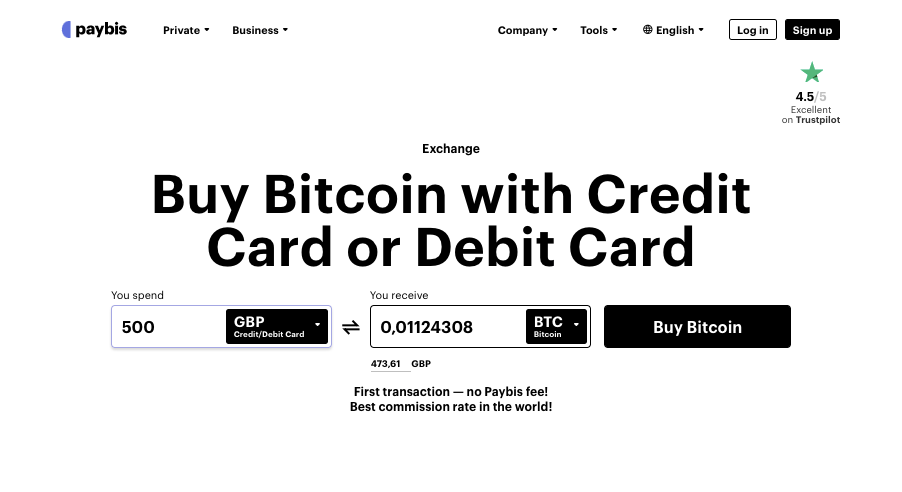 There are lots of platforms to buy and sell cryptocurrency nowadays, but can they be trusted? One of the most popular and highly-rated exchanges operating all over the globe is PayBis. This service has been in the crypto market for over 7 years already and can be used in over 180 countries. Do you want to learn why PayBis is worth the attention of crypto holders?
Look: this PayBis review focuses on many characteristics and features of this exchange. Learn more about this service from it.
Table of Contents
What is PayBis
PayBis is a crypto exchange that allows buying and selling cryptocurrency both to individuals and businesses. It was launched back in 2014 and is owned by Paybis LTD, a UK-based company with headquarters in Glasgow. Its main goal is to offer people a seamless trading experience when they buy or sell cryptocurrency online.
The annual volume of the exchange is around $250,000,000. It has a user-friendly interface designed in black and white colors. Millions of users prefer this exchange for purchasing cryptocurrency and there are many reasons for that.
PayBis features
PayBis exchanger has a number of features that make it a competitive player in the market of crypto trading services:
Strict security standards when it comes to data safety;
Lower fees with the possibility to get more crypto for less money;
24/7 customer support available in 9 languages and that is always online;
Quick and simple verification procedure that takes only a few clicks;
Support for 47 fiat currencies to pay with your native currency and avoid losing money of exchanging it;
Wide accessibility with few restricted countries.
Team
The boundless potential of cryptocurrency encouraged a team of enthusiasts to create a reliable and trusted exchange that is known as PayBis now. This exchange is owned and managed by Paybis LTD, a UK-based company, founded by Innokenty Isers in cooperation with Konstantin Vasilenko and Arturs Markevics. The founder of the platform is a lifetime entrepreneur with over 15 years of different online business experience. The co-founders of the platform are qualified experts with years of IT and crypto trading experience too. Currently, the PayBis team consists of 7 specialists including founders and co-founders. It is represented on popular social media platforms where everyone can learn more about each of them if interested.
Licenses
PayBis is one of the not many exchanges with the global coverage of over 180 countries and 48 US states. It is licensed by the FinCEN Department of the Treasury, the United States of America that confirms its eligibility and legitimacy. It is compliant with the UK, US, and EU laws that make it a number-one service for millions of traders too.


Paybis services
Since PayBis is a crypto exchange, the range of services seems predictable for experienced traders. However, the company can surprise you by the division of services into private and business ones. A traditional exchange is meant for private use, while businesses can opt for liquidity services.
Exchange
The exchange is available on the landing page of the official PayBis website. Users are offered to buy or sell cryptocurrency spending only several minutes. It is necessary to provide a minimum of data to complete the transaction. Only registered and verified users can use the services of an exchange.
PayBis is a non-custodial exchange that does not store any cryptocurrency you buy, so traders should have a wallet prior to exchanging coins there. It means that purchased coins can't be hacked or stolen from an exchange that is a guarantee of the high-security level too.
Liquidity services
It is possible to buy or sell cryptocurrency for Fintech business on PayBis too. The platform provides liquidity for:
Banks
FinTech
Payment Processors
E-money Companies
Affiliate Programs
OTC desks
Gaming industry
Trading Platforms
Being an AML and KYC compliant service, PayBis offers a convenient API service for businesses. It is a reliable platform that guarantees a fast KYC onboarding time and order fulfillment time that is under 3 minutes. Other benefits of the company for businesses are 24/7 customer support and a possibility to use up to 9 cryptocurrencies for making payments. All this has become possible due to a partnership with Simplex, a global leading fintech company that provides the fiat infrastructure for the cryptocurrency industry.
Packages
The exchange also offers a unique service of getting more profitable deals if purchase cryptocurrency in packages. A person who is ready to pay an exact amount of money will get more than he could receive on other exchanges. Currently, there are 4 packages that offer to buy Bitcoin at better rates:
Pay 1,000 USD - Get 0.0164 BTC.
Pay 5,000 USD - Get 0.0824 BTC.
Pay 10,000 USD - Get 0.1650 BTC.
Pay 20,000 USD - Get 0.3311 BTC.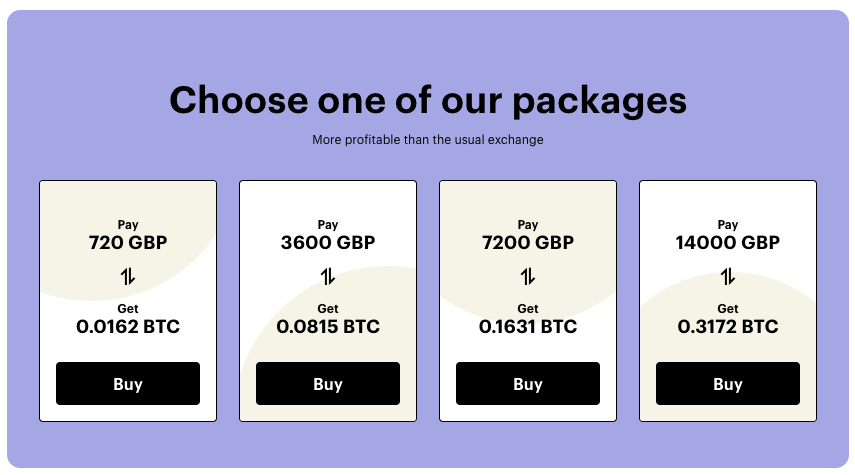 Calculators
If you check the upper menu of the website and find the Tools category, you will see a calculator there. It allows learning the price of any cryptocurrency available on PayBis and its exact amount on all popular exchanges as well as select one of the most popular ones including Kraken, Binance, and BItfinex. It is worth noting that this price does not include PayBis fees and you can proceed with the transaction if you press the Buy coin button below.
There is even a table below the calculator with popular amounts, pairs, other currencies, and recent conversions for quick access too.
How does it work
Everyone who wants to trade cryptocurrency on PayBis should understand that it is possible only if you are registered on the platform, verified, and are located in the country that is not added to the restricted ones listed in Terms and Conditions. The procedure of buying and selling coins is simple and quick, so keep on reading to find out all the requirements and stages to complete.
Registration
The sign-up procedure on PayBis is traditional. You can join the exchange by pressing the Sign-up button located in the upper right corner of the page or enter all the transaction details first and only then pass through the registration procedure.
It is possible to become a PayBis member in three ways: join and log in with a Facebook account, Google account or enter the email, password, and agree with Terms and Conditions and Privacy Policy.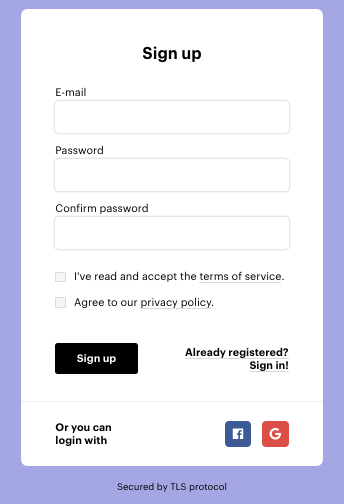 Now when you have signed up and logged into the account, it is time to pass through the verification procedure. The exchange asks to provide some of the following documents:
Identity Verification: International Passport, Identity Card, Driving License, and Selfie with Identity Document.
Address Verification: Bank Statement, not older than 3 months (both paper or electronic versions are allowed).
Additional Verification Documents: Selfie with Credit Card (only when you make payment with your Debit/Credit Cards), photo with a printed or handwritten declaration (in specific cases, for high amounts).
The verification process is usually conducted within 15 minutes, but in some cases, it can take up to 24 hours.
Restricted countries
The exchange welcomes users from over 180 countries, but there are states where PayBis services are not available at the moment. The platform does not offer services to the residents of the following countries: Abkhazia, Afghanistan, Albania, Barbados, Botswana, Burkina Faso, Cambodia, Cayman Islands, Crimea, Cuba, Ghana, Hawaii (state of the US), Iran, Iraq, Jamaica, Mauritius, Morocco, Myanmar, New York (state of the US), Nicaragua, North Korea, Northern Cyprus, Pakistan, Palestine, Panama, Sahrawi Arab Democratic Republic, Senegal, Somalia, South Ossetia, South Sudan, Sudan, Syria, Uganda, Vanuatu, Yemen, Zimbabwe.
Languages
Not only the website of the PayBis exchange but also the customer support is available in 9 languages including English, Russian, Spanish, Italian, French, German, Portuguese, Korean, and Arabic.
Supported currencies and coins
PayBis supports 47 fiat currencies including USD, GBP, EUR, and 9 cryptocurrencies such as Bitcoin (BTC), Binance Coin (BNB), Bitcoin Cash (BCH), Ethereum (ETH), Litecoin (LTC), Tether (USDT), Ripple (XRP), Stellar Lumens (XLM), and Tron (TRX).
Deposits and withdrawals
The range of banking options available on PayBis is enough to select a suitable option. Traders can select from the following payment methods:
Credit and debit cards;
Skrill;
Neteller;
Bank wire transfer.
Crypto holders can also pay with Bitcoin to purchase other assets.
The whole purchasing process does not take much time. The first transaction usually takes around 15 minutes while all consequent transactions take only 5 minutes on average.
How to buy crypto
You should complete the following steps to buy crypto:
Register, verify, and log into your account.
Open the Exchange page.
Enter the amount you want to spend.
Choose the banking option and currency from the list.
Select the cryptocurrency you want to buy.
Submit the application by pressing the Buy Bitcoin button.
Fill in all essential information into the boxes marked with *.
Read and agree with Terms & Conditions and press the Continue button.
Complete the payment using details provided in the order description which you can find in your Dashboard section.
Please wait while an operator checks your payment.
Check the real-time status of your order over Dashboard.
When a user enters the amount to give, he can see the exact amount of cryptocurrency he will receive calculated automatically. Furthermore, there are details about all the commissions included under the boxes too.
How to sell coins
The only cryptocurrency available for sale on PayBis is Bitcoin. You can withdraw coins via Skrill, Neteller, or SEPA bank wire transfer in USD or EUR as well as exchange it for other assets. the procedure looks similar to a purchase:
Register, verify, and log into your account.
Open the Exchange page or press the Sell Bitcoin button at the bottom menu.
Enter the amount you want to spend in BTC.
Choose the banking option and currency to receive from the list.
Submit the application by pressing the Sell Bitcoin button.
Fill in all essential information into the boxes marked with *.
Read and agree with Terms & Conditions and press the Continue button.
Complete the payment using details provided in the order description which you can find in your Dashboard section.
Please wait while an operator checks your payment.
Check the real-time status of your order over Dashboard.
Limits and liquidity
There are limits for crypto purchases on PayBis. The maximum limit for purchases made by credit and debit cardholders is USD 20,000/50,000 per week or month. Paying with Bank Transfers in EUR, the amount can reach EUR 200,000 per week or its equivalent in other currencies.
Fees
The main benefit of PayBis for new users is no fees on the first transaction. Furthermore, the exchange offers quite affordable fees on all consequent transactions too. The fee depends on the payment method used for crypto purchases. If you pay with Skrill or Neteller, it will charge a 2.95% fee on your transaction. PayBis fee on bank wire transfers and credit/debit card purchases is 3.99%.
Affiliate program
The platform offers participation in a crypto affiliate program. You can sign up for this referral program and earn 20% of the platform's commission on all purchases made by your referrals. You can withdraw your earnings via monthly payouts through Bitcoin and bank transfers.
If you join the program, you will get access to your personal affiliate link and use it for the promotion of PayBis services. The minimum payout amount for all participants is $50.
Customer support
If you have any questions or face any issues on the exchange, there is a sense to contact PayBis customer support. It is available in all 9 languages and can be accessed round the clock.
There are several ways to contact its representatives:
Email address: send your queries at

[email protected]

;
Live chat features;
Support portal (you can find a link to it in the Contacts).
There are also separate addresses of PayBis representatives devoted to special queries including:
You can also find PayBis official accounts on popular social media websites including Youtube and Twitter.
Pros&cons
Like many other crypto exchanges PayBis has its strengths and weaknesses:
Pros:
Worldwide availability;
Security due to KYC and AML compliance;
24/7 multilingual customer support;
5-star rating on Trustpilot;
User-friendly website interface:
Fast verification procedure and transactions;
Services both for private users and businesses.
Cons:
Support for only 10 crypto coins;
Higher fees on credit/debit card purchases;
Restricted countries and US states.
Is Paybis safe?
When it comes to security measures, you can trust PayBis without any doubts. The service has been offering exchange services for over 7 years and has an excellent rating on Trustpilot based on over 10,000 reviews. The company has received a license from the US authorized body and is eligible to process financial transactions in lots of countries.
Another reason to believe that PayBis is a reliable exchange is its compliance with Anti-Money Laundering (AML) and Know Your Customer (KYC) Policies. Only verified users are allowed to buy and sell cryptocurrency on the platform. The exchange features clear fees and has a simple and intuitively friendly website interface. Users can follow their transactions online on a Dashboard and be confident their funds will not be hacked since this exchange is a non-custodial one.
F.A.Q
What is PayBis?
PayBis is a non-custodial crypto exchange that allows buying and selling cryptocurrency in a fast and easy manner.
What deposit and withdrawal methods does PayBis support?
There are several ways to process money and make purchases on the exchange: credit and debit cards, Neteller, Skrill, and bank wire transfer. You can purchase assets for Bitcoin too.
How long does it take to buy cryptocurrency on PayBis?
It usually takes only 5 minutes to complete the transaction on the exchange. However, the first transaction may last for around 15 minutes.
Is there a wallet to keep coins on PayBis?
No, there isn't. You should have a wallet prior to using the exchange since it does not support asset storage.
What currencies does PayBis support?
The platform allows trading 10 cryptocurrencies for 47 fiat currencies.
Summary
If you plan to buy popular cryptocurrencies or sell some Bitcoin, PayBis a great platform to do that. It takes quite low fees and is famous for its reliability in the crypto world. However, the PayBis crypto-list is quite limited, so you may need to look for another exchange if you need to get a wider range of assets.