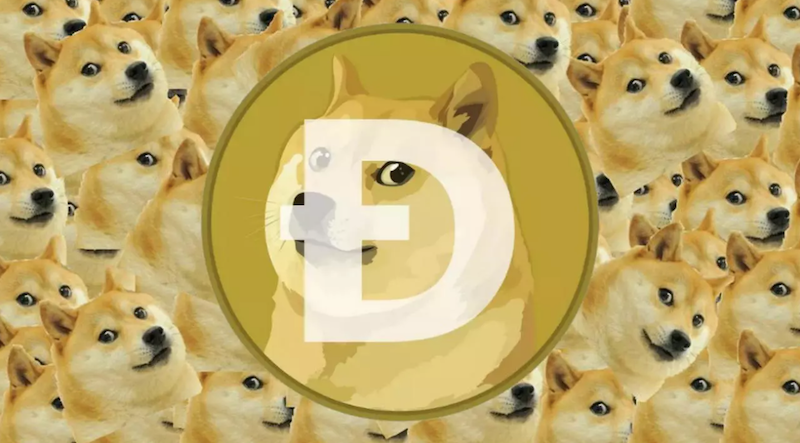 Recent events triggered an increase in the number of people looking for how to buy Dogecoin in the UK to avoid missing out on possible future gains.
However, DOGE is not widely available on exchanges and broker platforms, and some who support it do not have an instant purchase option as they do for Bitcoin (BTC) and Ether (ETH). If you're facing difficulty finding where to buy dogecoin with British Pounds (GBP) or do not know how to go about it, then you're in the right place.
This article reveals exchanges and brokers where you can buy the meme-based cryptocurrency with GBP and show you how to purchase it using the supported payment methods on the platform.
A quick guide on buying Dogecoin in the UK buy instantly with GBP on Binance
Register on Binance.com and complete their user verification process.
Go to the Buy Crypto tab on the top-left of the website.
Change the to Pay With Currency to GBP
Select the pay with Debit card option.
Select DOGE as the coin to buy on the next screen.
Click Buy DOGE and review the order details.
Complete the payment.
You can view the purchased DOGE by going to Wallet > Fiat and Spot from the top-right menu.
How to buy Dogecoin (DOGE) with GBP
Binance – Best Place to Buy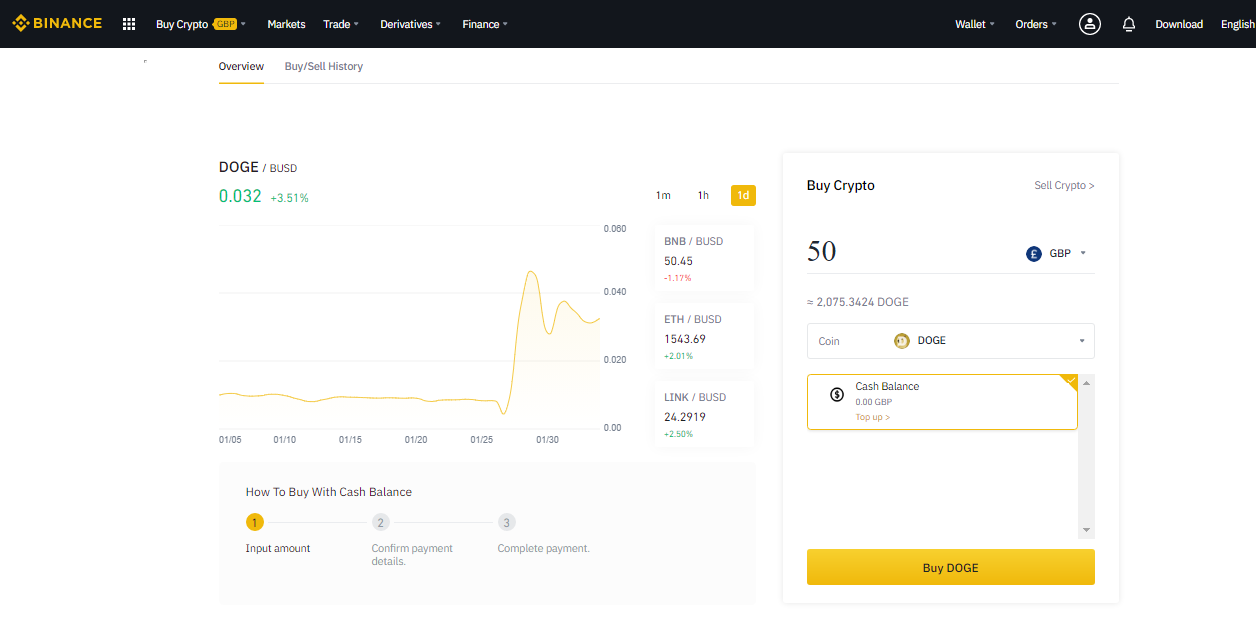 Binance is one of the world's largest cryptocurrency exchanges by trading volume. They listed DOGE in 2019 and offer other payment methods other than the credit/debit card feature we covered earlier.
How to do it:
Create a Binance.com account and verify your identity.
Open the Buy Crypto tab on the top-left.
Select GBP as the currency to pay with.
Choose the Bank Deposit option.
Select Faster Payments on the next screen and enter the amount to deposit.
Complete the payment by making a payment to the provided Binance bank account using the provided Reference Code.
If successful, Binance will add the GBP amount to your account.
Go back to the Buy Crypto tab and choose to pay with Cash Balance.
Choose DOGE as the coin to buy, fill in the amount and complete the purchase.
Supported Payment Options: Credit/Debit card, Faster Payments.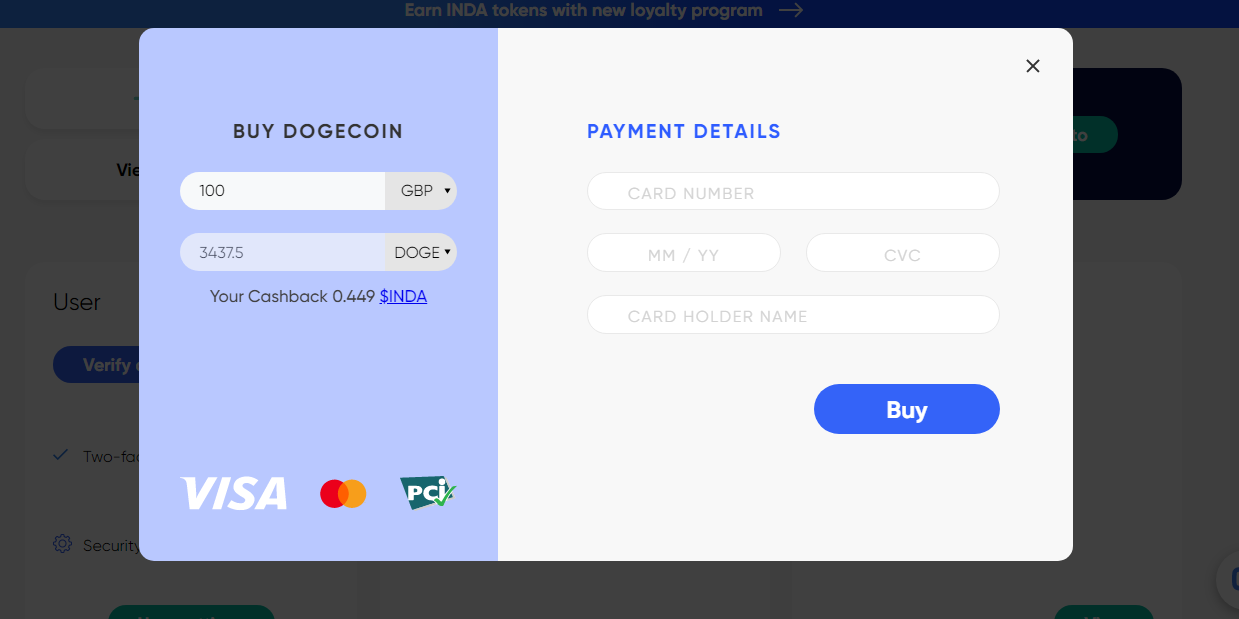 Indacoin is both a cryptocurrency broker and exchange service. This means you can buy crypto from Indacoin and receive it at an address you hold outside the platform. You can also choose to buy DOGE with a card and hold it on your Indacoin account.
How to do it:
Create an account on Indacoin.com and verify your email address.
Enter your nickname and set a password.
On the dashboard, click Verify account and complete.
Go to the +Buy button on your dashboard.
Select GBP as your currency and DOGE as the coin to buy.
Enter your card details in the spaces provided.
Click Buy.
Supported Payment Options: Credit/Debit cards (Visa, Mastercard).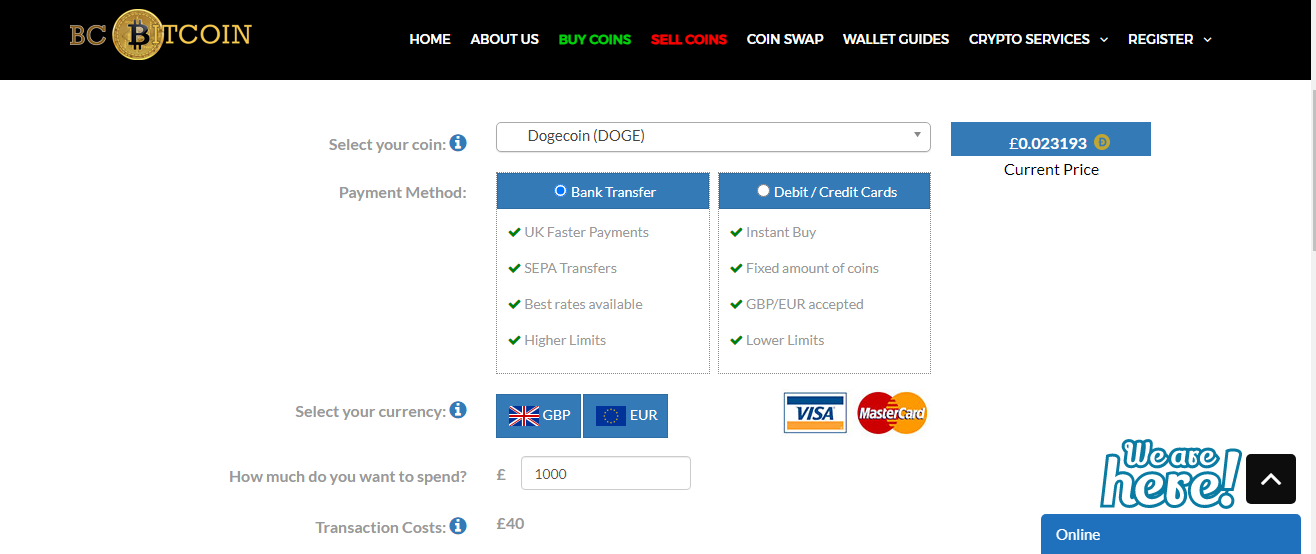 BC Bitcoin is a UK-based cryptocurrency broker. They support the buying and selling of DOGE for GBP and also provide a simple interface for doing so.
Note, though, that you need a custodial DOGE wallet to receive the purchased coins. You can create a doge coin wallet by installing a mobile wallet such as Coinbase Wallet or Trust Wallet. Select DOGE as one of the coins when setting the wallet up. You can then copy your DOGE receiving address and proceed to BC Bitcoin.
How to do it:
Create a BC Bitcoin account and complete the user verification process.
Go to the Buy Coins page.
Select DOGE as the coin to buy and GBP as your currency.
Choose Credit/Debit cards as your preferred option (you can also use Bank Transfer via Faster payment).
Enter the amount to spend and review the associated fees.
Insert your Dogecoin address and click Next Step.
Review the order details and complete your payment.
BC Bitcoin will send the purchased DOGE to your address once they confirm your payment.
Supported Payment Options: UK Faster Payments, SEPA Transfer, Credit/Debit cards.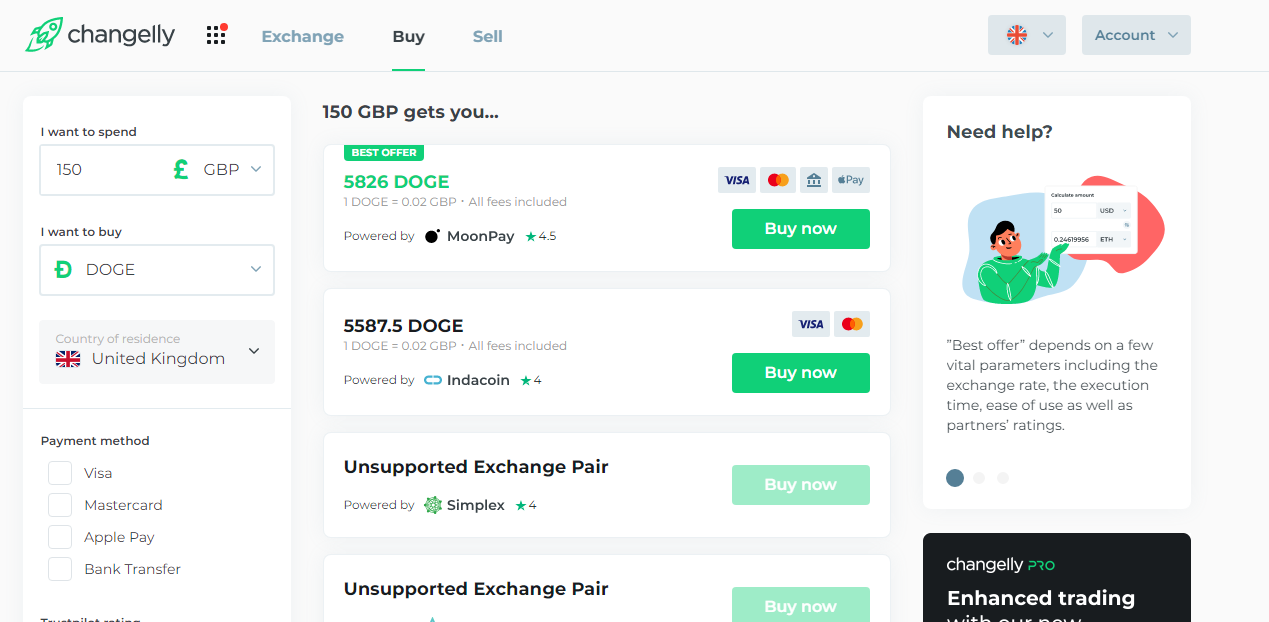 Changelly is a cryptocurrency broker aggregator. They provide users with offers for any crypto pair they wish to trade and then list the best offers from brokers or exchanges that support the asset. You can also buy DOGE with GBP using this channel, although there is no option to pay with PayPal.
How to do it:
Go to Changelly.com and create an account.
Click the Buy button from your account dashboard.
Select GBP as your payment currency and DOGE as the coin to buy.
Choose the United Kingdom as your country of residence.
Enter the amount you wish to spend.
Choose your preferred payment method.
Click Buy Now for the best offer.
Provide your Dogecoin address and click go to Payment.
Create an account on the partner site and complete the verification process.
Enter your card details and complete the transaction.
If you choose the Bank Transfer option, then complete the bank deposit.
You will receive the purchased Dogecoins within 30 minutes after the payment confirmation.
Supported Payment Methods: Bank Transfer, Credit/Debit cards (Visa, Mastercard).
How to buy DOGE with other cryptos short step-by-step guide
If you already hold another cryptocurrency, it is a lot easier to convert it to DOGE using any of the exchanges or brokers listed above. However, we'll use Binance for this guide because of the platform's simplicity for crypto-to-crypto conversions.
Also, since you're only going to convert another crypto to Dogecoin, you will not need to complete the user verification process.
Binance supports DOGE pairs against BTC and USDT,
How to do it:
Register on Binance.com and verify your email address.
Go to Wallet>Fiat and Spot.
Find the deposit option on the coin you wish to deposit, USDT.
Copy your deposit address and transfer funds from your external USDT wallet to the provided USDT address.
Once Binance confirms the deposit, it will appear in your Fiat and Spot wallet.
Go to Trade on the website's top-right tab and choose Convert.
Select USDT as the coin to convert to DOGE.
Click Preview Conversion and complete the process.
Go back to Wallet>Fiat and Spot to view the purchased DOGE.
Things to consider before buying Dogecoin
As we noted at the onset, recent events such as a massive price increase could attract new investors to Dogecoin. However, such 'pumps' should not be the primary reason you jump on to the doge train.
Here are other things you must consider before putting your money into the cryptocurrency.
History: Many DOGE holders today do not know the cryptocurrency's origin. Dogecoin was founded in 2013 as a joke by Australian Jackson Palmer and Billy Markus, an IBM software developer.

They were criticizing the abundance of 'scammy' coins coming up in those days and joked that there might as well be a "doge" coin based on popular dog memes that were rampant in 2013.

Like the infinite number of coins that have emerged since then, Dogecoin also has an endless supply that currently stands at 128,220,052,199 DOGE at the time of writing. There is no real use case for the coin aside from being online payments.

Also, there are rarely developers working on the project currently. Jackson Palmer left in 2015.

Community-Led Pumps: Dogecoin has a loyal community that explains why the project has survived since 2013. The price of Dogecoin has also surged as the community gathered more followers, although the growth typically comes after community-led pumps.

DOGE historical chart

Between pumps, the price of DOGE trades relatively flat and often for a long time. Therefore, if you're going to invest in Dogecoin, it would be best to avoid buying it when the price is in an uptrend.

Doge's Future: Given the little to no developer work on the Dogecoin network, it is almost certain that the project will eventually die.

In an interview in 2017, co-founder Jackson Palmer said that the lack of active development means that Dogecoin "will become outdated. And with that, the network will organically wind down."

Most native-dogecoin wallets are already suffering from this lack of active development, and users report poor experiences while using them. In the end, no one can guarantee for how long until Dogecoin gets active developers or 'wind down.'
Where to store DOGE
If you do decide to buy DOGE because of the short-term gains it could bring, then you store it using any of the following wallets:
Privacy and security tips
Here are some privacy and security tips that DOGE investors should keep in mind:
Malware on your computer or mobile could replace the address on your clipboard with that of hackers. Therefore, double-check addresses before initiating send transactions.
Buying DOGE with BTC or USDT on Binance is probably the most anonymous way to acquire the cryptocurrency without giving out your personal information.
Since most native-Doge wallets lack active developers, we recommend using new edge mobile wallets such as Trust Wallet or Coinomi to store your coins.
When using an exchange, set a strong and unique password and also enable other security features.
Conclusion
Prospective investors can buy Dogecoin in the UK using the exchanges and brokers recommend in this article but must proceed cautiously.
Although no one can guarantee the Dogecoin network's continued existence, the loyal community behind the project means it could last at least a bit longer and possibly yield more returns for investors.