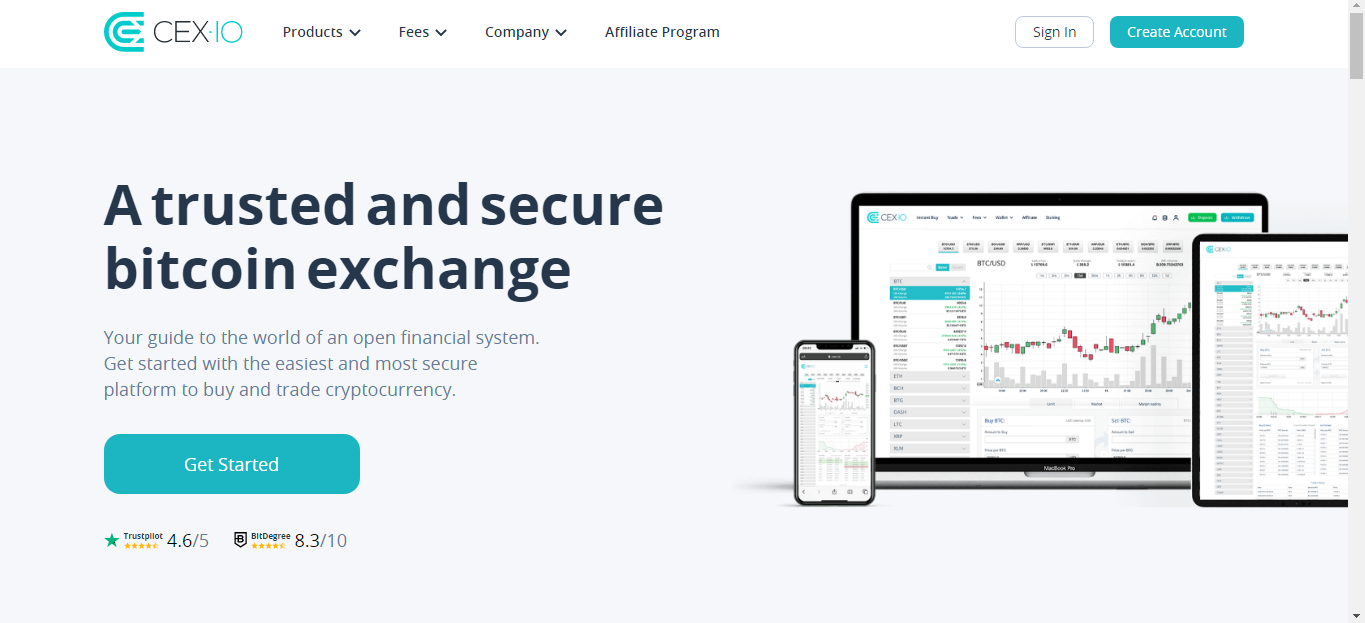 CEX.io is one of the best cryptocurrency exchanges in the United Kingdom, as we covered in our comprehensive review of the platform. However, there are also CEX alternatives for crypto investors looking to try something different or searching for cheaper platforms to use for trading.
If you fall into that category, then you're on the right article.
Table of Contents
We will reveal CEX.io competitors and alternatives that you can start using today. We also cover their pros and cons as well as available payment methods on these platforms.
Let's get started!
6 Alternatives to CEX
You have to be new to crypto, not to have heard about Binance exchange. Binance is one of the largest cryptocurrency exchanges by trading volume and is better than CEX in several ways.
Binance offers both spot, futures, P2P trading, and a range of other features that are not available on CEX.io and many different platforms.
Features
Instant conversion for a range of assets.
Derivatives trading.
Fully-loaded and user-friendly mobile app with support for derivatives trading.
Binance Earn (flexible or locked interest yielding crypto accounts).
Crypto loans
Binance pool for crypto miners.
Binance card for spending crypto on the go.
Pros
Binance supports trading for hundreds of cryptocurrencies, including a wide range of new and popular altcoins.
You can buy crypto in the UK using a range of payment methods.
Binance offers superior liquidity on listed trading pairs compared to other exchanges.
Binance has some of the lowest fees on the market. The prices are even lower if you choose to pay with the exchange's native token, BNB.
Binance regularly lists new crypto tokens and swiftly launches new products to keep up with the fast-growing crypto landscape.
The exchange is also ideal for professional traders seeking exposure to crypto-based derivatives.
Cons
Having a large user base means that it could take a great deal of time to reach the Binance customer service team.
The exchange has too many features that it can get confusing for the average investor to use it.
Available Payment Methods: UK Faster Payments, Credit and Debit Cards, P2P Trading (Revolut, Advcash, Transferwise, Bank Transfer, etc.)
Having launched in 2012, Coinbase is one of the oldest crypto exchanges in the market and now boasts over 40 million users. Although Coinbase is more popular in the US, it is also a great CEX.io alternative since they support UK customers.
Features
Coinbase Pro trading platform for professional traders.
Support for a handful of large-cap crypto assets.
Easy-to-use mobile app.
Instantly buy and sell using supported credit/debit cards.
Earn a Crypto program for new investors to make money while learning about new projects.
Coinbase Prime and Custody for institutional investors.
Pros
The Coinbase user interface is simple and thus suits the need of the average investor.
Coinbase is a fully-regulated crypto platform.
The exchange has insurance for client crypto assets.
Coinbase supports the setup of recurring purchases.
UK users can link their bank accounts for seamless deposits and withdrawals.
Cons
Having a large user base like Binance means many Coinbase users also report difficulty reaching the customer service desk.
Being regulated means that Coinbase offers a small coin collection compared to Binance.
Coinbase usually suffers downtime during periods of peak market volatility.
Available Payment Methods: Credit and Debit cards, SEPA, Faster Payments, PayPal (for withdrawals)
Unlike Coinbase and Binance, LocalBitcoins is a peer-to-peer bitcoin trading platform. This means that buyers and sellers directly transact with each other while LocalBitcoin serves as a meeting point for both parties.
Additionally, LocalBitcoins provides an escrow service, ensuring that both parties complete the terms of the transaction before releasing the coins.
Features
A marketplace for buyers and sellers.
Escrow service and in-built bitcoin wallets.
Pros
As one of the oldest P2P exchanges, LocalBitcoins provides sufficient liquidity for large-size trades.
The platform is also relatively secure, with a feedback score designed to protect users from fraudulent persons.
You can buy bitcoin using a variety of payment methods supported by the vendor you choose.
Fees are relatively lower when compared to CEX.io. It is only the seller that pays a 1% fee to LocalBitcoins for each completed trade.
Cons
There is no option to buy directly with credit/debit cards.
The process of buying via a P2P platform might seem complicated for the average investor.
No mobile app is available.
Available Payment Methods: Bank Transfer, WorldRemit, Advcash, Payoneer, Remitly.
Coinmama is an Ireland-based cryptocurrency broker. You can use their service to buy and sell bitcoin and a few large-cap coins. Coinmama sends cryptocurrencies you purchase from them directly to your address, and when you sell, they send the payment directly to your UK bank account.
Features
Buy/Sell broker platform.
Loyalty Program.
Multi-currency support (GBP, EUR, YEN, USD, CAD, and AUD).
Coimama offers a unique broker service for corporations looking to add bitcoin to their treasury.
Pros
Coinmama's Buy/Sell service is easy-to-use, and transaction settlement is almost instant.
The broker supports credit/debit card crypto purchases and a range of other payment options for UK customers.
The buy and sell limits are also relatively high (up to £15,000 per purchase).
Using Coinmama encourages self-custody of crypto-asset instead of storing it on an exchange.
Coinmama has a reliable customer CS team compared to other exchanges reviewed so far.
Coinmama is a highly reliable broker for crypto investors with over two million customers and a seven-year track record.
Cons
Coinmama supports fewer cryptocurrencies (only seven).
The broker does not clearly state its transaction fees.
Available Payment Methods: Credit/Debit cards, SWIFT, SEPA, Apple Pay, Bank Transfer.
CoinJar is another excellent CEX.io competitor and ideal for those just getting into crypto. Their primary trading interface makes buying and selling cryptocurrencies as seamless as other financial applications that investors already understand.
Features
Support for a handful of large-cap crypto assets.
Instant crypto-to-crypto conversion.
Mobile apps available on Android and iOS
Coinjar provides an advanced digital currency trading platform for professional traders.
Coinjar cryptocurrency debit card (coming soon)
OTC trading desk for large institutional buyers.
Pros
CoinJar is ideal for investors with little or no experience in crypto trading.
The exchange is transparent regarding its 1% fee per trade on the platform.
The existence of an intuitive mobile app means you can monitor your portfolio on the go and react to market movements.
The instant conversion feature is ideal for those looking to diversify their portfolio.
Having fewer users than competitors means Coinjar can conveniently handle customer enquiries.
Cons
CoinJar has a richer altcoin selection than CEX.io but still lags when compared to Binance.
Coinjar does not let UK investors buy crypto with credit/debit cards.
Available payment methods: Faster Payments, Bank Transfer.
Based in the United Kingdom, Exmo is another decent option for anyone seeking an alternative CEX.io. Although the platform does not boast the same trading volume as others listed so far, it has similar features and has been around since 2018.
Features
Instant Buy
Quick conversion
Basic trading interface.
Mobile app
181 trading pairs.
Native token (EXMO) for lower fees.
OTC trading.
Pros
Exmo's minimalistic trading interface is ideal for new traders.
Exmo is transparent about its fees and offers even lower rates and cashback if you choose to pay with the platform's native token.
The exchange also has a responsive customer support desk.
Exmo supports instant card purchases via a partnership with Simplex.
Exmo adds other fiat currencies, including USD, RUB, and EUR.
Cons
Exmo only supports instant card purchases via a partnership with Simplex and fees are relatively higher.
The exchange lacks some liquidity across some of its trading pairs.
Available payment methods: Faster Payments, CHAPs, Bacs.
How to choose the best CEX.IO alternative
It would generally be easier for you to pick an exchange or broker better than CEX.io if you know your exact needs as a cryptocurrency investor.
New Investors: If you're looking to buy Bitcoin in the UK for the first time, and want to do it on a user-friendly platform, then the best CEX.io competitors to check out include Coinbase and CoinJar.

Both exchanges are specifically designed to meet the average investors' needs and support a range of instant purchase options.
Long-term and Bitcoin-Only Holders: If you hold only bitcoin, and not other cryptocurrencies, your best CEX.io alternative on this list could be CoinMama since the broker helps you buy and transfer digital currency directly to your wallet address.

The process is more streamlined and cheaper than when you have to deposit money on an exchange, incur fees on buying, and yet another fee for moving them to your wallet off the platform.
Professional and Altcoin Traders: For anyone looking to gain exposure to altcoins, Binance is the best option. The platform lists hundreds of altcoins, unlike CEX.io and other platforms listed in the article.

Additionally, Binance offers superior leverage and derivatives products for experienced professional traders.
Conclusion
This article revealed the top CEX.io alternatives for UK investors, including their pros and cons and available payment options. We also reviewed what to consider when trying to choose a platform that is better than CEX in terms of features.
In a rapidly-evolving market, having a lot of crypto exchange options is a luxury that every investor should have, and we believe you now have an excellent lot of sites like CEX.io to choose from.