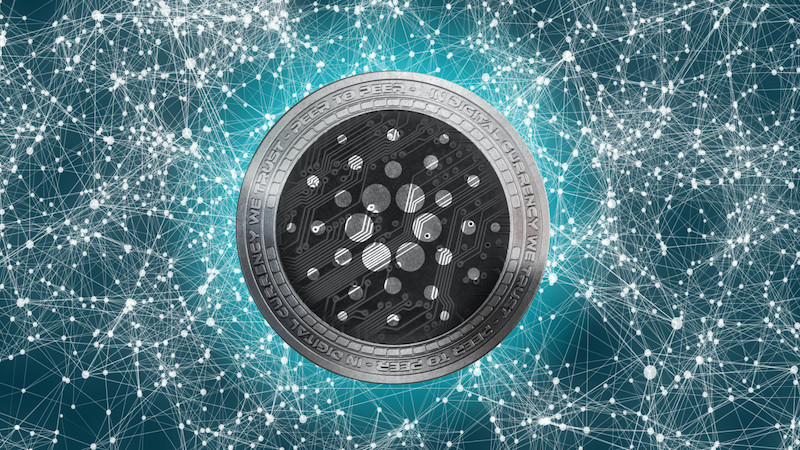 Investors are looking for ways to buy Cardano in the UK because it is one of the most popular crypto projects on the market right now. Cardano was the fifth-largest cryptocurrency by market cap ($15 billion) at the time of writing, trailing only Bitcoin, Ethereum, Binance Coin, and XRP.
There is no shortage of crypto exchanges in the UK where investors can buy Cardano exposure (ADA). However, it can be a little tricky to buy ADA with GBP since some exchanges do not offer an option to do so instantly as they do for Bitcoin.
In this article, we review some leading platforms where you can buy ADA in the UK and also share a step-by-step guide on how you can do it.
A quick guide on buying ADA with GBP buy instantly on CEX.io.
CEX.io is one of the few platforms with the option to buy ADA instantly. Here's how to do it:
Create an account at CEX.io
Complete the KYC verification process.
Go to Deposit and select your preferred payment option.
Change the currency tab to GBP and enter the amount.
Proceed with and complete the deposit.
Go to Buy/Sell
Select ADA from the dropdown menu as the coin to buy and GBP as your currency.
Enter the amount and hit Buy.
Confirm and complete the order.
Congrats! You just bought yourself some ADA. You can leave it on CEX.io to grow or withdraw it to your personal wallet for greater security.
How to buy Cardano with GBP
CEX.io is one of the oldest cryptocurrency exchanges in the United Kingdom, having launched in 2013. (Read our full CEX.io review).
Besides the instant purchase option on CEX.io, you can also buy ADA with GBP via the exchange's order books. With these diverse options and being based in the UK, CEX.io is a good choice for investors looking to add ADA to their portfolio.
How to do it:
Register and complete KYC verification.
Deposit GBP using your preferred payment option.
Go to Trade and find the ADA/GBP pair on CEX.io.
Switch the order type to Market.
Enter your desired purchase amount under the Instant Buy ADA column.
Review your order information and click Buy Now.
Supported Payment Channels: Credit and Debit Cards, Faster Payments, SWIFT, Skrill, and EPay.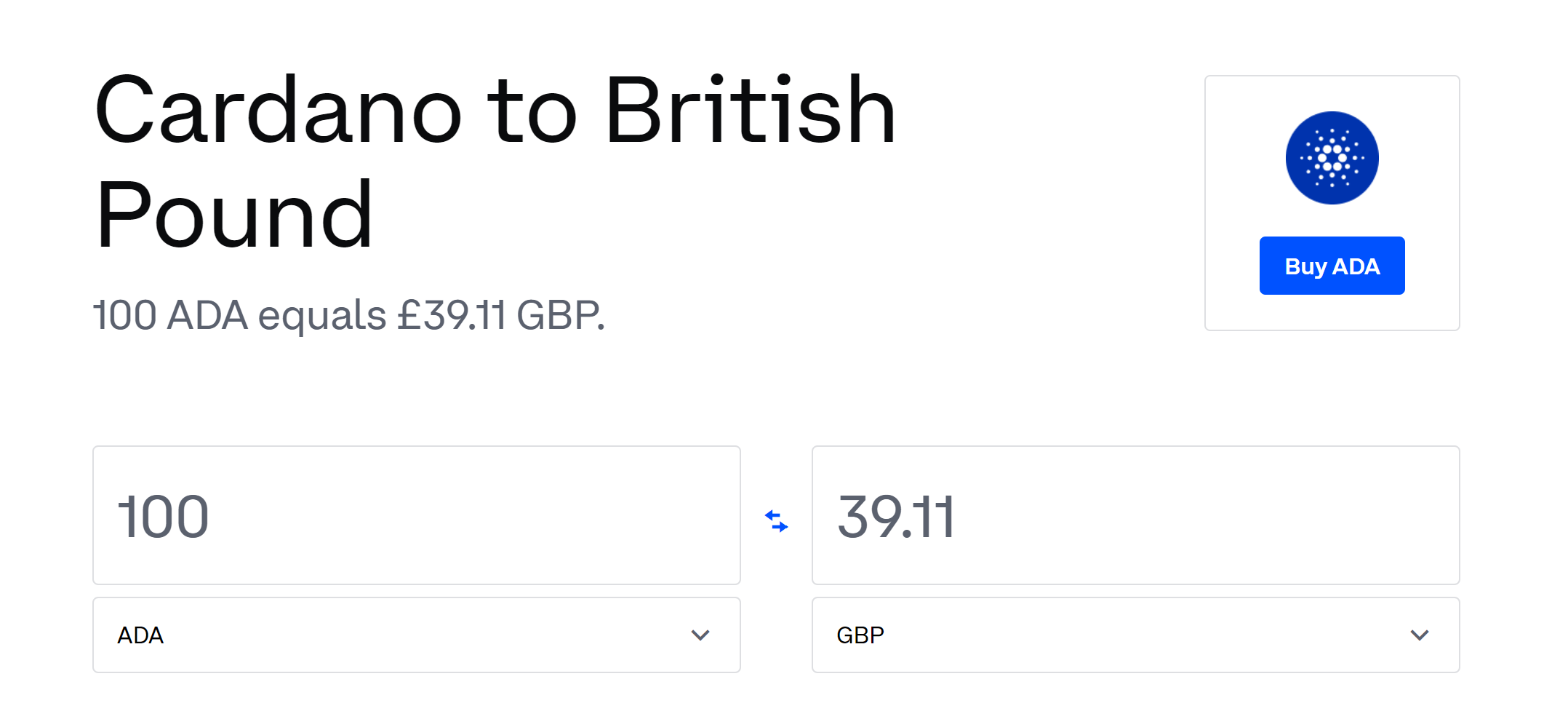 Coinbase is one of the most popular cryptocurrency exchanges and a great option to buy Cardano with GBP. The platform offers a user-friendly experience, making the process relatively straightforward for even first-time customers.
How to do it:
Create an account on Coinbase and complete the KYC process.
Click on the Buy/Sell or Trade button.
Add a Payment Method (Credit/Debit Card)
Select Cardano (ADA) as the coin to buy.
Specify the amount and review the payment details.
Coinbase will add the purchased amount to your wallet once your transaction is complete.
Supported Payment Channels: Credit and Debit Cards, Faster Payments, SEPA Transfer.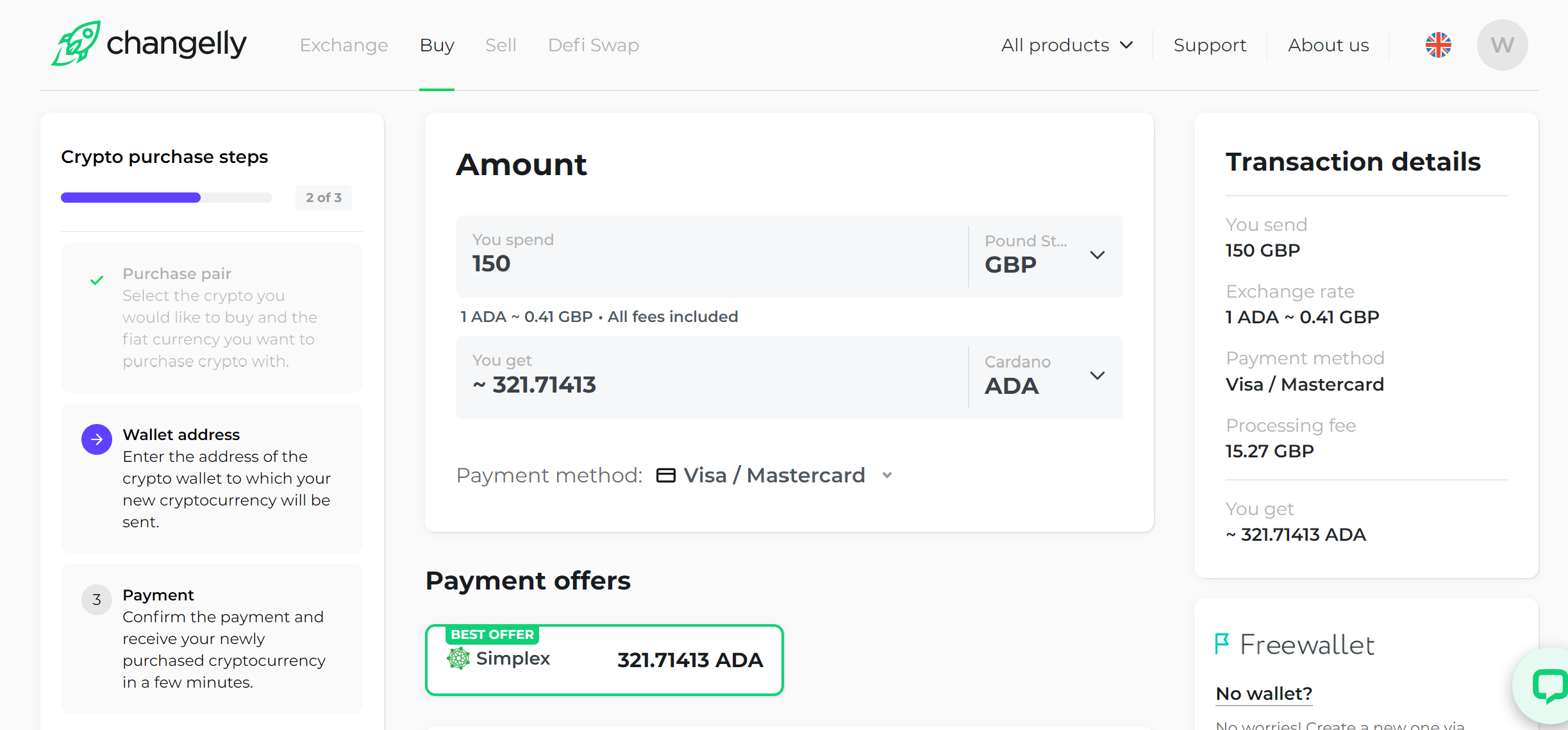 Changelly is a non-custodial exchange service that offers where to buy Cardano. Their service curates the best offers from their crypto processing partners and allows for diverse options. You typically must provide an external Cardano (ADA) wallet address where you want to receive the funds.
Changelly has been on the market since 2015 and is a good option for UK investors who generally want to buy altcoins like ADA.
How to do it:
Visit Changelly.com
Switch the tab on the homepage to Buy.
Change the currency to GBP and coin to ADA.
Click Buy ADA now.
Select from the available offer (preferably Simplex).
Enter your external ADA address and agree to the terms.
Click Go to Payment
Complete the signup and KYC process.
Choose a payment method.
Confirm order details and check out.
Changelly will send the purchased ADA to your wallet address if successful.
Supported Payment Channels: Credit and Debit Cards, SEPA, SWIFT.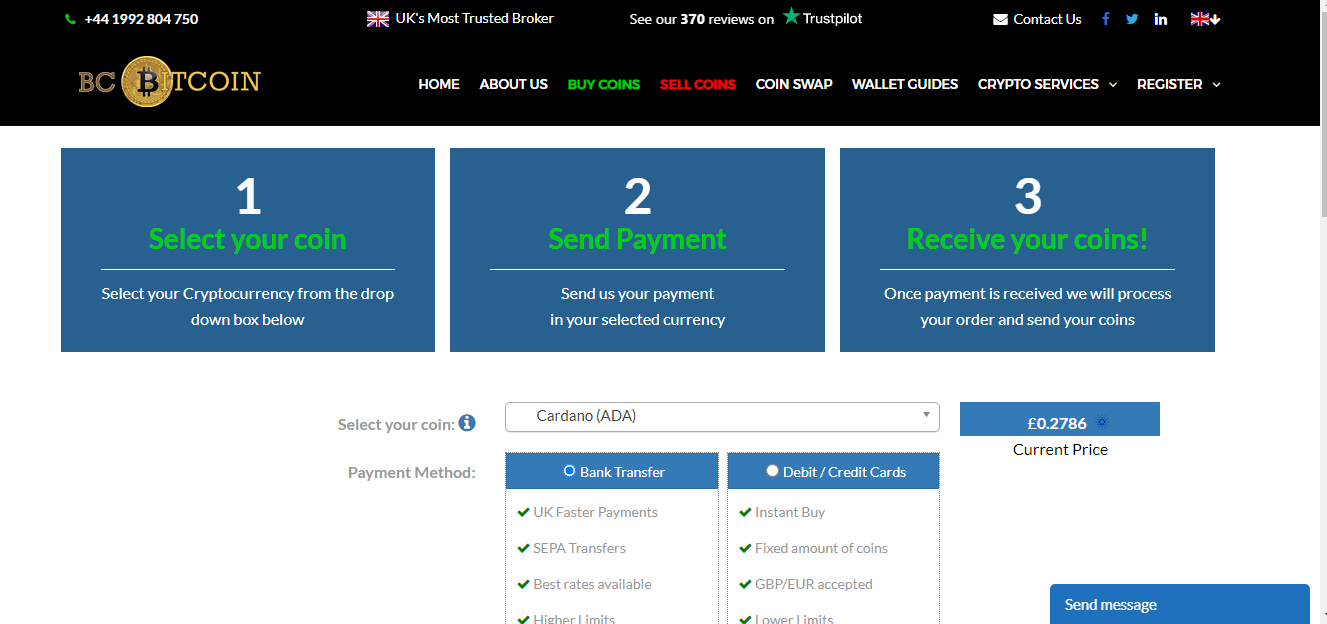 BC Bitcoin is another UK-based platform where anyone can buy ADA with GBP. Like the last two options we consider, you'll also need an external wallet address to receive the coins you buy from BC Bitcoin.
How to do it:
Register on BC Bitcoin and complete KYC verification.
Visit the Buy Page on BC Bitcoin
Select Cardano (ADA) as the coin to buy.
Choose your preferred payment channel.
Choose GBP as your currency and input the amount to spend.
Enter your wallet address and review your order details.
Complete the payment checkout.
BC Bitcoin sends ADA to your designated wallet within 30 minutes if you use the card option. Bank deposits settle when the exchange receives the transfer.
Supported Payment Channels: Faster Payments, SEPA, Credit and Debit Cards

Kraken is another popular cryptocurrency exchange and another one of those that launched in the industry's early years (2011). You can buy ADA with GBP via their platform using various payment methods.
How to do it:
Create an account with Kraken and complete the verification process for Level 2.
Go to Buy Crypto.
Choose Cardano as the coin to buy.
Add a payment method (Debit or Credit Card)
Enter the desired purchase amount
Review the order details and complete the purchase.
Supported Payment Channels: Credit and Debit cards, Faster Payments, SWIFT, SEPA, CHAPS.
Buying ADA with other cryptos on Binance short step-by-step guide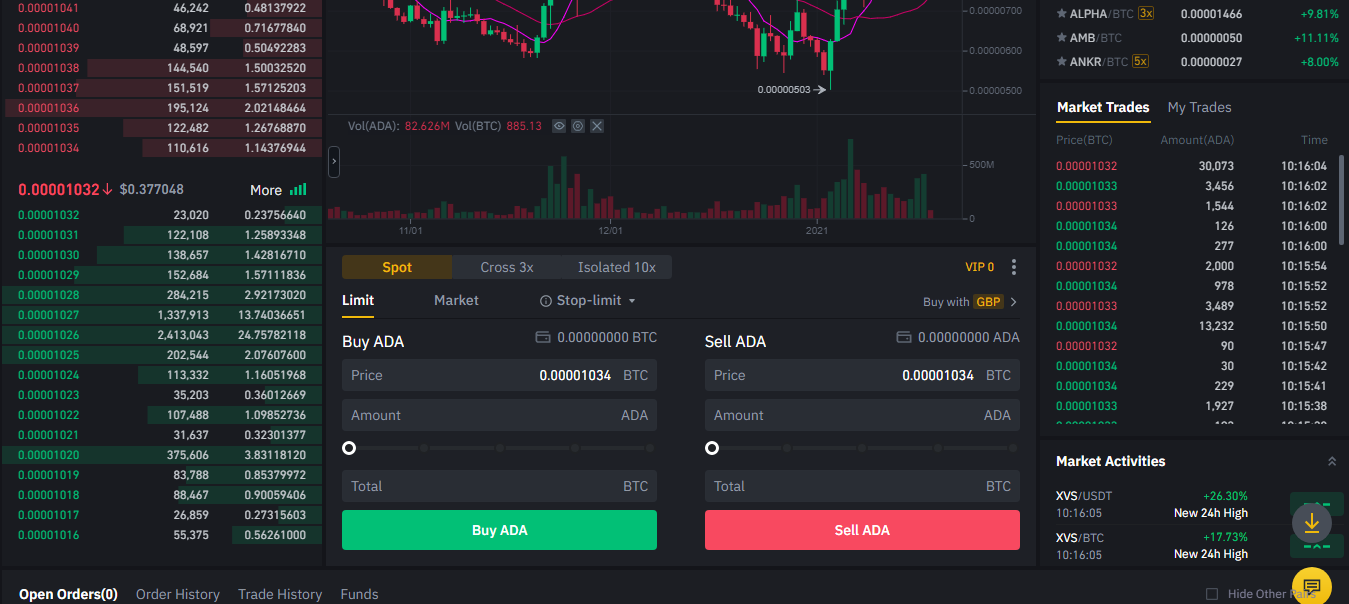 Aside from buying ADA with GBP, many exchanges offer Cardano trading pairs. In other words, using the order books on these platforms, you can sell other cryptocurrencies for ADA. Binance is a popular cryptocurrency exchange, and here's a guide on how to buy ADA with other cryptos on the order book.
Create a Binance account.
Go to Wallet > Fiat and Spot.
Choose the crypto to deposit (e.g. BTC)
Copy your Binance BTC address and deposit from an external wallet.
Once confirmed, go to Markets and search for the ADA/BTC pair.
Switch the order type on the next page from Limit to Market.
Enter the amount of ADA to buy and click Buy ADA.
At the time of writing, Binance offers pairs that let you buy ADA with other coins like ETH, USDT, BNB, and BUSD. Therefore, you can deposit any of these coins on Binance and sell them for Cardano.
Things to consider before buying Cardano
Having reviewed some exchanges where you can get exposure to ADA, here are some other things to consider before you invest in the coin.
Research the Project: As we noted at the onset, Cardano seems like a promising crypto project and currently ranks among the largest assets by market cap. However, that is not enough reason for one to choose to add it to their portfolio.
Spend time learning key information such as the project's history, core development team, roadmap, and user milestones. Knowing and understanding such data can help you reach a more accurate decision on whether or not to buy ADA.
Review the Market Cycle: At its all-time high, ADA traded at $3.10 per coin. The coin traded more than 80% below that peak at the time of writing, suggesting that there's growth potential.
Unless you're buying small amounts periodically (dollar-cost averaging), ensure that the market is on a downtrend before you get in. That way, you can be sure to be in profit as soon as the price recovers.
On the other hand, buying when the market is on an uptrend could mean you'll have to hold on for a long time if prices eventually drop.
Exchange Fees: Savvy investors know they can get more value for their money when using platforms that charge lower fees and actual market prices. Among the exchanges listed in this article, Binance, Kraken, and BC Bitcoin offer the lowest fees and best prices for buying ADA.
Where to store Cardano
Where to store your ADA coins after buying them would usually depend on two factors. The amount purchased and how long you want to hold them.
For purchases under £500, it may be best to leave it on tier-1 exchanges such as Kraken, Binance, or CEX.io. Alternatively, you can install mobile or desktop wallets such as Trust Wallet, Coinomi, or Atomic Wallet, as these allow you to retain custody of your assets.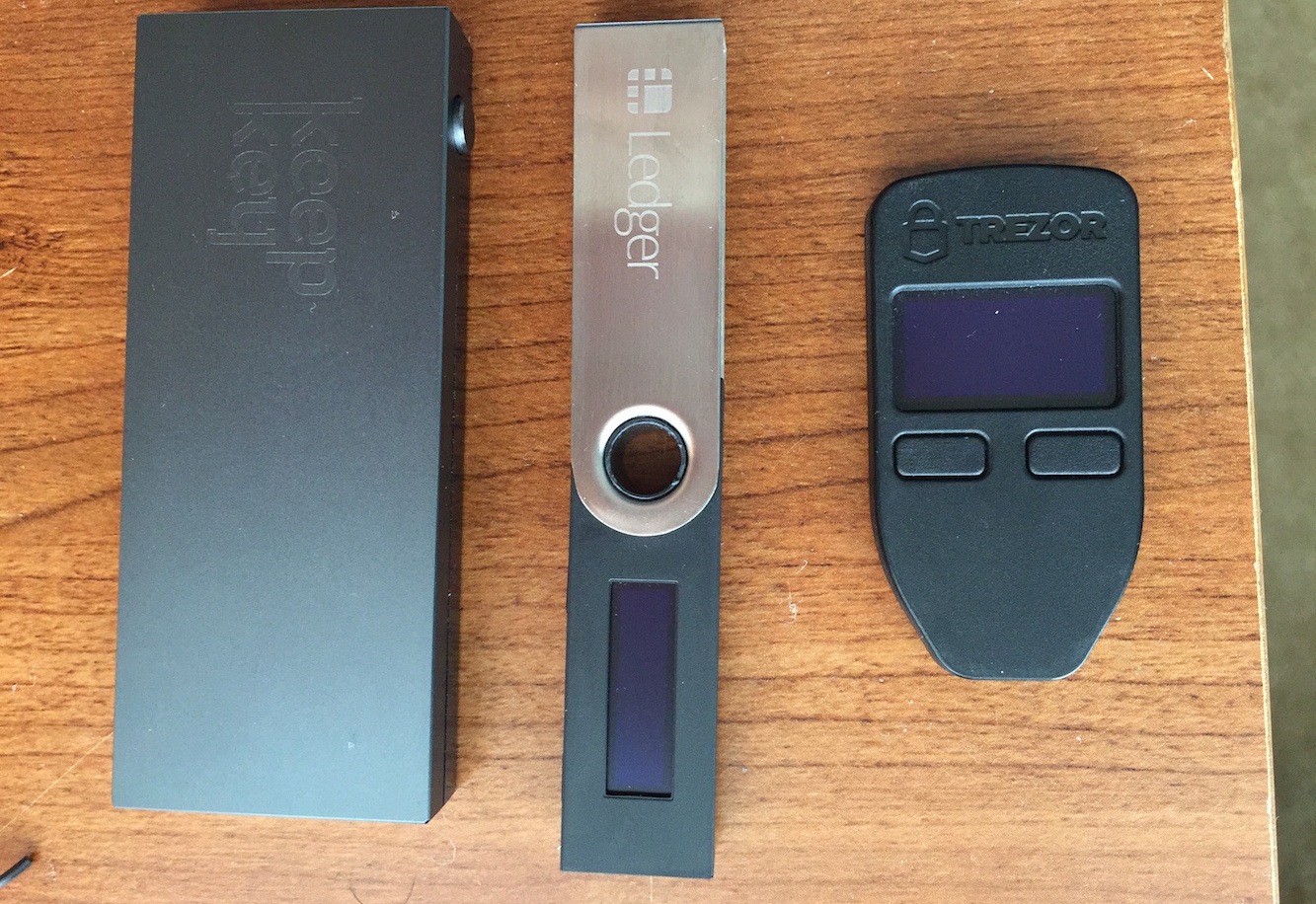 Meanwhile, we also recommend that you invest in a hardware wallet such as Trezor or Ledger for large purchases and long-term holdings. These devices store your assets offline, leaving little to no room for hackers.
Privacy and security tips
Alongside storing your assets securely, the following privacy and security tips will further protect you from hackers and other forms of security breaches:
Use unique passwords for different exchange platforms.
Enable two-factor authentication (2FA) and other advanced security features on your exchange account.
Double-check addresses before transferring funds. If you're transferring a substantial amount, we highly recommend sending a test transaction first and then following up with a large transaction if successful.
Do not disclose the amount of cryptocurrency you hold on public forums. Doing so increases your chances of being targeted by hackers.
Conclusion
Cardano (ADA) is one of the largest crypto assets, meaning that many investors have it in their portfolio and believe that its price will grow in the future.
In this article, we disclosed exchanges where investors in the UK can buy ADA with GBP and share steps on how to do so. We also revealed the payment options available and hope that you find the privacy and security tips helpful.