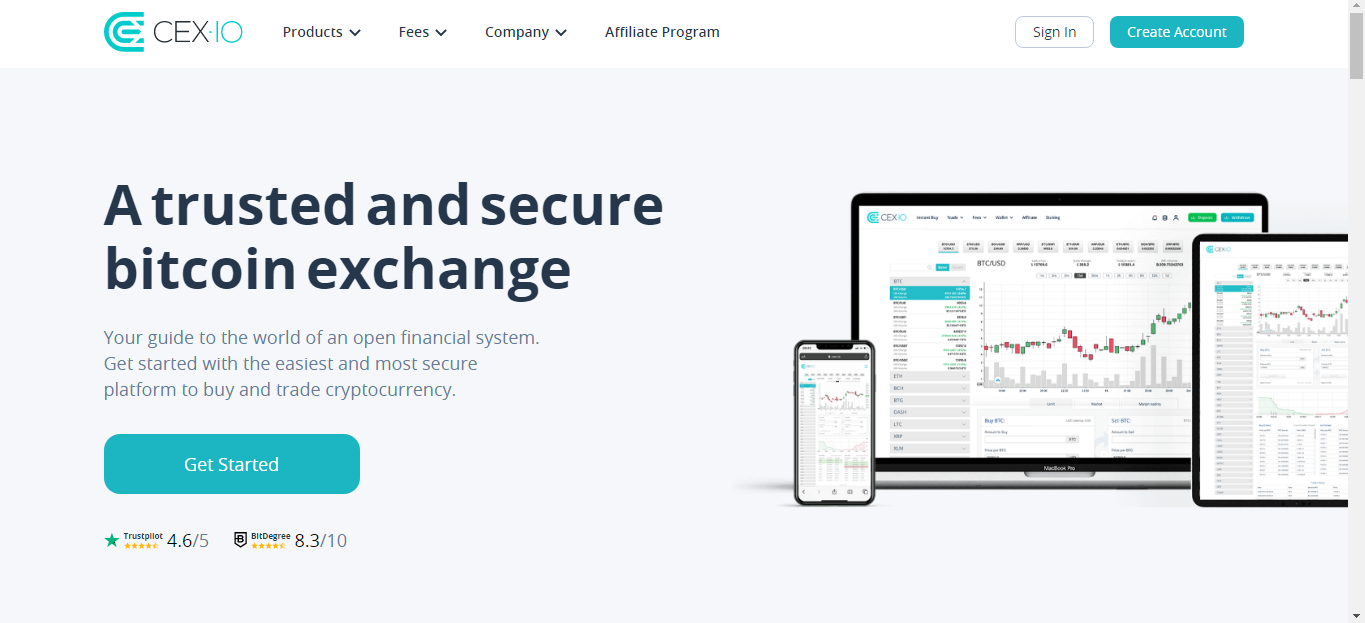 We compiled this article for anyone looking for a reliable and complete CEX.io review. CEX.io exchange is one of
the options that pop-up for any UK investor searching for a cryptocurrency trading platform.
Table of Contents
The company has goodwill as a result of its long existence in the industry.
However, we believe as much as you do that your decision to use CEX.io should not rely on that factor alone. That is why we carefully researched and wrote this CEX.io review that covers almost every aspect of the exchange platform.
It is the closest you can get to learning about CEX.io without registering on their website.
CEX.IO Overview
CEX.io is a full feature cryptocurrency exchange collectively managed by three companies using the brand name. These three companies are CEX.IO LTD (serves the global community), CEX.IO Corp (serves the U.S audience), and CEX.io Limited (serves customers in the European Union).
Although the company's brand is perfectly captured when visiting the interface from any region, the features that a user can access depends on the location from which they're browsing the website.
Generally, you can access a handful of functionalities on CEX.io irrespective of your location. That explains why the exchange boasts over 3 million users and an average of $10 million in daily trading volume.
History
CEX.io registered and launched in the UK in 2013 and was one of the first cryptocurrency exchanges to offer users the option to trade bitcoin directly for fiat.
The platform initially supported card purchases and bank transfers and has since grown to integrate more fiat-to-crypto options. The company released its mobile app in 2015, passed a FinCEN compliance audit in 2017, and opened its offices in the U.S two years later.
Oleksandr Lutskevych is the Founder and CEO and has kept that leadership role from 2013 to date. The company has over 250 employees as well as offices in the UK, U.S, Gibraltar, Cyprus, and Northern Ireland.
Products
Spot & Margin Trading
CEX.io came to limelight as a spot trading platform. It allowed customers to buy and sell cryptocurrencies for fiat or other cryptocurrencies. Like many exchanges uses an order book format to match traders. At the same time, they provide additional tools for instant sale and conversion.
In 2016, CEX.io added a margin trading product to its platform, giving traders a chance to trade with leverage or more money than they have on their account. Their margin trading product lets you trade supported pairs with 1:2 and 1:3 leverages and merged recently with CEX.io Broker.
The Broker product blends their margin trading platform with an option for you to trade crypto-based contract-for-differences (CFDs).
Users can trade with up to 100x leverage and get access to advanced trading tools that are not accessible on the spot trading product. There is also a demo version for inexperienced traders to hone their skills before taking on the market with real capital.
CEX Direct is the company's software-as-a-service (SaaS) solution that helps clients offer cryptocurrency to users without much stress. CEX.io will handle all the steps involved, including, user verification, payment processing, and delivery of coins to users.
The solution targets cryptocurrency exchanges or other financial applications that wish to offer cryptocurrency purchases to customers.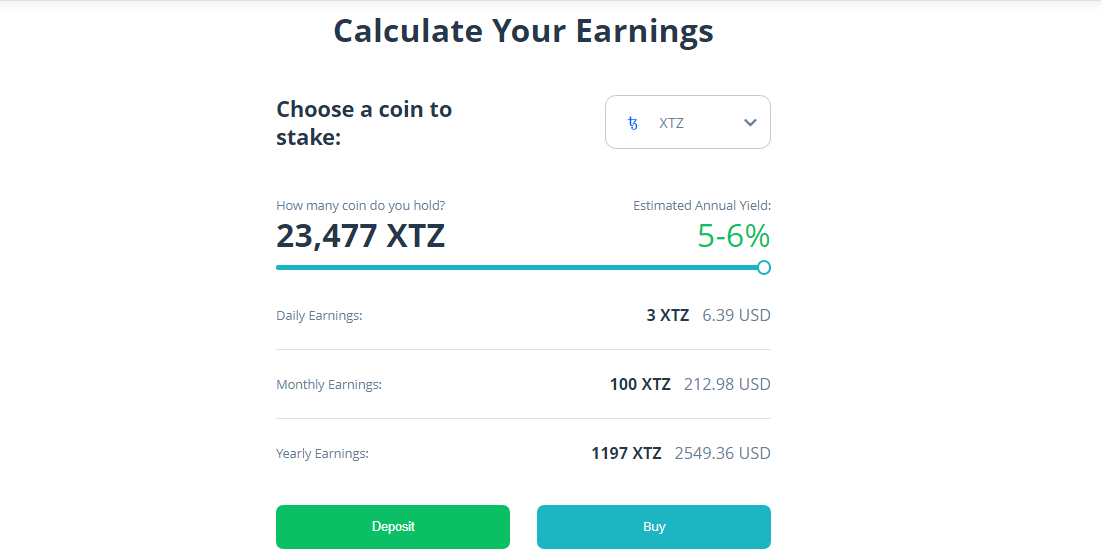 Customers can also deposit supported proof-of-stake (PoS) coins on their account for a chance to earn staking rewards. Staking rewards are paid out at the start of every month, and users can calculate their potential earnings using the exchange's staking calculator.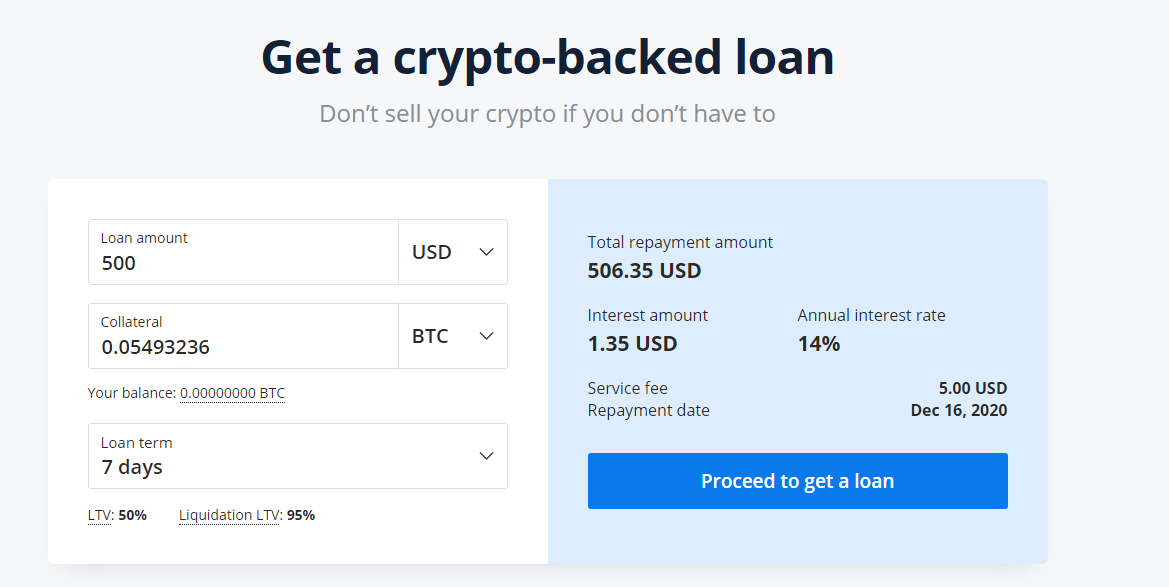 CEX.io offers cryptocurrency-backed loans. Users can deposit either BTC or ETH and borrow up to 50% of the amount they placed as collateral. Such over-collateralization means the borrower cannot default on the loan and also gives them access to capital without selling off their holdings.
There is a loan calculator on the website to help intending borrowers view their loan terms and the duration which ranges from seven days to one year. Once approved, the funds will be added to your account, from where you can withdraw to your bank card or even use it to buy cryptocurrency.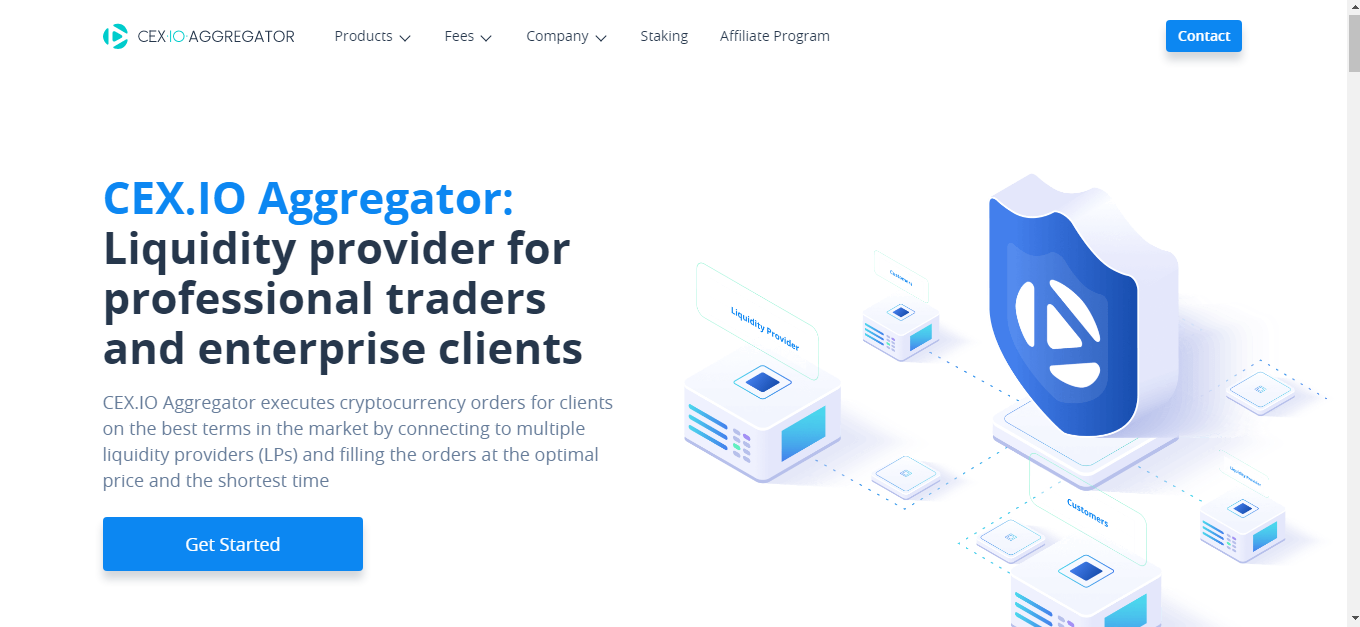 CEX Aggregator is an API-based solution offered by the company. It helps exchanges, crypto wallets, high volume traders, hedge fund managers, and others to execute their buy and sell orders based on the best market prices.
CEX Aggregator connects with multiple liquidity providers across exchanges and supports several fiat-to-crypto and crypto-to-crypto trading pairs. The API is available on three channels, namely, FIX (Financial Information eXchange), WS (WebSocket), and REST.
Supported Countries
CEX.io is accessible to users in 220 countries and 47 states in the U.S and Washington DC.
Unsupported countries and regions include:
Afganistan, Bosnia and Herzegovina, Burundi, Central African Republic, Cuba, Democratic People's Republic of Korea (DPRK), Democratic Republic of the Congo, Ethiopia, Guam, Guyana, Guinea Bissau, Iran, Iraq, Japan, Lao People's Democratic Republic, Lebanon, Libya, Mali, Pakistan, Puerto Rico, Somalia, South Sudan, Sri Lanka, Sudan, Syria, Trinidad and Tobago, Tunisia, Uganda, US Virgin Islands, Vanuatu, Venezuela, Yemen, Zimbabwe.
The Broker platform doesn't support users from the above countries. Other restricted countries include:
The United States, The United Kingdom, France, Belgium, Bulgaria, Canada, China, Virgin Islands (British & US), Lithuania, Germany, Greece, and others. You can view the full list of countries here.
United States users cannot access the CEX Staking product.
Supported Coins
Cryptocurrencies:
Bitcoin (BTC), Ether (ETH), Litecoin (LTC), Bitcoin Cash (BCH), Ripple (XRP), Chainlink (LINK), Cardano (ADA), Cosmos (ATOM), Tezos (XTZ), Basic Attention Token (BAT), BitTorrent (BTT), Dash (DASH), Neo (NEO), Neo Gas (GAS), Golem (GNT), Lambda (LAMB), Matic (MATIC), MetaHash (MHC), OmiseGo (OMG), Ontology (ONG), Tron (TRX), Wabi (WABI), Stellar (XLM), Zilliqa (ZIL), 0x (ZRX).
Stablecoins
Tether (USDT), USD Coin (USDC), Gemini USD (GUSD).
Note: Some cryptocurrencies are not available to customers in the United States, China, and South Korea due to regulatory restrictions.
Payment Methods
The exchange supports the following methods for deposits and withdrawals.
Cryptocurrency
Faster Payments (U.K)
Local and International Bank Transfers (SWIFT, ACH, SEPA)
3-D Secure Cards (Visa and Mastercard)
Skrill.
QIWI (Russia)
Fees
There are different fees associated with account actions. Here are some of the most frequently occurring ones that you need to know:
Order book trading: Maker, 0.16%, Taker, 0.25%.
Card Deposits: 2.99%
Bank Deposit: $0
Bank Withdrawal: 0.3% + $25
ACH: $0
Card Withdrawal (Visa): 3% + $1.20 or €1.50 (plus commissions)
Card Withdrawal (Mastercard): 1.8% + $1.20 or €1.50 (plus commissions).
Skrill Deposit: 3.99%
Skrill Withdrawal: 1%
Faster Payments: $0
Bitcoin withdrawal: 0.0005 BTC
Ether (ETH) withdrawal: 0.01 ETH
Your chosen method of deposit or withdrawal often determines how quickly your transaction settles. While card transactions are almost instant, ACH and Bank Transfers settle within 1-3 business days.
Limits & Liquidity
Basic level identity verification
Daily deposit limit: $3,000
Daily withdrawal limit: $10,000
Address Level Identity verification
Daily deposit limit: $10,000
Daily withdrawal limit: $10,000
Enhanced Verification
Unlimited deposits and withdrawals.
Daily Limits for Payment Methods

Visa and Mastercard
Deposit limit: $20 — Unlimited
Withdrawal limit — $50,000 and $2500 respectively.
After the verification process, users are subject to a $1000 maximum daily deposit limit and $3000 monthly limit for the first three months.
SWIFT
Minimum deposit and withdrawal limit: $300
Maximum deposit and withdrawal limit: Unlimited
ACH
Withdrawal limit: $20.00 — $100,000.00
Faster Payments
Minimum deposit and withdrawal: £20
Maximum deposit and withdrawal: £250,000.00
SEPA
Minimum deposit and withdrawal limit: £20
Maximum deposit and withdrawal: Unlimited
Skrill
Minimum and maximum deposit and withdrawal limit: €35.00 — €10,000
How to use CEX.IO
Using the web or app interface is not difficult, thanks to their minimalist and easy-to-navigate design.
The homepage gives you an option to create an account or start the process of buying cryptocurrencies. It also provides a link to the various products that the platform offers, as well as links about the company.
Registration and Verification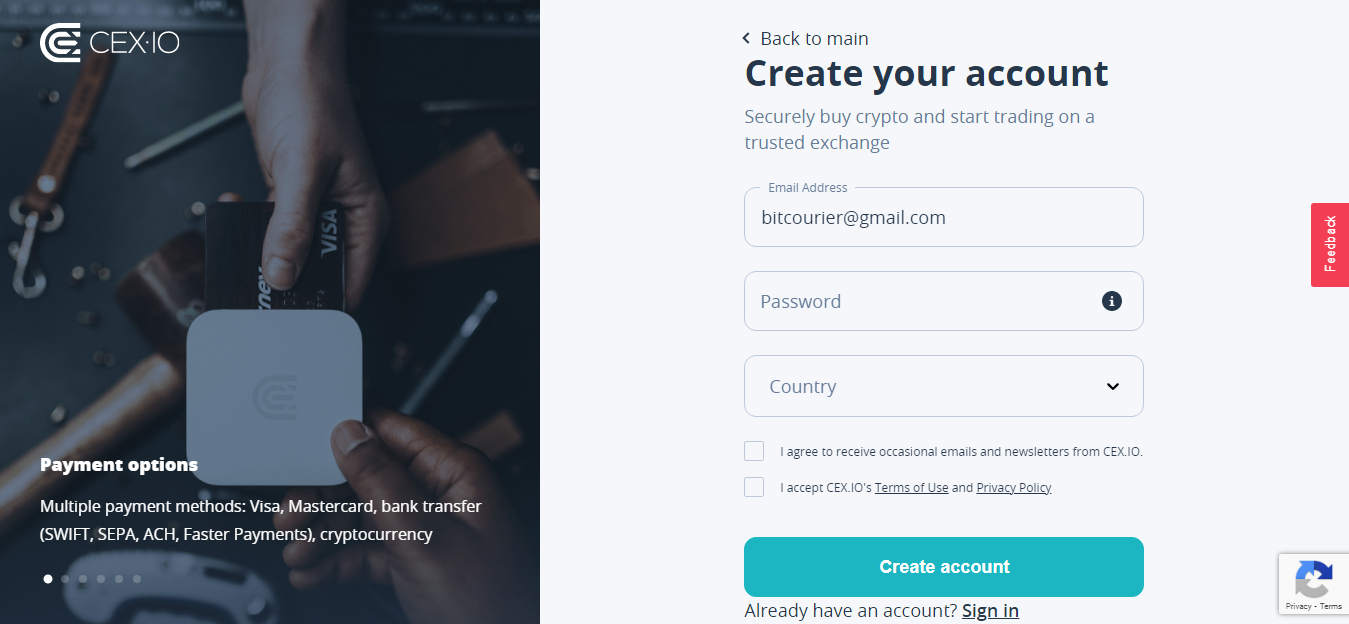 To register, take the following steps:
Click the Create Account button from the homepage.
Enter your email and create a strong password.
Enter your country name and accept the terms.
Confirm your new account via email.
After the email confirmation, they will prompt you to verify your identity. In case you don't find this option, you can go to Settings from the tab where your name appears on your account, and select Verification.
There are four verification stages: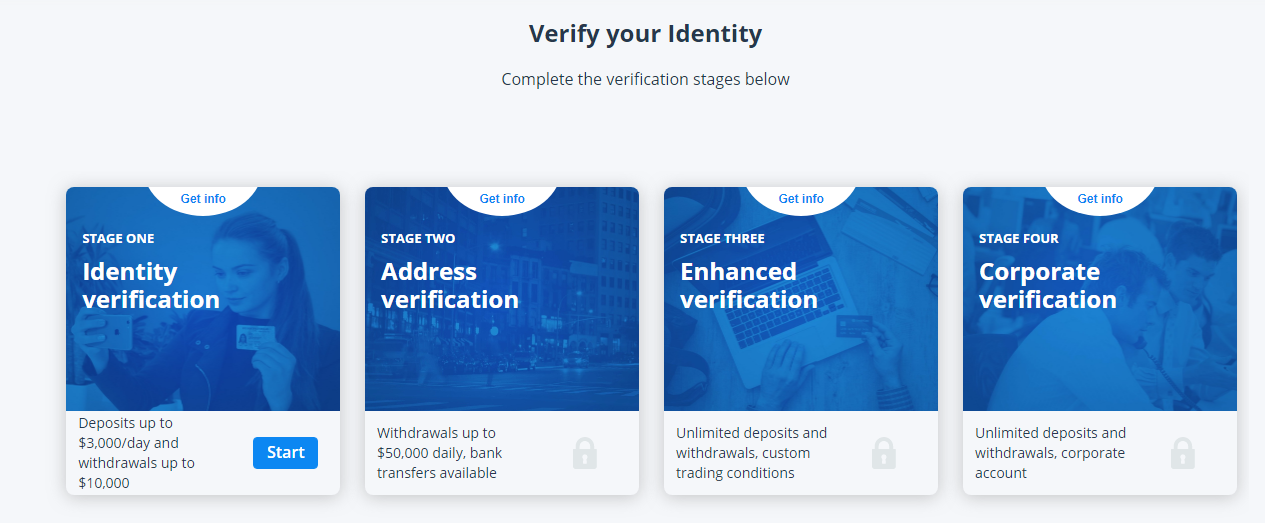 You need to provide the following to pass through the verification process:
Country and State of Origin
Phone Number
Proof of Identity Documents (e.g. International Passport, Driving License or National ID card).
Identity document details.
Selfie with a note and verification date.
A Social Security Number (SSN), for US residents.
Proof of residence (Utility bill or Bank Statement)
If the documents you supplied are accurate, you should receive a confirmation email within an hour. Otherwise, they would request that you retry the process. Other higher verification levels require additional documents and may best be suited to large-volume traders, hedge funds and other corporate entities.
How to Buy Crypto
Once you verify your account, the next step is to buy cryptocurrency on the platform. You can choose to use the Instant Buy option that supports credit and debit cards, or go through the order book.
Step 1: Buying Crypto With Visa or Mastercard
Click the Buy/Sell button.
Select the cryptocurrency you want to buy and the currency to spend.
Insert the transaction amount.
Enter your card details on the next page and confirm the order.
Once confirmed, go to Finance and view the BTC or other crypto added to your balance.
Step 2: Buying Crypto With Fiat
Go to Deposit and choose your preferred fiat deposit method.
Choose the currency and enter an amount.
If you choose Domestic Bank Transfer, transfer funds from your bank to CEX.io using the provided information.
Once confirmed, the exchange will add the transferred amount to your fiat wallet, e.g. GBP.
You can view the balance from the Finance tab.
Go to Trade and select a fiat pair that matches the cryptocurrency you want to buy, e.g. GBP/BTC.
Switch the order type to Market.
Enter the amount of GBP to sell into BTC.
Confirm the trade.
CEX.io will transfer the purchased BTC to your wallet, which you can once again view from the Finance tab.
CEX.IO Wallet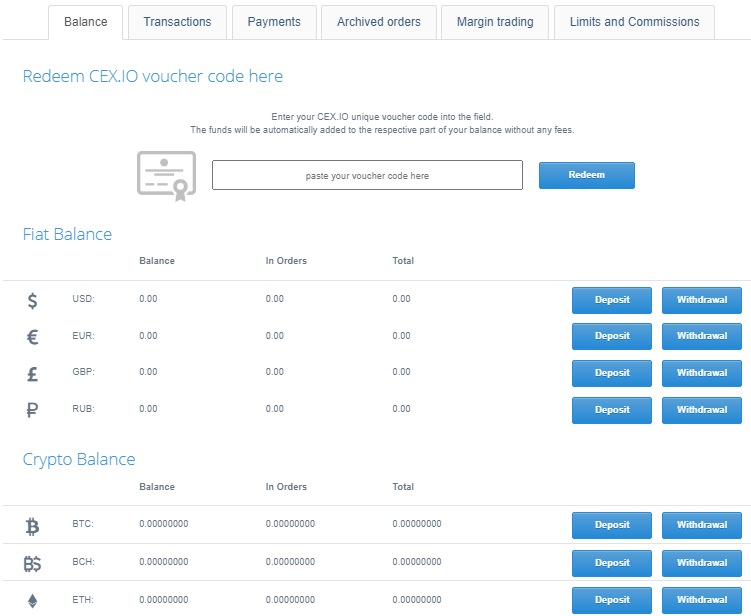 You can access your wallet by clicking the Finance tab. From there, you can see all the coins and fiat currencies you can hold on the platform as well as the option to deposit or withdraw from them.
Other functionalities include viewing your transaction history, payments, orders, margin trading positions, and account limits.
Mobile App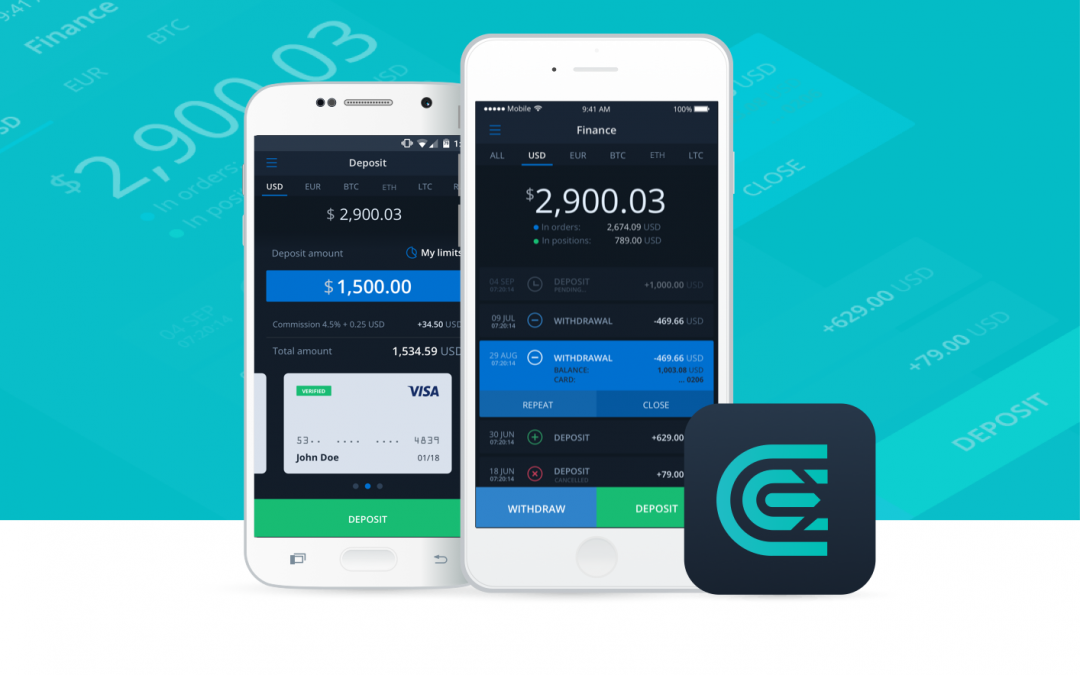 Like every top cryptocurrency exchange, CEX.io has a mobile app that lets you manage your portfolio on the go. The app is available for both Android and iOS devices and includes the following functionalities:
Deposit and Withdrawals
Instant Buy/Sell
Instant Exchange
Staking
Price Alerts
Order notifications
Trading Interface
Contact Support.
The mobile app interface is sleeker than the website UI and has a decent 4.3-star rating on the Play Store.
Affiliate Program

If you are an influencer or have an online audience with an interest in cryptocurrency, then you could make some extra cash by signing up to the CEX.io affiliate program. You can create an affiliate account by clicking the Affiliate tab on your dashboard.
Next, generate your referral link to unlock additional features such as landing pages and banners. You can now share the application code with your audience or integrate the banners on your website. You can also view your results via the Statistics tab.
Aside from providing influencers with a handful of tools to maximise their earnings, the rewards from the program are competitive. The exchange will pay you for a lifetime 30% of fees collected from each of your referrals, and this is paid out daily in USD.
CEX.IO Cashback
For Black Friday, bitcoin halving, new partnerships, and other events, the company usually conducts a promotional campaign that gives users a 5% cashback when they buy cryptocurrency with their card.
As an investor, you can tap into this cashback opportunity to buy crypto at slightly lower prices. If you're an influencer, you can also use it to boost results for your affiliate account and get more signups during the window.
Security
CEX.io has an impressive record when it comes to security. For one thing, the exchange platform has never reported a security breach or hacking incident. While there are a few stories online about users losing funds, careful research suggests it is usually an error on the part of the user, instead of CEX.io.
The platform integrates core security features such as mandating the use of a strong password and two-factor authentication. In connection to debit and credit card information, the exchange abides by the industry-approved security standard, PCI DSS Level 1.
For U.S customers, it is pertinent to note that the company holds a surety bond in every state where it maintains a money transmitter license (MTL). This bond is worth $1 million and is due to be reimbursed to clients in the case of an adverse event.
Additionally, client USD deposits on the platform are insured by the Federal Deposit Insurance Corporation (FDIC) up to $250,000 per customer.
Lastly, the exchange also claims to have a self-regulated reserve fund set to pay back users in the case of an advance event. Although the size of the fund is not publicly known, its existence and the other security steps reviewed so far suggests that CEX.io is a reasonably secure exchange provider.
Customer support
The primary way to contact the support desk is via an email to [email protected] However, there is also a LiveChat option on the website to get in touch with the team, and a variety of FAQ articles that could help you solve any problem you have while using the exchange.
The company also has phone support contact for UK and U.S customers.
+44 20 3966 1272 UK
+1 845 834 8017 US Toll-free
Is CEX.IO Safe and Legit?
New entrants to the cryptocurrency space often ask whether CEX.io is safe, and a legitimate trading platform to use. You can already draw your conclusions based on the information we've covered so far in this CEX.io exchange review.
The company is regulated in many jurisdictions and has existed for far longer than most competitors. If such goodwill is anything to go by, then we can say that it is a legitimate platform for anyone looking for where to trade cryptocurrency.
Pros
CEX.io is a regulated and reliable cryptocurrency exchange.
The exchange interface is easy to navigate, even for first-time users.
The platform supports a variety of fiat deposit options, including card transactions.
The mobile app is intuitive and a good companion for anyone who wants to track their portfolio on the go.
You can open margin positions and trade with leverage via their Broker product.
Users can stake their PoS coins to earn passive income.
The loan function provides a way for users to access liquidity without selling off your Bitcoin or ETH.
The platform has an active community of followers on Telegram and other social networks.
Cons
CEX.io supports fewer cryptocurrencies when compared to competitors like Binance and Coinbase.
Only four fiat pairs are available (USD, GBP, EUR, and RUB).
The trading interface lacks sophisticated tools for experienced traders.
Reaching the support team via the LiveChat option is problematic since a bot primarily controls the chat.
What do we like about CEX.IO?
We like the platform because of its ease-of-use. It is a good entry point for those who are buying Bitcoin for the first time. Using the Instant Buy option, new investors can buy BTC with their credit or debit card.
Another thing we like about the exchange is the option for users to get answers to their enquiries via phone call. Many exchanges do not offer this option, even though it is one of the only ways for users to clearly express their concerns or explain the difficulties they encounter on the platform.
Conclusion
In this CEX.io review, we delivered on our promise to provide you with adequate information about the exchange.
We covered facets such as the company's history, products and features, supported countries and cryptocurrencies, payment methods, fees, account limits, affiliate program, security standards, and customer support.
We also revealed what we liked about CEX.io and will now let you decide whether or not to begin your trading journey with them.