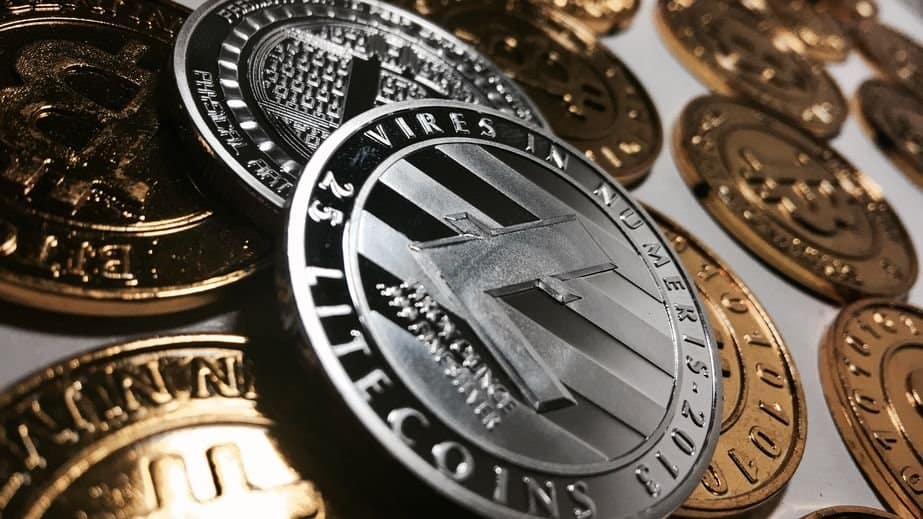 Litecoin is the fourth-largest cryptocurrency by market cap and often referred to as 'silver' to Bitcoin's 'gold.' It offers a faster payment network when compared to Bitcoin and is only two years younger, having forked from the former in 2011.
Unlike the early days when it was difficult to find where to buy Litecoin, you can now buy LTC on any of the popular cryptocurrency exchanges where it is listed. Don't know how?
There are many exchanges where anyone can buy Litecoin in the UK. We wrote this article to guide anyone who is looking for the best place to buy Litecoin in the UK using pounds via bank transfer, debit or credit card, and a range of other payment methods.
A quick guide on how to buy LTC with GBP on CEX.io
Register on CEX.io and complete KYC.
Go to Buy/Sell.
Select LTC as the coin to buy and GBP as the currency to pay.
Input the transaction amount and click Buy.
Insert and confirm your card details on the next page.
Confirm your order details and complete the transaction.
Go to Finance to view purchased LTC units on your account.
You can withdraw to an external wallet or leave it on CEX.io.
Aside from the above steps, CEX.io offers other options to buy LTC with GBP. We'll review one more option in the next subheading, and then look at other exchanges where you can also purchase Litecoin with British Pounds.
How to buy Litecoin with GBP
CEX.io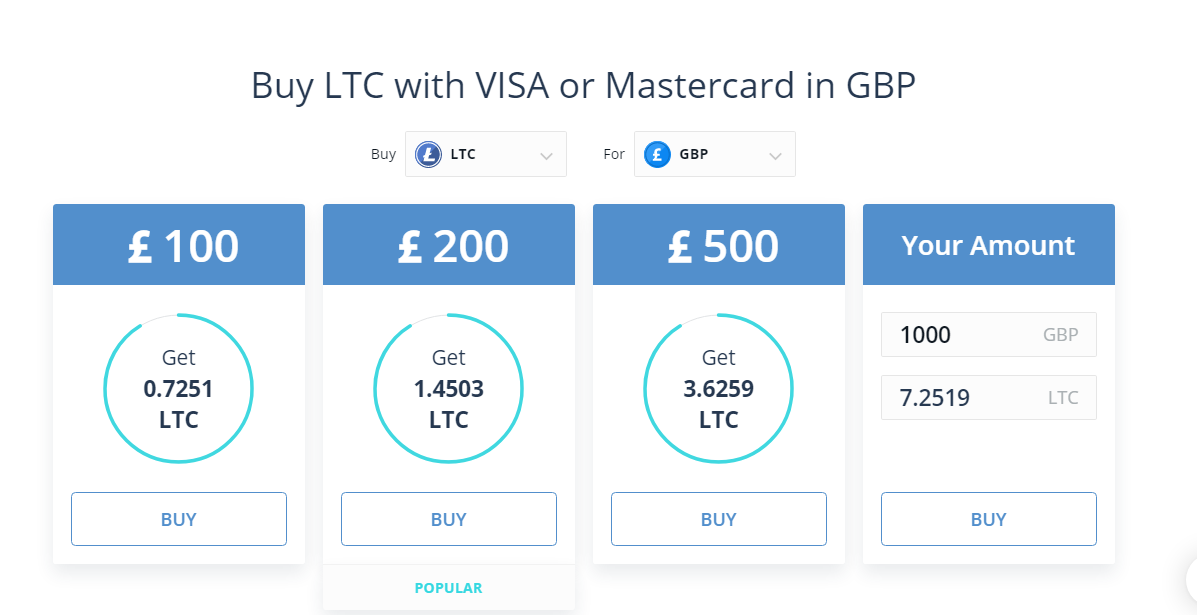 Based in the United Kingdom, CEX.io is one of the oldest cryptocurrency exchanges. The platform launched in 2013 and offers access to a wide range of cryptocurrencies and fiat deposit methods.
How to do it:
Create an account on CEX.io and verify KYC documents.
Go to Deposit and choose your preferred deposit method.
Input the amount to deposit, and select GBP as the currency.
Complete a bank deposit if you chose the option
Pay using the provided CEX.io bank details.
Wait for bank transfer to complete (1-2 business days).
Once confirmed, go to Trade
Search for and select the LTC/GBP trading pair.
Switch the order type to Market
Fill in details under the Buy LTC column.
Click Buy Now.
Supported Payment Methods: Credit and Debit Cards, Bank Transfer, Swift, Skrill, EPay.
Coinmama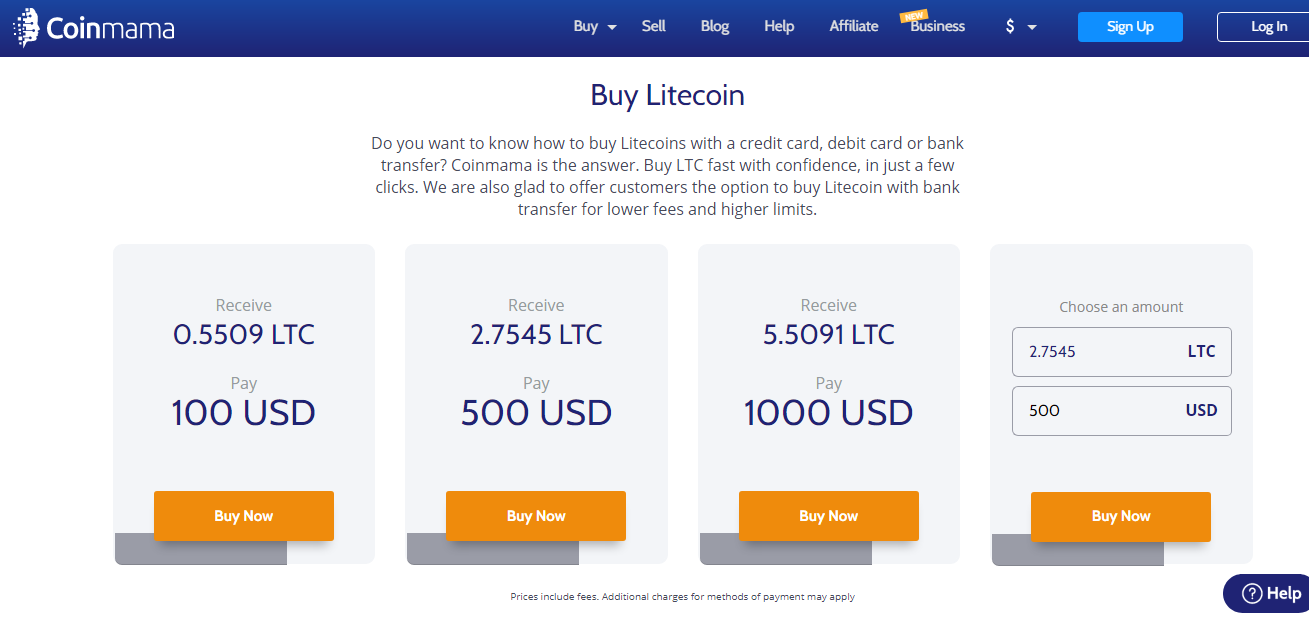 Coinmama is another best place to buy Litecoin with debit card. Unlike CEX.io, Coimama does not use an order book but fulfills orders from its wallet. Thus, you will need an external wallet to receive the LTC you buy from the platform.
How to do it:
Register on Coinmama.com and complete their KYC process.
Go to Buy and select Litecoin.
Input amount to buy and the GBP equivalent.
Input your external LTC address and proceed to order confirmation.
Choose your preferred payment method and complete the fund's transfer.
Once confirmed, CoinMama will transfer the purchased LTC to your address.
Supported Payment Methods: Credit and Debit Cards, SEPA, Bank Transfer, Apple Pay.
Coinbase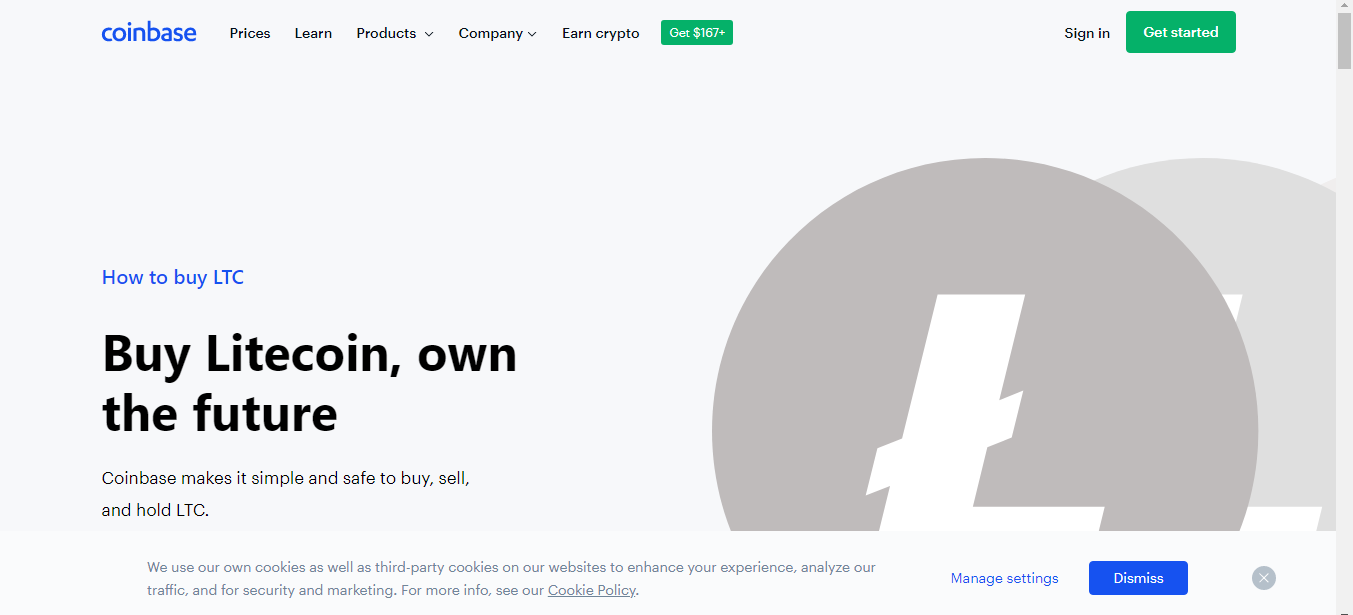 With over 30 million customers, Coinbase is one of the most popular cryptocurrency exchanges. The platform serves both UK and US customers and is a good option for anyone who wants to buy Litecoin.
How to do it:
Create a Coinbase.com account.
Complete their phone and KYC verification process.
Go to the Payment Methods page
Select the option to Add a Credit or Debit Card.
Enter your card information and billing address if required and wait for a confirmation.
Go to the Buy/Sell Page
Enter the amount of Litecoin to buy and confirm.
Select the Bank Card that you just added as the payment option.
Confirm the order and complete the final checkout.
Once successful, Coinbase will add the purchased LTC to your account.
Supported Payment Methods: Credit and Debit Cards, Faster Payments, SEPA Transfer, with PayPal (withdrawals).
EXMO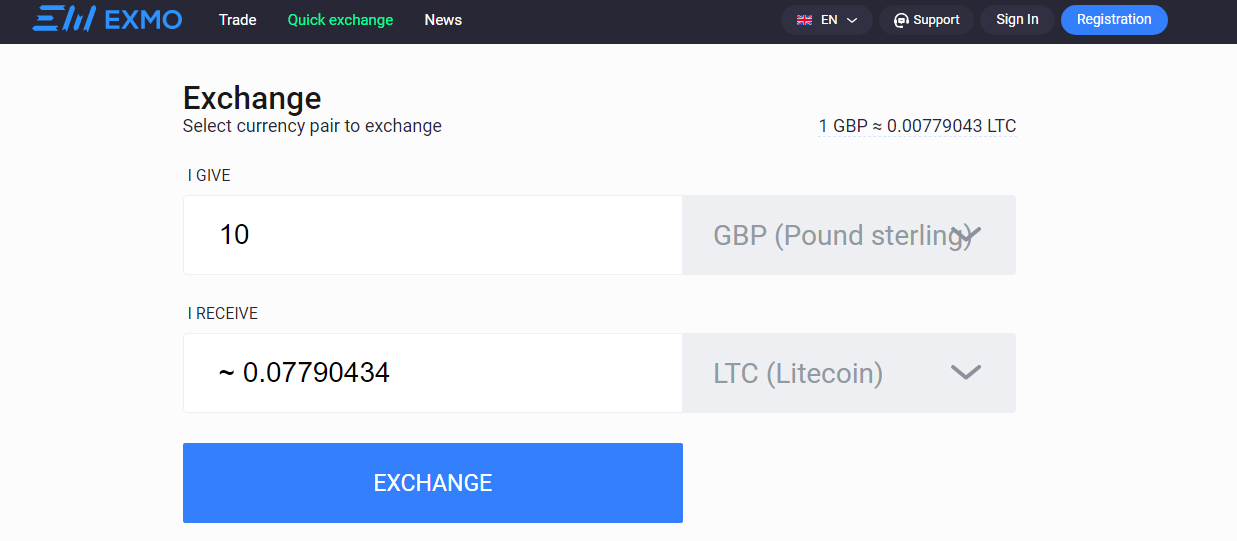 Exmo is one of the oldest and reputable cryptocurrency exchanges in the UK and currently licensed under the temporary registration regime enacted by the Financial Conduct Authority (FCA). Exmo supports Litecoin purchases and also offers a range of payment options.
How to do it:
Register on Exmo.com and complete their KYC process.
Go to Funding and click deposit on your GBP wallet.
Enter the amount to deposit and select your preferred payment method.
Complete the funds' transfer.
Go to Quick Exchange
Select GBP as the currency to give and LTC as the coin to receive.
Click Exchange and confirm the order to complete.
Go back to Funding to view purchased LTC and withdraw if you wish to do so.
Alternatively, you can use EXMO's Buy Crypto tab powered by Simplex.
Supported Payment Methods: Credit and Debit Cards, CHAPS, Faster Payments, SWIFT, Bacs, EXMO gift cards.
BC Bitcoin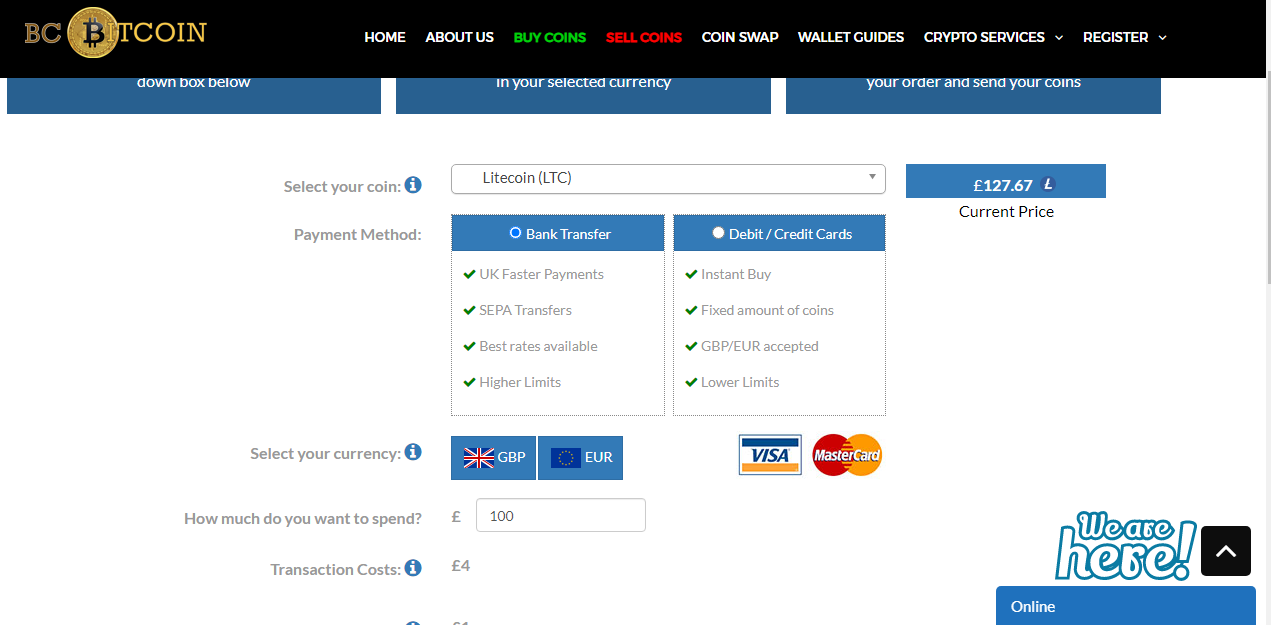 BC Bitcoin is the second non-custodial cryptocurrency exchange on this list. Like Coinmama, BC Bitcoin does not maintain an order book but sends you the purchased coins from their wallet.
Therefore, you'll need to set up a wallet on another exchange or on Ledger, Trezor, or mobile wallet apps to receive your funds.
How to do it:
Sign up on BCBitcoin and verify your identity.
Click Buy Coins
On the next page, select Litecoin from the coin dropdown.
Choose GBP as your currency and enter the amount to spend.
Review transaction details
Enter your LTC wallet address and click Next Step.
Provide card details on the next page if you chose the option.
Otherwise, complete a bank transfer to the provided BC Bitcoin bank account.
Confirm the transaction, and wait for BC Bitcoin to deliver your coins to the address within 30 minutes.
Supported Payment Methods: Debit and Credit Cards, SEPA, Faster Payments.
Wirex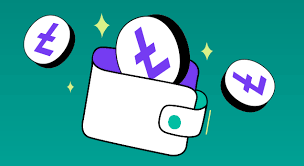 Wirex is an application that lets users manage and exchange both fiat and cryptocurrencies. In 2018, Wirex added Litecoin to its list of crypto assets, letting users convert GBP, EUR, and USD to Litecoin directly.
Wirex also offers a debit card that lets you spend your cryptocurrencies on the go. Read our review of the Wirex Debit Card.
How to do it:
Download the Wirex App and sign up.
Complete the compulsory verification process.
Navigate to Cryptocurrencies and find your LTC wallet.
Click Add Funds and Select the Card option.
Enter your Card details and add them to your Wirex Account.
Input the amount of LTC to buy, and the GBP equivalent appears.
Click Pay to confirm the purchase.
Wirex will add the purchased units to your LTC wallet.
Supported Payment Methods: Credit and Debit Cards, PayPal, Bank Transfer
LitecoinLocal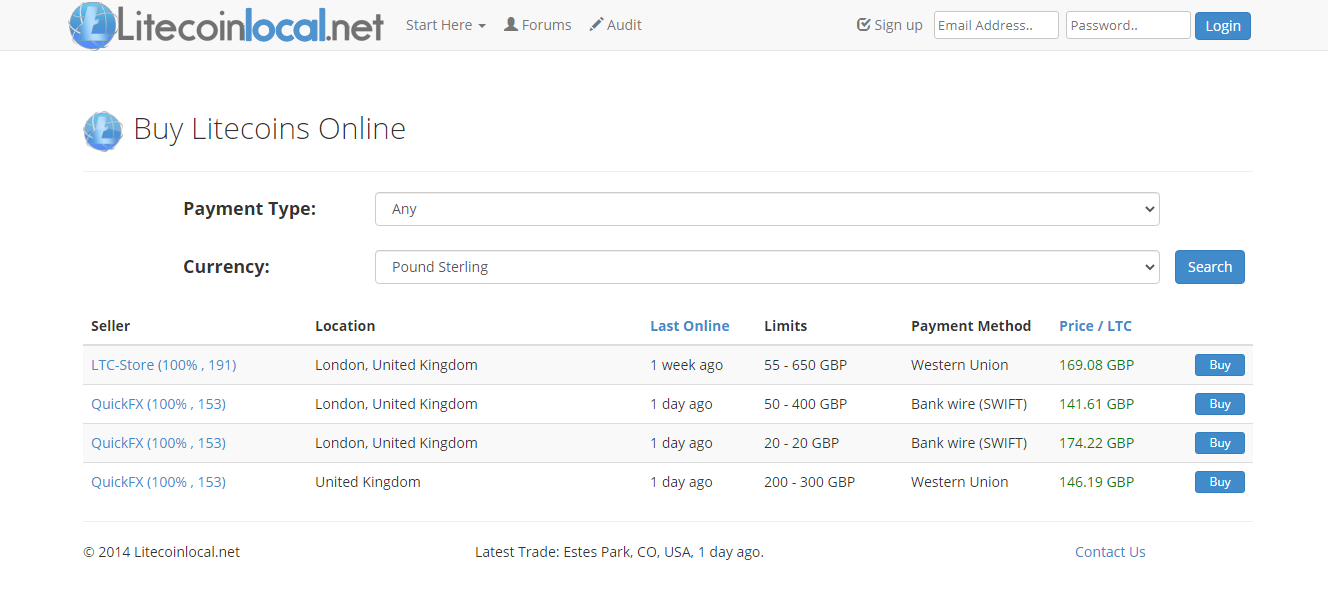 LitecoinLocal is unlike the other exchanges reviewed so far. It is a peer-to-peer marketplace primarily facilitating Litecoin trades. In other words, you're buying Litecoins from another person while LitecoinLocal serves as the escrow.
How to do it:
Visit Litecoinlocal.net and create an account.
Click Start Here and select Buy Litecoin.
Select Buy Online (we recommend this model.)
Alternatively, you can choose to Buy in Person via Cash.
Choose a GBP offer that falls within your price range and payment method.
Click the Buy button on the offer.
Review the seller's payment information, and be sure you can use it to pay.
Read the seller's review on the right side of the page.
Input the amount you want to buy and send a message to the seller on the next page.
Arrange in the chat how to complete the payment.
Wait for the seller to lock funds in the LitecoinLocal escrow (takes 20 minutes or less).
Send Payment to the seller and wait for confirmation.
LitecoinLocal will transfer the purchased litecoins to your account.
Go to Wallet > LTC to withdraw funds to your external address.
Supported Payment Methods: SWIFT, Western Union, SEPA.
Buying LTC with other cryptos on Binance short step-by-step guide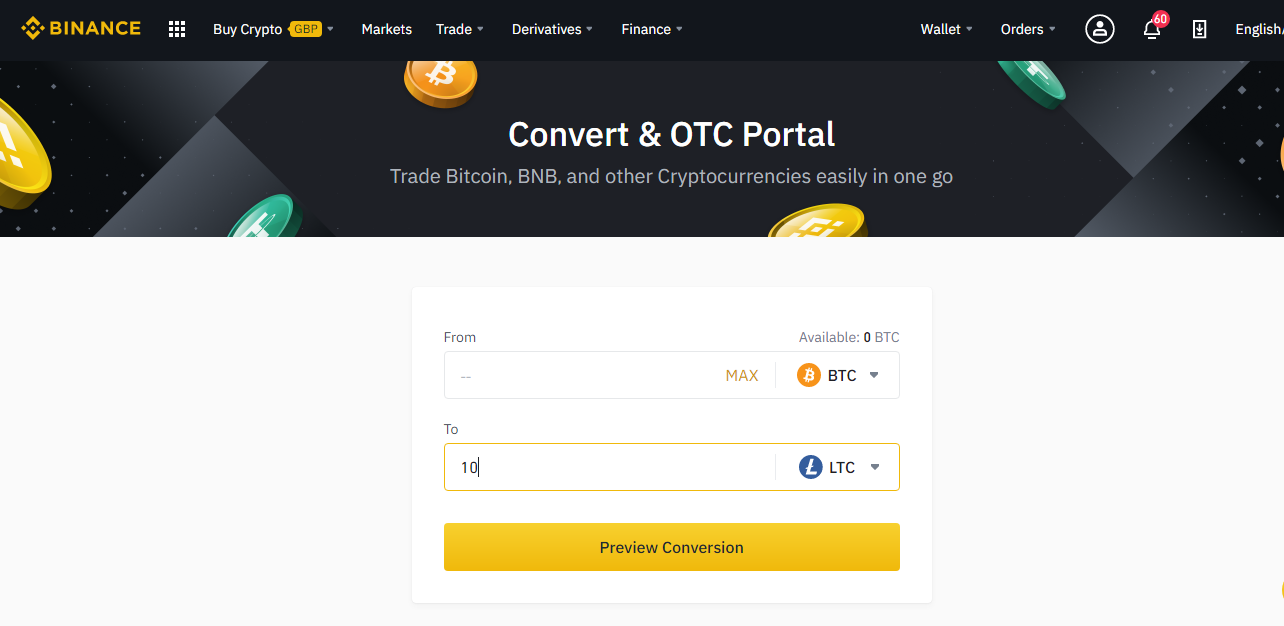 Another way to buy Litecoin is to exchange another cryptocurrency for us. If you have Bitcoin or ETH, for instance, you can sell it for LTC using an exchange like Binance.
At the time of writing, Binance does not require a KYC process if you're only going to trade cryptocurrencies and not exchange them for fiat currencies. Here's how to exchange Bitcoin for LTC on Binance.
How to do it:
Create a Binance.com account and verify your email.
Go to Wallet > Fiat & Spot
Find your BTC wallet and click deposit.
Transfer BTC from your external address and wait for the network confirmation.
Go to Trade > Convert
Enter BTC as the coin to convert to LTC.
Click Preview Conversion and complete the order.
Things to consider before buying Litecoin
If you're a new investor looking to add Litecoin to your portfolio, then you may want to keep these points in mind before making a purchase.
Market Conditions: Although Litecoin has historically yielded massive returns for investors, it is vital to understand the market conditions before you buy. If your purchase will be done once and involves a lump sum, then it may be best to wait for when prices are low before buying.

On the other hand, investors that buy a specified amount per period (dollar-cost averaging), can still see excellent results overtime when they build their position irrespective of market conditions.
Cost of Purchase: One mistake new investors often make is failing to add exchange fees and other charges to their total cost of purchase. While 1 LTC may be worth around £120, you may end up getting £117 or less per coin depending on the exchange you use. For this reason, it is vital to choose the most fee-friendly exchanges.

Binance, Wirex, and EXMO offer the lowest fees for buying Litecoin.
Where to store Litecoin
You may already know the saying 'not your keys, not your crypto.' It is a popular quote that reminds cryptocurrency holders about the risks associated with holding their funds on exchanges.
Putting that into perspective, we recommend that large holders invest in a hardware wallet such as Trezor or Ledger. These devices store your assets offline, making it almost impossible for hackers to breach without any human error.
If you hold a smaller amount, you can use non-custodial wallets like Coinomi, Trust Wallet, or Atomic Wallet to store your litecoins. Only leave on an exchange, the amount you want to actively trade.
Privacy and security tips
Storing your coins in a hardware wallet is probably one of the best security measures. But it requires more to secure your assets. Consider the following tips.
Enable advanced security features such as two-factor authentication (2FA) on your exchange account.
Set up strong passwords, and use multiple passwords for different exchanges.
Always double-check addresses before initiating transfers. For larger amounts, it may be best to send a test transaction first, and then send the full transaction if successful.
You may want to stick with Binance and LitecoinLocal for privacy reasons. Both platforms do not mandate KYC.
Conclusion
In this article, we reviewed information for those looking for where to buy Litecoin. We covered how to buy Litecoin with GBP and exchanges where you can do so. Lastly, we mentioned supported payment methods and offered guidance on how to store your Litecoins and protect them from predators.
While no one can accurately predict Litecoin's future price, many believe it has the potential to become more valuable in the future. Until then, we're sure you've learned from this article how to stack your Litecoin sats and keep them safe.