People have different reasons why they don't want to release their identity while purchasing cryptocurrency. If you want to protect your privacy, buying Bitcoin anonymously with no verification is a good idea and lots of people would like to use this opportunity.
Table of Contents
Is it possible to buy Bitcoin without verification?
As lawmakers around the world gradually introduce tighter regulations on cryptocurrency trading, it's becoming more difficult to buy Bitcoin without ID.
However, if you value your privacy, there are still some sites where you can buy cryptocurrency without going through a verification process.

Please note: Bitcoin is pseudonymous rather than anonymous. Everything is recorded on a publicly shared global ledger called a blockchain. And it is only a matter of enough dedicated time and resources to de-anonymize your Bitcoin transactions, even if you don't verify your identity while buying crypto.
Ten (10) ways to buy cryptocurrency anonymously
LocalBitcoins
LocalBitcoins is a significant crypto exchange. It is a real peer-to-peer trading platform that matches the buyers and the sellers. LocalBitcoins (LBC) was the original P2P exchange, the first one among all the available today P2P platforms.
LBC recently updated its terms of service to require additional identification for traders who exchange a significant volume of coins. Furthermore, LBC does require basic levels of trust to facilitate trading; a mobile number, or email address for example, although these things can be easily modified to keep your privacy.
If you don't want to enter your bank details, you can set up a meeting through the LocalBitcoins messaging platform. To do this, just go to a local seller's trade, filter for those who offer cash payment, message them, and arrange a meeting to complete the purchase in cash in person.
LBC's greatest function, from a privacy perspective, however, is its ability to facilitate cash transactions in person. Once you've met and established trust with an LBC trader, subsequent transactions can be conducted in confidence and in privacy, without broadcasting your desire to buy bitcoin to the whole world.

Changelly
Changelly is a decentralized crypto-to-crypto exchange platform that does not require an ID card to use its services. You don't even need to register an account. But you should already have some crypto coins in your pocket to use this exchange to buy Bitcoin.
Here are the simple steps for crypto trading:
Choose the crypto pair you want to trade
Pick up a temporary wallet address
Send crypto to the generated address
Changelly will forward you the purchased tokens shortly after
This is the quietest and simplest platform out there in terms of user experience and you will come to the same result once you try it out.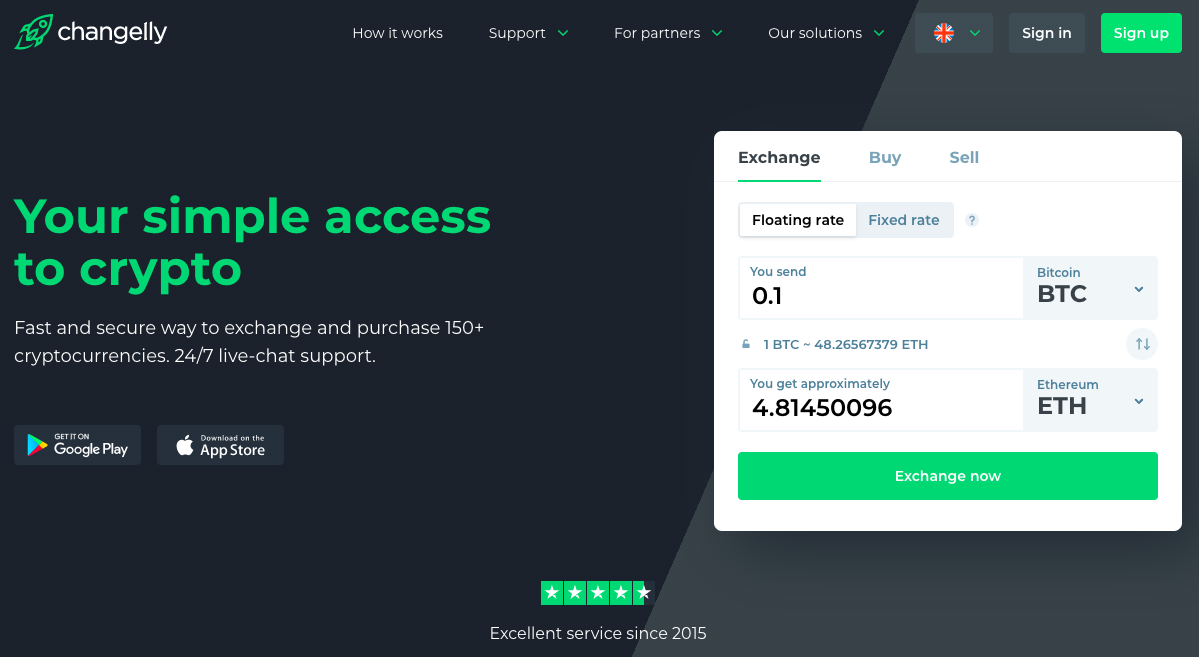 Crypton Exchange
Crypton Exchange is an anonymous and decentralized crypto exchange service based on the Utopia P2P ecosystem and provides secure cryptocurrency transactions with the lowest fees on the market.

*Utopia P2P is a decentralized ecosystem that provides all the benefits of Web 3.0 already in 2023. It is anonymous and secures data transmission, web browsing, information retrieval, and much more.

The crypto exchange claims full anonymity, and the easiest possible KYC verification. It means that you do not need to enter your data to register. The entire registration process is associated with anonymous registration in the Utopia P2P ecosystem. At the same time, you do not need to enter a phone number, email address, and other data.

Using Crypton Exchange, you can anonymously buy and sell Bitcoins, with subsequent exchange or withdrawal of funds. At the same time, all the data of the buyer and seller are encrypted and anonymous.

Also, Crypton Exchange has its cryptocurrency — Crypton (CRP) and Utopia USD Stablecoin (UUSD), as well as some other popular cryptocurrencies — Monero, DAI, USDT, available for purchase, exchange, sale, or withdrawal on the platform.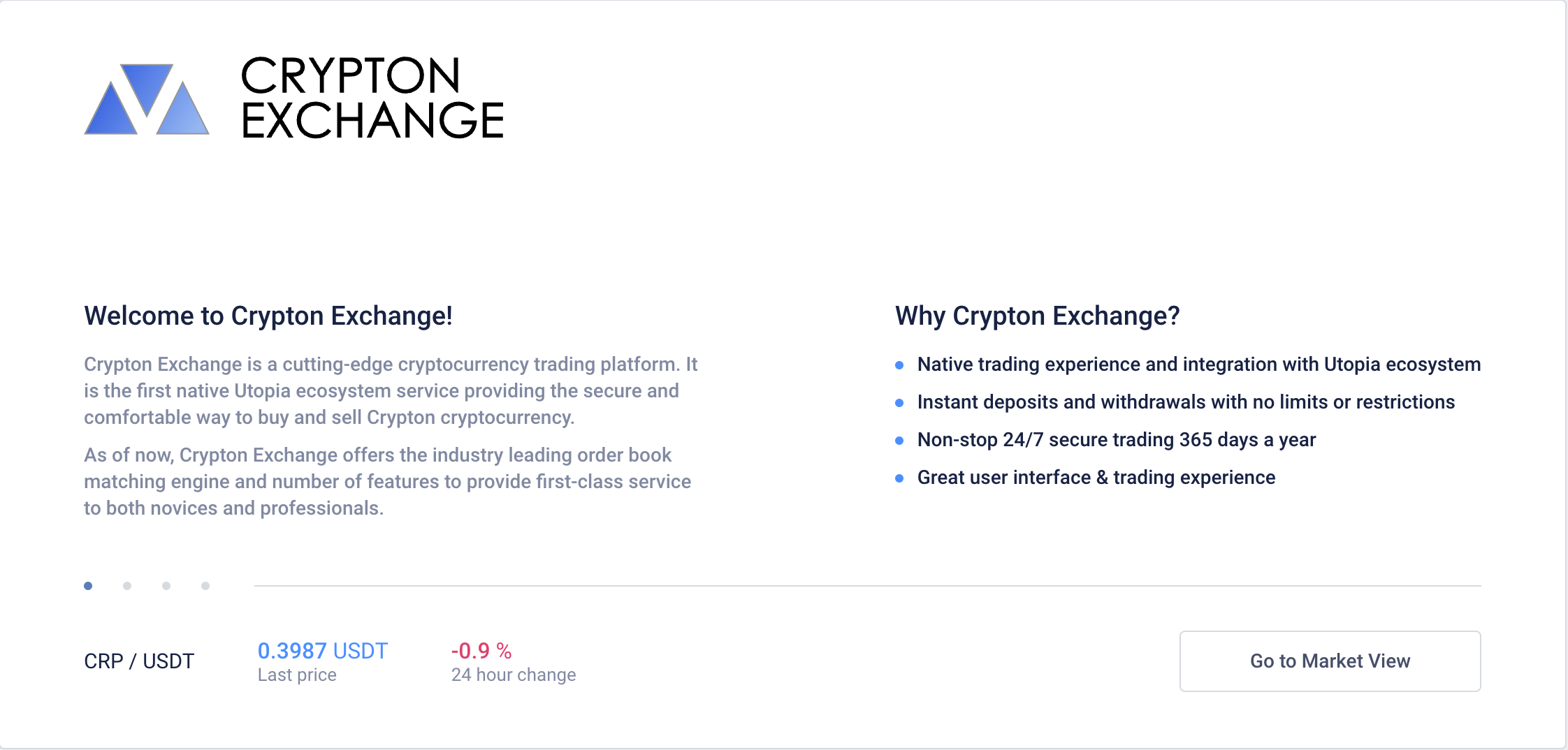 Exolix
Exolix is another secure and anonymous crypto exchange that offers to swap over 349 cryptocurrencies. Launched in 2018, it is one of the few crypto exchanges that does not require customers to register on the platform and verify their identities to complete a transaction. Other great benefits of Exolix are no maximum limits and the possibility of making fast, easy, and secure transactions.
Exolix is a fixed-rate exchange where users do not suffer from unpredictable fee changes. The exchange process is characterized by absolute transparency since users can track every stage of the order and its status. Any questions faced by users can be easily solved by customer support available 24/7.
How can you exchange funds on Exolix? There are 3 simple steps to complete:
Enter order details: currencies to swap and the amount to give, the recipient's address.
Send coins to the address generated by the platform.
The platform completes the exchange, you will see all the transaction details.
Usually, it takes 5 to 30 minutes to process the transaction on Exolix. The exchange does not charge any fees and has a fixed rate without any hidden fees. Exolix also offers an affiliate program where users can receive from 0.5% to 0.7% of each successful transaction.


Cryptex
Cryptex is a crypto exchange and trading platform registered in the UK. It is an automatic service that allows exchanging, buying, and selling Bitcoin for electronic currencies and vice versa without identity verification.
There are no transaction volume limits, the platform operates with cash in over 10 countries and 100 cities in Russia, Ukraine, the United Kingdom, Spain, Estonia, Latvia, Lithuania, Turkey, the United Arab Emirates, and other countries.
Why is Cryptex a superior choice for traders? The platform offers the best exchange rates for Perfect Money and Bitcoin, as well as offers withdrawals via a one-string code provided by Cryptex if the price does not satisfy you. The code is denominated in US Dollars and can be credited to any Cryptex account. Cryptex code can be used as a source of payment as well.
Traders receive a wide range of top-notch benefits on Cryptex including zero trading fees for liquidity providers and solid account protection.
How to buy Bitcoin on Cryptex? It is necessary to open the official website and press the Make Exchange button to start the process:
Enter the amount you want to send and select the currency.
Provide the currency you want to get and the amount to be received is calculated automatically.
Enter your email address.
Paste your wallet address to get funds.
Agree with the Terms and Conditions and Privacy Policy, and confirm that you have been notified that the exchange rate may change during the transaction.
Complete the transaction by following the hints provided on the website.
Cash transactions should be confirmed when a manager of the exchange contacts you, but it does not take much time.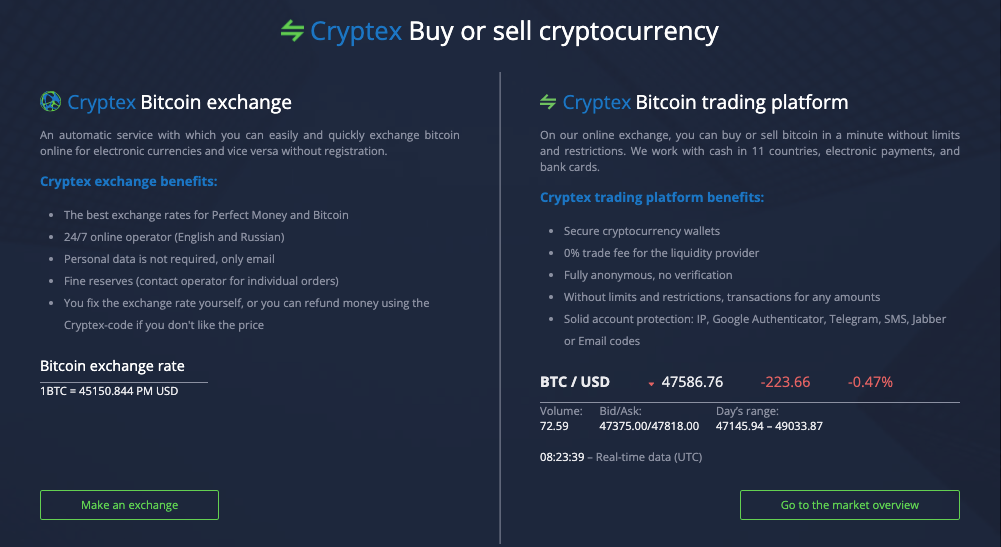 Paxful
Paxful is a popular person2person platform where sellers and buyers make trades directly between themselves. The p2p nature of the exchange allows users to keep their real names and identities relatively secret.
The major advantage of using Paxful is the number of payment methods available (300+). The most popular deposit types are iTunes/Amazon Gift Cards, Paypal, Skrill, NetTeller, and Webmoney. Users can also make cash purchases via Western Union, MoneyGram, cash in person, cash deposit to bank, or even using a Bitcoin ATM.
Use Paxful to find someone willing to sell Bitcoins for cash next to your physical location. You can use an alias email address to sign up for Paxful and the verification ID process they have is optional. When you use cash, it's easy to go on untraceable as there is no information for the transaction.
While there are some sellers that ask for your real name for large volumes. But if you deal with smaller orders under $1000 USD, don't even worry about your ID.
Paxful is definitely one of the best and most reliable sites to buy BTC without verification because of the range of choices for depositing money.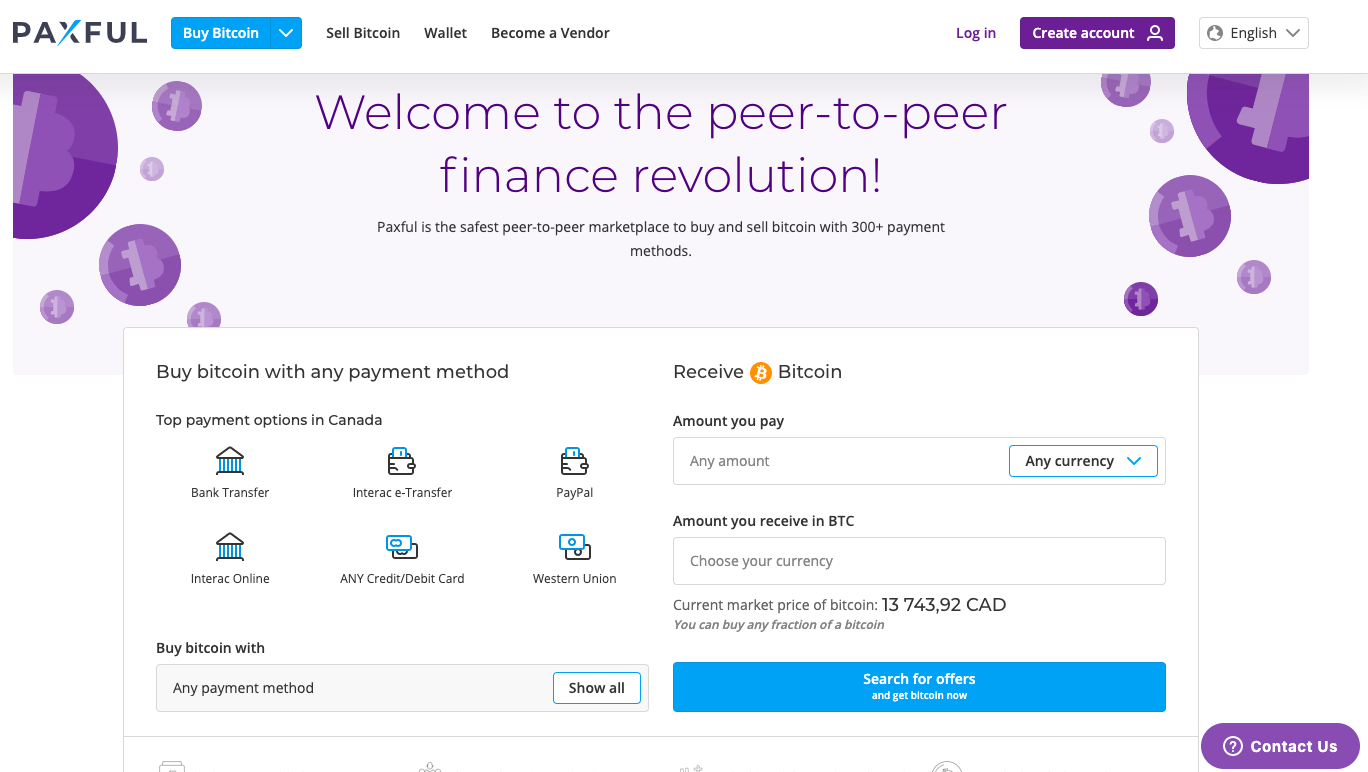 Bisq
Bisq is open-source, peer-to-peer software that allows you to buy and sell cryptocurrencies in exchange for national currencies. There's no registration required to use this platform. You can buy BTC without firstly scanning your passport, driving license, or disclosing your financial history.
Bisq does not hold any bitcoins. This means that all cryptocurrencies are held in multi-signature addresses rather than a Bisq-controlled wallet. Additionally, Bisq does not hold any fiat currency (i.e. Dollars, Euros). Fiat is transferred directly from one trader to another. In other words, it is a cryptocurrency marketplace.
All you need to do is to download Bisq's desktop software As its FAQ explains, "Bisq does not know the traders. No data is stored on who trades with whom. Bisq does not require registration. This means privacy is maintained, there are no "approval" wait times, and identity theft becomes impossible."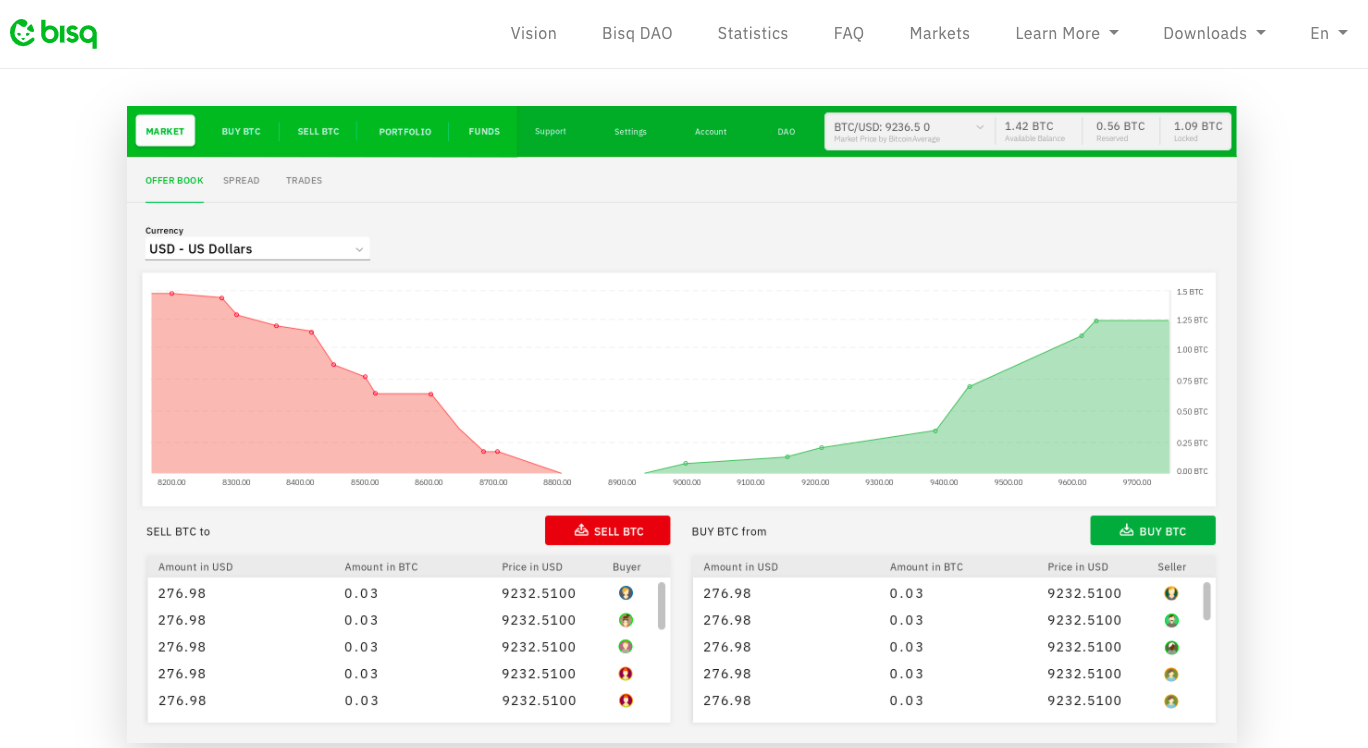 ShapeShift
ShapeShift exchange is a pseudo-decentralized exchange and thus requires no registration or verification. Put simply, Shapeshift is directly integrated with decentralized exchanges (DEXes). Hence, even though you're trading on ShapeShift, the order is routed through a DEX.
One thing to keep in mind while using ShapeShift is that not all currencies are available. Check and make sure that the crypto token you get is open for swapping. Shapeshift takes a fee on the crypto swap so you will get a little less of the pair currency you have exchanged for.
Meanwhile, you'll also require a Web3 wallet such as Metamask or Trust Wallet to interface with the ShapeShift platform. Once you have some cryptocurrencies in your wallet, you can swap them on Shapeshift.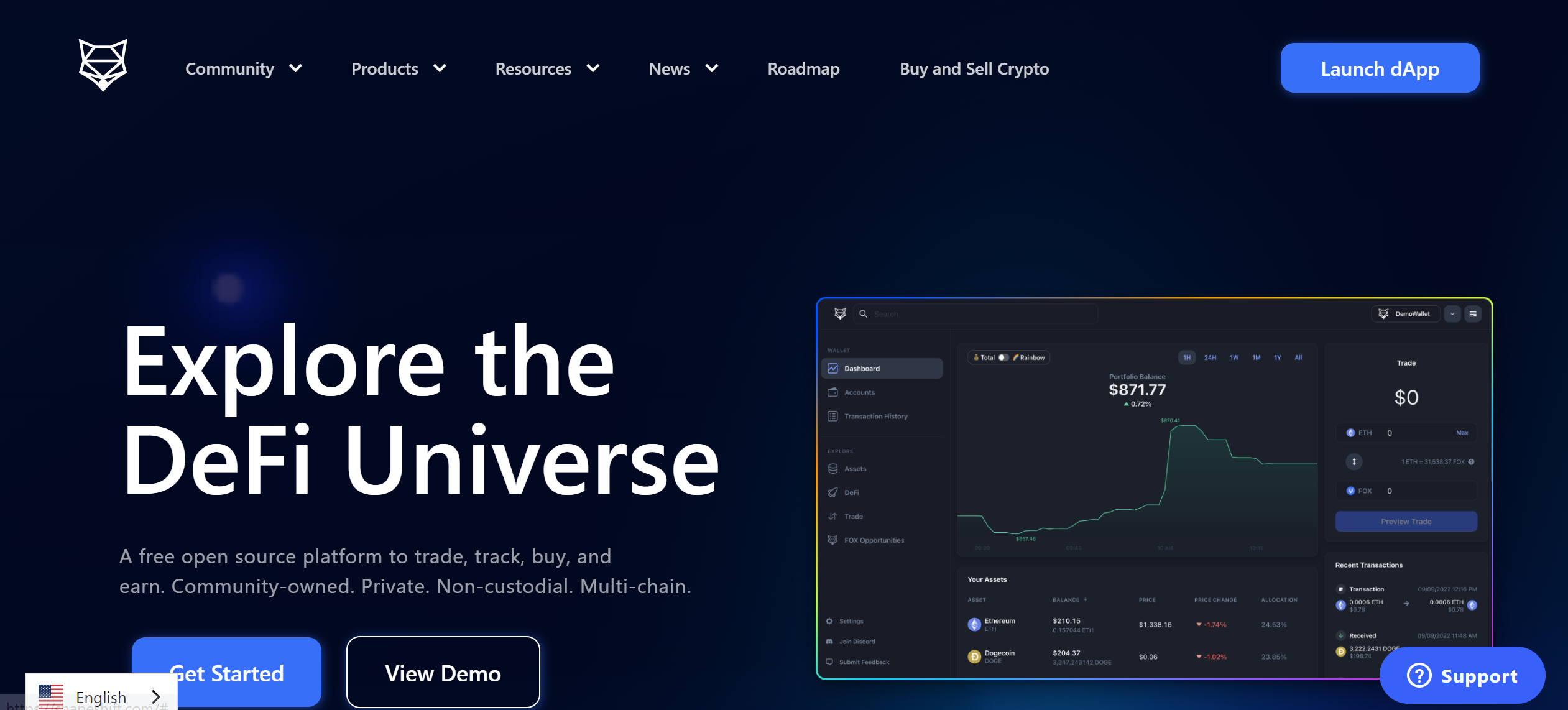 HodlHodl
HodlHodl is a global P2P Bitcoin exchange that allows users to trade directly with each other. The site doesn't hold users' funds which allows it to avoid KYC and ID verification processes. HoldHold locks user funds in a multi-sig escrow that minimizes the possibility of Bitcoin theft and allows for a faster trading experience.
Furthermore, HodlHodl only charges a 0.6% fee shared between the buyer and seller. Users can also access a variety of payment methods including SEPA, Faster Payments, PayPal, and many others depending on your location.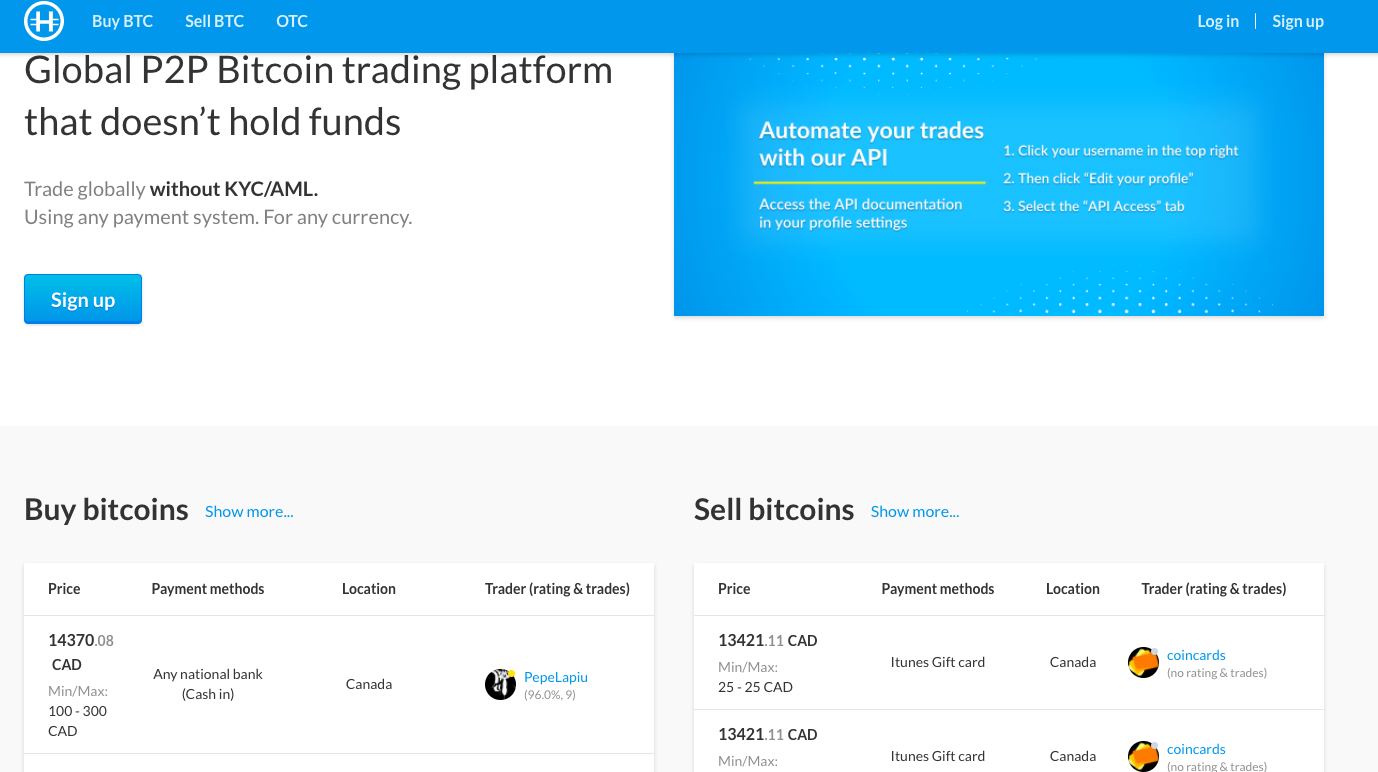 Bitcoin ATM
If you don't know anyone willing to sell you some Bitcoin, the first place to look is a Bitcoin ATM. Bitcoin ATMs are fairly easy to use and let you purchase Bitcoin anonymously with your credit or bank card.
Most large cities have a Bitcoin ATM machine and some even have several! That's where CoinATMRadar gets super handy. The website features an interactive map of global bitcoin ATMs (aka bATM). Simply search for your location, select the nearest machine, and check the requirements for buying.
Note that there are over 38,000 ATMs in existence and 598 operators around the globe. Knowing who made and who operates your chosen bATM will give you extra insight into the buying process. The reason is that some do sell bitcoin without ID being requested, while others will need a passport before exchanging cryptocurrency for your fiat paper money.
Keep in mind that just like buying with cash, Bitcoin ATMs take a higher commission relative to the spot price. Expect premiums of 10 to 20 percent, depending on the machine operator.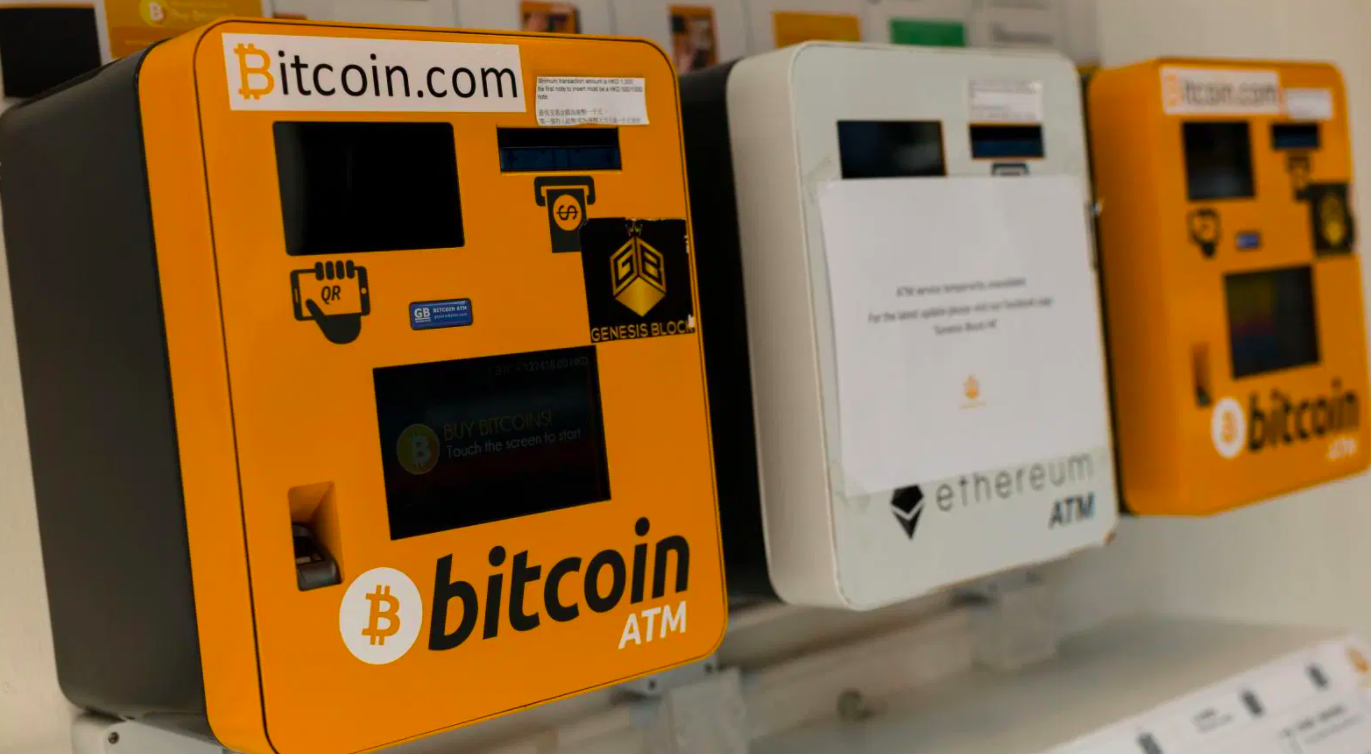 CoinCorner
CoinCorner is a cryptocurrency exchange founded in 2014 with headquarters located in the UK. The exchange operates in over 45 countries all around the globe and its main advantage is the possibility for both UK and EU citizens to buy Bitcoin without ID verification. The maximum amount to buy crypto without a check is £900 (and the EUR equivalent).
CoinCorner is a traditional exchange that allows buying, selling, and storing Bitcoin. The service is trusted by over 200K people and allows buying coins with as little as £10 spending a minimum of time (less than 10 minutes on average).
The purchasing procedure is quite simple. It is enough to register on the platform, make a deposit and buy Bitcoin on the respective page. The exchange supports several banking options, including credit or debit cards, bank transfers, SEPA, or Neteller, as well as offers the Auto Buy feature for more convenience.
CoinCorner has a number of advantages over other platforms. It is an award-winning exchange that allows purchasing Bitcoin with GBP or EUR and has a user-friendly mobile app available on Android and iOS. However, its main drawback is the support of Bitcoin only, other tokens are not available.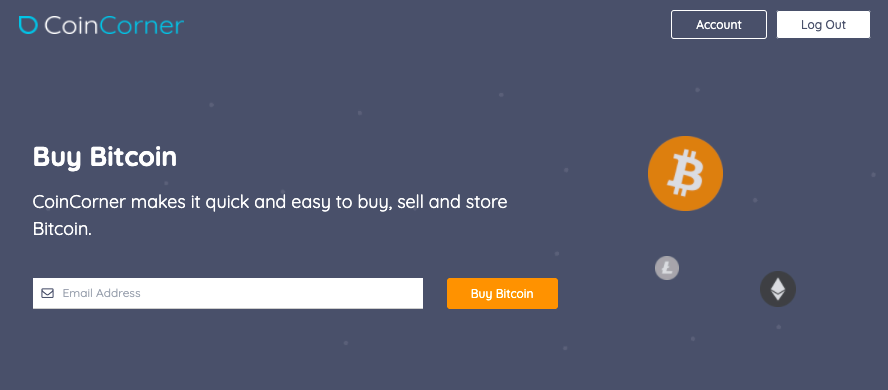 Why is it difficult to buy crypto without ID?
Regulators around the world are gradually introducing legislation that governs digital currency exchanges and cryptocurrency trading. While the UK is still a fairly unregulated country when it comes to cryptocurrency, exchanges often require ID verification so that they're able to operate globally.
How to protect your privacy while buying crypto?
Most of the methods described above don't require you to use an ID verification to buy bitcoins. Yet, it is possible for authorities to track your identity using more sophisticated techniques. Sometimes you can be identified using your IP or through the private wi-fi that you are using.
Or you might accidentally disclose your Bitcoin public address online somewhere. Or a seller might track you down from your mobile or vehicle number when you do your face-to-face Fiat/Bitcoin deal with them.
So here are a few techniques to add an extra layer of privacy to your crypto transactions:
Privacy-focused Bitcoin wallet

Bitcoin wallets that implement CoinJoin technology (like WasabiWallet) help you break down the linkability and traceability of your transactions.

Tor browser and .onion links

Use the Tor browser to connect to the Bitcoin network and trade coins on one of the above-listed platforms.

VPN

A log-less virtual private network (VPN) is a network that doesn't store the history of your activities on its servers. It encrypts all of your internet traffic and routes it through multiple servers of your choice at different locations before arriving at the final location.

New Wallet Address

Generating a new address for each transaction is good practice to ensure anonymity when using Bitcoins on a regular basis. This way, it will be hard to link to trace 2 or more transactions to your real-life identity.
Summing Up
It is not that easy to buy Bitcoin anonymously due to multiple regulations that are being introduced around the world.
Luckily, there are still workarounds that allow you to move around and buy BTC without ID. And to support such demands, some companies offer anonymous buying and selling of bitcoins. However, extra anonymity comes at an extra cost. These methods are 5-10% more costly than other conventional ways of buying bitcoins.