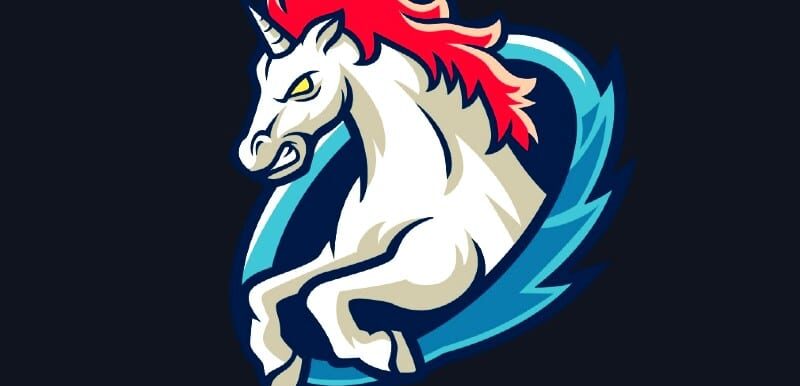 The number of Investors looking for how to buy 1inch token has increased significantly since the token launch.
1inch is the native token for decentralised exchange platform, 1inch Exchange and was initially airdropped to historical users of the 1inch platform and core developers of the protocol to build a decentralised autonomous organisation (DAO).
Today, anyone, including UK investors, can buy 1inch token via exchanges.
"Quick" step-by-step guide" on how to buy 1inch
Create a Binance account
Go to Fiat and Spot Wallet and find Bitcoin.
Copy your BTC deposit address and transfer funds from an external wallet.
Once you have BTC, go to Markets.
Find the INCH/BTC pair.
Switch the order type to Market.
Enter the amount of BTC to spend for 1INCH
Click Buy 1INCH.
Congrats! You just bought 1INCH tokens and can either hold or sell when you decide.
Alternative: Buy BTC, ETH, or USDT with GBP and trade for 1inch on an exchange
Another way of buying 1inch with GBP is to buy BTC with GBP or buy ETH with GBP. Read our guide on How to buy bitcoin in the UK and buy Ethereum in the UK to learn how to do that.
In the following section, we'll show how to buy BTC or ETH with GBP, and then sell them for 1INCH on supported exchanges. Here's a list of exchanges and a guide on how to do it on each of them.
KuCoin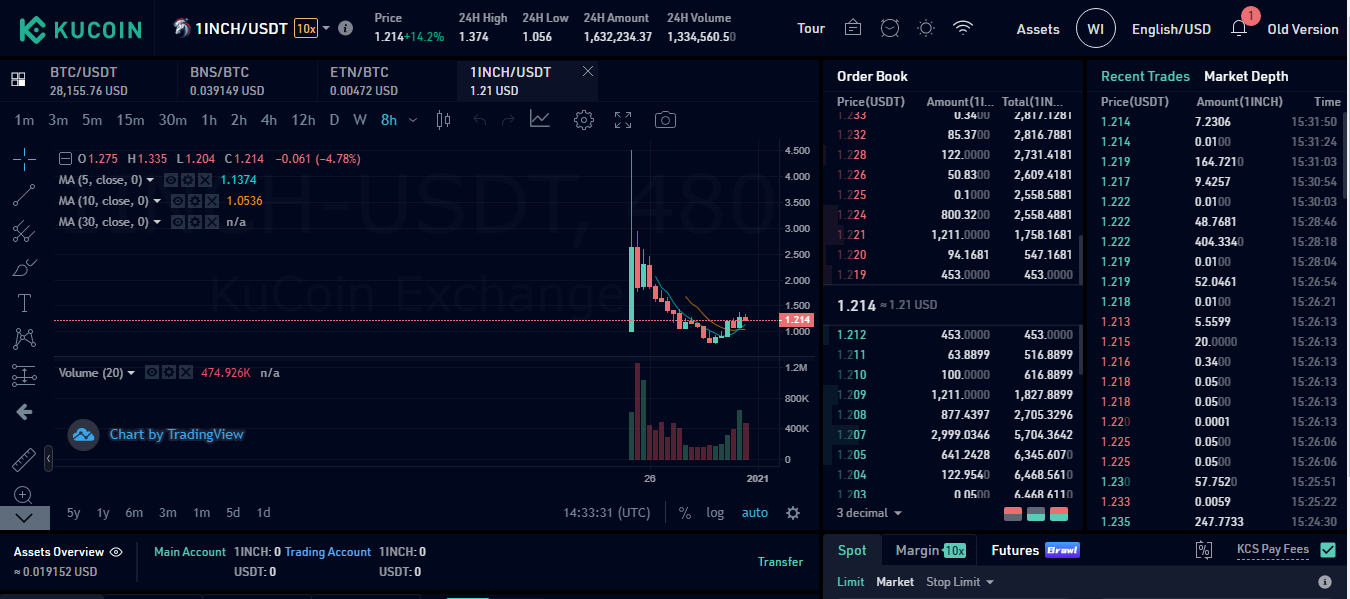 At this time, KuCoin only supports the INCH/USDT pair. So, instead of buying BTC or ETH, we'll buy USDT.
How to do it:
Register on KuCoin.com
Go to Buy Crypto and select the Credit/Debit Card option.
Select USDT as the coin to buy GBP as the payment currency.
Fill in order details.
Follow the on-screen instructions to complete the purchase.
Once successful, go to Assets and select Main Account.
Find the USDT wallet and use the transfer button to move the funds to your Trading Account.
Go to Markets and search for the 1INCH/USDT pair.
Input your trading password.
Switch the order type to Market and put in the amount of USDT to spend.
Click Buy 1INCH to confirm the order.
Go back to Trading Account to transfer the purchased 1INCH tokens to your main account.
Then, withdraw to an external wallet or keep it on KuCoin until you want to sell.
Pros
KuCoin supports credit/debit card crypto purchases.
KuCoin allows up to 10x leverage trading on 1inch.
The platform offers advanced features and is ideal for experienced traders.
KuCoin offers a mobile app that is easier to use for trading.
The exchange also boasts a responsive customer support desk.
Cons
KuCoin doesn't support bank deposits.
There is no BTC/INCH pair on KuCoin.
The platform is challenging to navigate for first-time users.
Payment Method: Credit/Debit Cards, Tether (USDT)
1Inch Exchange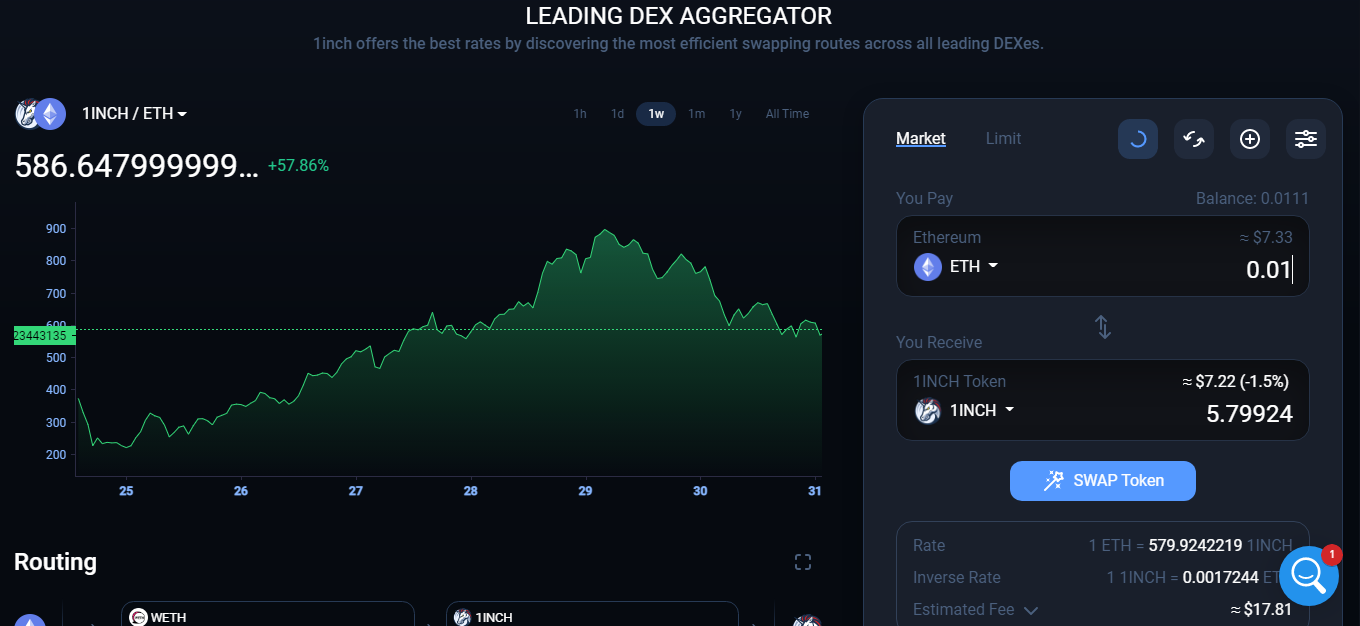 1Inch exchange is the decentralised exchange protocol behind the 1inch token. Thus, you can also get 1inch tokens by trading on the platform.
Note, however, that you need a Web3 wallet such as Trust Wallet, Coinbase Wallet, or MetaMask to use the DEX. You'll also need ETH purchased either from an exchange or held on your wallet.
For this guide, we'll use MetaMask to show how to buy 1INCH tokens.
How to do it:
Setup a Metamask Wallet extension on your browser. (see this guide on how to do it).
Buy ETH with GBP on an exchange.
Transfer ETH to the Ethereum address on your Metamask.
Go to https://1inch.exchange/
Click Connect Wallet and select MetaMask.
Approve the connection in the pop-up window.
Select ETH as the asset to pay and 1INCH as the token to buy.
Input the amount of ETH to spend and review the 1INCH equivalent.
Click Swap Tokens
Approve the ETH spend on the popup window.
Confirm the transaction on the next screen.
Once confirmed on the network, you've successfully purchased 1INCH tokens.
To view it and transfer from Metamask, go to Assets on your Metamask wallet and select Add Token.
Use the Custom Token option and paste the 1inch contract address: 0x111111111117dc0aa78b770fa6a738034120c302
Click add tokens, and then you can view your assets.
Pros
There are little to no counterparty risks since you're in control of your wallet.
1inch is a DEX aggregator and offers the best market price for token swaps.
There is no KYC requirement attached to using 1INCH.
Cons
The process requires advanced knowledge of how the Ethereum network functions.
Fees are very high when compared to buying via an exchange.
Payment Method: ETH
Where to store 1inch
Unless you're buying 1inch to hold it for a long time, then it may be enough to leave it on your Binance or KuCoin account until you decide to sell. Given that the 1inch is reasonably new, popular hardware wallets like Ledger and Trezor are yet to announce support for it.
In all, keeping your tokens in a wallet that you hold the keys to is still the best option. Thus, you can store your 1inch tokens on Metamask, Trust Wallet, Coinbase Wallet (not exchange), or any other one that supports ERC-20 tokens.
Privacy and security tips
While you go on the hunt for where to buy 1INCH tokens, keep the following security tips in mind:
Always enable two-factor authentication and other advanced security futures on your exchange account.
Use a strong and different password if you use multiple platforms.
Always double-check the receiving address before hitting the send button.
To preserve privacy, buy 1inch tokens on a DEX aggregator like 1inch exchange or other DEXes that support the token, e.g. Uniswap.
Conclusion
When it launched in December 2020, 1inch added its name to the list of DeFi tokens launched by exchange protocols. Uniswap, Sushiswap, Compound, and many protocols had done the same earlier in the year.
Eventually, though, only time can tell whether these tokens (including 1INCH) live up to the expectation of investors. If you're looking to get some for your portfolio, please tread cautiously and invest only what you can afford to lose.