Online ads have been with us almost as long as the Worldwide Web itself. The first display banner ad was purchased by AT&T as far back as 1994. That ad, which cost $30,000, received an impressive click-through rate of 44%. By the year 2001 banners started to lose their positions with the launch of Google Adwords and other advanced targeting systems. Fast forward to 2019, the average click-through rate of an ad was just 0.35%. Programmatic banners simply work neither for advertisers, not for publishers. Blockchain offers a great transparent distributed alternative to classical centralised software systems. Can we leverage this technology to solve the online advertisement problem?
Meet Gather Network – an innovative approach to website and application monetization, that leverages blockchain technology and allows network participants to earn rewards by renting their excess processing power.
Table of Contents
Web mining is one of the most promising revenue stream alternatives to traditional online advertisements due to the emergence of ad blockers. If web mining is chosen as the main revenue stream, external advertisements are fully removed, and the user's experience is improved. In the past, browser mining was used as a "grey" monetization method, but what if a publisher will ask for users' consent before using their processing power and add transparency to the process?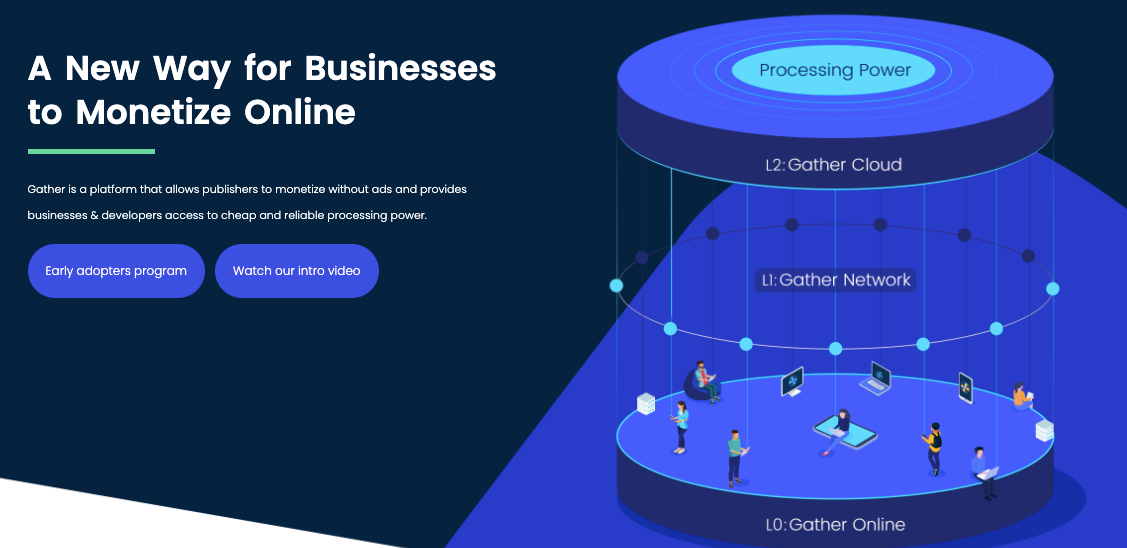 How does it work?
Content creators and website/application owners get revenue based on the number of visitors to their platform. People who decide to visit a website or use an app are offered to agree/disagree with the monetization and those who give their consent can share this revenue with the website/app holders.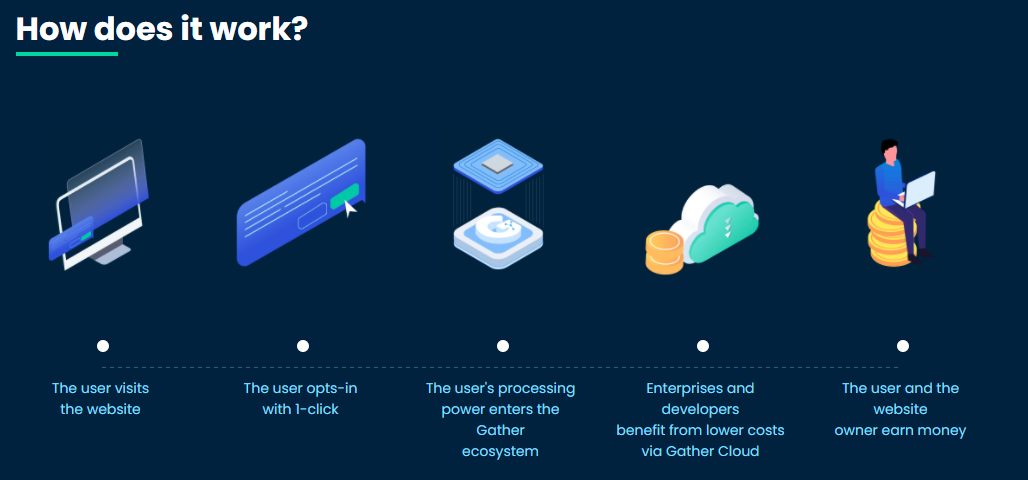 Why is this processing power collected? This computational power can be used by companies and businesses that mine cryptocurrency or deal with cloud-based computing solutions (we explain this later, bear with us), so businesses can save on their expenses and get hashing power down to 30% cheaper than from cloud computing providers.
As you can see both parties including the publisher and its readers can benefit from this form of monetization since the revenue is generated in the background and paid out in the Gather coin (GTH).
Gather history and development team
The concept of the Gather project appeared back in 2017. It was created with the goal to fix the broken model existing on the Internet. It was founded by Raghav Reggie Jerath, a management professional, who also invited Farrukh Shaikh, a specialist in investment and finances, and Udit Sharma, an experienced specialist in developing and managing startups, to introduce an absolutely new project to the public. Currently, the team consists of 21 members who make their great contribution to the success of Gather.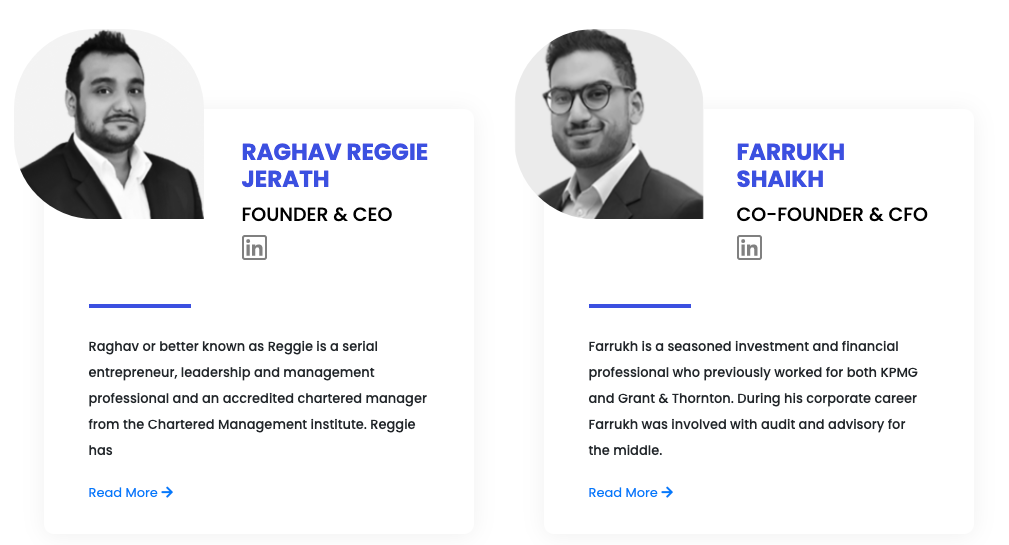 Since there wasn't an official launch of the project mainnet yet, the company can still be considered a startup. Cryptonics.io audited the Gather contract code in September 2020, and its quality is excellent according to the summary. Beta testing of this network took place in August 2019 when the company invited 200 publishers and currently, it is working on the launch of the mainnet and token swap planned for the first quarter of 2021. In February 2020, the project was onboarded by two famous Indian companies, and in September, it faced a private token sale and was already listed on exchanges. In November, it launched Gather UI demo with partner sites, and currently, the team is working on the attraction of new partners, Gather testnet, and master nodes.
Gather Cloud (CPaaS business model)
Now let's get down to explaining who and why will buy the processing power from the users. Compute Power as a Service (CPaaS) is one of the most innovative solutions for cheaper and easier data processing both on-premise and in the Cloud. In other words, the solution is an alternate mechanism of computing power obtained at a significantly lower cost, and it has a potential higher usage. CPaaS provides enterprises a cheaper form of computing power up to 30%
''Given the size of the total addressable market (TAM) of live websites, which is 2,500,000,000 there is a lot of potential for this mining technology in the future. Especially if websites were to offer it as an optional alternative to traditional advertising. If users were willing to offer their computing power to replace adverts, and if the website owner could be trusted to limit the computing power requested, the technology could be added into websites safely and effectively for everyone involved.''
Technologies used
Gather has developed a unique protocol that consists of three components.
Gather online is a hardware layer that is responsible for collecting hashing power from content publishers. It happens through a browser-mining process started by the user's consent and the last one can get income in GTH or any other more traditional crypto or fiat currency like BTC or USD, for example. Since hashing power collected is sold again, it brings the following benefits: more profitability for miners minimized project centralization, and a simplified launch of new coins.
Gather Network is a protocol layer responsible for powering the marketplace where received hashing power is sold to businesses.
Gather Cloud is an app layer responsible for redistributing the power to companies. It allows using power that is cheaper than one used in traditional mining so new startups will get more possibilities to work on their projects since there is no need to build a community prior to that.
Funding.
On Sept. 11, 2020, Gather Network announced the successful closing of its $960k private sale round after being oversubscribed by over 25x. Gather was supported by leading blockchain funds including Bitscale Capital, TRG Capital, Master Ventures, and LD Capital.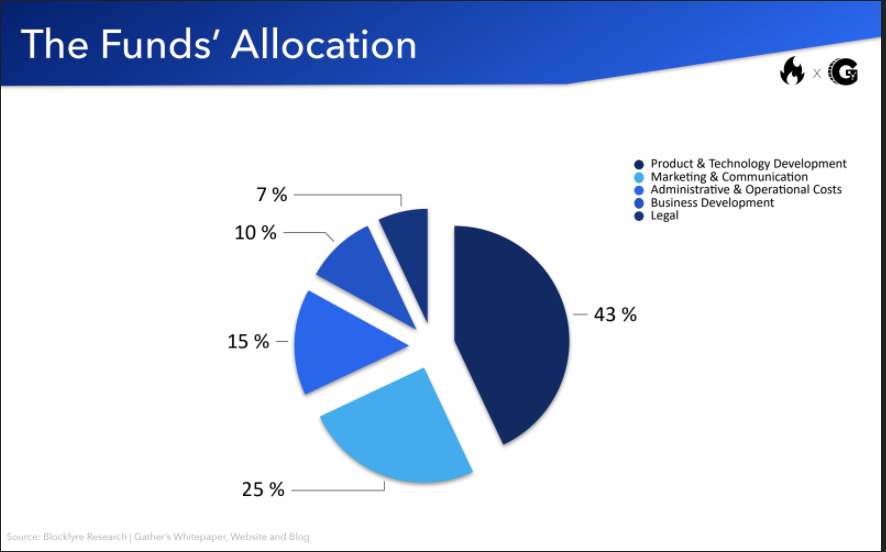 Tokenomics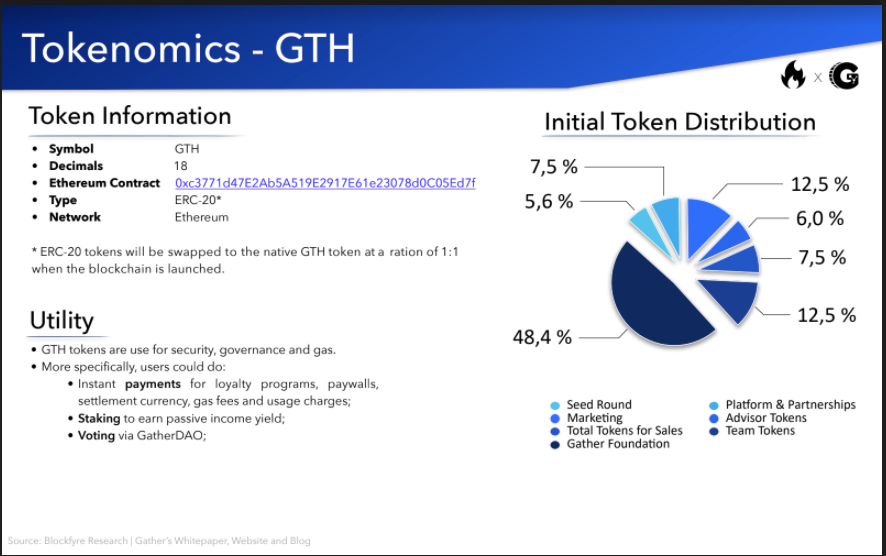 Gather's token $GTH was originally launched on the Ethereum blockchain (as ERC-20 standard token) and was set to be swapped in the future in a 1:1 ratio to the native token when mainnet is launched. The total supply of GTH is 400,000,000, and there is 95.375% (381.5M) locked at the listing.
You can read the detailed token economy explanation in the official website docs.
Staking and Passive income streams.
Gather's ecosystem offers several ways to generate a passive income.
Users can stake their GTH thanks to Masternodes, which ultimately enhances the network's security.
Users can also stake their GTH in a mobile staking wallet to generate more GTH.
Publishers will be incentivized to use the web browser or in-app mining feature, which increases the Loyalty Program as well as the user experience by eliminating most of the advertising.
For web/app miners and integrated auxiliary chains, the merged mining feature increases security significantly.
Gather Features and products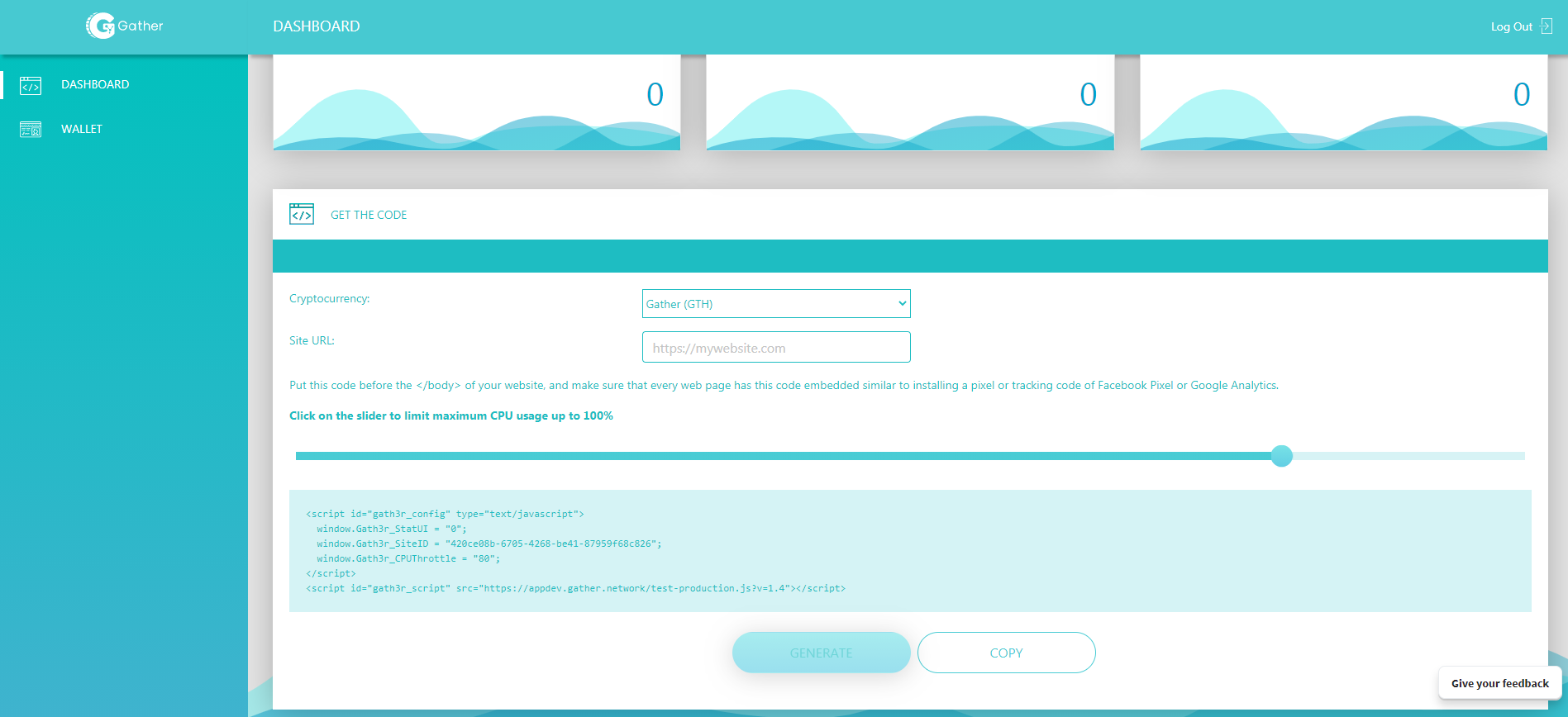 Gather is a transparent, secure, and scalable network that aims to launch a large scale ecosystem with many products:
They launched a web staking wallet that allows earning interest on coins stored.
The project runs not only a masternode for validating and signing transactions but also lite nodes used for specific purposes.
Gather is using an auxiliary chain for mining. Since the parental chain does not need extra work for participating in merged mining, it allows increasing profitability even more.
The company also plans to introduce smart contracts to unify auxiliary chains and make them interoperable.
Conclusion
Gather aims to revolutionize the digital advertising, cryptocurrency mining, and cloud compute markets with its unique approach and ecosystem. User experience is amplified, and the combinational approach of merged mining, computing power as a service (CPaaS), Masternodes, Lite Nodes, and Web Staking Wallet are lucrative incentive alternatives to online advertisements for revenue streams.
Gather solves online publisher problems and allows network participants:
to generate income from website/application visitors;
to improve the user's experience since there are practically no ads;
to lower compute power with Gather Cloud;
to reward visitors with GTH token;
to set up nodes that generate GTH tokens thanks to staking;
Sources:
Gather.Network Website: https://gather.network/
Blockfyre: https://blockfyre.com/gather/
Globenewswire: https://www.globenewswire.com/
Coinspeaker: https://www.coinspeaker.com/token-incentives-fairer-models/