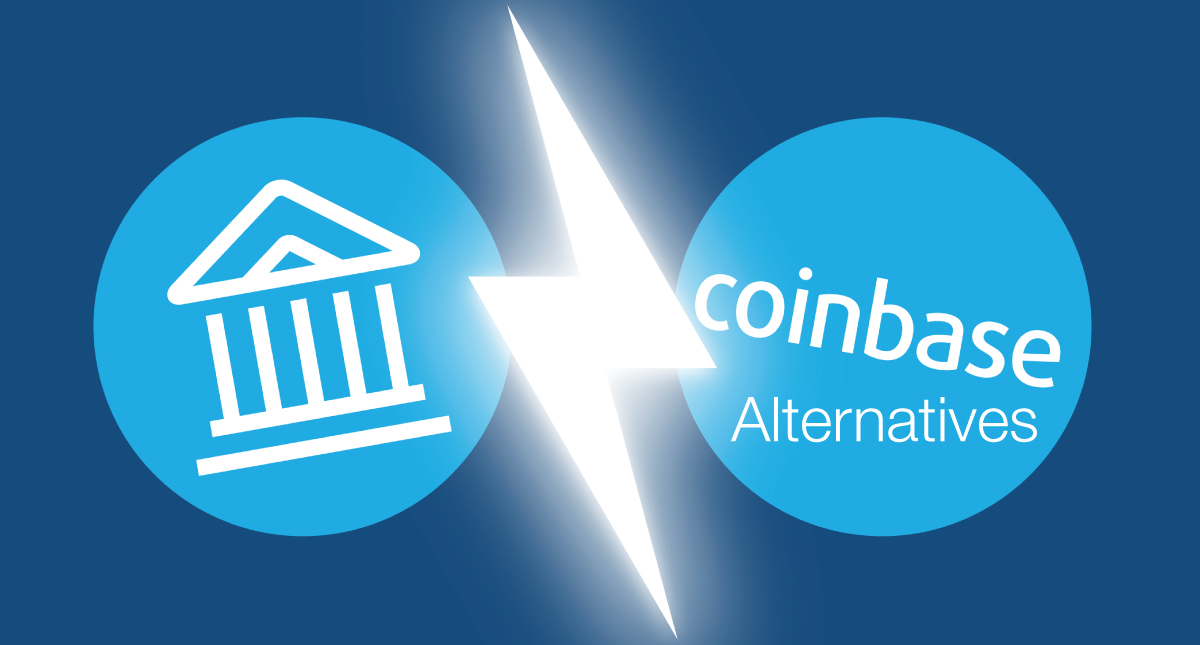 Anyone who has witnessed a Coinbase downtime at the peak of crypto price action won't be penalised for seeking Coinbase alternatives for UK people.
Table of Contents
Once is a mistake. Twice is a pattern. Three times is a habit.
But users have lost count of how many times Coinbase has gone offline at the thick of Bitcoin price action and probably want to know viable alternatives that offer the same level of quality services that Coinbase does.
In this article, we provide a shortlist of the best six Coinbase alternatives for UK people, highlighting platform features, as well as pros and cons. Lastly, we'll discuss how to choose the best option for you.
Let's dive in!
8 Alternatives to Coinbase for UK People
CEX.io (Recommended)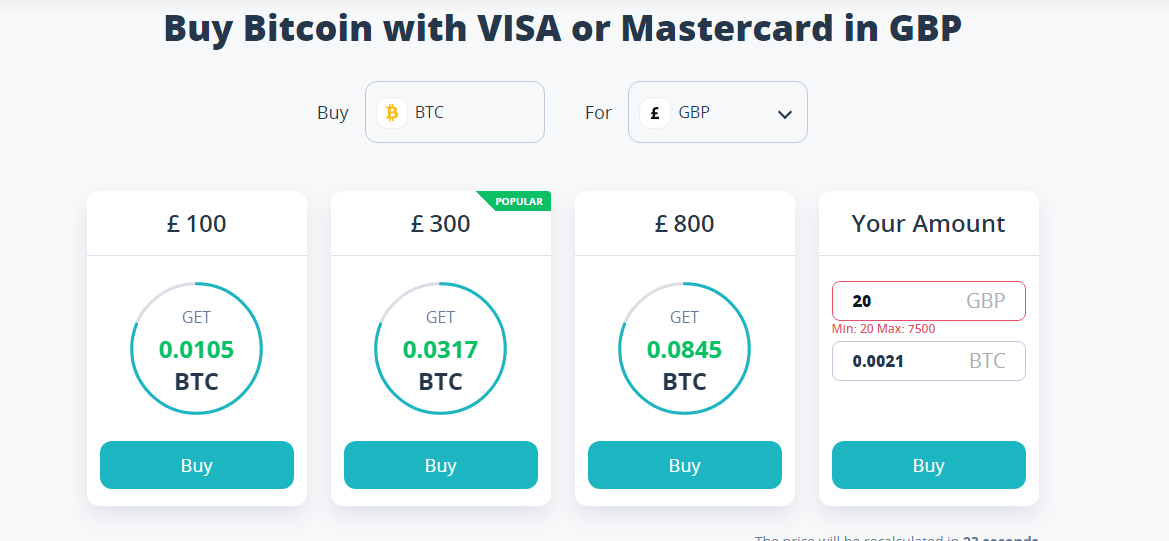 CEX.io is one of the oldest cryptocurrency exchanges in the industry, having launched in 2013. It is based in London and primarily offers a reliable service for buying and selling Bitcoin and Ethereum. CEX.io is a popular option among UK crypto investors but is also available in most countries.
Features
CEX.io has a simple interface for buying Bitcoin, Ethereum, Ripple, Litecoin, and Bitcoin Cash.
Supports the purchase of crypto with debit cards
Efficient security including two-factor authentication (2FA)
CEX.io supports margin trading via its brokerage service.
CEX.io has a mobile app available on iOS and Android.
Pros
The CEX.io website is user-friendly, especially for first-time investors.
Excellent 24/7 customer support team
Offers a wide range of payment options for UK investors who want to buy cryptocurrencies.
No hidden fees, unlike other exchanges.
Cons
There is a KYC verification process that may not be pleasant to anonymous buyers.
CEX.io offers few cryptocurrencies when compared to Coinbase.
Payment Methods
Faster Payments, SEPA, SWIFT (available for USD, EUR, GBP), Card Payments (Visa, Mastercard).
7b – No KYC Required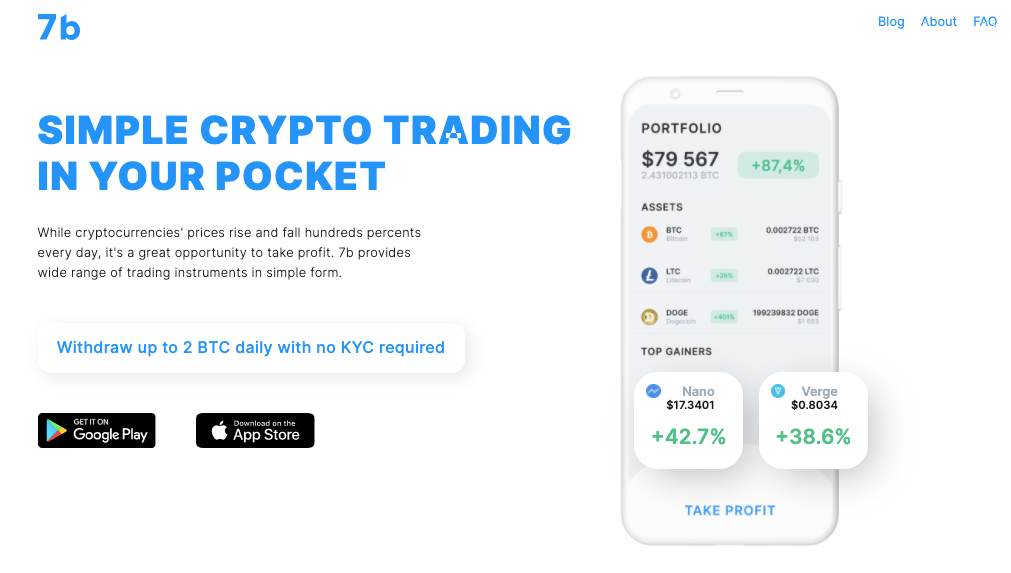 7b is a platform that makes crypto trading simple and available in the pocket. It is a new crypto broker powered by Binance and allows not only buying and selling cryptocurrency but also viewing current rates, tracking price ranges, managing user portfolio, and withdrawing crypto up to 2BTC per day without KYC
Features:
Lots of handy instruments;

High-security level;

24/7 customer support;

User-friendly interface;

Support for over 400 coins.



Pros:
Easy to use;

Lightning-fast;

Qualified technical support;

Low fees;

Android app;

The experienced team behind the project;

Suitable for both beginners and experienced traders.
Cons:
Fiat deposits are not yet implemented;

Fees are different depending on the currency;

Not long in the market.
Payment methods: cryptocurrency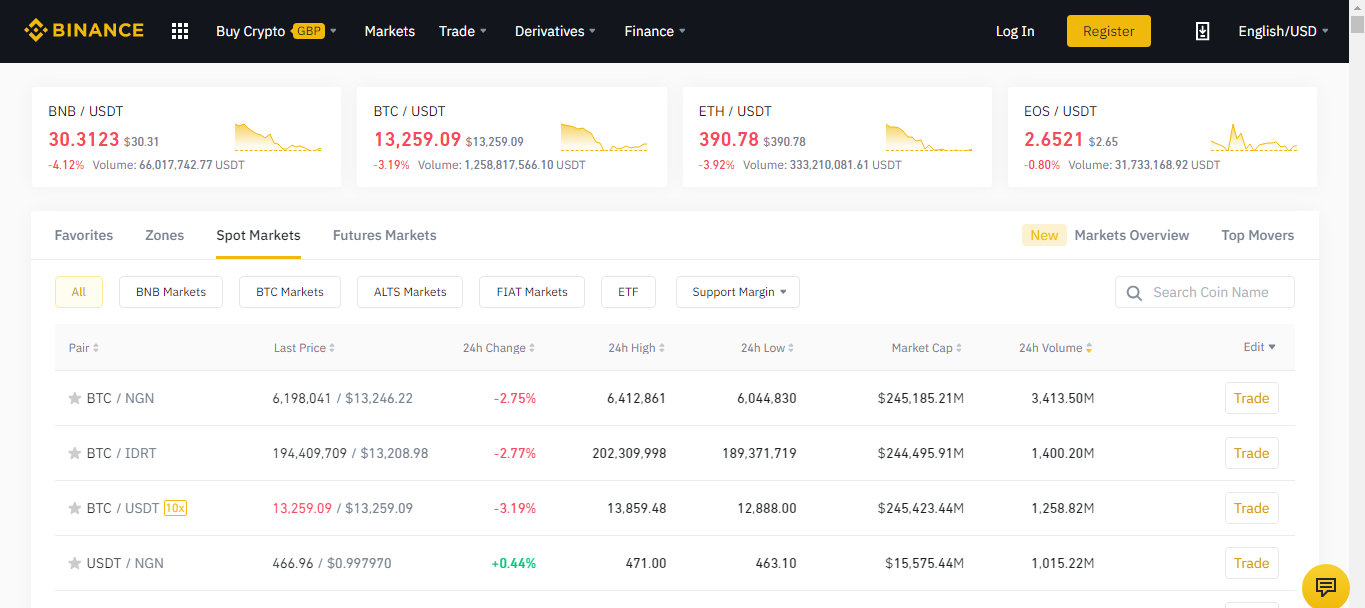 Despite only launching in 2017, Binance has grown into the largest cryptocurrency exchange by market volume and liquidity. It offers users access to a wide range of cryptocurrencies and a suite of investment products that investors can use to their advantage.
Features
Binance offers a variety of options to buy Bitcoin and other cryptocurrencies using bank and debit cards.
The exchange offers savings products that allow you to earn interest on your Bitcoin holdings.
Binance provides a Binance Visa card that lets you spend your crypto in real life.
The exchange boasts a world-class trading interface for all categories of traders (Basic, Classic, Advanced, Margin, OTC, and P2P).
Pros
Binance supports many leading cryptocurrencies by market cap, allowing you to trade it all from one place.
Binance has high liquidity across its order books and trading pairs.
The exchange boasts an excellent customer support team.
KYC-verification primarily applies if you wish to use fiat-payment options. Otherwise, you can trade with relative anonymity.
Binance provides educational tools and information for users via its research arm, Binance Academy.
Cons
Binance's lose KYC policy makes it a hotspot for regulators in the future.
Binance's security was once breached by hackers, (7000 BTC stolen in 2019) even though the exchange made users whole after the incident.
Payment Methods: Faster Payments (Zero Fees), Visa, Mastercard, P2P, Bank Transfer.
PayBis (0% fees on your 1st purchase)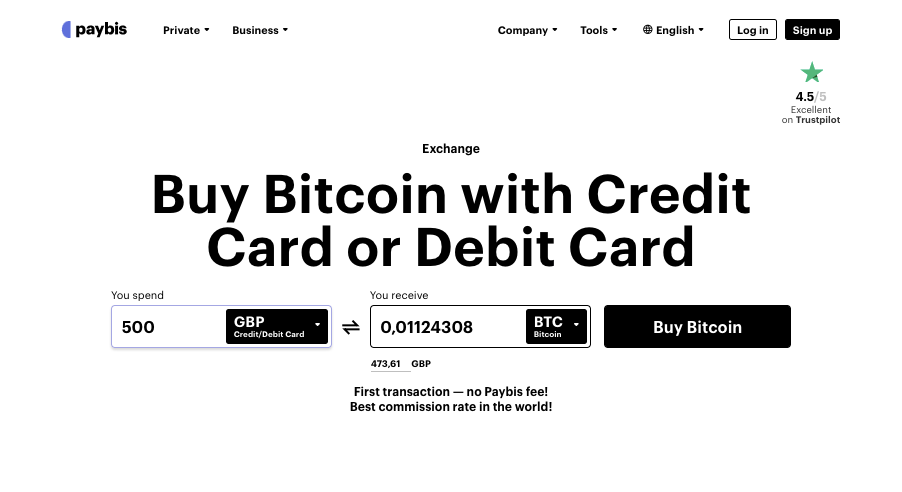 PayBis is a crypto exchange launched by blockchain enthusiasts in 2014 and based in Glasgow (UK). The platform allows buying and selling cryptocurrency using a variety of banking options.
Features:
Strict security standards;
Lowest fees on the market (0% on your 1st purchase);
Round the clock multilingual customer support;
Fast and easy verification procedure;
Support for 47 currencies and 10 cryptos;
Worldwide accessibility.
Pros:
No Paybis fees on the first transaction;
Transparent commission rate;
Excellent rating on Trustpilot;
Fast transactions;
Coverage of over 180 countries;
License and eligibility of FinCEN Department of the Treasury, USA.
Cons:
High fees on credit and debit card purchases;
Minimum of advanced trading features.
Payment methods:
Credit and debit cards, SEPA Bank transfer, Skrill, and Neteller



Based in Helsinki, Finland, LocalBitcoins is a peer-to-peer cryptocurrency exchange launched in 2012. The platform connects millions of cryptocurrency buyers and sellers, allowing them to settle trades offline using their preferred payment options.
Features
A peer-to-peer cryptocurrency marketplace with multiple offers
LocalBitcoins serve as an escrow manager while buyers and sellers determine their prices and fees.
Trust score rating for verified buyers and sellers.
There is a lower entry barrier for first-time buyers.
Pros
As long as you stick with trusted merchants, LocalBitcoins is a reliable trading platform.
Being P2P means users can use multiple convenient payment options to settle their trades.
LocalBitcoins has sufficient security layers to protect user funds.
The trades usually costs relatively lower fees compared to purchases made via centralised exchanges.
Cons
Users run the risk of falling victim to dubious buyers.
The LocalBitcoins support team can be slow at times.
Payment Methods
Paypal, Payoneer, Wire Transfer, SEPA, Swift, Bank Deposits, etc.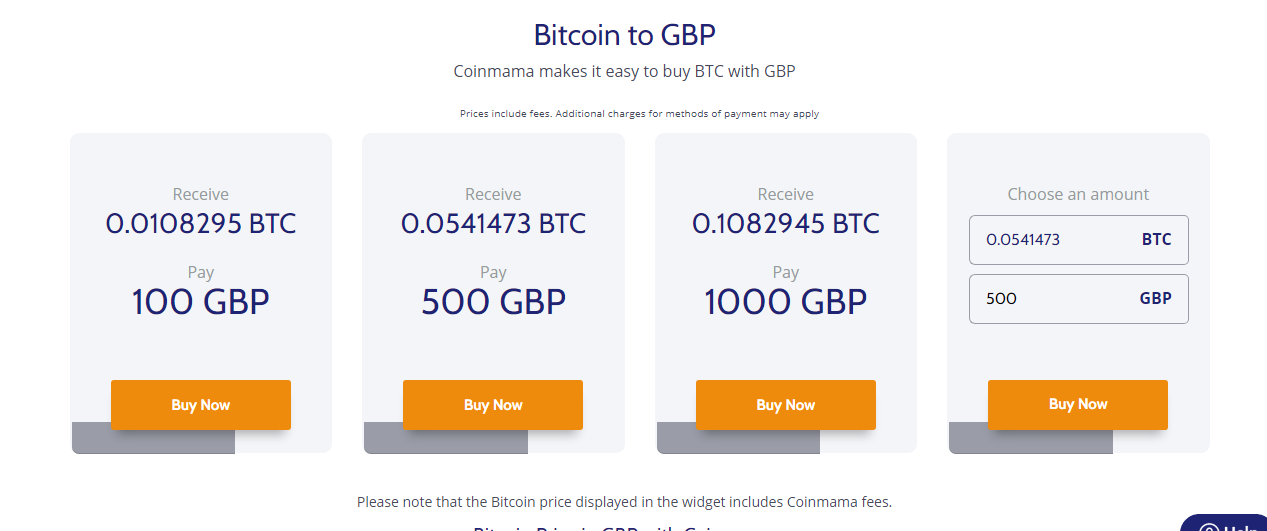 CoinMama is another old and reliable cryptocurrency exchange that many consider a good Coinbase alternative for UK people. It launched in 2013 and has since served over 2.4 million customers in over 188 countries, including Europe and the United Kingdom.
Features
CoinMama is a good option for first-time users to buy Bitcoin.
Buy and sell support for the top ten cryptocurrencies by market cap.
A loyalty program for customers
The exchange has a rich FAQ-page that addresses almost any concerns new users may have.
Pros
CoinMama is as old as Coinbase and a reliable platform for UK investors looking to buy crypto.
The user interface is sleek and easy to use for anyone who understands the basics of Bitcoin.
Coins are delivered almost immediately after payment is completed (barring high network activity on the Bitcoin network)
CoinMama has an excellent support team that can easily be reached via the LiveChat option on its website.
Cons
CoinMama's stringent KYC process means there is no privacy or anonymity for users.
There are other exchanges that offer lesser fees than CoinMama's 5% markup for each purchase using credit, debit, or prepaid virtual cards.
Payment Methods: Credit and debit cards, SWIFT, SEPA Bank Transfer, Apple Pay.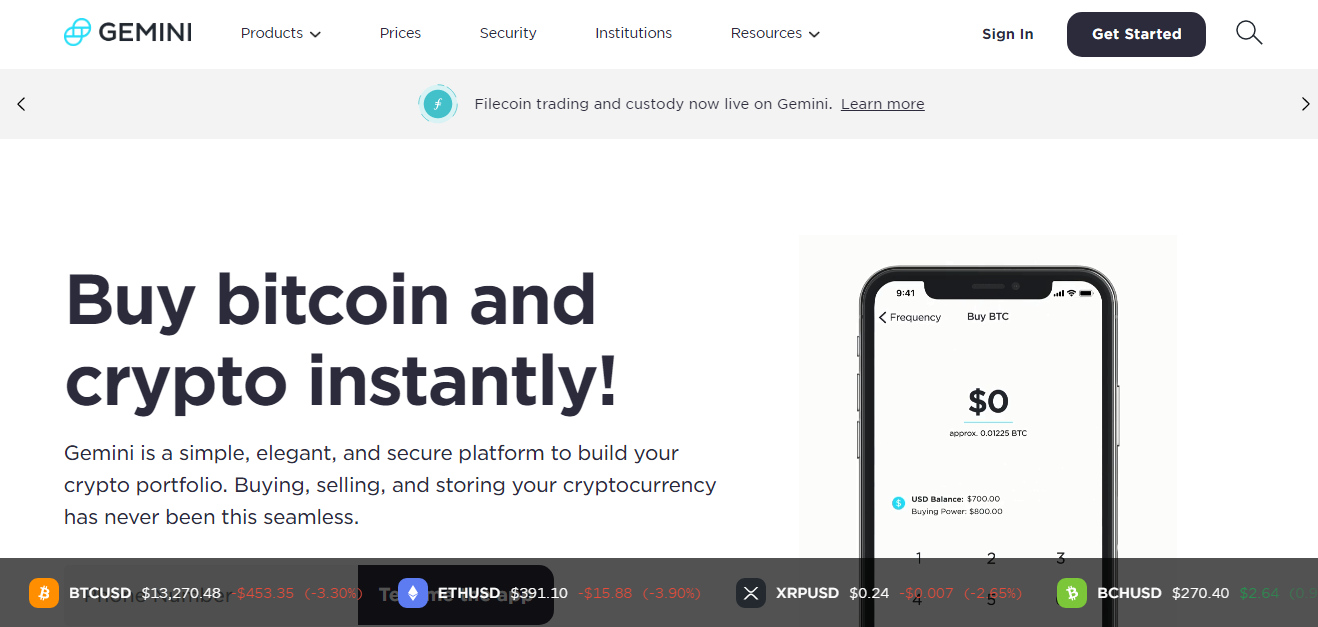 Despite launching way back in 2015, it was only in 2020 that Gemini opened its world-class cryptocurrency exchange services to European customers. In the United States, Gemini is often considered a worthy Coinbase alternative, and the same can now be said for UK users seeking alternatives to Coinbase.
Features
World-class security and insurance coverage for crypto assets stored on Gemini
Gemini has a sleek interface and native support for GBP and EUR.
Support for most cryptocurrencies available on Coinbase.
Gemini has a mobile app available for Android and iOS users.
Extensive support for institutional investors.
Pros
Gemini is as reliable as Coinbase and doesn't have downtime issues during periods of peak price actions.
Gemini is licensed by the UK Financial Conduct Authority (FCA) as an e-money institution.
Gemini supports buying and storage of most popular altcoins including Chainlink (LINK), Cardano (ADA), and even Wrapped Bitcoin (WBTC).
The exchange has a world-class customer support team.
Gemini provides educational tools for first-time cryptocurrency investors.
Gemini offers competitive asset pricing and there are no hidden fees.
Cons
Gemini has a stringent KYC process that may not be ideal for anyone looking to purchase cryptos anonymously.
Compared to Binance, Gemini offers fewer cryptocurrencies for trading.
Payment Methods: Debit Cards, Bank Transfers.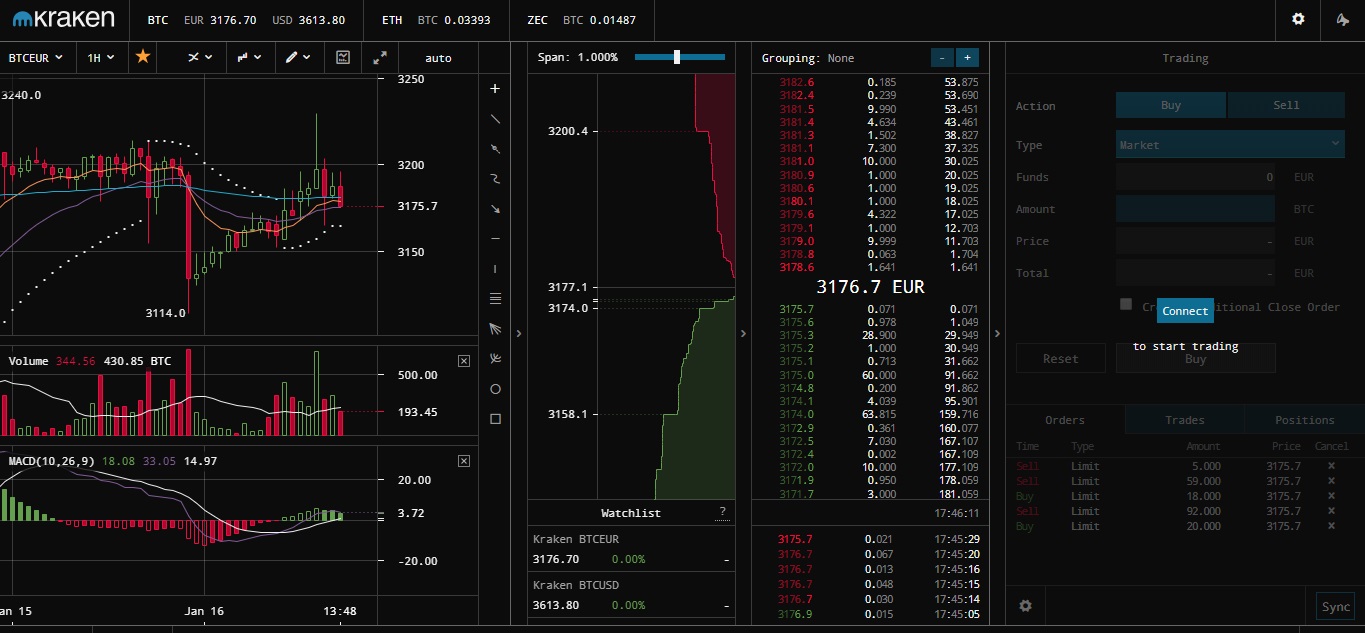 Kraken is another cryptocurrency that conveniently falls into the same category as Coinbase. Kraken launched in 2013 and has since grown beyond a mere bitcoin trading platform. The exchange operator recently acquired a license to launch a U.S crypto bank and continues to offer its services to European users.
Features
Educational materials for new investors.
Native support for EUR and GBP
Proof-of-reserve audits for users to verify assets being held at the exchange.
Trading options available on mobile via Kraken Pro.
Kraken offers an OTC desk for large purchases and a suite of services for institutional clients.
Staking options are available for different proof-of-stake (PoS) cryptocurrencies.
Pros
Kraken boasts highly liquid order books across its offered trading pairs.
Kraken hasn't suffered any notable security breach despite existing for almost as long as most exchanges in the industry.
Users have access to top-notch security tools to help them secure their Kraken account and crypto-assets
Kraken has an excellent 24/7 customer support team.
The exchange supports most of the large-cap cryptocurrencies.

Cons
Kraken doesn't support Bitcoin purchases via Bank cards.
Bank wires take anywhere within 1-5 days to settle and could result in significant delays.
Payment Methods: SEPA, Wire Transfers, and Supported Cryptocurrencies.
How to Choose the Best Coinbase Alternative
We made this shortlist so that users can know the different alternatives to Coinbase on the market and their basic features. However, if you're still having a hard time picking from the lot, then it may be best to evaluate your reasons for trying to move elsewhere.
As noted at the onset, the primary reason why users seek Coinbase alternatives is because of the platform's record of going offline when there's a significant action in the price of Bitcoin. If you share a similar reason, then you can rest assured that any of the recommended exchanges on this list will allow you to buy or sell Bitcoin at any time without any downtimes like Coinbase's.
On the other hand, you can still use any of them as a backup plan to buy cryptocurrencies at lower fees, access diverse payment options (e.g. LocalBitcoins, and Binance), or access crypto-investment products.
Read Also: Binance Alternatives for UK Traders
Conclusion
Diversity makes life interesting and the same principle applies to crypto investing and your choice of an exchange platform.
In this article, we delivered on our promise to provide you with a list and review of some of the best Coinbase alternatives for UK people. We hope you found it helpful, while we sincerely look forward to a time when Coinbase won't go offline when users need it most.