Peer-to-peer exchanges get more popular every day since they don't require users to share their personal details with the platform they access. One of such brokerage websites to trade cryptocurrency for fiat money is Solidi. It has been in the crypto market for over 5 years already and can boast lots of dedicated customers who appreciate all the benefits it offers to users. Why is Solidi so popular and what should crypto investors know about it?
Look: this Solidi review will clear up all the points and provide you with all the details you might be interested in.
Table of Contents
What is Solidi
Solidi calls itself the easiest place to get started with Bitcoin and it is not surprising. In fact, it is an online service created for buying, selling, and securely storing Bitcoin and other crypto assets.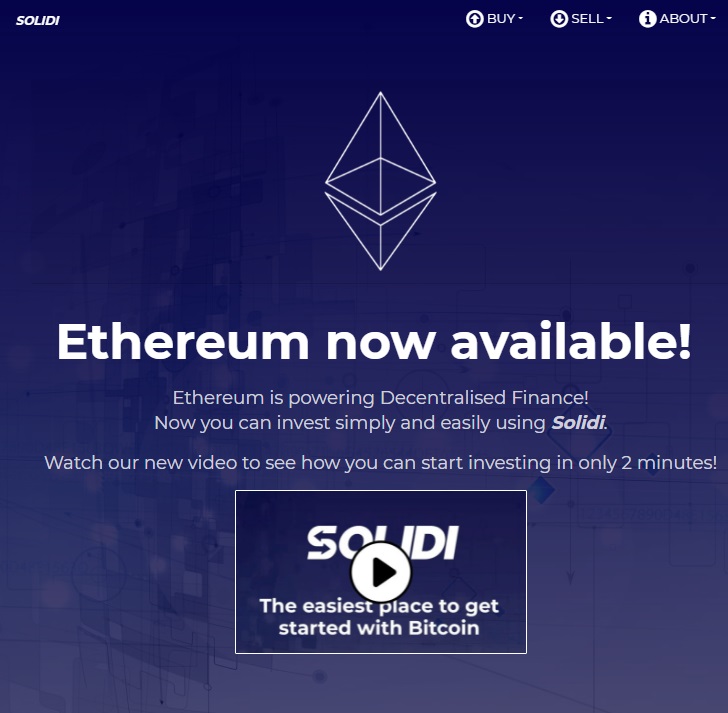 Solidi is a company registered and located in Cambridge, the UK. It was created back in 2015 by Jamie McNaught who is still in charge of the exchange. Solidi is also a member of the University of Cambridge program that contributes to the development of new start-ups with advice, resources, and mentoring, so its legitimacy is rarely questioned and a quite high rating of 4.8 on Trustpilot is its confirmation.
Solidi features
What are the main features of Solidi peer-to-peer exchange? There are several points to consider:
Support for buying, selling, and storing cryptocurrency in a fast and secure way.
Connecting brokers and buyers who use an automated system to sell or purchase crypto assets at an offered rate round the clock.
Brokers vetting: they must be verified before being added to the exchange and being allowed to sell crypto there.
Fast deposits and withdrawals.
Competitive fees.
Quick-to-respond customer support.
Cold crypto storage.
High-security level.
Possibility to buy cryptocurrency anonymously.
Support for crypto and fiat money.
Licenses
The presence of licenses from authorized bodies proves exchange legitimacy, and Solidi won't disappoint users when it comes to reliability. Solidi Ltd is registered under the Money Laundering, Terrorist Financing and Transfer of Funds Regulations 2017 as a crypto asset business as part of the FCA's Temporary Registration Regime. It is also regulated by the UK HM Revenue and Customs for Anti Money Laundering and is an official participant of Accelerate Cambridge program too.
How does it work
Unlike traditional exchanges that store cryptocurrency and transfer it to customers who make purchases, Solidi aims at connecting people who want to sell or buy cryptocurrency with brokers registered on the platform.
It is necessary to complete a vetting process and be verified by the exchange to become a broker on it. There are brokers from all corners of the world so they offer to sell and buy crypto any time of the day.
The main benefit for buyers and sellers in using a peer-to-peer exchange is no need to pass through the verification process in order to make a transaction as well as minimized chances of being hacked since funds are not stored directly on the exchange.
Registration
It is necessary to sign up for the Solidi platform to be able to invest in cryptocurrency or sell one. The procedure looks rather traditional:
Press the gray Register button in the upper menu or enable the transaction.
Enter the first and last names as well as an email address.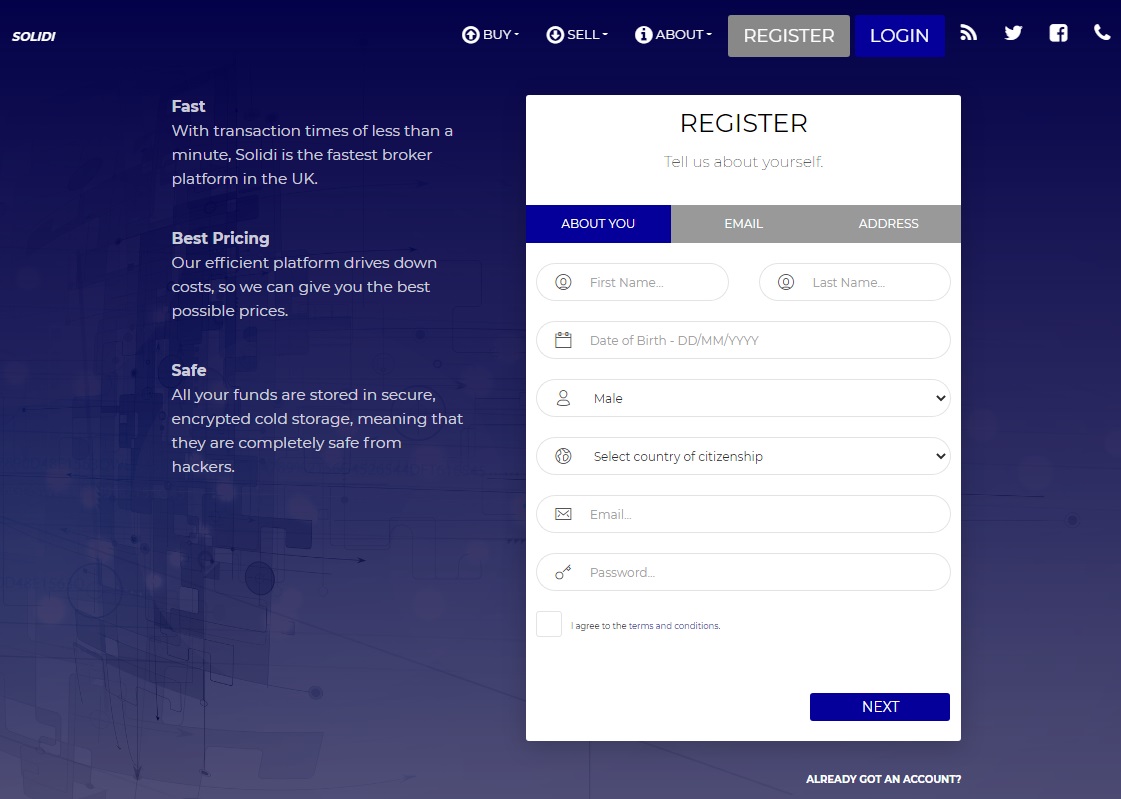 As soon as you submit this information, you will be added to the registration queue. It means you should wait for the exchange to contact and invite you to the platform.
Usually, the invitation is delivered within a day, so you can complete the registration and start using the platform without long delays.
User experience
Solidi is a great destination to get involved in the cryptocurrency sphere especially for beginners. It features a smooth and user-friendly website interface and you should not have advanced computer skills to use its services. It is enough to register to be able to use its functionality. However, there are limits for unverified users so you may need to upload your ID to increase the amount of cryptocurrency to buy or sell. The verification procedure is completed within 48 hours, but usually, it takes only several hours to be approved for higher purchase amounts.
Supported countries
Solidi is a crypto exchange operating in the UK. However, there are no restrictions for users from other countries to use its services too.
Supported currencies and coins
The exchange supports 5 cryptocurrencies including Bitcoin, Ethereum, Litecoin, Ripple, and Chainlink. When it comes to fiat money, only GBP can be deposited to the platform to make crypto purchases.
Payment options
The only payment method supported by Solidi is the UK Bank wire transfer. Solidi supplies the user with the seller's payment details (bank sort code and account number) as well as a reference. He sends the correct amount with the supplied reference and clicks on the 'I have paid' button. When the seller receives the funds he will inform Solidi and the platform releases the currency to a buyer. The whole process is automated and usually takes less than a minute.
The list of banks supported by Solidi looks as follows:
Bank of Scotland
Barclays
Cahoot
Clydesdale Bank
Coop
First Direct
Halifax
HSBC
Lloyds
Natwest
Nationwide
Royal Bank of Scotland
Santander
Tesco
Yorkshire Bank
Solidi wallet
Solidi offers users a web wallet. They get access to it immediately after registration. All funds purchased on the platform are delivered to Solidi wallet and only then can you transfer them to the external wallet. The withdrawal is free only if you send an equivalent of £500 or more.

Coins kept in Solidi wallet are absolutely secure since they are held in cold storage.
How to buy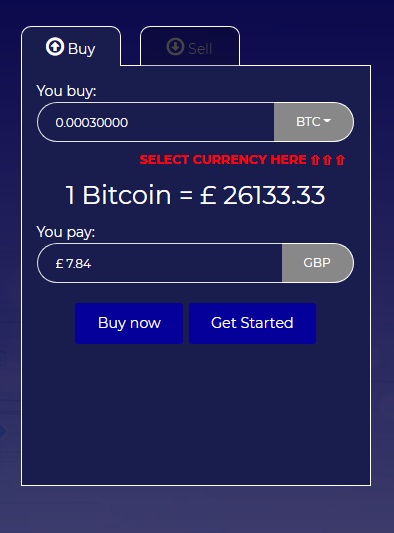 You can buy coins on the Solidi website if you press the Buy button on the upper menu. The procedure includes the following steps:
Select the coin you want to buy.
Enter the amount you need to get.
Press the Buy now button.
Enter your account.
Pass the verification procedure (optional, only for bigger amounts).
Provide financial details.
Submit the transaction.
Wait for confirmation from a seller and arrival of coins.
How to sell
The procedure of selling cryptocurrency looks similarly and requires users to complete several steps too:
Press the Sell button on the upper menu.
Select the coin you want to sell.
Press the Sell now button.
Enter your account.
Provide financial details.
Transfer funds to the wallet address generated by the system.
Wait for the confirmation from a buyer and arrival of funds.
Fees
There are no fees to buy or sell cryptocurrency on the platform, so you will pay the amount you see. However, customers should remember that all funds are processed via Faster Payments, so both withdrawals and deposits in GBP will cost as much as £0.50 each.
Crypto deposits are not charged anything too, but the cost of crypto withdrawals depends on the speed of the transaction preferred by a user and the coin selected. For example, a low cost BTC withdrawal is 0.00015 BTC, a fast one costs 0.003 BTC and is free with the purchase of over £500, and immediate withdrawal is as much as 0.0005 BTC and is free with the purchase of over £1,000.
Limits
Solidi offers quite low initial limits since it does not request identity documents from users. New customers can purchase cryptocurrency for as much as £12.50 a week. However, a fast Online Electronic ID check that takes only 60 seconds can increase this amount up to £30 a week, while a full Identity Verification process will make the limit grow up to £6,000 a month. Professional traders who contact customer support and get approval can reach a monthly limit of £100,000.
Customer support
Unlike many other exchanges that are ready to provide instant chat support, Solidi has chosen another way of solving customer queries. Users can press the Contact Us button at the bottom of the page and choose one of the alternatives offered:
Send a message (providing the name, email address, phone, and subject) with an average response time of up to 1 business day;
Give a ring at +44 (0)203 773 9444 (Mon - Fri, 9:00-17:00).
The team tries to get back to customers as fast as possible and many positive reviews regarding customer support on Trustpilot confirm this fact too.
Pros and cons
Solidi is a popular UK exchange with both positive and negative features. Which ones you may wonder? Let's find out.
Pros:
Beginner-friendly;
Fast and free of fees transactions;
Utmost security;
Licensed and trusted;
Competitive markup for coins;
Automated exchanging process;
Free withdrawals of amounts over £500;
Mobile compatibility.
Cons:
Not many crypto and fiat currencies supported;
Low limits for unverified users;
Broker markup prices may differ from other exchanges.
Is Solidi safe?
The fact that Solidi is a licensed exchange working towards the FCA regulation makes it a trustworthy platform to trade cryptocurrency. Furthermore, all the Solidi funds are held in cold storage and the platform has not been hacked for over 5 years of operation proves that you should not worry about using its services. Naturally, the exchange performs vetting of all brokers and offers users to protect their assets with 2FA to guarantee the highest level of security to everyone. All these features allow users to conclude about the safety of Solidi.
Summary
Solidi is a trusted leader in the UK crypto market. The platform connects people who want to trade cryptocurrency with verified brokers and offers to complete transactions using an automated system that protects both parties involved. It has many positive features including friendly customer support and no exchange fees, so there is nothing surprising that more people choose this platform to get cryptocurrency in a fast and simple manner.