There have been many personalities in the history of mankind who aimed at making all people prosperous and save them from poverty. Who knows: may this responsible goal be achieved with the help of blockchain technology? A team of enthusiasts has developed their own fast blockchain platform named 2local. This product encourages sustainability and wealth all around the globe despite the person's location.
How does it work? What kind of platform is it? How can one become prosperous there? This review will focus on the 2local project more precisely and give answers to the most common questions about it.
Table of Contents
What is 2local?
2local is an innovative platform based on ultra-fast blockchain developed to encourage sustainability and prosperity for everyone. This platform has a convenient marketplace where consumers can connect with local companies that sell goods or provide services and get benefits from making purchases there.
This is a project of 2local B.V, a company established in the Netherlands. The company is building its own ERC0721 compatible blockchain, available for other developers to build their tokens on. 2local released its native L2L coin to process payments on the platform. L2L is an ERC-721 compatible coin that hasn't passed an ICO stage yet and currently can only be purchased on the platform itself.
Roadmap and development team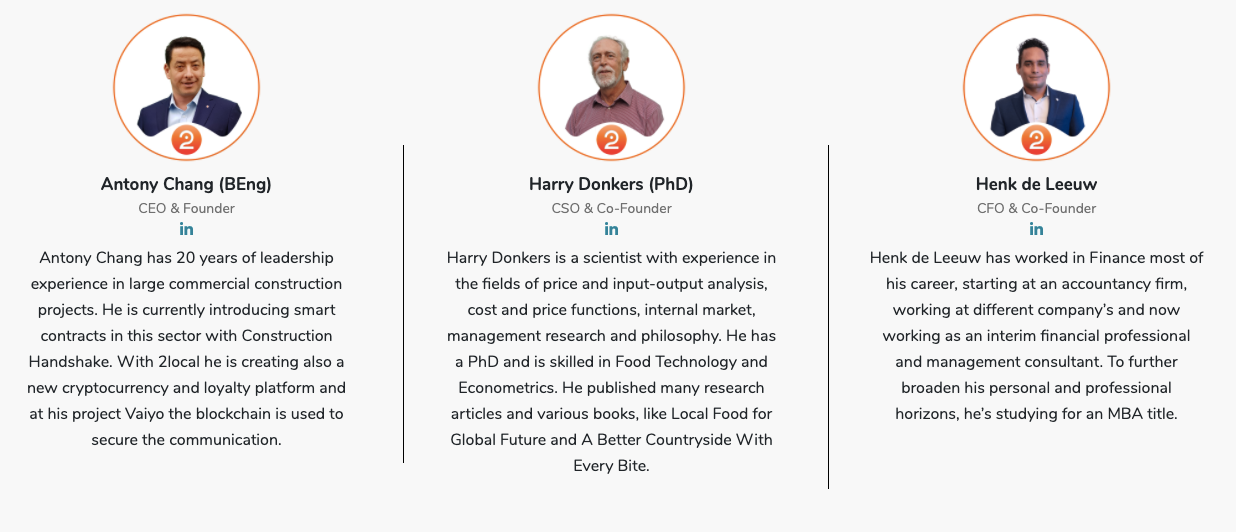 The origin of the 2Local project dates back to the first quarter of 2018. The official announcement of the project was made in the next quarter and by the end of 2018, the company had already released its native token. The development of the 2local platform took a significant amount of time and was completed in the first quarter of 2020. The development team behind the company includes co-founders Antony Chang, Henk de Leeuw, Harry Donkers, and Rutger-Jan in den Bosch. The team keeps on iterating on its creation and releases comprehensive platform audits, quality testing, and other platform improvements to achieve a high-quality product without alternatives in the market.
Problems solved by 2local
2local is based on the philosophy of opposites that is represented by Yin and Yang in Chinese culture. Therefore, the company explains what problems 2local can solve on the basis of polar opposites. From their Whitepaper:
We encounter many problems in our time. These mainly Yang-induced worries relate to four main issues: mobile capital and focus on profit in the global market, operating modus of billionaires and elite of privileged people, too much power of multinationals and large commercial banks, and bureaucratic rules and inability of governments. The effect is that we run from crisis to crisis: financial, climate change, depletion of natural resources, loss of biodiversity, inequality, hunger, malnutrition, and poverty. People feel powerless and choose 'me first' to 'survive', which allows populism to arise. To overcome these difficulties, the 2local loyalty platform puts against these four mainly Yang-forces in our society the following mainly Yin powers.
Global profit maximization thriving in the majority of countries can be substituted by the platform that allows everyone to get profit even if you spend money on products and services. The company has created a new digital currency system that enables getting cashback each time a person makes purchases from local companies. Currently, there are over 37,000 companies offering their products and services on the platform. 2local can be used by everyone, even if the person does not have access to the traditional banking system.
The problem of ever-increasing inequality can also be solved using the 2local platform since it allows all people including ones without purchasing power to access the platform and receive cashback. The cashback is given by the company thanks to the following solution: the more people buy coins and make purchases on the platform, the higher the coin price becomes and this growth allows companies to earn and payout customers cashback regularly.
The popularity of multinational companies allows them to produce things with the cheapest labor power and offer them to people with the greatest purchasing power. That does not allow local businesses to develop. However, 2local focuses on goods and services produced by local companies but they can connect with a bigger number of customers.
The focus on profits promoted in the modern world by elite groups can be also eliminated with a help of 2local. People not only can make more affordable purchases but also receive monetary rewards. That will boost prosperity even among poor people and decrease financial inequality.
Technologies used
2local has created its unique decentralized blockchain that leverages a DPoS consensus mechanism. This will guarantee very fast transactions and network capacity to let the payments go smoothly. The option to create smart contracts that are ERC-721 compatible is being built on top of this blockchain too. This ecosystem has a number of parts including a built-in payment system, marketplace, cashback system, and a smart trading algorithm. With a combination of a large ecosystem and very efficient network technology, 2local has a number of benefits including low cost and fast transactions, low energy consumption, the rising value of L2L token, wide availability, and profit-sharing.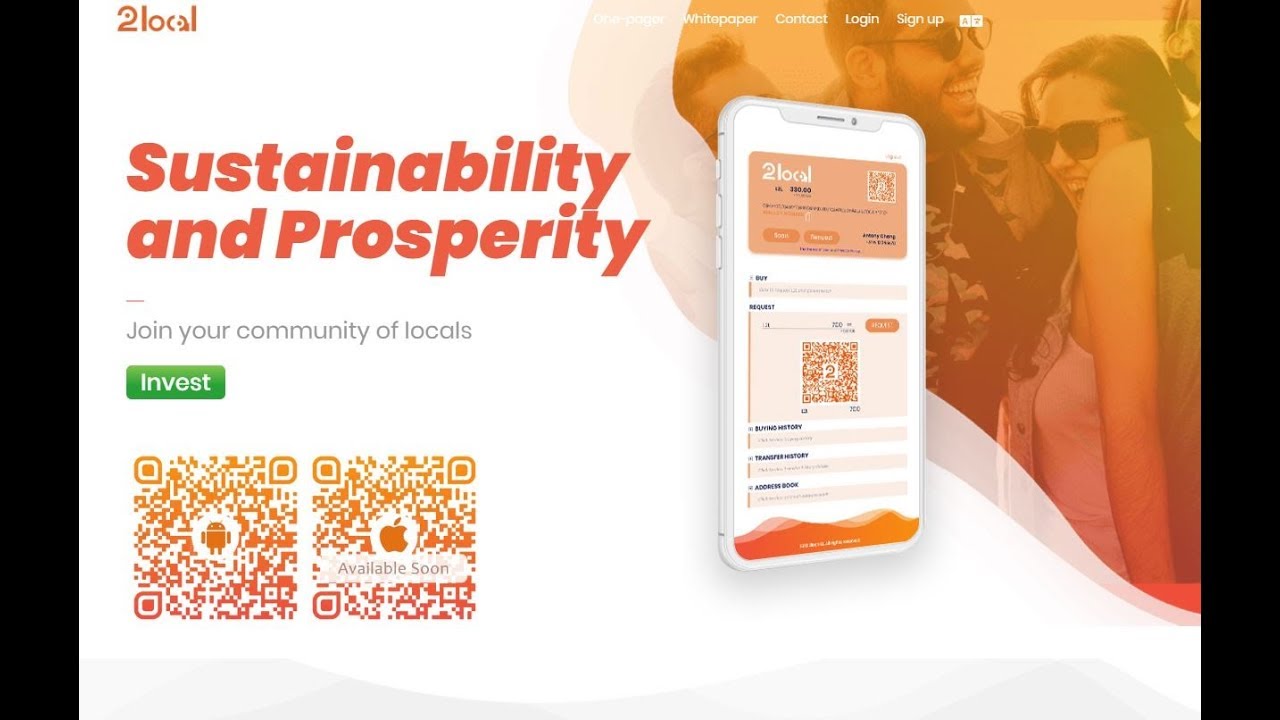 Ecosystem overview
The development team of the project known as 2local has released a number of products to support its network. First of all, this is a native coin called L2L to be used for processing payment in the network. The company plans to release around 42 billion tokens at the beginning of 2021.
The second important product of the platform is mobile apps for Android and iOS devices. They have a number of important features such as multi-currency cryptowallet, coin exchange, option to buy and sell L2L tokens with PayPal, BTC, ETH, XLM, support for token transfer between different wallets, marketplace, and others.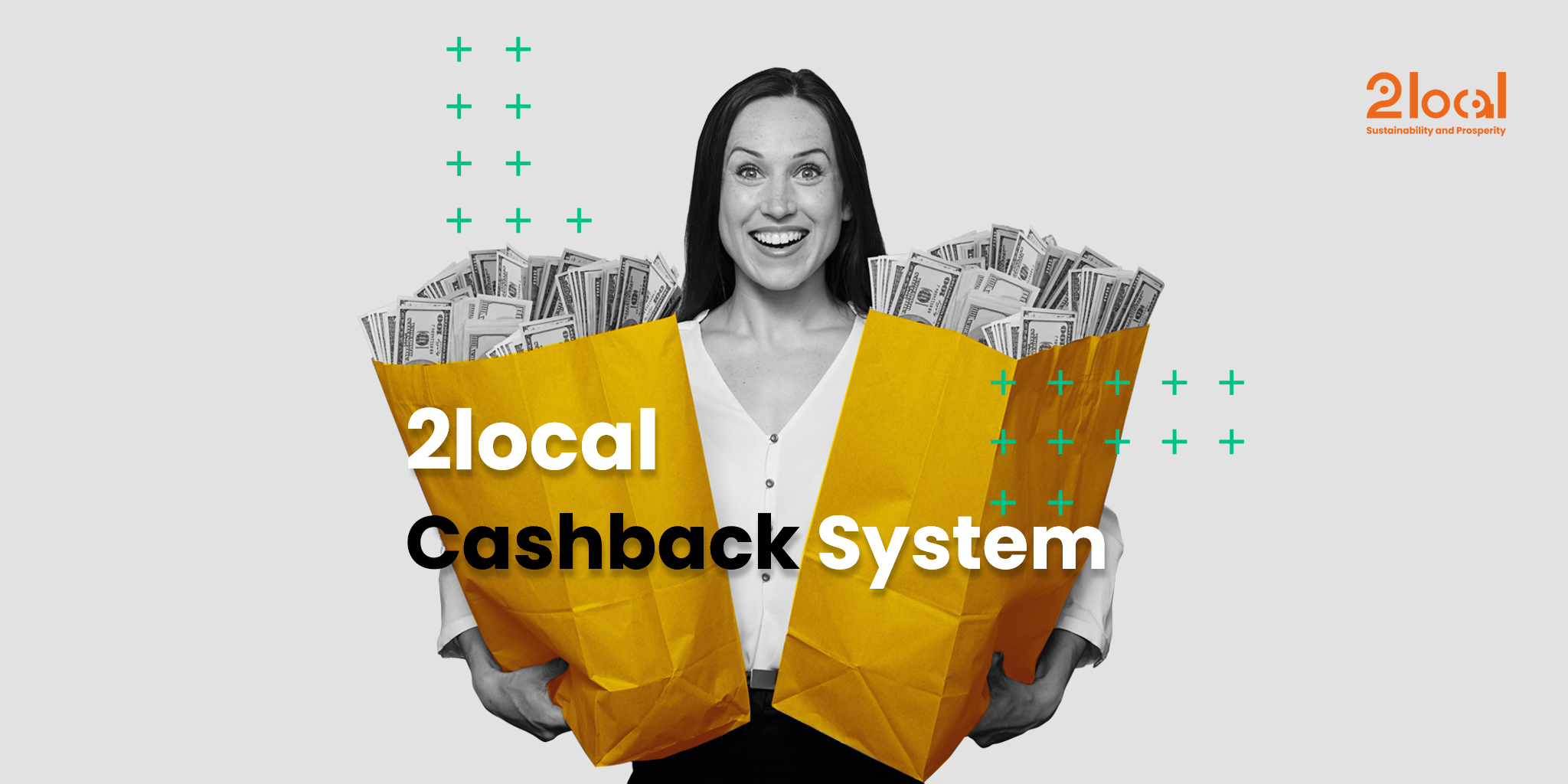 An exclusive feature of 2local is cashback. How does it work? Users of the platform can purchase coins with a 1% discount and use them for paying for goods and services with a 1% transfer fee in the marketplace. Companies that receive these coins sell them at exchanges and 2local buys L2L coins again using a smart trading algorithm. This algorithm ensures that the exchange rate of the 2local coin climbs steadily. 2local holds these coins for a month before selling them again and uses the profit for the cashback system and operations.
2local has already attracted a lot of connected companies that can benefit from free advertising available on the platform, but to be more appealing for new users of the service, they offered an affiliate program too.
Conclusion
2local is a company that aims to make a breakthrough in the desire to achieve a sustainable world with prosperity for all with the use of an innovative loyalty platform. It is an innovative solution that opens a lot of opportunities to people from poor countries and lets local businesses thrive without large investment in marketing.