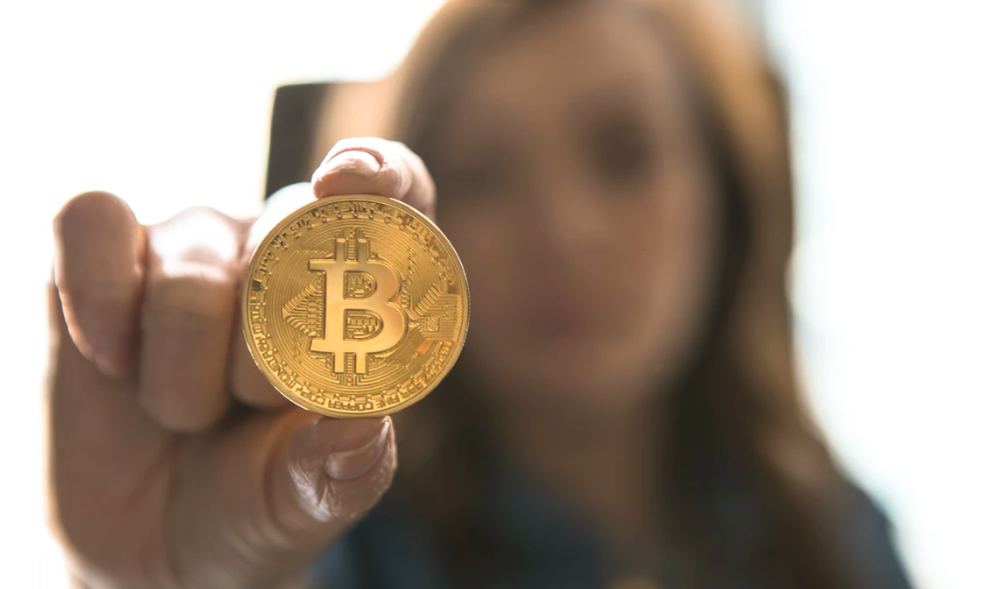 There are several guides on the internet explaining how to buy Bitcoin in the UK. However, a careful review of these articles shows that they miss some components and sometimes, end up confusing people instead of showing them how to buy bitcoins with GBP.
In this article, we strive to do it differently, beginning with a quick guide on how to buy bitcoin in the UK using CEX.IO, a leading UK-based cryptocurrency exchange.
How to Buy Bitcoin on CEX.io (quick guide):
Create a private bitcoin wallet using an app like Trust Wallet or Coinomi, and generate a new address.
Sign up for a CEX.IO account and verify your identity to be able to use their fiat channels.
Go to Products > Instant Buy.
Choose the amount to buy or enter your amount.
Buy Bitcoin with GBP using your credit or debit card in a few clicks.
Alternatively, you can buy BTC with GBP using their spot exchange.
Transfer the purchased bitcoins to your private BTC address.
Where to buy Bitcoin in the UK?
The above quick guide on how to buy bitcoin in the UK using Binance is only one of the numerous options available to investors who want to invest in the new asset class. The rest of this article will focus on other platforms that allow equal access, including using Bitcoin ATMs to swap GBP to BTC.
CEX.IO – the best place to buy Bitcoin in the UK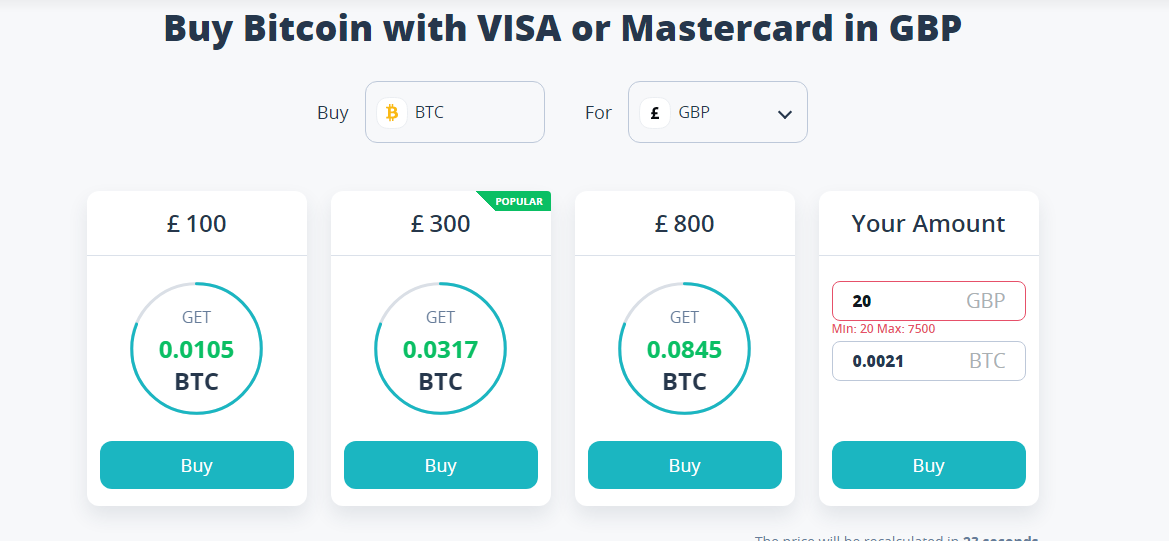 Launched in 2013, CEX.io is one of the oldest places to buy bitcoin. The platform recently simplified the buying process, meaning transactions could be completed within five minutes after arriving on the website.
Steps to buy :
Switch the currency dropdown from BTC to USD to BTC to GBP.
Insert the number of bitcoins you want to buy (minimum purchase is £20 while the maximum is £7500).
Complete the registration process and confirm the email.
Verify your identity and add a debit or credit card or use fiat payment options.
Complete the BTC order and send it to your designated non-custodial address or simply leave it on your CEX.io account.
Supported Payment Options: Visa, Mastercard, Paypal Debit Card, Bank transfer (SWIFT, SEPA, ACH, Faster Payments for large purchases), and other cryptocurrencies.
Pros
Reputable and trusted exchange platform to buy bitcoin in the UK
Zero fees on bank transfers and a low cost for credit and debit card purchases
Offers reasonable limits for retail investors buying BTC.
Allows users to sell bitcoin to credit and debit cards.
Lists a large number of other cryptocurrencies.
Cons
The identity verification process is extensive and could waste time for first-time users.
Not suitable for users who want to buy bitcoin anonymously.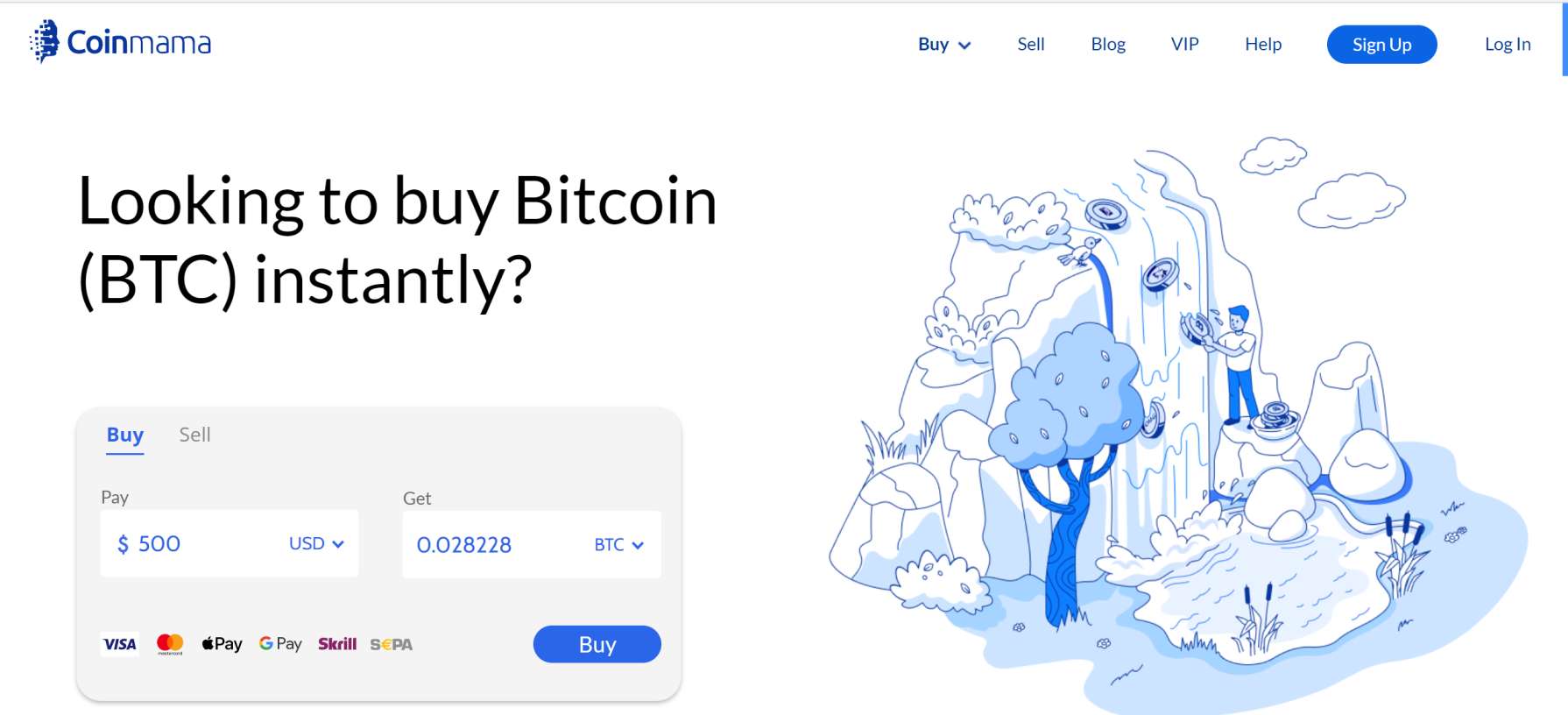 Also founded in 2013, Coinmama is another popular platform that provides the easiest way for UK users to buy bitcoin. The operating company is based in Israel while the Coinmama platform itself is registered in Ireland.
Coinmama allows users from almost every country to buy BTC using credit and debit cards, and other fiat payment channels.
Steps to buy:
Create a non-custodial wallet using Coinomi or Trust Wallet and back up your seed phrase.
Open an account on Coinmama and verify your email address.
Log in to your new account and complete the identity verification process.
Select your preferred deposit option
Input the number of bitcoins you want to buy
Provide the receiving BTC address to receive funds for your non-custodial wallet.
Enter debit or credit card information to complete payment.
If successful, your bitcoins will arrive at your address within an hour or earlier, depending on network activity.
Supported Payment Options: Visa, Mastercard, SEPA, SWIFT, and Apple Pay.
Pros
Highly trusted and reliable platform.
Seamless purchase experience.
Multiple payment options
It offers a reasonable threshold on card purchases, up to £7500 for verified UK users to buy BTC with GBP.
Cons
There is low privacy attached to an exhaustive KYC process.
Charges high fees on debit/credit card transactions compared to other exchanges.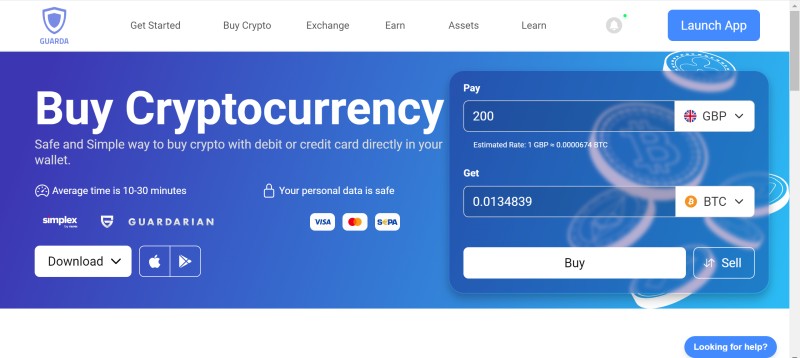 Guarda is primarily a self-custodial cryptocurrency wallet. However, the platform also offers a simple service for buying Bitcoin in the UK. You can choose to do so by installing the Guarda Wallet app on your mobile and following the prompts to buy Bitcoin. Alternatively, you can buy/sell Bitcoin on their website.
Steps to buy
Go to Guarda.com/buy-bitcoin
Input the amount in GBP to spend and review the amount of BTC to receive.
Click on Buy and provide your Bitcoin wallet address on the next screen.
Choose a payment method (preferably Guardarian).
Click Next and agree to the terms of service.
Provide your email or phone number on the next screen.
Complete the payment
Guarda will process the order and send the purchased bitcoins to your designated address.
Supported Payment Options: Visa, Mastercard, SEPA, Faster Payments.
Pros
The process is relatively straightforward.
Guarda encourages self-custody, protecting users from risks associated with using third-party cryptocurrency exchanges.
The platform supports a wide range of payment options to buy bitcoin in the UK.
The Guarda platform lists a range of crypto assets, making them ideal for investors with diverse portfolios.
Guarda has a responsive customer service desk available through LiveChat and email.
Guarda also provides a loan service for borrowing your bitcoin and other crypto assets.
Cons
There is no option for users to set limit orders or recurring purchases.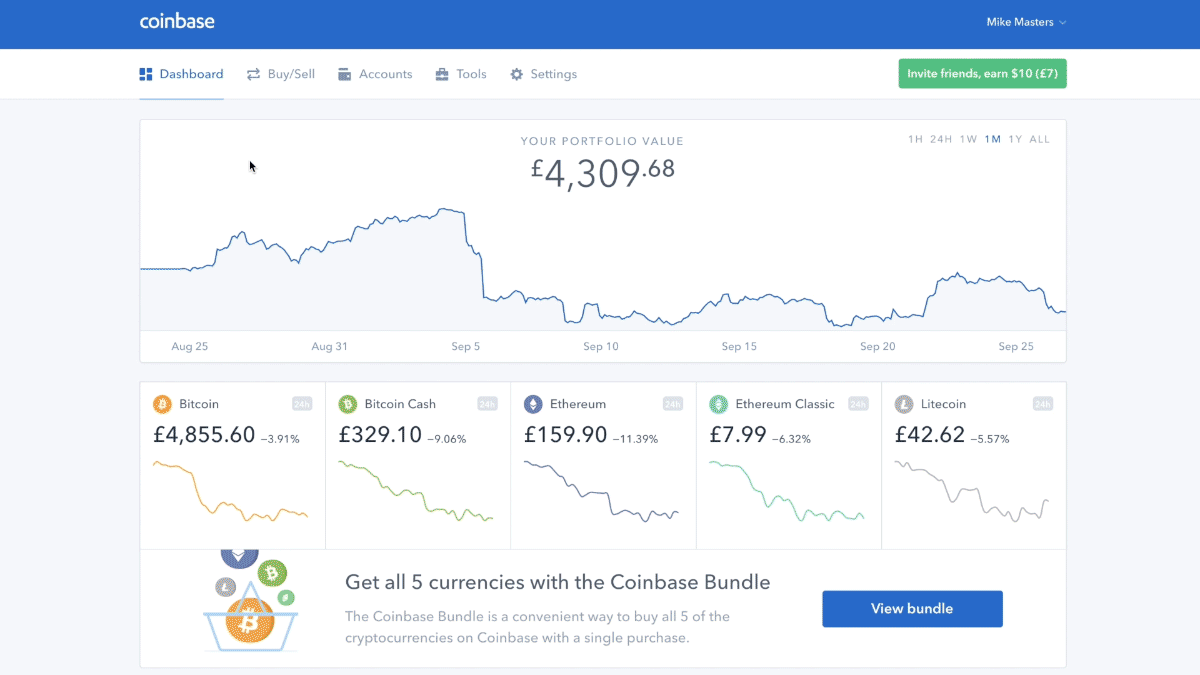 Based in San Francisco, Coinbase launched in 2012 and has become one of the most used cryptocurrency exchanges. The platform boasts over 100 million users and supports over 100 countries, including the UK.
Steps to buy:
Create a Coinbase.com account
Complete identity verification to access fiat payment options.
Navigate to Accounts and select GBP wallet.
Fund your account using Bank Transfer or other methods.
Once the deposit is complete, go to the Buy/Sell page and select GBP to BTC.
Select your preferred amount and wallet address for deposits.
Change the deposit wallet to your address outside Coinbase if that is your preference.
Complete the purchase.
Supported Payment Methods: Bank wire, SEPA transfers, and Debit cards.
Pros
Coinbase is a trusted and reliable exchange
The purchase process is straightforward, even for newcomers.
There is high liquidity for GBP to BTC markets on Coinbase.
Coinbase supports a wide range of crypto assets.
Highest purchase limit compared to competitors.
Cons

Unlike the platforms we've considered, LocalBitcoins is a peer-to-peer marketplace. This means you're buying bitcoin from another person who wants to sell instead of the platform's operator.
As you would expect, how to buy bitcoin in the UK using Localbitcoins is slightly different from using other exchanges.
Steps to buy:
Sign up for LocalBitcoins and verify your identity
Navigate to the purchase BTC with GBP page (United Kingdom)
Select a Buy offer that falls within the limit of GBP to BTC that you want to purchase
Input the amount to exchange GBP for BTC.
Confirm the order details and initiate the transaction
Complete the GBP bank transfer or any other chosen method within the payment window and receive the Bitcoins in your LocalBitcoins wallet.
Confirm that you've made the payment and wait for the transacting party to release the BTC.
Send BTC from your LocalBitcoins wallet to your non-custodial wallet.
Supported Methods: PayPal, Wise.com, Payoneer, Revolut, National Bank Transfer, and more
Pros:
You can transact up to £1000 per year without an ID.
Being a P2P exchange allows the platform to offer several deposit methods.
The local bank transfer option means minimal fees.
LocalBitcoins charges only 1% of the trading fee from the seller.
Cons:
The presence of fraudulent sellers means P2P transactions pose higher risks than buying crypto from a traditional exchange.
The purchase process is also more complex than buying BTC directly on other platforms.
BC Bitcoin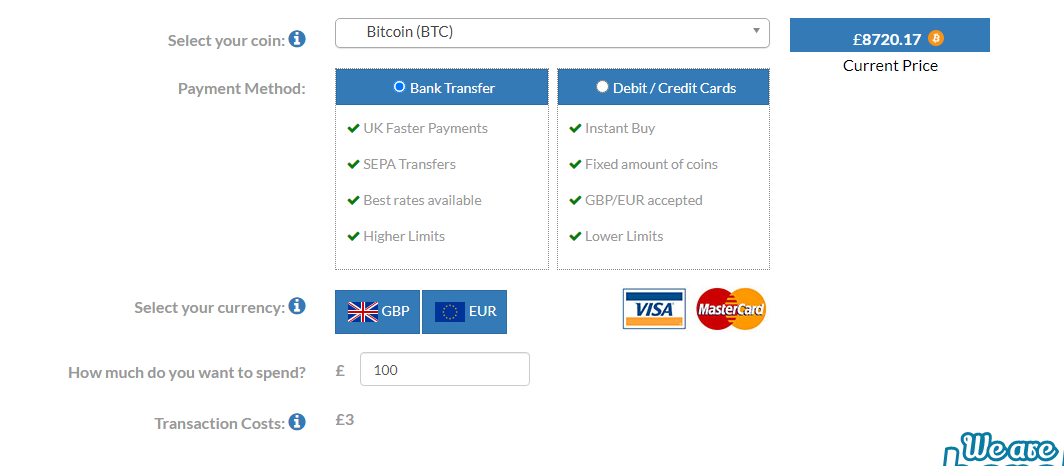 BC Bitcoin is another excellent platform to consider if you're looking for ways to buy bitcoin in the UK. Although not as popular as its counterparts, BC Bitcoin provides the cheapest and easiest way to buy BTC in three simple steps.
First, you need to create a non-custodial wallet using Coinomi, Guarda or Trust Wallet.
Steps to buy:
Sign up for an account on BC Bitcoin and complete verification.
Navigate to the Buy Page and complete the form, including your receiving address.
Complete the payment and receive bitcoins in your wallet within a few minutes.
Supported Payment Options: UK Faster Payments, SEPA Transfer, Debit/Credit Cards (Visa and MasterCard)
Pros
BC Bitcoin offers a streamlined process to convert GBP to BTC.
The platform encourages self-custody as users usually have a personal wallet to receive the coins.
Relatively low fees for transactions.
Supports crypto-to-crypto swaps.
BC Bitcoin supports multiple payment methods.
Cons
BC Bitcoin caters mainly to European and UK users
The platform lists fewer coins.
Bitcoin ATM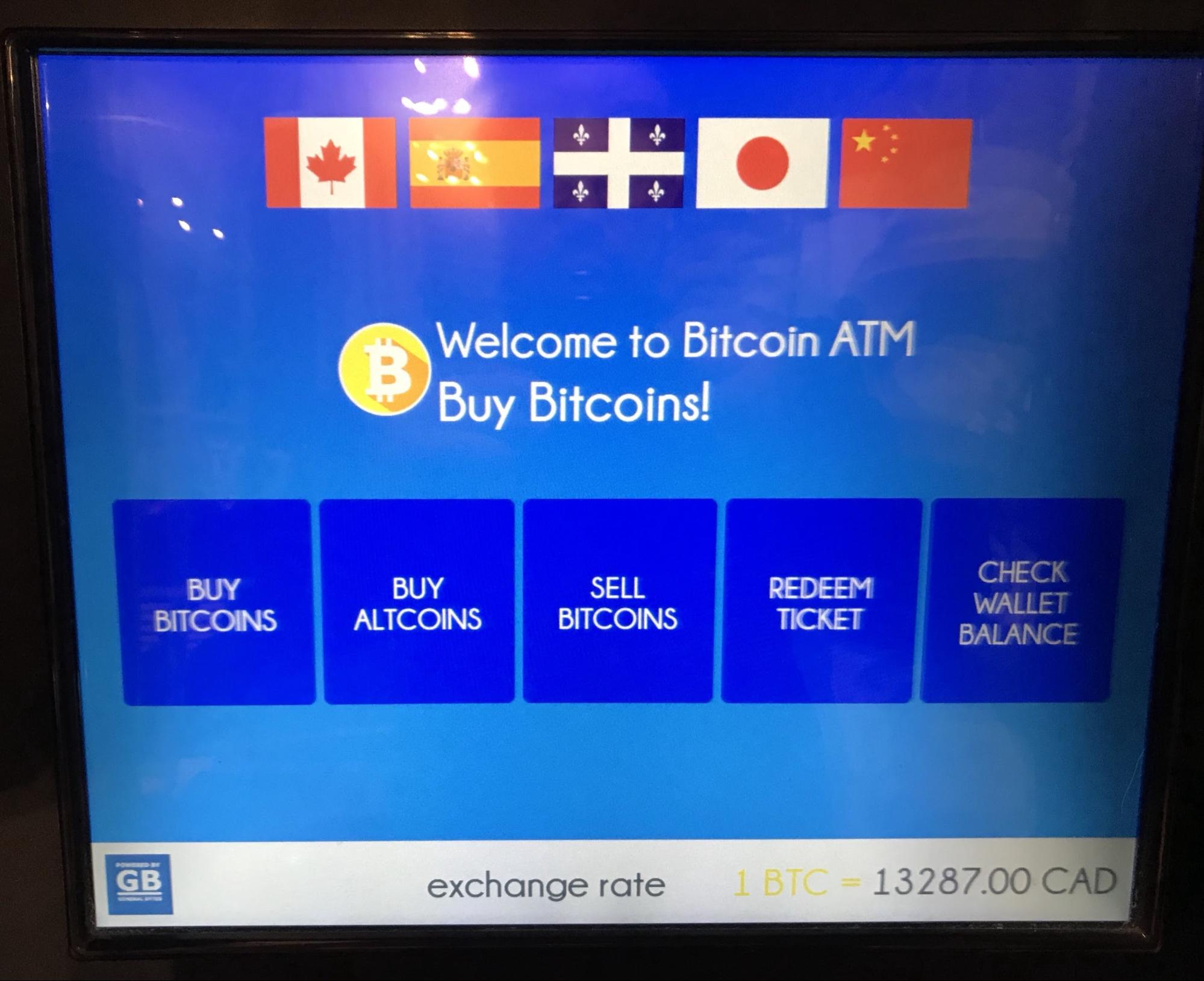 Bitcoin ATMs are becoming a famous sight these days and offer an excellent choice if you're searching for how to buy bitcoin in the UK. CoinATMRadar reports that some 289 Bitcoin ATMs are located in the United Kingdom. London, Birmingham, and Manchester are home to most of these terminals.
Although the user interface may slightly differ, you can take the following steps to convert GBP to BTC if you follow these steps.
Steps to buy:
Initiate a "Buy Bitcoin" transaction on-screen and specify the amount.
Scan the receiving BTC address on your mobile device.
Feed the machine with cash to the equivalent amount, or use your bank card to complete the payment.
Confirm the transaction and receive BTC to your address within minutes.
Supported Payment Options: Fiat, Debit, and Credit Cards.
Pros
Bitcoin ATMs are relatively private since some don't require that you verify your identity.
Transactions are settled on the spot, making it convenient to buy BTC on the go.
Cons
A lack of adequate customer service means transactions could get stuck if any error occurs.
Fees are usually high when compared to other options considered so far.
Bitcoin ATMs are still not widely available in some jurisdictions.
How to Buy BTC in the UK: Privacy and Security Tips to Keep in Mind
Now that you know where to buy BTC with GBP in the UK, here are some privacy and security tips to keep in mind:
Always enable two-factor authentication (2FA) when using an exchange to buy BTC. This reduces the risk of hackers accessing your account and stealing your assets.
Do not publicly share information about the number of bitcoins you own. This makes you a target for hackers.
Do not leave substantial amounts of BTC on an exchange. We recommend using a non-custodial wallet or a hardware wallet like Ledger or Trezor.
Always back up your seed phrase securely and double-check the website's URL and address before confirming transactions. We've also included links to the recommended resources for your convenience.
Conclusion
Going back a decade ago, how to buy Bitcoin in the U.K. was a challenging process. There were few exchanges and a highly liquid market like we have today. One can easily buy BTC online and even offline using their bank cards on any of the recommended marketplaces provided in this article.
After acquiring your bitcoins, keeping them as safe as possible would be best, with the chance of prices going wild in the next few years on the cards.