Do you look for a hardware wallet, but don't want to spend lots of money on it? A new alternative in the crypto market is a USB stick to store and give Bitcoin in a simple and secure way. An example of such a disposable Bitcoin wallet was created by Coinkite and is known as Opendime. What kind of wallet is it? Can it replace a traditional hardware wallet like Ledger or Trezor? How secure is it? There are many questions that can interest crypto holders who learn about this Bitcoin stick for the first time. Let's find out answers and many other details about this innovative device in this Opendime review.
What is Opendime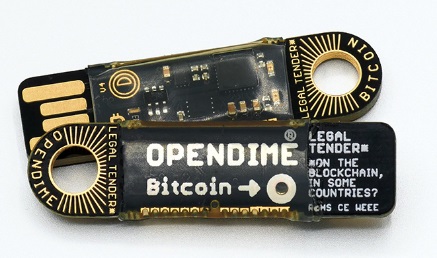 Table of Contents
Opendime is a USB stick or a so-called disposable hardware wallet that allows storing and passing Bitcoin in a simple and secure manner. Called a barebones device, Opendime looks like a small stick as long as 4 cm long and 5mm thick. Unlike the majority of modern USB drives, its soldering points are absolutely visible and accessible since they are protected with a thin transparent plastic cover. The device is adorned with Opendime and Bitcoin logos and provided with the model number too. One of the ends on this stick has a large hole to wear on a keychain.
Opendime is also called the first Bitcoin bearer since it is a perfect item to keep all your coins and check the balance by connecting to any USB device. However, when it comes to spending, Opendime is a disposable device. You need to unseal a device to transfer coins to another wallet, and it cannot be used again. Consequently, when you decide to spend your Bitcoin or send them to another wallet, you should destroy your device.
Opendime can be used for the following range of solutions:
Gifting Bitcoin without paying transaction fees.
Making high-value payments securely.
Loading different Bitcoin denominations to pay for things.
Exchange loaded Opendime for gold or other precious metals.
Using as an alternative to a paper wallet with more secure private keys.
The main benefits of Opendime are security and durability. It allows giving Bitcoins or paying for goods without leaving any trace on the blockchain. Furthermore, the plastic wrap it is hidden in is a perfect protective case since even washing and tumbling in the washing machine does not impact its operability and functionality. Impressive, right?
The technology
Opendime features a simple FAT12 file system that was previously used on floppy discs. It allows almost any device to set up and read out an Opendime stick. This tiny flash drive has a number of files that can be opened using an Internet browser and are necessary for a smooth wallet operation.
Opendime features
What makes Opendime different from other hardware wallets? This pack of features gives a clear understanding of this tiny but so useful device.
Acting as a traditional USB drive: it can be inserted into any device that has a USB plug.
Ultra security: the private key is generated inside the device and can be revealed only when you unseal it.
Compatibility: built on fundamental Bitcoin features.
Transferability: it can be handed to anyone without making multiple confirmations or paying transaction fees.
Open standards: possibility to use Bitcoin message signing, normal Bitcoin payment addresses, and private keys in WIF format.
No limits: you can as much or as little as needed.
Durability: it will operate for ages until a private key is unsealed.
How does it work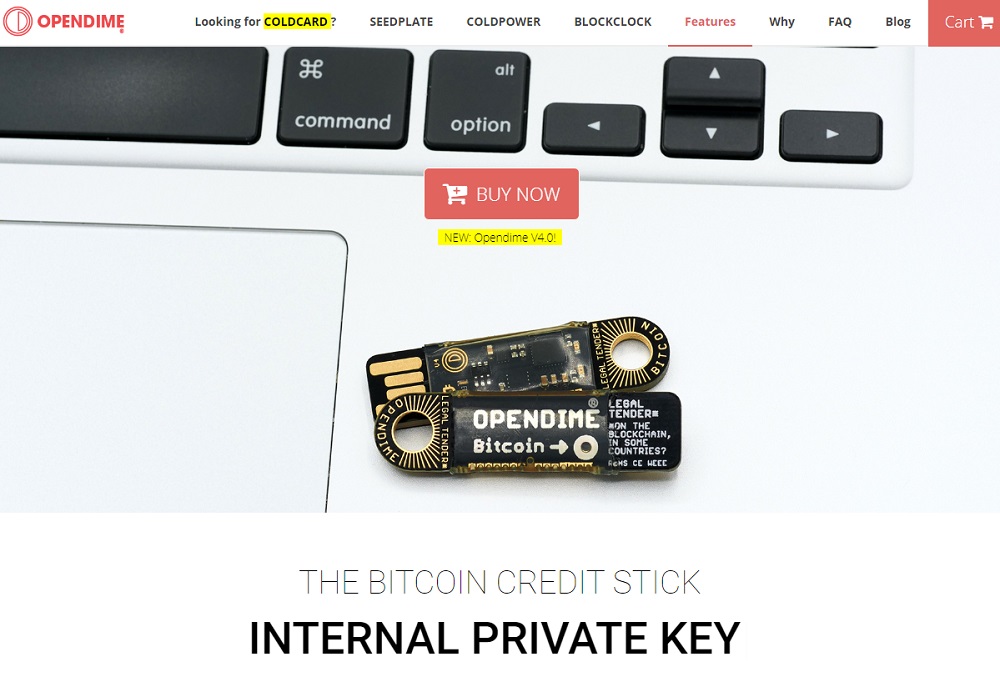 Though it sounds a little kiddy, Opendime can be compared with a piggy bank used by kids to store money. You can transfer as much Bitcoin as you need to it and lock it for a long period of time. However, when you decide to spend or withdraw funds to another wallet, it is necessary to "break your piggy bank". The device is provided with a small chip that contains a private key, and you won't know it until you reveal this chip and destroy your device. How can you know about the operation of this device? There are LED lights next to the keychain ring that works in any USB charger. LED flash indicates the following depending on the color:
Green twinkling lights: the device is sealed and your coins are in absolute security.
Changing red for green and vice versa: the device is unsealed and the private key has been revealed.
Throughout green light with short red blinks: the device has not been set up yet.
Green flashing: reading or writing on the file system.
Supported coins
The only coin supported by Opendime for storage and transfers is Bitcoin.
Languages
Opendime supports multiple languages that can be changed in the User Interface. They include Chinese, Japanese, English, Portuguese, French, German, and Russian.
The design
When you look at Opendime for the first time, it reminds a computer board or an inner part of a USB flash drive with the cover removed. This piece is colored black and has golden adornment. All the technology used is clearly visible and protected with a transparent film.
User experience
You do not need to have advanced computer skills to use Opendime. Everything is absolutely simple and user-friendly. It can be plugged and opened as a customary USB flash drive with 4 files stored on it. When you want to check your balance, you can open the device on any device and get access to the QR code of your Bitcoin address or open an HTML file to see the exact number.
Pricing
Opendime is sold in a pack of three, so you can order one on the official website by pressing the Cart button in the upper right corner of the screen. You will be redirected to the Coinkite store where you can choose between traditional Opendime wallets and limited edition examples.
Three pieces of the Opendime fourth-generation wallet cost $49,94, so each of the devices does not cost more than $17. Special editions colored orange and green cost $59 per pack of three items. You should also consider the cost of shipping since free shipping is possible only for orders of $499 or more. Paying for a wallet in Bitcoin you can get a discount of 5% using a promo code.
How to get started with Opendime
If you still wonder whether Opendime is a good Bitcoin storage device personally for you, consider how to use this wallet and you will come up with the right conclusion.
Opendime wallet package
Opendime wallets are delivered in a small transparent bag with a paper guide and a sticker included. However, when you open a bag and take one of the wallets you may wonder what to do for it to become secure storage for Bitcoin.
Naturally, you should plug it into any device that supports USB and you will see text and HTML files that are internal to the Opendime itself. These are the instructions and all necessary files to get started with Opendime.
How to set up Opendime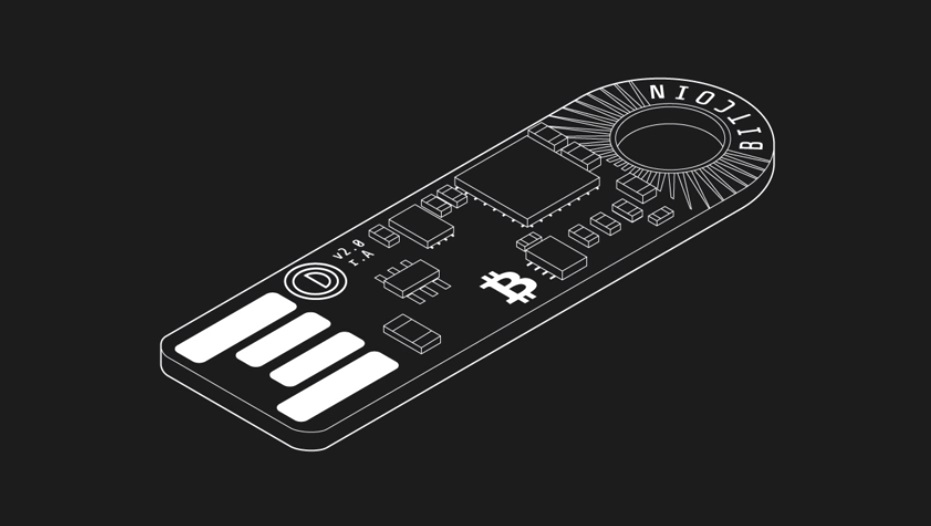 Opendime Bitcoin flash drive installation is simple but there are several points to consider prior to starting the process.
Connect the device to a USB port on any device that supports file opening (computer, laptop, mobile phone, tablet, etc.).
Check for a stick to glow throughout green with short occasional red flashes.
Open the index.htm file with the help of the Internet browser.
Agree with the terms and conditions.
Open a File Explorer and look for an Opendime drive.
Copy files of at least 256K bytes stored on your device to the stick for the total to be reached.
You will see the green light blinking faster and it means the stick starts generating Private
Key automatically. Wait for the device to eject and re-integrate automatically.
Reload the page in the browser to see your Bitcoin payment address.
When you see the LED glowing green, your device is ready for use.
Sending and Receiving coins
When your stick is ready, it is time to load it with Bitcoin. You can charge your wallet following the procedure described:
Open the index.htm file to see the Bitcoin address and the QR code associated with it.
Send coins to this address.
You can verify the balance by pressing the Check Balance option in the index.htm file or you may copy the Bitcoin address to any other third-party browser and learn the amount in this way.
Withdrawing, spending, or sending Bitcoin from the stick is possible only after unsealing it. The procedure of unsealing is described below and when this is done, you should reconnect it and you will see a little different content there. A new private-key.txt file with your private key will be added, and your index.htm will show a private key with an appropriate QR code instead of the Bitcoin address too. Now you should transfer Bitcoin to any type of wallet or simple access to your private key may lead to hacks or any other way of coin loss.
Open the wallet to get coins to.
Sweep a private key in your Opendime wallet.
Check your balance!
Unsealing
Bitcoin stored on Opendime can be accessed only if you unseal the stick. The process destroys the stick since you get access to the private key by taking out a chip. It can be done using a simple pin, paper clip, or any other thin thing that reminds a needle. You should remove this tiny chip, and your stick will show LED lights flashing alternate green and red - it is the sign your private key is already on the flash drive.
Compatibility
The only crypto supported by Opendime is Bitcoin, but you can set up this wallet almost on any device that supports the reading of a conventional USB stick. The private key can be imported on any modern crypto wallet due to a popular WIF format no matter whether it is a web, desktop, hardware or mobile one. Samourai wallet also has implemented a complete integration with Opendime, and there is an extension for Electrum wallet too.
Security
Opendime is a secure wallet since nobody knows a private key until unsealing. Furthermore, the latest generation of Opendime products has been with a new chip to verify the stick authenticity and prevent the use of fakes. This verification can take place using a Python program. The command line will inform if the Bitcoin address belongs to a private key and whether this is a certified Coinkite product.
There is one more way to verify the stick. The index.htm file contains the Verify button to perform a manual check.
As you can see, the crypto stick is one of the safest devices to store cryptocurrency in the market. It allows safe Bitcoin transfers outside the blockchain and offers several LED lighting modes to detect any changes in the operation of the device.
Customer support
Opendime users who face some issues with the stick have several ways to cope with them. Firstly, this is reading a guide added to the sticks upon purchase or accessing the FAQ section on the website. Secondly, you can contact customer support by pressing the Support button on the website. You will be offered to send a message by mail and wait for a response that usually arrives quite quickly.
Pros&cons
If you think whether there is a sense to send Bitcoin to USB such as this new stick, consider the following Opendime pros and cons to make the right decision.
Pros:
Affordable;
Easy to use;
Durable;
Compatible with any device that has a USB plug;
Highly secure;
Makes Bitcoin tangible thanks to handing over without fees and confirmations;
Transactions are made outside the blockchain.
Cons:
No Bitcoin backup;
The necessity to destroy the stick to access coins;
Everyone can access private key if the stick is lost;
Sold only in a pack of 3 with quite expensive delivery,
Is Opendime legit?
Opendime is a product of a company that has gained a good reputation in the crypto market. This device has proven its reliability and functionality. However, you should remember that this is a device and every hardware can once fail, so it should not be used for keeping large amounts.
Why choose Opendime?
Opendime is worth your attention since it is one of the most durable and easy-to-use hardware wallets. Its main benefit is the possibility to hand over Bitcoin to any person without accessing blockchain, paying transaction fees, and making multiple confirmations. Furthermore, it can be used almost on any modern device since the only thing needed is a USB port.
F.A.Q
What is Opendime?
Opendime is a Bitcoin stick that operates similarly to a flash drive and can be accessed using a USB portal in any modern device.
What makes it different from other hardware wallets?
Opendime can be used for secure and durable crypto storage, but when you decide to spend or send coins to another wallet from it, it must be destroyed. Unlike other hardware wallets that can be used multiple times, this Bitcoin wallet is disposable.
What currency does it support?
The only cryptocurrency supported by Opendime is Bitcoin. There is no fiat money support at all.
Is there a crypto back-up on Opendime?
Unfortunately, not. Coins stored in this wallet are not backed up.
Does the manufacturer know a private key generated by Opendime?
No, it doesn't. The private key is generated when you copy a file to the device, and it can't be predetermined by the manufacturer.
Summary
Open Dime is an innovative product in the crypto market that does not have alternatives at the moment. It has a number of benefits over other hardware wallets but there are things to consider too. At the same time, Opendime is not the best option for storing big amounts since the private key is always with and can be unsealed anytime especially if you lose a stick, so your funds can be lost together with a wallet.