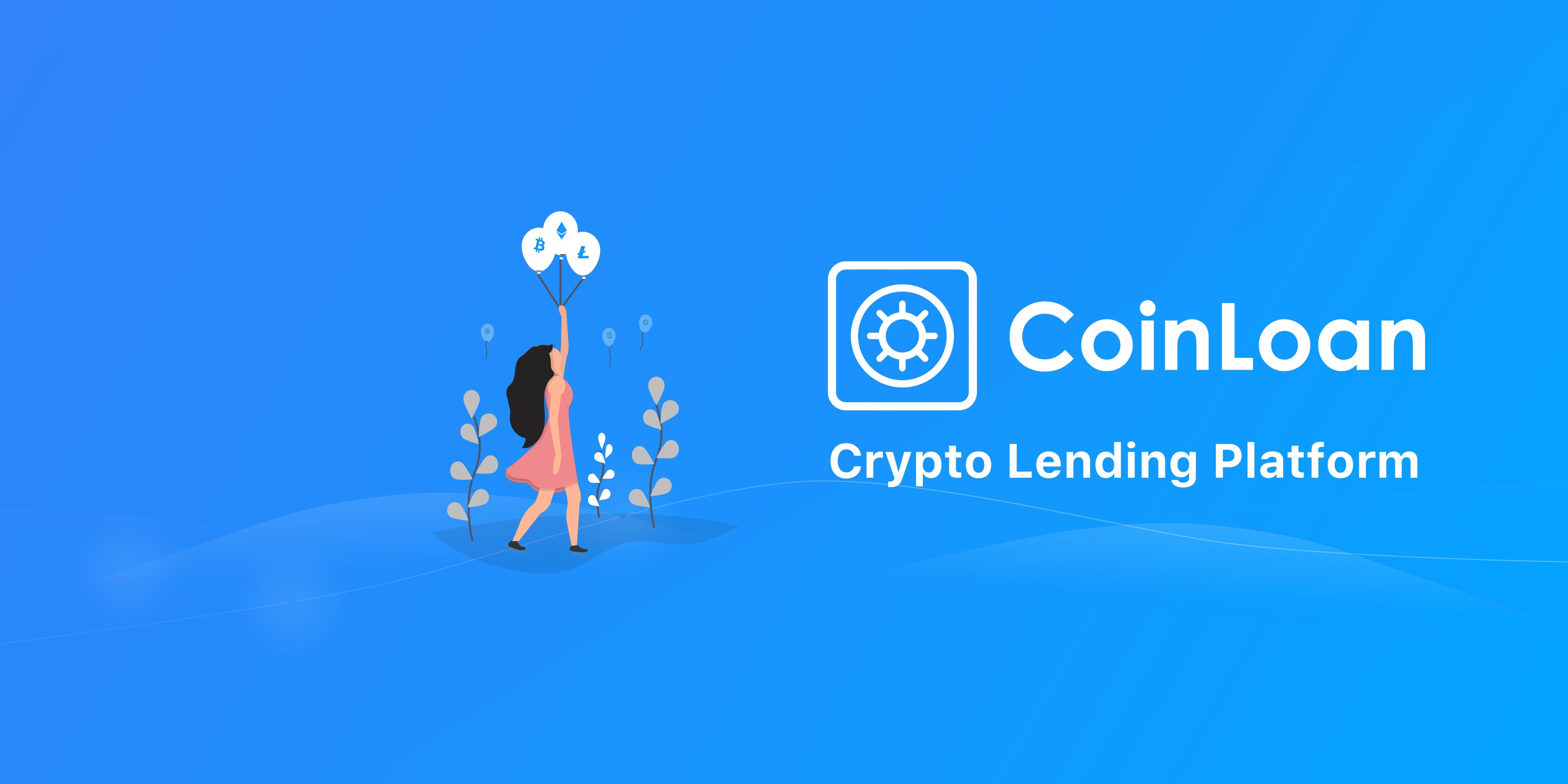 The blockchain revolution has changed the financial market and currently, cryptocurrency is considered a good investment by many. However, what about services? What if a person has all the savings in cryptocurrencies and at some point, he or she needs fiat money urgently but does not want to lose on coin exchange commissions? Crypto lending projects can be a way out in such situations since these platforms allow borrowing and lending fiat money secured by cryptocurrency. CoinLoan – one of the most promising projects in this field. This review covers all the peculiarities of low-interest loans secured by cryptocurrency and how to earn on that if you have extra money.
Table of Contents
What is CoinLoan?
People who have extra fiat money and want to borrow the amount with minimum risk can lend money and others who need a certain sum urgently can get it with low interest if they secure this deal with a respective cryptocurrency amount. This is exactly the situation CoinLoan was created for.
If you look at the project closer, you will see that CoinLoan is a corporate lending platform developed in Estonia where people can invest in crypto-backed loans and get up to 7.2% interest a year. The website was launched in 2018 and its goal was to replace restricted traditional banking to create a global lending platform suitable for everyone. The team behind the project was created gathered in the second half of 2017 by Alex Faliushin and Max Sapelov, and CoinLoan managed to grow into a global lending platform in just two years. In December 2018, it was enhanced by the addition of a crypto exchange, while in May 2019 the platform began to accept Visa and MasterCard payments. In April 2020, the company launched CoinLoan apps for iOS and Android.
CoinLoan positions itself as a platform for managing people's assets. It prevents from paying extra fees for moving funds to and from other lending platforms as well as offers secure crypto storage and earning passive income from the interest.


Problem
It is not a secret that crypto investors often face a need for fiat money but the use of exchange services may lead to huge losses. It is enough to think about the time spent on deposits and withdrawals, transaction and exchange fees, crypto market volatility to understand that these transactions can cost too much for the holders, especially in a hurry.

Solution
Low-interest loans backed by cryptocurrency can be a good way out for people who look for a quick cash out. A person who borrows money can get it almost instantly if he deposits enough cryptocurrency to back it up. As a result, he or she will be able to save the original asset fully and get fiat money under rather low-interest rates without paperwork and credit score checks. However, it is important to mention that a borrower can receive only up to 70% of the current market value of crypto collateral because of their volatility.
How does it work?
If you want to earn on loans or borrow money on Coin Loan, the first thing you should do is to register on the platform. There is no difference between sign up processes for lenders and borrowers, but you should know that the process can be completed only after you verify your ID. Otherwise, it is impossible to use the services of the platform.
CoinLoan features
CoinLoan offers several important features including:
Option to borrow and lend on one platform;

Support for different tools including loans between 2 cryptos or crypto and fiat money, interest accounts, cryptocurrency exchange, etc.;

Flexibility when it comes to interest rates, loan terms and amounts, repayment methods, and more;

Being a licensed financial institution operating under the EU laws;

Support for different stablecoins, fiat money, and cryptocurrencies (BTC, BCH, ETH, LTC, XMR, CLT, ONT);

An excellent security system that ensures integral safety;

70% LTV limit is one of the highest in the lending market and guarantees 100% refund in case of loan liquidation;

Different payment methods for depositing and withdrawing funds;

Mobile apps and website interface;

Every loan is provided with Loan Agreement and loan history can be exported to CSV for user's accountability;

Early loan repayments are accepted without penalties;

Free of fees deposits and withdrawals.
How to use the platform
When you open the CoinLoan website for the first time, you immediately see a calculator that helps to estimate whether you can afford a loan there and how much cryptocurrency you need to secure it as well as calculate the interest you will get acting as a lender. If you agree with the figures offered, the first thing you should do is to join the platform to be able to use it. The registration process requires you to provide an email and password as well as agree that you read, understood, and agreed to the Terms and Conditions, Privacy Policy, and AML Policy.

How to borrow



When the account is created, there are several steps you should complete to borrow money on the website:
Come up with the KYC procedure completion to use a wide range of services.

Make a crypto deposit using the My wallet tab to secure the loan.

Select loan conditions including interest rate, currency, term, and desired loan amount.

Generate a loan request or select one from the loans suggested on the website.
Every loan is secured by a Loan-to-Value ratio that works as a safety bag and prevents from running credit checks. The full crypto amount will be paid back to an owner when he pays the loan back. However, in case of any critical changes to the crypto collateral value of the coins provided, the platform will notify the crypto holder about the necessity to repay the loan or add extra collateral. If nothing is done instead, these coins will be sold.
Loans are given both to individuals and legal entities and offer borrowers the following benefits: crypto asset security and minimal risks.
How to earn



CoinLoan offers people who want to invest money to earn interest up to 7.2% annually. These high-yield returns can be activated if you deposit coins or fiat to the CoinLoan account. It is possible to make a deposit for a minimum of one day and interest accrued on a daily basis is deposited directly to the wallet every month. Unlike traditional bank deposits, these funds are not locked and can be withdrawn at any time without extra fees applied.
Lenders can get the following benefits for using CoinLoan services:
Passive income with fixed interest;

Live chat customer support;

Ease of use;

Zero deposit and withdrawal fees;

Annual interest is higher than on regular European and US savings accounts.
It is worth noting that the percentage yield differs depending on the asset and ranges from 5% to 10.3%. Moreover, if a user registers on the platform using our referral link, he or she will receive a 50% reward from the platform commission.
How much can you make on CoinLoan?
The interest rate you can earn on the website depends on the currency you have deposited. More popular coins such as BTC or ETH can bring 6.4% of annual income, but there are seven assets and fiat money including EUR, USDT, TUSD, and others that give a guaranteed profit of 10.3%.
Is CoinLoan Safe?
CoinLoan is a regulated financial institution licensed under Estonia Financial Authority and operating worldwide. It operates in accordance with the EU laws and utilizes strict security standards to preserve users' funds in safety. It features Web Application Firewall and DDoS Protection as well as has a number of countries that are restricted to access the platform to prevent security breaches or any other problems. Moreover, the company runs a bug bounty program, account takeover protection system, regular vulnerability scans, and offers 2-factor authentication to protect user accounts.
Pros & Cons
Naturally, there is a number of positive and negative features in every project, so CoinLoan also has its pros and cons too.
Pros:
High-interest rate for lenders and low rate for borrowers;

Solid security measures;

No credit checks;

Instant funds delivery;

Support of both fiat money and cryptocurrency;

Different tools;

Affiliate program.
Cons:
Loan application amount can't exceed 70%;

Cryptocurrency volatility can lead to the sale of tokens.
Conclusion
CoinLoan is a great platform that offers people to earn money on loans and borrow fiat currency with low interest securing the loans with cryptocurrency. The main reasons to choose this platform are the support of different currencies, fast loans, no deposit and withdrawal fees and transparency of all transactions. The platform offers a rewarding referral program with a 50% income applied to the commission and paid to users.