Introduction
Cure token is that is dedicated to helping the planet in getting rid of deadly diseases like cancer. The team has partnered with research teams at the global level to understand the innovation and experience in medical research and technology. It has come together with charitable organizations to become a token aimed at providing charitable service. It aims to become one of the leading charitable tokens in the crypto world by using the technology of decentralized finance. Cure token is the one-of-a-kind deflationary crypto token that is developed for the betterment of society. It is powered by the community and aims to get exponential price growth for the benefit of the charity as well as its holders.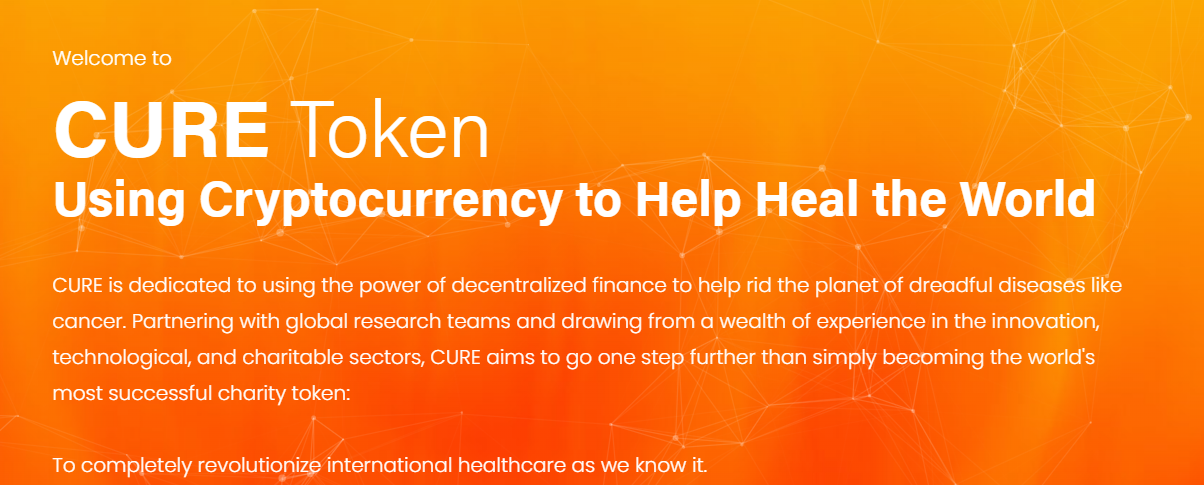 Table of Contents
What is Cure token
Cure Token is a community-driven project that is aimed at making a real difference in the lives of people affected by cancer at very early ages of their lives. The partners launched the token at a market capitalization of $200,000 locked in for a year. Cure token is a smart contract that uses the BEP-20 interface for making it immutable and secure. The token can generate $10000 daily in their charity wallet that goes towards cancer research and donations. The token aims to lock the team wallets in the future but as of now, they are permitted to transact for profit.
Cure token is founded by the Beckley Foundation, a charitable organization founded in 2016 dedicated to pediatric cancer. The founder, Jacob Beckley is doxed and always reachable through direct messages. The project managers have ensured that the investors are kept updated on every step taken by the company so that they feel their investment is secure and growing.

Cure Token Features
The key aim of Cure token is to be able to create a completely new blockchain. At present, the token can be bought through other tokens and not fiat currency. It is carrying out research and development initiatives to create its blockchain and assist people to collate data of needy sick individuals from all across the globe. The token also aims to assist the provision of healthcare facilities to geographical locations where it is least accessible. For this, investors can also provide direct donations to the token on their webpage. The token also makes sales of merchandise to raise funds for the cause.
Supported and restricted countries
There is little evidence of restriction of Cure token in any country. However, each country can impose its regulations for trading in cryptocurrency, and cure token does not hold any responsibility for the same.
Available trading pairs
Cure tokens are bought only with another cryptocurrency. The available trading pairs for cure token are CURE/BUSD, and CURE/WBNB.
Fees
Every transaction is charged by a 10% token fee dedicated towards the cause of charity. The token uses 4% of the fee towards rewarding people who stick to the token for the long term. 3% of the remaining token fee is contributed to the charity wallet for donations that are dedicated to childhood cancer. Finally, the last 3% is reinvested in the token to make it grow and thrive as a cryptocurrency. According to Cure token, the transaction fee also disincentivizes those who are not dealing in the token for the cause it serves.
How to use Cure token?
To buy Cure token, the user has to first create a wallet. Once the wallet is created, the user has to add cure token to the wallet as a smart chain. The third step is to add a BSC or the Binance Smart Chain by filling in the KYC details. Once the BSC is bought, investors can swap the BSC for Cure token after setting the slippage to 12%. The transaction can take up to 20 minutes to clear. Detailed instructions on the buying process can be found on their website.
Customer support
Cure token has an email link of their website under Resources where one can directly send messages to the team to resolve any queries or complaints. Cure token has been active on social media and the links to some of them have been provided for further assistance in customer support.
Socials
Website: https://www.curetoken.net/
YouTube: https://www.youtube.com/channel/UCXAxVIBP4pUMHVy_Zdo-82g
Twitter: https://twitter.com/cure_token
Telegram: https://t.me/CureTokenV2
Affiliate program
There are currently no affiliate programs associated with CURE token. The token sells various merchandise to serve their cause.
Pros & cons
Pros
A unique token that serves pediatric cancer patients.
The token is backed by an established company, Beckley Foundation
Assures safety by publishing various certification
Cons
Backed by a single name, Jacob Beckley. There is no other team member mentioned anywhere on the page or whitepaper.
New token launched in 2021 so, predicting the performance of token is difficult
No clear customer support system on the token webpage.
Is Cure token safe?
Cure token has been audited by Certik Audit that is a pioneer in blockchain cybersecurity. The company secured its formal certification from the company in November 2021. Cure token has been certified by InterFi Audit for team KYC verification and doxing. The company has maintained a high level of transparency in its certifications to ensure safety in investment to its prospective investors.
Why Choose Cure token?
Cure token is a cryptocurrency that cares. It is aimed to assist children who are living difficult lives. The token is highly transparent in its operations and is accredited by various recognized agencies ensuring investment safety. The token is new but has a promising future and looks like a safe bet for investment. However, one must also conduct due diligence on the new token before investment.
F.A.Qs
Does Cure token have any evidence of charitable work?
Yes, Cure has a dedicated link for publishing their charitable activities at https://www.curetoken.net/giving.
How do I keep updated on what is happening at Cure token?
You can follow Cure token at https://www.curetoken.net/news or also read about them on various social media platforms like Twitter, Telegram, and YouTube.
Where can I apply for a grant with Cure token?
One can fill in details on https://www.curetoken.net/grant-application and the team will contact them for further processing of grant.
Does Cure token have its blockchain?
No, the token is new and does not have its blockchain yet. However, it aims to develop its blockchain shortly.
Summary
Cure token is a unique token aimed at improving lives. The charitable token can only be bought through other tokens. It has a clear roadmap for development and has an active presence on social media. The company is also conducting sound marketing initiatives to make its presence felt. The progress made by the token in the short time is remarkable and speaks well of a sound future for Cure.