Lots of people can not achieve the goals set and suffer from that, so they need professional assistance to cope with this problem. However, nowadays there is no need to look for psychologists or incentive groups to get a stimulus and improve the quality of life. The blockchain industry enthusiasts decided to contribute to the success of everyone and developed a self-improvement application called FiveBalance. How can it help you with personal development? This FiveBalance review is here to answer the majority of questions about the project and how it works for user success.
What is FiveBalance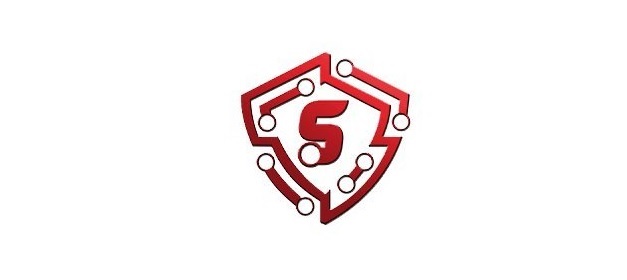 Table of Contents
FiveBalance is a mobile app for Android OS that allows users to create data indicators in 5 different categories to support the achievement of goals in the spheres of finance and self-improvement. The Key Performance Indicator calculation method is the core of the app since users can set goals and indicators, share them with others, and follow each other's path to the achievement to learn and get inspiration from the community.
FiveBalance app opens access to the self-improvement ecosystem. There are 5 categories that can be assessed within the app: faith, finance, family, flair, and fitness. Users can find helpful articles in all 5 categories to get assistance in achieving their goals as well as follow the success of others who used to have similar problems and have found the way to combat them.
Features
FiveBalance application has the following features:
A personal key performance indicator: a tool to measure personal progress on the way to the goal.
Possibility to find inspiring people: you can connect with people who face similar problems or goals and get inspiration from each other.
Built-in cryptocurrency wallet: aiming at global community, the app should not be tied to banks and fees, so users get rewards in the native token that can be exchanged for popular assets.
Personal achievement measure: users will enter their progress using the KPI indicators, the app will calculate the score on a monthly basis and pay out rewards to users who managed to achieve the goals set. Rewards can be shared with friends to support them too.
Access to self-improvement articles: there are articles in 5 categories that contain tips on how to pave the way to the target.
Personal improvement portfolio: used in big corporations, this portfolio helps to improve performance and efficiency in work.
Apps
FiveBalance currently offers only Android application. iOS users will get access to the stimulative app in the near future.
Interface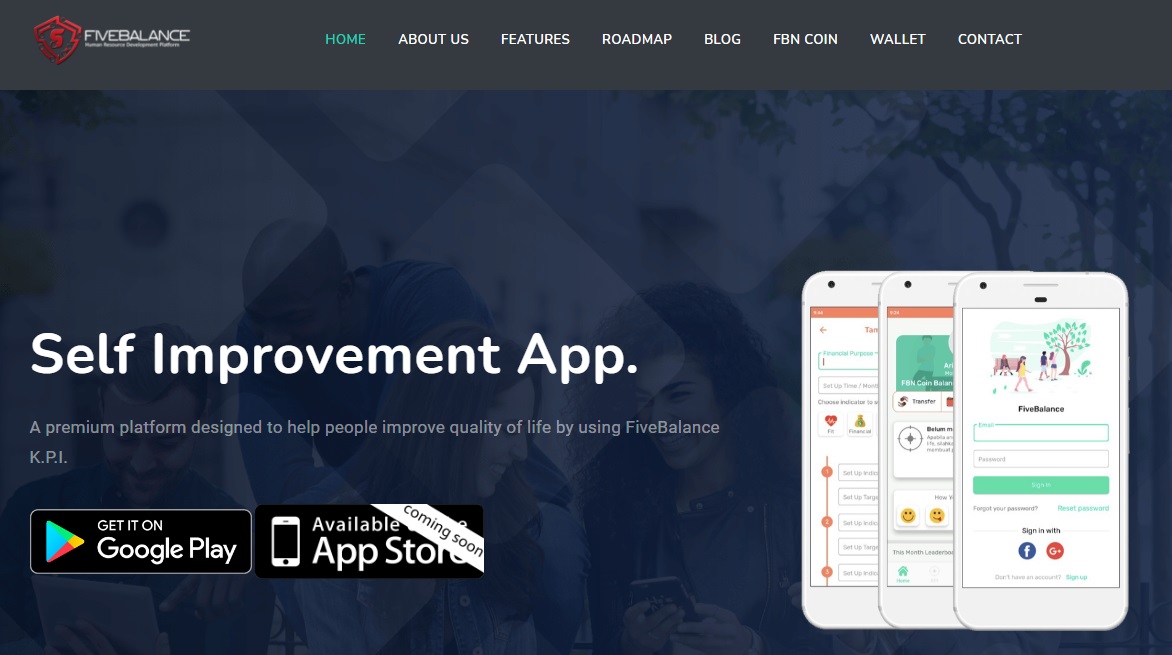 The main features of FiveBalance app interface are being user-friendly and easy-to-use. The app is designed in a traditional white shade with the inclusion of orange and green details. It is enough to enter several details upon registration, and you will be offered to create a purpose for life within the app and set indictors. You can choose any category or set goals in each of them too. The app menu is located at the bottom of the screen where you can access the KPI, look through your friends, portfolio, and so on. There is also access to the wallet and coins as well as a leaderboard to see your competitors and the most successful users.
How to use FiveBalance
The FiveBalance app uses blockchain technology to reward users who have succeeded. It has its native FBN coin that acts as an incentive to motivate users and reach new milestones. FBN can be spent on purchases on different websites or traded on crypto exchanges. Furthermore, FBN is a stakeable token with masternodes, so coin holders can accumulate them and grow their income.
If you want to share your way to success and get coins as a reward, there are 3 steps to complete:
Register an account and complete the profile information: it will allow finding users with similar goals and indicators and follow their strategy to the main goal.
Set clear goals and the time periods required to achieve them.
Set up the KPI indicators for every target in each category.
If a user achieves the goal within the period set, he or she is rewarded with a certain amount of FBN coins.
FBN coin specifications
FBN is a native token of FiveBalance. It is based on the Quark algorithm, and the total supply planned is 1 billion. A block reward is 400 FBN.
How to buy FBN coin
There are two online destinations where you can trade FBN. Hotbit offers a pair of FBN/USDT with a quite big volume, while Mercatox allows trading FBN for ETH too. The development team plans to add FBN to more popular exchanges like Bittrex, Kucoin, Coinsbit, Tokocrypto, and Binance.
FBN wallet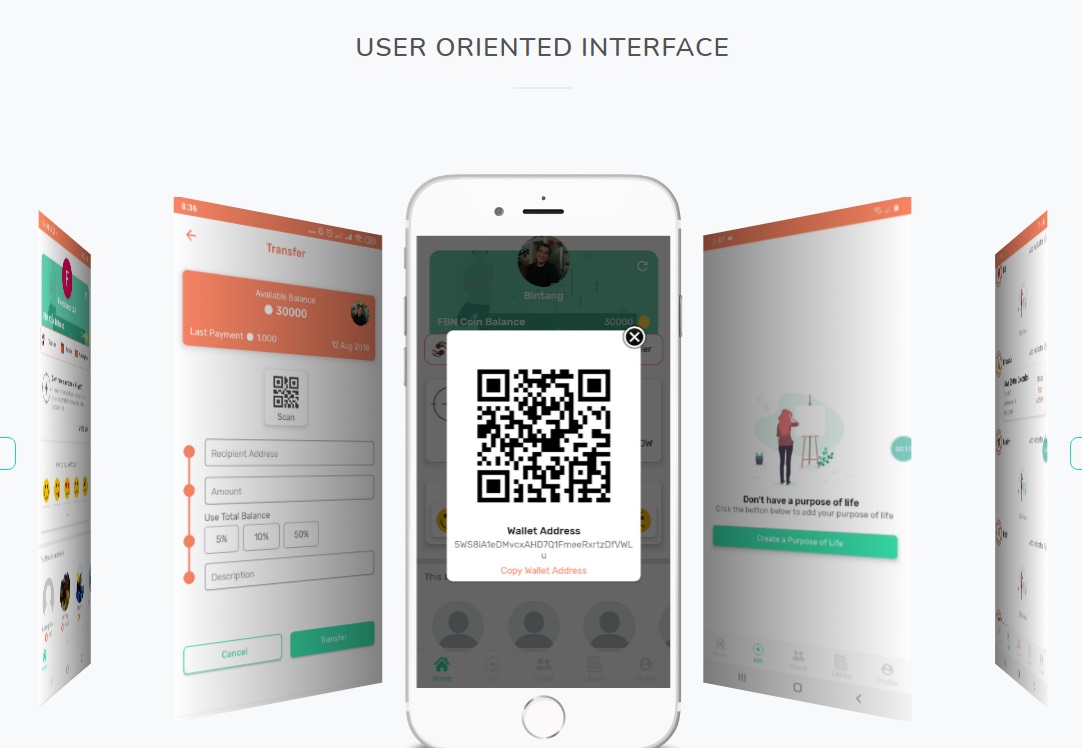 FiveBalance offers a wallet for its coin that is available not only in the app but also on the computer. Users can download wallets for Windows, Linux, and macOS as well as get a mobile wallet app for Android devices.
Pros&cons
FiveBalance has a number of positive features and things to consider, so check these pros and cons:
Pros:
User-oriented interface;
Android native app;
Provides incentive and inspiration for self-improvement;
Built-in wallet;
Support for staking;
Rewards for goal achievement;
Personal improvement portfolio.
Cons:
H2: F.A.Q
What is FiveBalance?
FiveBalance is a mobile application that helps people achieve the goals set by following the example, getting inspiration from others, and improving yourself.
How can FiveBalance help to improve yourself?
It offers an example of successful people and rewards users for their effort on the way to the goal.
What categories does FiveBalance support?
There are 5 categories to set the KPI indicators including Fit, Family, Financial, Flair, and Faith.
How can you contact the FiveBalance team?
There is an inquiry form to fill out on the website or you can send a direct email at [email protected]
Is FiveBalance safe?
Since users do not share personal details with the app, it is absolutely secure and can be used without any doubts.
Summary
If you need a tool to help you manage your goals and their achievement as well as inspire you for reaching new heights, FiveBalance can be a perfect digital assistant. It not only makes the self-improvement process competitive and more exciting but also allows getting real money rewards that are the best stimulus! Being a blockchain project, the app has its own token FBN that can be staked, so you get another direction of extra earnings too.