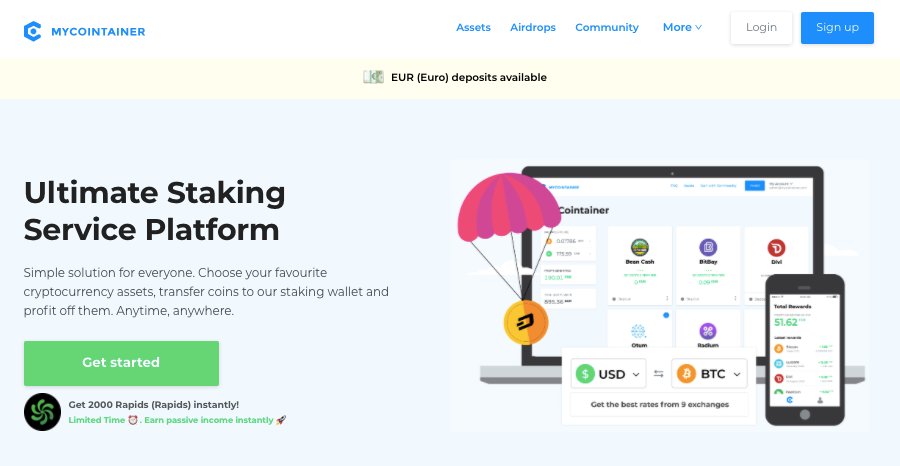 Have you thought about earning on crypto trading but don't have enough experience in this field? There are thousands of people who get profits from crypto trading and have only a vague idea of how it works. The key to their financial independence is Proof-of-Stakes coins - they pay dividends being traded on special platforms and one of the most popular destinations for this activity is MyCointainer. It allows getting interest from multiple coins simultaneously even if you are new in the crypto world.

Do you want to find out how to make profits on MyCointainer with a minimum of investment of money and time? This review is here to provide you with all the details you should know about MyCointainer and a number of stages to complete to start earning there.
What is staking?
Active participation in the validation of transactions on a proof-of-stake blockchain is known as staking. These blockchains allow crypto holders who possess a minimum required amount of the respective coin to validate any transaction and get rewards for that.
Table of Contents
If this amount is enough, the node makes a deposit of this amount to the network as a stake. Its size depends on the node's chances to create a block, and if the last one is successfully created, a transaction validator is awarded for participation.
What is MyCointainer?
MyCointainer is defined as automatic staking and masternode staking platform for users to generate profits in the form of tokens. It supports a variety of Proof-of-Stake coins to stake in an easy and safe manner. The main outstanding feature of this platform is the possibility to earn rewards from staking multiple crypto assets in one single place. However, it also offers other ways of getting passive income from cryptocurrencies and other benefits including:
Saving on coin transfers thanks to built-in exchange;
Earning with community initiatives by assisting in developing the platform;
Being informed about giveaways organized by other websites and participating in them;
Getting the latest insights into the world of crypto and learning a lot in this sphere.
MyCointainer OU is a company registered in Estonia and is supported by the Ministry of Economic Affairs and Communication. It is also regulated by the Financial Intelligence Unit (FIU) and possesses a license for providing exchanging services and wallet management. The platform is available in 8 languages and supports mobile staking - crypto enthusiasts can track their rewards in the applications both on Android and iOS devices.
How does it work?
It doesn't require much time and advanced skills to learn how to earn interest by using MyCointainer. It is enough to complete the following steps:
Register an account.
Buy on the exchange or transfer coins you want to stake from another wallet.
Keep coins in the wallet for it to utilize the power of blockchain.
Get regular profits and notifications about their arrivals.
The platform gets rewards from running masternodes. It generates access to shared nodes automatically and allows earning interest even if user doesn't have enough coins to run a personal masternode. The amount of annual return depends on the coin and the platform applies reward fees to the majority of assets up to 9% except for 7 cryptocurrencies staked.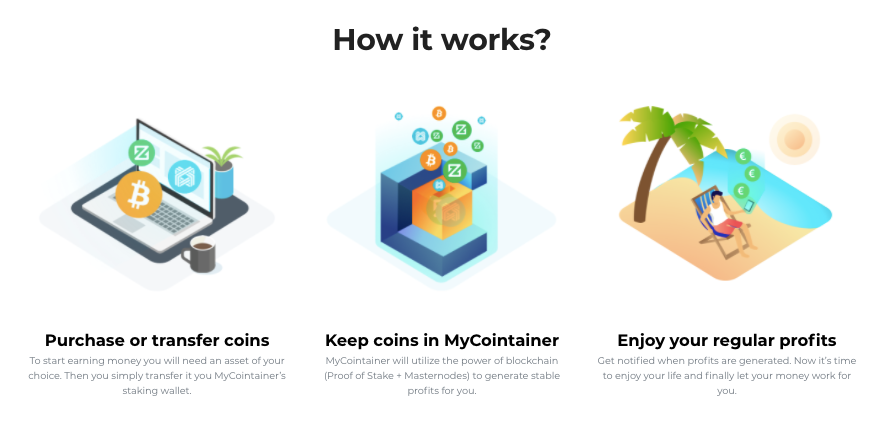 MyCointainer benefits
Why MyCointainer is better than other similar staking platforms? In fact, the number of benefits is quite impressive:
Access to shared masternodes staking;
Support for multiple POS assets;
Simultaneous staking of several assets in one place;
Built-in exchange;
Euro deposits supported;
Affiliate program;
Beginner-friendly;
MyCointained Power feature for higher rewards;
Secure and licensed.
How to start earning with MyCointainer?
The first step you should make to get profits on MyCointainer is to join the platform and select coins for staking. When your wallets are ready, it is necessary to fund them. There are two ways to do that: open the platform exchange and buy cryptocurrency for fiat or for other assets or transfer funds to the MyCointainer wallet from the other one. Coins start earning immediately when they arrive in the wallet. The process of getting rewards is absolutely transparent and scalable.
Most popular assets
The selection of POS assets offered on the platform is rather extensive. There are over 90 coins to use for staking and each of them has its own yearly return. The top 3 assets on MyCointainer are Waves (with a yearly return of 5.1% and a reward fee of 0.46%), Radium (with a yearly return of 25.4% and no reward fee), and Energi (with a yearly return of 15.3% and a reward fee of 1.38%). Other leaders of the rating include Divi, ColossussXT, and Binance Coin.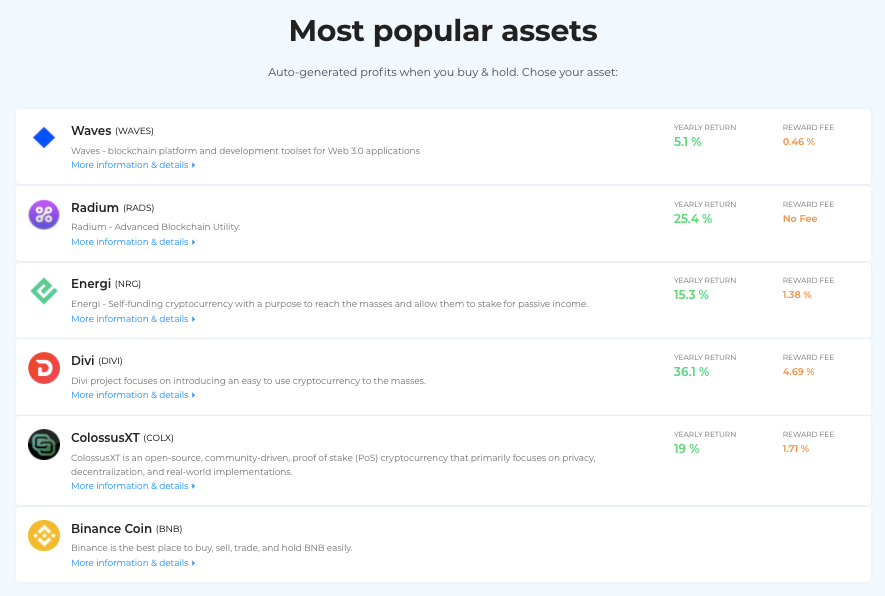 Minimum amount to deposit and withdraw
MyCointainer developers aimed at creating a simple and widely-accessible solution for everyone to be able to join and general extra income. This is the reason why there are no minimum or maximum limits on both deposits and withdrawals. Users are free to choose how much they want to stake or cashout, when, and where to do that.

There is absolute freedom on deposit management and no pending time when funds are locked by the system before withdrawal – coins are available anytime. The platform mentions the maximum withdrawal time never exceeds 24 hours, but usually, payouts are completed much faster. One more important thing to mention is the necessity to verify the account to be able to make withdrawals and get access to full functionality.
MyCointainer fees
The platform is interested in attracting new investors since it earns only when users generate profits too. The fee taken by the platform differs depending on the asset, but there are 7 coins offered when users get 100% income from staking too. The average fee is 2.29%. In most cases, it does not exceed 1%, but there are coins where it grows up to 30% and higher, though profits generated by them are incredibly high too.
How much you can earn
The amounts earned are coin specific and depend on the amount staked. Crypto holders can see a rounded award amount next to every asset on the list and this number is generated on the basis of multiple factors including the current blockchain block, developers roadmap changes, compounded coins addition, etc. It is possible to calculate the approximate return if you know the amount you plan to stake and the reward percentage. Some platforms offer reward calculators for user comfort too.
Other features
Not only staking makes MyCointainer attractive to investors. There are several more features to be appreciated by them too.
Airdrops
Airdrops are the coins distributed to crypto enthusiasts for free and this platform helps them learn the sources where to get them. They include the latest giveaways and bounties as well as offer users to get coins for rating, commenting, registering, joining social media channels, and other similar activities.
Exchange
Exchange is another great feature of the platform since registered users can avoid paying extra for the transfer of funds and get any of the assets staked for both fiat money and cryptocurrency.
Power Subscription
Users who want to get 100% income from rewards can opt for Power Subscription offered by MyCointainer. Furthermore, they get zero withdrawal and exchange fees as well as can participate in VIP giveaways and offers, get Partner's superb rewards on a monthly basis, and many other benefits depending on the plan selected.

The development team aims at decentralizing the platform and encourages the community to run MyCointainer as well as participate in short initiatives created and get rewards for that.
Conclusion
MyCointainer can be called a key to earning interest in staking crypto assets. No longer should crypto enthusiasts browse dozens of platforms in search of affordable masternodes since all of them are collected on one website. Furthermore, staking on this platform is suitable for beginners and does not require trading experience, so everyone can enjoy the benefits of shared masternodes and receive profits even with a minimum investment. It's a great solution for people interested in passive income and willing to earn solely.