Introduction
Digital identity is one of the most evolving trends of the decade. The pandemic has provided the required acceleration to the trend. SelfKey is an SSID (self-sovereign identity) system that is based on the blockchain to provide identity and control to its users. SelfKey can also be utilized to manage crypto portfolios securely and instantly use financial services, cryptocurrency, and immigration. The most unique feature of SelfKey is that it can work as a self-sovereignty aimed all in one identity solution. SelfKey 2.0 aims to be the 'KEY to the Metaverse' by strengthening and providing an identity layer to the Metaverse. The main purpose for SelfKey 2.0 is to adapt SelfKey as the identity provider for Web 3.0 and the Metaverse.

Table of Contents
What is SelfKey
Advancement in internet technology has increased the use of digital identities in nations. However, most of the identity systems are planned from the center and this leads to inefficiencies in integration. There is much more work to be done in the field, and this is largely hindered by the lack of digital infrastructure that would support digital documentation of personal identification.
Selfkey is a Self-Sovereign Digital ecosystem wherein the user is the center of the identity management process. The token leverages the decentralized approach and technology in cryptocurrency to improve the security, and customer experience and optimize cost in the digital identity interaction process. The technology would revolutionize the onboarding process in KYC while remaining true to the ethos involved in the SSID. Recent additions like the Living Avatar NFTs and the POI Platform to SelfKey would further strengthen personalization, individual control and exclusivity of individual identity on the digital platform.
SelfKey Features
For SelfKey, the users are central to the process of identity management. The Selfkey identity component system is built on an open platform that is supported by
SelfKey Foundation, a nonprofit foundation supporting self-sovereign identity
An open-source wallet free of cost for the owner of the identity
A marketplace that sells real products and services
Microservices for identity that complies with the rules and regulations of KYC
A native cryptocurrency which would be used for all the above services : '$KEY'
Supported and restricted countries
There is no restriction on the trading of SelfKey cryptocurrency specifically. However, each country has its own rules regarding crypto trading and markets, in general. Such local restrictions and regulations may be applicable.
Available trading pairs
Exchanges offer SelfKey trading in multiple trading pairs like KEY/ETH and KEY/BTC. Also, $KEY token have USDT pairings, and fiat pairings available in several prominent exchanges.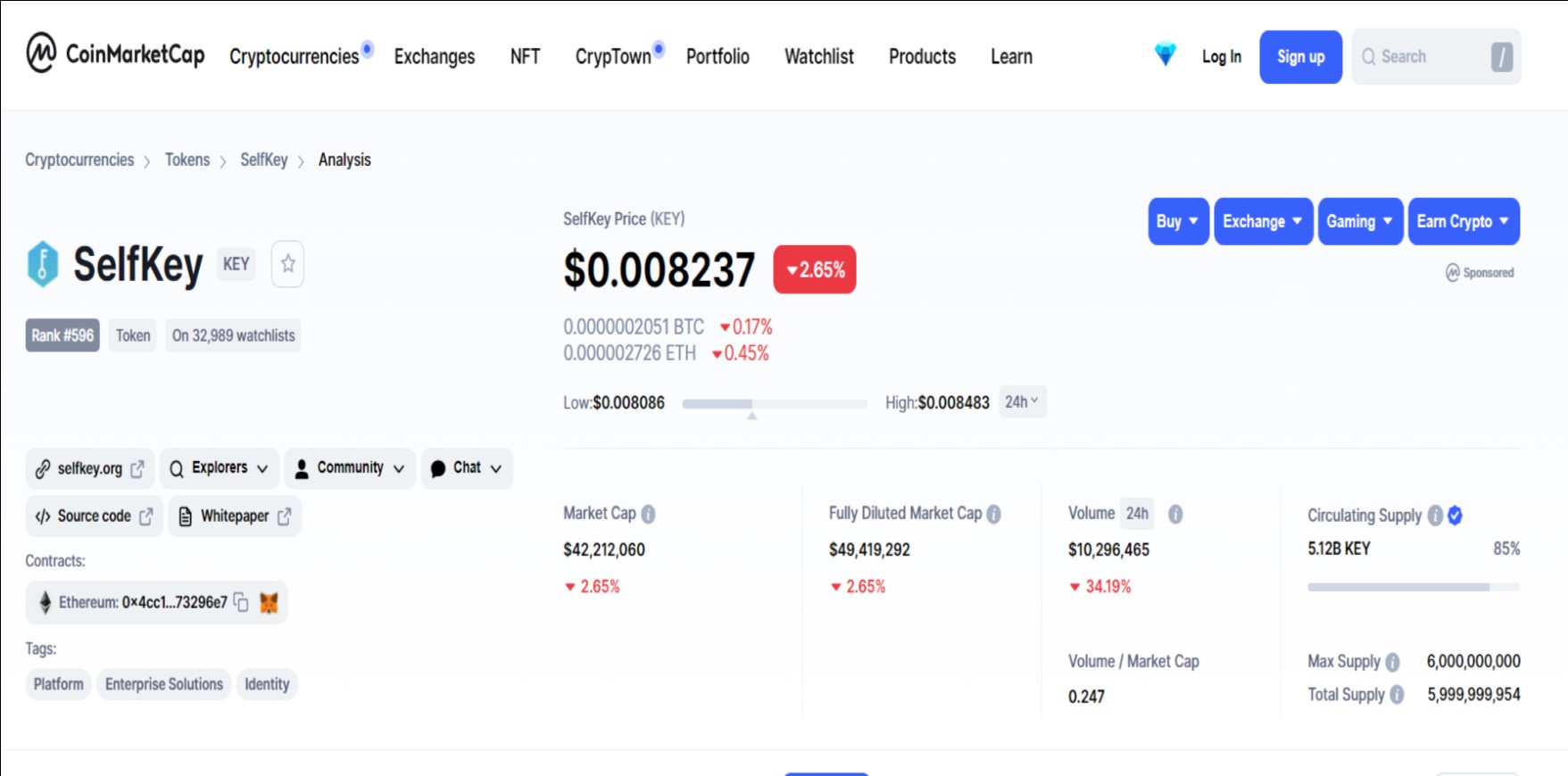 Fees
The SelfKey fee structure is as below:

How to use SelfKey?
For any new user, the first step is to download the Selfkey Wallet App. Once downloaded on a personal device, the user has to next note the private and public key pair or the SelfKey on this wallet. This acts as a unique digital signature of the device and wallet owner. This key also authenticates and validates owner identity for all requests. SelfKey replaces the traditional need for a username and password by attesting digital identity stored within the digital wallet.
Users can also avail goods and services through the marketplace by creating its identity claims. These identity claims are personal information of the user which also acts as a KYC document in the traditional sense of the term. The identity claims need to get attested and get stored within the SelfKey wallet, for which the user will have complete control over.
Customer support
For any support related issues, general queries or partnerships one can send an email to [email protected] or [email protected] .
Apart from the above, many social channels can be accessed for all kinds of information.
Socials
Website: https://selfkey.org/
Facebook: https://www.facebook.com/SelfKeyHQ/
Twitter: https://twitter.com/selfkey
Instagram: https://twitter.com/selfkey
Discord - https://discord.gg/Ft2U7DKg4X
Telegram - https://t.me/selfkeyfoundation
Reddit - https://www.reddit.com/r/selfkey/
LinkedIn - https://www.linkedin.com/company/selfkey
Affiliate program
Although there are no current affiliate programs, the organization is keen on business partnerships and collaborations.
Pros & cons
Pros
Users can decide on the amount of data they want to reveal in the public domain
Digital identity simplifies data management and helps build stronger partnerships by overcoming repeated hurdles and developing trust.
Identities protected by the blockchain are very difficult to forge or steal as compared to physical identification proofs.
Cons
User aspects of SelfKey are still evolving and need more definitions to strengthen Selfkey's position in the market.
Competition from other market players working on similar concepts.
Is SelfKey safe?
SelfKey is using blockchain technology to store user data. The information is much more difficult to steal on the platform as compared to physical copies of data stored within banks as it is not so easy to break into the blockchain technology protected by codes that are unique for every investor. Moreover, SelfKey users store their data locally, which means there is no central database that stores users' personal information, which makes it less susceptible to large scale attacks from hackers.
Risks involved in market investment are inherent. Investors are advised to carry out their due diligence before making any sort of investment decisions.
Why Choose SelfKey?
SelfKey makes life simpler in the storage of personal data. The key feature that makes it stand out is the self-hosted data storage feature. This allows secure data storage with the least risk of a significant data breach. Additionally, SelfKey 2.0 promises to enhance personalization and user experience through Living Avatar NFTs and POI Platform. The Living Avatar NFTs could redefine digital identity and its security for users while the POI Platform protection from Sybil attacks would further strengthen identity digitization on the blockchain. These two aspects would frame the future of SelfKey as well as the SSID.
F.A.Qs
What is the SelfKey token ID and Contract address?
The SelfKey token ID is KEY and the SelfKey Contract address is
0x4cc19356f2d37338b9802aa8e8fc58b0373296e7
How does the SelfKey wallet work?
Here is how the SelfKey application works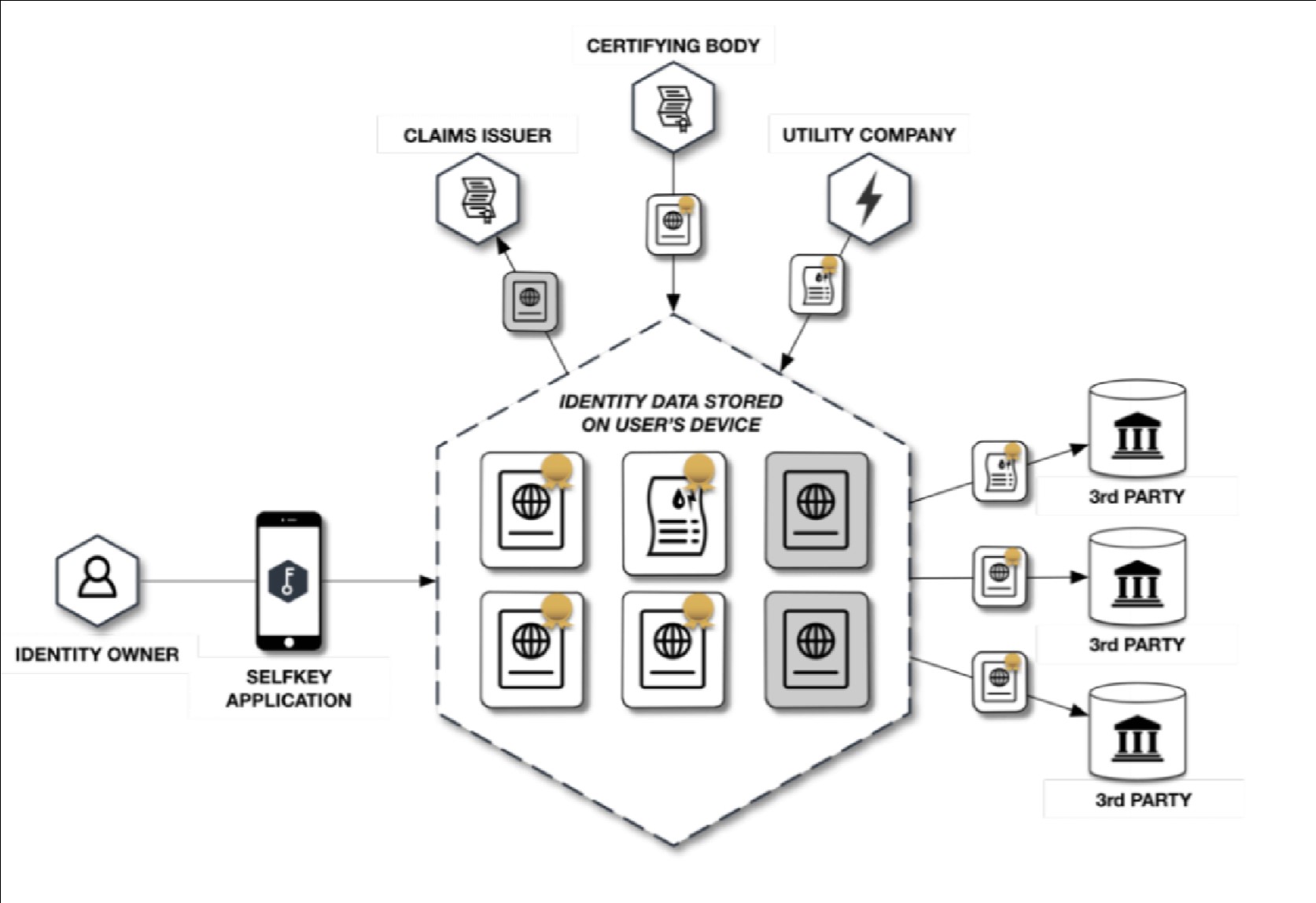 How many SelfKey marketplaces are operational?
There are in total 7 Marketplaces available. Users can check out these articles to access and know more about each one of them.
Who is the founder of SelfKey? How many people at SelfKey?
SelfKey does not believe in naming a single founder as it is always a team working together to make the company. There are about 30-50 people working with SelfKey handling different areas.
Does SelfKey have its blockchain?
SelfKey operates on the Ethereum blockchain with its wallet. It does not have a blockchain of its own.
Summary
In summary, SelfKey is a legal, non-profit, well-governed technology that aims to simplify the storage of personal data. Digital identification on SelfKey gets certified by qualified certifiers making the data reusable and authentic. It also makes KYC onboarding easier and less tedious. SelfKey 2.0 could be a revolutionary change with the Living Avatar NFTs and the POI Platform with applications on Web 3.0 and the Metaverse. Digital identity is an increasingly growing trend, and it is only a matter of time before SelfKey would become a norm rather than an innovation.