Learning how to sell bitcoin for GBP is vital to every UK Bitcoin investor. You may not plan to sell your assets right now to buy two Domino's pizzas like Laszlo Hanyecz, but you may eventually need to cash out bitcoin if the price goes up.
You don't want to have the headache of your transactions flagged, or withdrawals halted for no reason. You also need a platform where you can sell Bitcoin seamlessly and without a lengthy process.
We wrote this article to let you have all that comfort and hope that by the end, you will know how to convert Bitcoin to pounds or another crypto.
A quick guide on selling BTC for GBP on Binance
Create a Binance.com account.
Verify your identity since you'll be withdrawing GBP.
Go to Deposit and select Bitcoin (BTC).
Copy your BTC deposit address and transfer funds from an external wallet.
After deposit confirmation, go to Binance's Sell Crypto Page.
Enter the amount of BTC to sell (minimum amount is £50).
Click Sell and confirm order details on the next page.
Click Sell again for Sell to GBP Cash Balance.
Once completed, go to Withdraw and select GBP to cash out to your bank account.
After that quick guide, we'll now go over some exchanges that anyone can use to sell bitcoin in the UK.
How to sell Bitcoin for GBP
Binance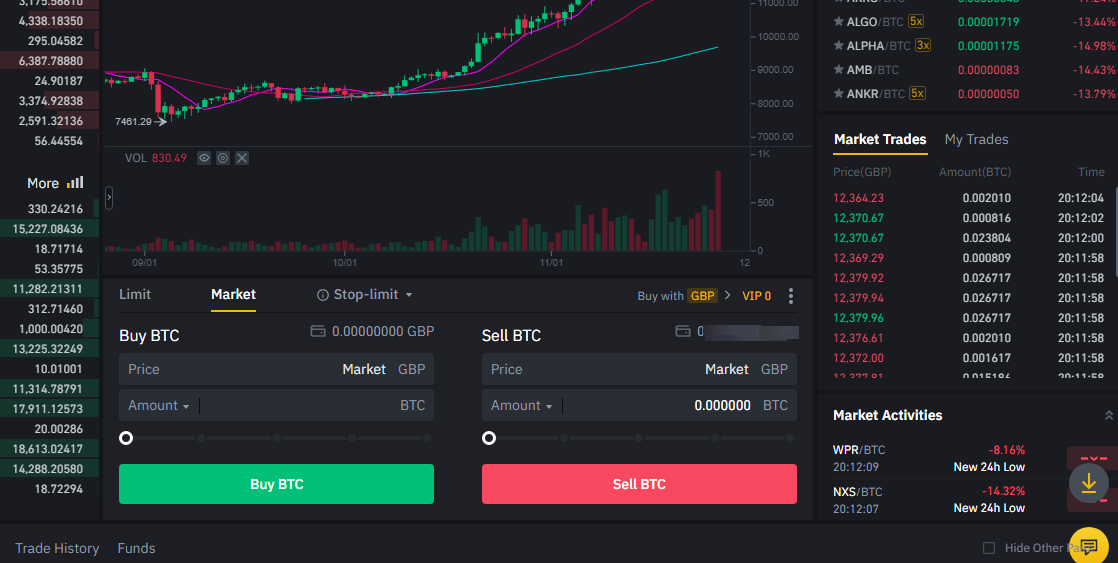 Binance is one of the most widely used cryptocurrency exchanges. Aside from our earlier example, there is another route to selling BTC to GBP, and that is by using the Binance order book.
How to do it:
Register on Binance.com and complete the KYC process.
Deposit BTC on Binance via the provided address.
After deposit confirmation, go to Markets from your dashboard.
Select Fiat Markets and search for the BTC/GBP pair.
Select the pair and on the page, switch Order type to Market.
Fill in the amount of BTC to sell and click Sell BTC.
Binance will add the purchased GBP to your wallet.
Go to Wallet > Fiat and Spot.
Select your GBP wallet and initiate a withdrawal.
Pros
Binance is relatively reliable and rarely suffers from downtimes.
Binance has highly liquid order books for both small and large trades.
The exchange has a responsive customer service team.
Binance has a tutorial video on each trading pair explaining how to use the spot market.
Cons
Binance doesn't offer card withdrawals for UK users.
The platform isn't too friendly for inexperienced users.
Fiat Withdrawal Methods: Faster Payments and SEPA transfers.
CEX.io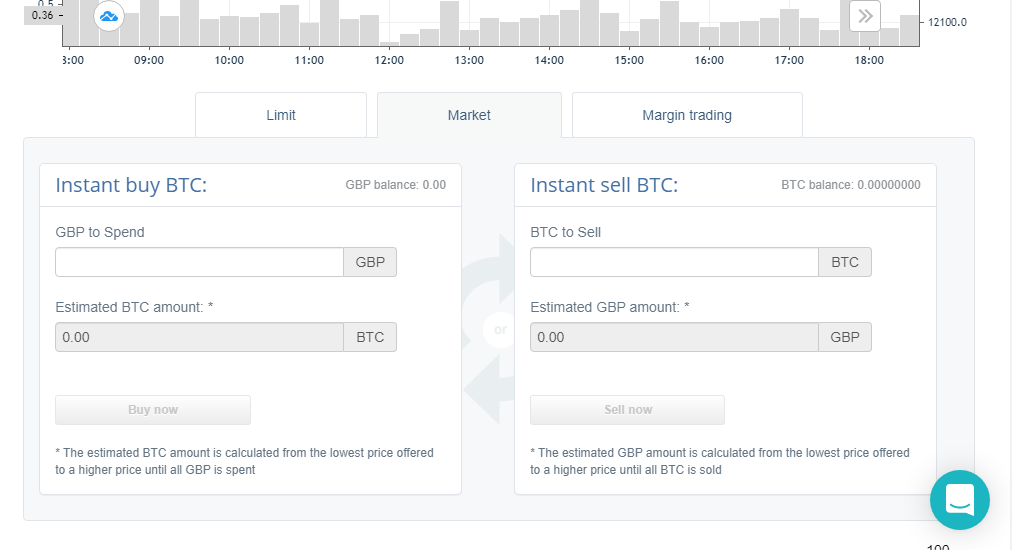 CEX.io is based in the United Kingdom and is a good option for anyone to buy or sell Bitcoin for GBP. The platform offers more withdrawal options, and the entire process isn't complicated for even first-time users.
How to do it
Create an Account with CEX.io and complete the verification process.
Go to Deposit, and switch the currency tab to BTC.
Copy your BTC address and transfer from an external wallet.
After deposit confirmation, go to Trade and select the BTC/GBP pair.
Switch the Order type to Market and fill in the amount of BTC to sell
Click Place Order to complete the process.
Go to Withdraw and Cash-out GBP using your preferred option.
Fiat Withdrawal Methods: SWIFT, Bank Cards (Visa, Mastercard), Skrill, Domestic bank transfer.
Pros
CEX.io is a reliable and reputable crypto exchange among UK users.
CEX.io offers more options to cash out bitcoin to the bank account.
The trading platform is user-friendly.
CEX.io offers phone support for customer inquiries.
Cons
CEX.io lacks sophisticated features for experienced sellers.
The exchange supports few cryptocurrencies.
LocalBitcoins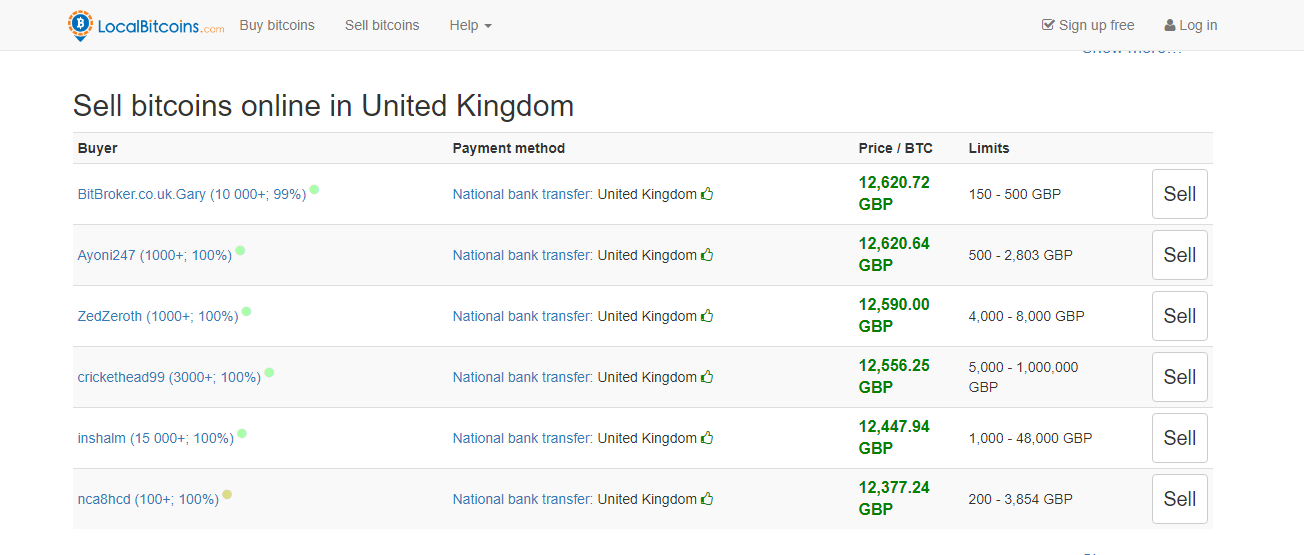 Unlike the other exchanges on this list, LocalBitcoins is a peer-to-peer cryptocurrency exchange. In simpler terms, the platform connects you with someone willing to buy your Bitcoin for GBP.
How to do it:
Register on LocalBitcoins.
Deposit your bitcoins to the platform from an external wallet.
Go to the LocalBitcoins main page.
Switch the tab to Quick Sell and fill in the amount, location (UK), and preferred payment method.
Select an offer from the advertisement page and click Sell to view more information such as the terms of the trade.
Type in the amount you want to sell, enter a message for the buyer, and Accept Trade Terms.
Provide payment details to the buyer and wait to receive your money.
Once you confirm payment from your bank, go to your trade dashboard and click
Release Bitcoins.
Fiat Withdrawal Methods: Bank Transfers, SEPA, World Remit, PayPal, Revolut, Transferwise, Cash Deposit, etc.
Pros
LocalBitcoins is one of the oldest and reliable peer-to-peer crypto exchanges.
You can use a variety of payment methods not available on centralised exchanges.
The exchange process is straightforward and ideal for first-time investors.
Users only pay a 1% fee when they sell bitcoins via LocalBitcoins.
Cons
Sellers often take a price loss compared to trading through a centralised exchange.
Users run the risk of losing funds if they mistakenly release escrowed bitcoins before confirming the payment.
EXMO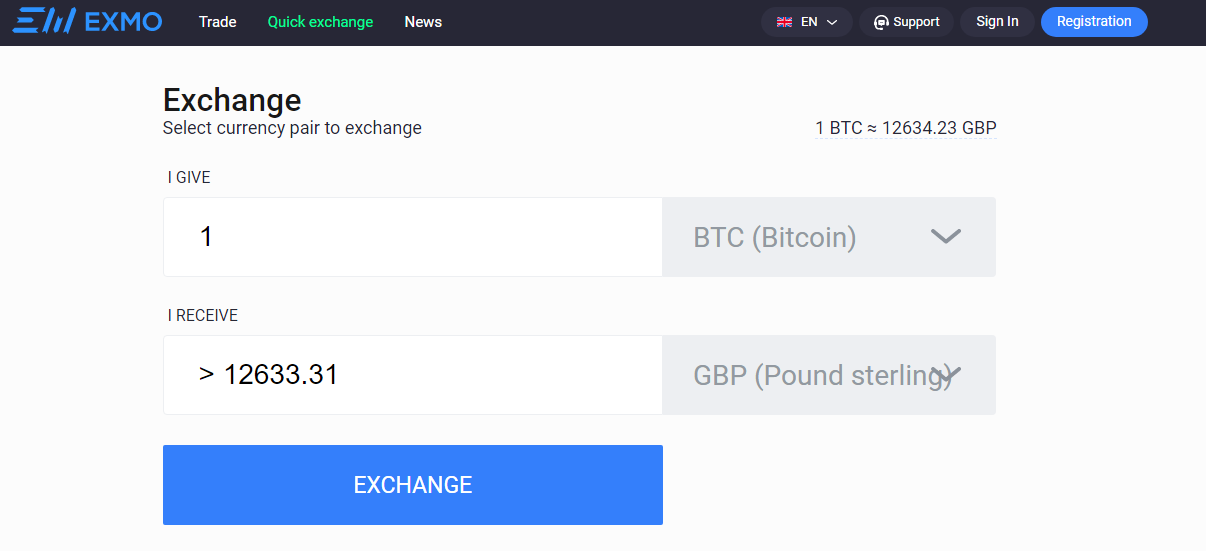 EXMO brands itself as one of the largest and easy-to-use cryptocurrency exchanges in Europe. The platform is open to UK investors and is ideal for instantly cashing out BTC for GBP and a few other fiat currencies.
How to do it:
Register on EXMO.com and complete the KYC verification process.
Deposit Bitcoin from an external wallet to the BTC address provided on your EXMO account.
Go to Quick Exchange.
Enter the amount of Bitcoin you want to sell for GBP.
Select Exchange.
Confirm the order details on the next page to complete the process.
Alternatively you can sell bitcoins using the BTC/GBP order book on EXMO.
Switch Order type to Market and enter the trade amount.
Complete the order an EXMO will add the GBP to your account on their platform.
Withdraw GBP to your UK Bank account.
Fiat Withdrawal Options: Faster Payments, CHAPS, BACs.
Pros
Setting up an account on EXMO is easy and can be completed within a few minutes.
EXMO's Quick Exchange option is genuinely easy-to-use, especially for selling bitcoins.
The platform has a responsive customer support desk.
Users can save on trading fees by choosing to pay with EXMO tokens.
EXMO offers exclusive rewards to its VIP clients.
Cons
EXMO lacks sufficient liquidity.
Large orders above £100,000 must go through an OTC desk.
The platform offers few withdrawal options for UK customers.
Coinmama

Coinmama is a non-custodial cryptocurrency exchange service. The platform doesn't offer the option for you to store your coins. However, you can buy, sell or swap cryptocurrencies. You can also trade Bitcoin for GBP using Coinmama.
How to do it:
Create an account on CoinMama and complete the user verification process.
Go to Sell from your account dashboard.
Input the amount of Bitcoin you want to sell, and click Sell to Bank Account.
Confirm order details and provide your bank account information.
Send you bitcoins to the address generated by Coinmama.
Once the payment is confirmed, Coinmama will credit your UK bank account.
Fiat Withdrawal Options: Bank Transfer, Virtual Debit Card.
Pros
Coinmama offers a reliable and easy-to-use exchange service.
Transactions are almost instant barring slow settlements on the initial Bitcoin transfer.
Although there is no LiveChat support, Coinmama has a responsive customer care team.
With Coinmama, you keep custody of your bitcoins and avoid any third-party risks.
Cons
Coinmama charges slightly high fees between 2-3%.
The exchange doesn't provide an option to store your bitcoins.
Coinbase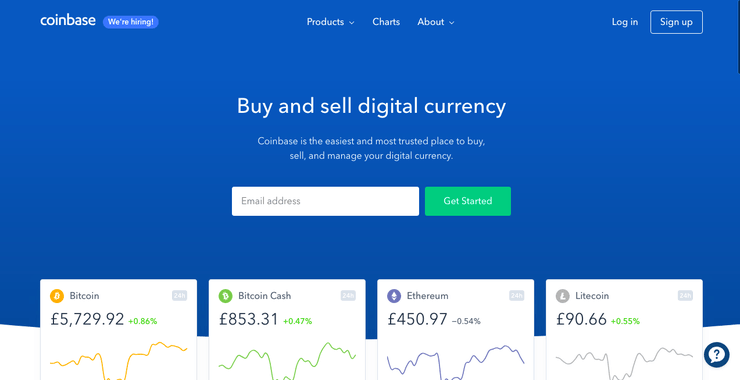 Based in San Francisco, Coinbase is another old cryptocurrency exchange that supports buying and selling of bitcoins for UK customers. Coinbase requires that you deposit first from your UK bank account before they can let you withdraw GBP to the same account.
How to do it:
Sign up on Coinbase and complete their verification process.
Go to Settings and select Payment Methods.
Link your UK bank account.
Go to Portfolio and select the Deposit button on the Coinbase GBP wallet.
Initiate and complete a bank transfer using the provided Coinbase account details.
Go back to Portfolio and click Deposit on your Bitcoin.
Transfer funds to the designated Bitcoin address and wait for confirmation.
Go to Coinbase's Buy/Sell Digital Currency page.
Enter the amount of Bitcoin to sell and choose GBP as the currency to receive.
Once you confirm the trade, Coinbase will transfer GBP to your wallet.
Go to your GBP wallet and withdraw to your bank account.
Fiat Withdrawal Options: Faster Payments, SEPA, PayPal, Bank Cards.
Pros
Coinbase's platform is easy-to-navigate and suited to first-time users.
You can choose from a range of withdrawal methods other than Bank Transfer.
The exchange's insurance program protects funds on Coinbase.
Coinbase has no known history of a security breach.
Cons
Coinbase fees are expensive.
The exchange suffers a downtime when there is a wild move in crypto market prices.
Users often complain of a low response time.
Coinbase sometimes shares your transaction history with tax authorities.
BC Bitcoin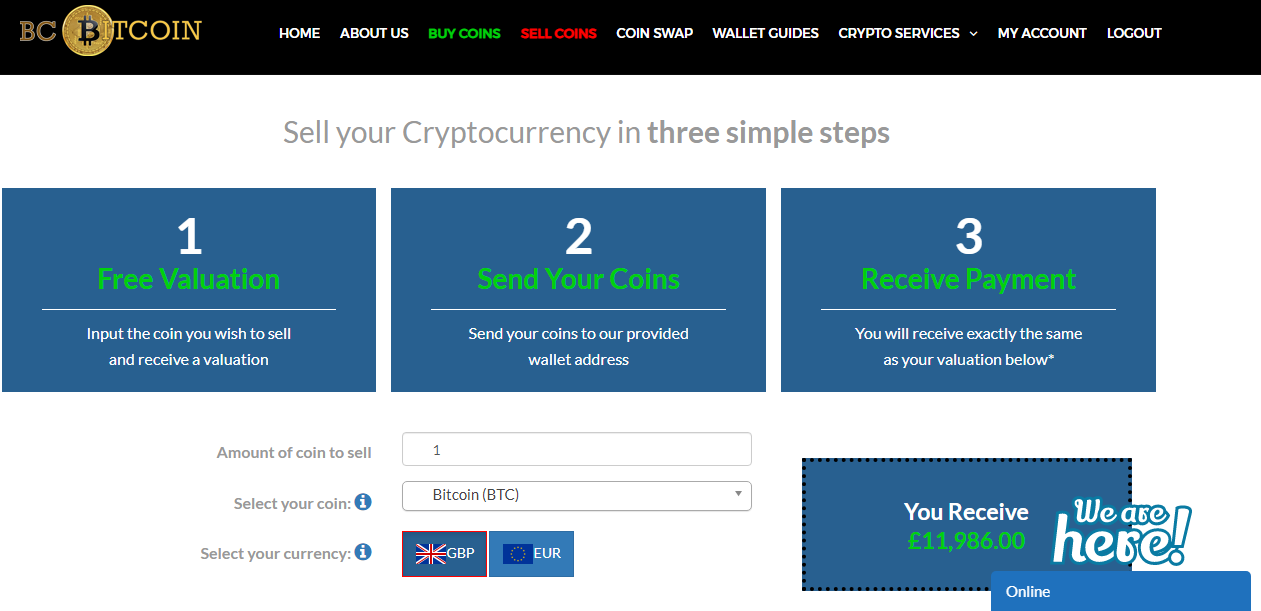 BC Bitcoin is the second non-custodial cryptocurrency exchange on this list. The platform is based in the United Kingdom and allows customers to buy, sell and swap Bitcoin for GBP or other cryptocurrencies.
How to do it:
Register on BCBitcoin.com and complete the verification.
Go to the Sell page on the website.
Select Bitcoin as the coin to sell and input the amount.
Choose GBP as the currency to receive.
Click Next Step and provide your bank details on the next page.
Send your bitcoins to the provided wallet address.
BCBitcoin will credit your bank account within a reasonable time.
Fiat Withdrawal Options: Bank Transfer.
Pros
BC Bitcoin is a trusted and reliable exchange service.
You can sell bitcoins instantly, and the process is straightforward.
BC Bitcoin has a responsive customer service desk including via LiveChat and phone.
You can also swap your bitcoins for other cryptocurrencies using BC Bitcoin.
Cons
The user verification process is exhaustive and collects too much information.
The service is non-custodial and maybe not suited for first-time investors.
Selling BTC for cryptocurrency short step-by-step guide
Sometimes, you may not want to sell your bitcoins for fiat, but want to sell it for other cryptocurrencies. Although different exchanges offer different options for doing so, the workflow using follows the steps below:
Sign up and complete the KYC process.
Deposit your bitcoins to the address provided on your dashboard.
Go to trade and choose a pair of BTC and the cryptocurrency you want to buy, e.g. BTC/ETH.
Switch the Order Type to Market and fill in the trade amount.
Complete the trade and the exchange adds the new coins to your wallet balance.
You can then Withdraw to your private wallet or leave it on the exchange.
Things to consider before selling Bitcoin
Before you let go of your bitcoins, here are some factors you may want to consider:
Investment Objectives: A common reason why some investors sell their bitcoins is because of a quick price drop. Bitcoin is highly volatile and sometimes has dropped by more than 30% in a single day. However, the cryptocurrency often exhibits asymmetric growth after a price drop, gaining more value than it had lost after a while. Therefore, selling your bitcoins because of a severe price drop may not be the best option. Experts recommend only investing an amount you can afford to lose, an approach that allows you to hold your bitcoins as a long-term investment.
Market Sentiments: A common investment tactic is to buy when others are selling and sell when others are buying. Putting this into perspective means you need to gauge market sentiments before selling your bitcoins. This way, you can get the best value in GBP for your investment.
Emergencies: People also sell their bitcoins to solve emergency expenses. If you're planning to sell your bitcoins for such a reason, you may want to consider using a bitcoin lending platform instead.
Platforms such as Nexo and Celsius allow users to borrow cash using their crypto as collateral and charge reasonable rates on these loans. Using these options, you can retain the upside on your Bitcoin investment and still be able to handle your emergencies.
Privacy and security tips
As you try to sell BTC for GBP, keep these tips in mind so that you don't end up losing your funds, or giving away information that could make you a target for hackers.
Always enable two-factor authentication (2FA) and any other security feature offered by your chosen exchange.
If you must, only provide KYC information that matches the size of your transaction, and increase your levels later.
Request for exchange support via official channels, preferably via LiveChat or email. Users have reportedly fallen victim to fake support agents via Telegram, Twitter, or other media.
Double-check BTC addresses before sending transactions since hackers could infect your computer or phone with clipboard malware.
If possible, use different passwords for different exchanges, and never share them with anyone.
If you hold large amounts of crypto, then you need a hardware wallet to ensure maximum security for your assets. Read our review of Ledger Nano X and Trezor One hardware wallets.
Conclusion
In this article, we kept our promise to show you how to sell BTC for GBP. Although we can't guarantee that you won't face any challenge using the listed exchanges, they're some of the most trusted and reliable platforms in the industry.
You should have GBP in your bank account within a few minutes after the transaction confirms, and can still buy back in using the same exchange.