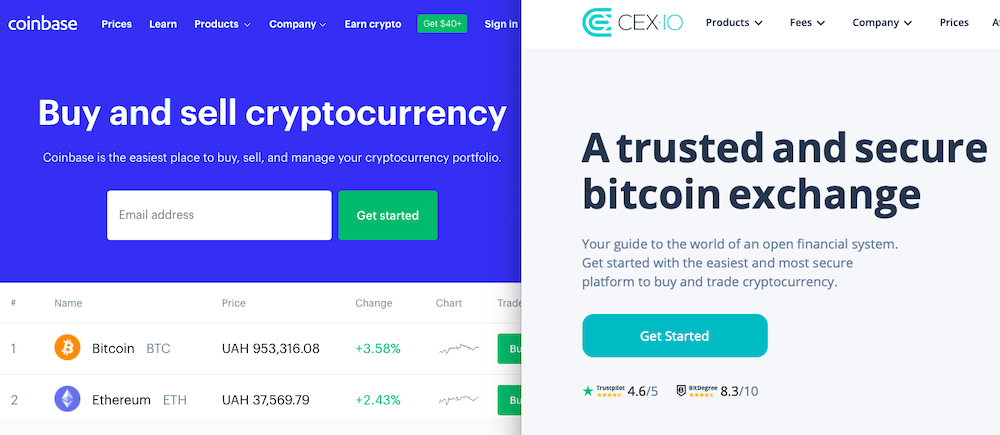 CEX.io vs Coinbase are two popular cryptocurrency exchanges that serve both U.S and U.K customers. If you're confused about choosing any of these two trading venues, then you've come to the right place.
You likely have been a victim of a Coinbase downtime when there is a wild market fluctuation or simply tired of the high fees associated with the exchange and want to try an alternative.
Table of Contents
In this article, we share vital information that you need to know about Coinbase and CEX.io. We also offer our thoughts regarding which one is better and then leave it to you to decide whether to use both, any of the two or even look elsewhere.
We begin by providing an overview of both exchange platforms.
CEX.IO Overview
CEX.io is primarily a UK-based cryptocurrency exchange launched in 2013. The company has since expanded to serve other countries, including the U.S, providing a convenient way for anyone to buy and sell cryptocurrencies.
The exchange has over 3 million customers and supports both crypto-to-crypto transactions and fiat-to-crypto transactions.
Coinbase Overview
Coinbase is a San Francisco-headquartered cryptocurrency exchange that started operations in 2012.
Coinbase has expanded to serve customers in jurisdictions where it holds a license, including the UK, and over both fiat-to-crypto and crypto-to-crypto transactions. The exchange has over 35 million customers globally and is the place where most investors begin their crypto journey.
Since launching as an exchange service, Coinbase has diversified its offering by launching arms to cater for custody and institutional-grade brokerage services. Coinbase is currently valued at over $8 billion and could conduct an IPO soon.
What is the difference between CEX.IO and Coinbase?
If you noticed, we've already mentioned some differences between CEX.io and Coinbase. There are differences in the number of customers, the year they started operations and the location of their headquarters.
Beyond these physical elements, we'll now review their respective platforms and give a verdict on which does what better.
Reputation
It takes a long time to build a good reputation, and both exchanges have done that throughout their roughly eight years of existence.
CEX.io is a popular and preferred option among the U.K and European crypto investors, just as much as no U.S crypto investor will say they don't know about Coinbase.
Coinbase is noted for its compliant nature and close relationship with regulators. While CEX.io has had any such pronounced ties with regulators, the exchanges hold many licenses in jurisdictions where they operate.
Anyone looking for a reputable crypto exchange would consider using either Coinbase vs CEX.io depending on their location. On the other hand, bad actors and hackers would usually stay clear of such heavily regulated exchanges.
Both exchanges have such a good compliance reputation that is difficult to call which one fairs better with their respective community.
Verdict: Tie
Supported coins
Unless you're a Bitcoin maxi, you probably want an exchange that lists as many cryptocurrencies as possible, or at least the ones you want to add to your portfolio.
How do CEX.io and Coinbase compare?
CEX.io supported currencies
Fiat Currencies:
British Pound (GBP), US Dollar (USD), Euro (EUR)
Cryptocurrencies:
Bitcoin (BTC), Ether (ETH), Litecoin (LTC), Bitcoin Cash (BCH), Ripple (XRP), Chainlink (LINK), Cardano (ADA), Cosmos (ATOM), Tezos (XTZ), Basic Attention Token (BAT), BitTorrent (BTT), Dash (DASH), Neo (NEO), Neo Gas (GAS), Golem (GNT), Lambda (LAMB), Matic (MATIC), MetaHash (MHC), OmiseGo (OMG), Ontology (ONG), Tron (TRX), Wabi (WABI), Stellar (XLM), Zilliqa (ZIL), 0x (ZRX).
Stablecoins
USD Coin (USDC), Tether (USDT), Gemini USD (GUSD).
Total Number of Supported Assets: 31
Coinbase Supported Currencies
Fiat Currencies
US Dollar (USD), British Pound (GBP), Euro (EUR).
Cryptocurrencies
Bitcoin (BTC), Ether (ETH), Ripple (XRP), Bitcoin Cash (BCH), Litecoin (LTC), Algorand (ALGO), Cosmos (ATOM), Chainlink (LINK) Balancer (BAL) Band Protocol (BAND), Basic Attention Token (BAT), Bancor Network (BNT), Bitcoins SV (BSV), Compound Protocol (COMP), Celo (CGLD), Civic (CIVIC), Dash (DASH), District0x (DNT), Ethereum Classic (ETC), Eos (EOS), Filecoin (FIL), Golem (GNT), Kyber Network (KNT), Loom Network (LOOM), Loopring (LRC), Decentraland (MANA), Maker (MKR), Numeraire (NMR), OMG Network (OMG), NuCypher (NU), Orchid (OXT), Augur (REP), Stellar (XLM), Synthetic (SNX), Ren (REN), Uma Protocol (UMA), Tezos (XTZ), Uniswap (UNI), ZCash (ZEC), Wrapped Bitcoin (WBTC), Yearn Finance (YFI)
Stablecoins
USD Coin (USDC), Dai (DAI).
Total Number of Supported Assets: 47
Note that even though certain geo-restrictions apply to listed assets, Coinbase lists more cryptocurrencies for UK and US customers.
Verdict: Coinbase wins.
Verification
Before you can carry out any transaction on both Coinbase and CEX.io, you'll need to complete an identity verification session. The verification process on these platforms is unsurprisingly identical.
You'll need to provide the following information and documents:
Full Name and Date of Birth
Phone Number
Nationality
An identity document (Driver's License, National Identity Card, International Passport)
A selfie taken with a piece of paper that has the exchange name and the verification date.
A Social Security Number (SSN) for U.S residents.
Proof of Residence (utility or electricity bill, tax return, or bank statement).
CEX.io has four verification levels designed to fit the portfolio of the user and their identity (individual, corporate). You must complete the Address verification stage to use the bank transfer feature on the platform.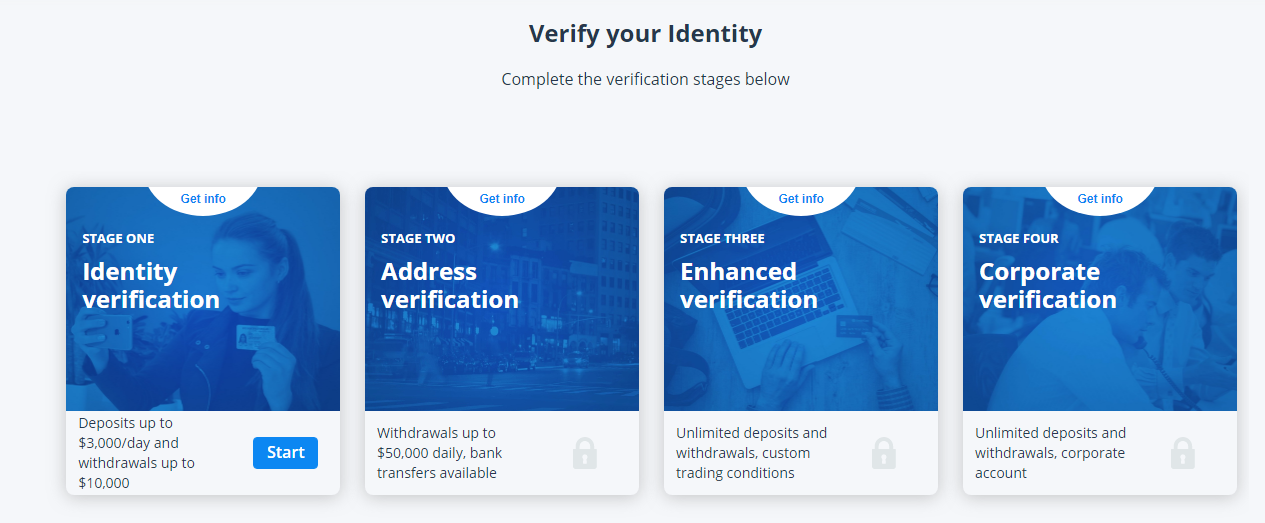 Barring any issues with the submitted document, CEX.io approves a customer's verification within one hour.
The Coinbase platform primarily services retail users and adopts a simplified three verification levels to uncover a user's real identity.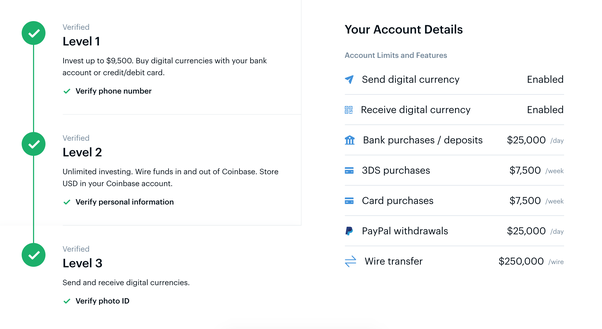 Coinbase uses an automated ID verification process so that they can verify your account under 2-3 minutes. However, if you want to use the bank deposit option and need to link your bank account, it could take up to five days for you to get approved.
As long as you're a KYC person and willing to provide the required information, you can initiate the verification process via your account and get approved in little or no time.
Verdict: Tie
Usability
What is worse than trying to do something on an exchange and then looking for the tab where you could do that? Thankfully, Coinbase has a smooth user interface that makes it easy to find anything you're looking for on your account.
Even first-time users admit not being any more conversant with their CB dashboard than their regular banking app (albeit with a few differences).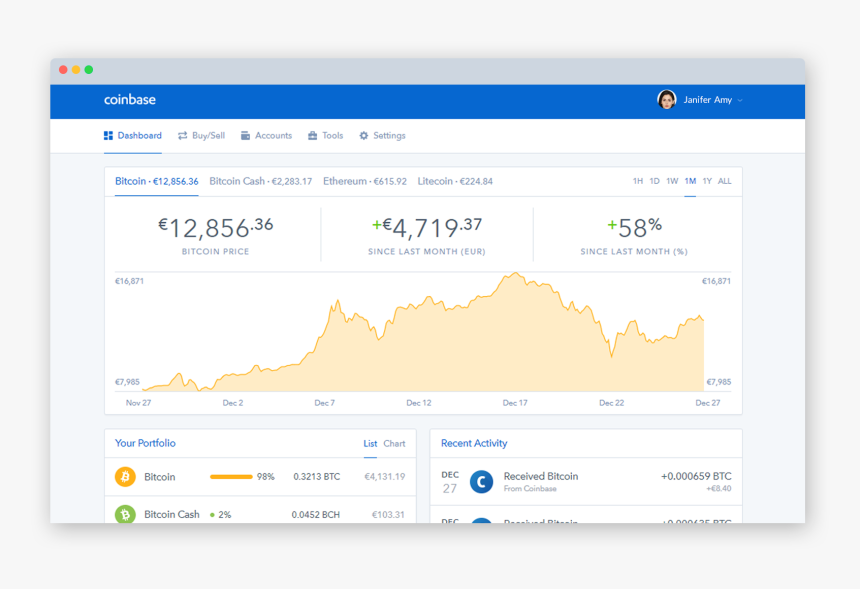 The platform separates its feature for retail and professional investors by introducing Coinbase Pro in 2018. Coinbase Pro is more sophisticated and is the place where they execute the trades you do on your regular account.
On the Pro platform, you can directly interact with their order book, place trades, read charts, and so on. Users can move funds between their Pro and standard account freely.
What about CEX.io?
Their interface is somewhat clutter-free, but not as clean as Coinbase. You can access more functionalities such as Staking, Margin Trading, Loan, and Cards directly from your dashboard.
In simpler terms, there is no Pro platform. You have it all in one place.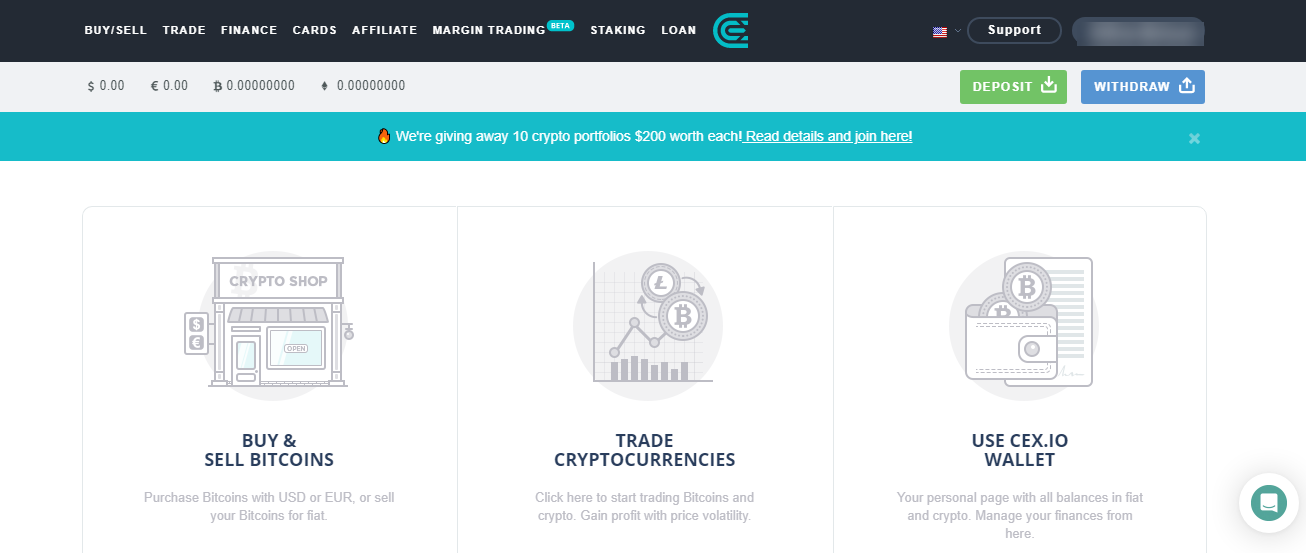 Although we think that first-time users probably do not need all those extra features, it comes handy for those with experience in crypto investing. So we forgive their UI for not being as simple as some users would want.
Another way to determine an exchange's usability is whether it offers a fully functional mobile app that lets you monitor your portfolio on the go, and react to the highly volatile crypto market.
Thankfully, both CEX.io and Coinbase have mobile apps available on Google Play Store (Android) and Apple's App Store (iOS). Both applications also have an intuitive UI and provide almost the same capabilities as the website interface.
For instance, you can also set buy and sell orders, add bank cards, set up price alerts, contact customer support, and so on.
However, we love Coinbase because it has a simpler and cleaner look and offers a different app for its Pro platform and the retail-focused version. The blue branding is also beautiful, so we'll pick them as the winner in this section.
Verdict: Coinbase
Security
Storing your funds on a cryptocurrency exchange means you're giving up ownership of your crypto and trusting that the exchange will keep it safe for as long as you leave it there. In other words, you believe that the exchange will not suffer any security breach, or if it does happen, should be able to refund your stolen money.
As you may already know, we would have to write another article if you want to narrate how even tier-1 cryptocurrency exchanges have lost millions to a security breach or other forms of inside attack.
Binance, Bitfinex, QuadrigaCX, BitMEX, and the list goes on.
How do Coinbase and CEX.io compare?
Both exchanges are one of the few trading places launched between 2012 and 2013 that are yet to suffer any kind of security breach. Major competitors, including Bitfinex, BitMEX, and Binance, have suffered one form of a security breach or the other.
So, we can say to a large extent that both CEX.io and Coinbase are security-tight.
But what if a breach happens in the future?
According to its website, CEX.io has a self-managed insurance fund design to cover investors in the event of a security breach. For US residents, all USD deposits on the platform are insured up to $250,000 per person by FDIC insurance.
Lastly, for each state where it holds an operating license in the US, the company has a $1m surety bond that will be used to compensate users for any loss.
Coinbase also has similar security and insurance measures in place. They claim to hold 98% of the customer's crypto in cold storage and only leave 2% in hot wallets to fulfill its liquidity demands.
The company has an insurance policy that will reimburse users if they ever suffered a security breach on its hot wallets. USD wallets for U.S residents are also insured up to $250,000 per person by FDIC insurance.
Given such a clean slate with security breaches and the insurance measures we've mentioned so far, one can conclude that both Coinbase and CEX.io are safe crypto exchanges.
Remember though that storing your crypto on an exchange isn't your best bet. You can always get a hardware wallet to keep your assets offline after you buy them.
If you must use an exchange, make sure to enable provided security features such as two-factor authentication (2FA), email confirmation, and strong passwords. You cannot hold the company responsible for fund theft that results from failing to manage your security obligations properly.
Meanwhile, both CEX.io and Coinbase mandates the use of these security features and thus are closely tied to this one.
Verdict: Tie
Fees
As much as possible, you'd like to save on fees when using an exchange. That way, you get more crypto on your purchases and keep more cash when you sell.
Which exchange charges more fee?
Coinbase Major Fees
Credit/Debit Card Purchases: 3.99%
Buy/Sell: 1.49%
Crypto to Crypto Conversion: 2%
Instant Card Withdrawal: 2%
See the full fee schedule.
CEX.io Major Fees
Credit/Debit Card Deposits: 3.99%
Instant Card Withdrawal: 3% + $5
Instant Buy/Sell: 7%
See the full fee schedule.
Tier one exchanges charge high fees so they can meet up with standards and provide what are otherwise premium services.
From the above table, we see that Coinbase has cheaper fees than CEX.io and thus represents a better option for users. CEX.io does a not so good job at disclosing its fees, and that is why we still pick CB.
Verdict: Coinbase
Buy/Sell restrictions
How much crypto can you buy at a go using Coinbase or CEX.io? The answer would usually depend on how much the exchange allows you to withdraw or deposit daily.
Coinbase Limits
ACH: $25,000 daily
Debit Cards: $7,500 weekly
CEX.io Limits
ACH withdrawal: $100,000 daily
Debit Cards: Unlimited deposits for both Mastercard and Visa
Debit Cards Withdrawals: $2,500 (Mastercard), $50,000 Visa.
Generally, CEX.io offers higher limits both for deposits and withdrawals. Therefore, if you're a large buyer, we'd recommend the UK-based exchange ahead of Coinbase.
Verdict: CEX.io
Customer support
Being able to provide prompt customer support is one key area where top tier exchanges need to improve. Coinbase and CEX.io are no exceptions. But we think the latter still does a better job than Coinbase when it comes to attending to customer enquiries.
For one thing, CEX.io offers a reliable phone call customer service (available to both UK and U.S customers). The company's usual email response time is less than a day, and there is also a chatbot on the website to offer helpful guidance.
Coinbase, on the other hand, doesn't support a phone customer service with a live agent. An email request is the only way to get in touch with the team, and some users report having their emails unanswered for several days. That's what you get when using an exchange that has over 40 million users and refuses to employ more people on their CS team.
Verdict: CEX.io
Which one is better?
Based on the results of this CEX.io vs Coinbase review, we see that both exchanges tie closely in different segments of their products and services including reputation, security, and customer verification.
Coinbase leads the way for usability, supported assets, and fees, while CEX.io is the right choice if you want a more reliable customer service or higher buy and sell limits.
Therefore, your choice of which one is better would depend on what you're looking for on a crypto exchange. We think that both platforms are a good fit for retail investors, and will remain dominant for the foreseeable future.
This article will also not be complete if we fail to mention again that Coinbase typically suffers a downtime when there is an adverse movement in the price of cryptocurrencies. The exchange usually attributes the recurrence to a surge in the number of users during such periods.
Therefore, holding an account with CEX.io could be a good alternative if you want to take advantage of price action. They have better uptime than Coinbase and rarely suffer a downtime when the market moves adversely.
Coinbase vs CEX.IO: final thoughts
Asked to choose between Coinbase and CEX.io, we'd go with the popular option of choosing CEX.io for the UK and Europe-based customers and Coinbase for U.S customers. No one says you can't have both though, since there are no limits to the number of cryptocurrency exchanges where you can hold an account.
Conclusion
In this article, we fulfilled our promise to closely compare two tier-1 exchanges, Coinbase and CEX.io, and find out which aspects they do better and other areas they could improve their products.
Armed with this information, you can now make a better choice and grow your crypto portfolio on the platform that is most convenient to your demands.